Denomination

$5
$5
$5
$5
Description

Cheesecake
Rose Baby
Navel
Country Pumpkin
Control Number

ADDB & 141B
ADDB & 141B
ADDB & 141B
ADDB & 141B
Quantity

20,000
20,000
20,000
20,000

This set of four cards celebrates the works of award-winning photographer Anne Geddes.
The original release of these cards were all on control number ADDB. The cards used for the Collector Packs were overprinted on unsold stocks of $5 Fur Seals cards from the WWF series and have 141B.
500 of each of these cards were issued in an exclusive wooden display case, signed by Anne Geddes, see photos at bottom.
2,500 were issued in a Presentation Folder, illustrated below.
7,000 of each were issued in separate gift folders, all four are illustrated below.
These cards were also included in the Collector Pack AdCards Volume Seven NZ-CP-32 and were overprinted on the reverse with Collectors Issue 1994 or International Collectors Issue 1994, if included in the International Pack.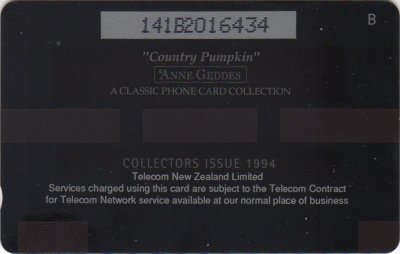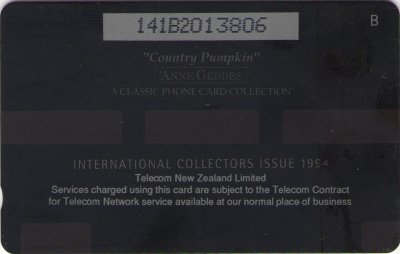 Illustrated below are the reverse of the four normal cards.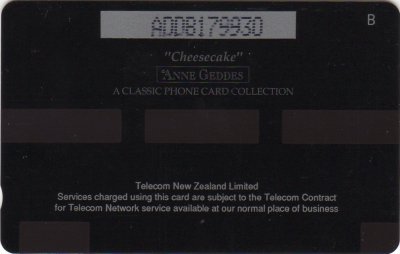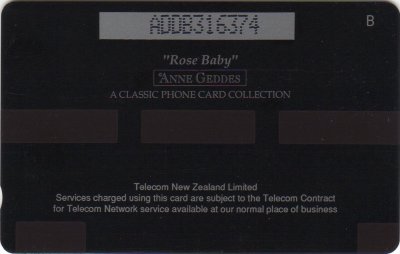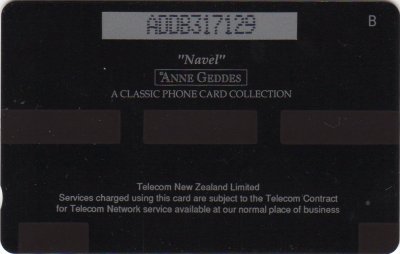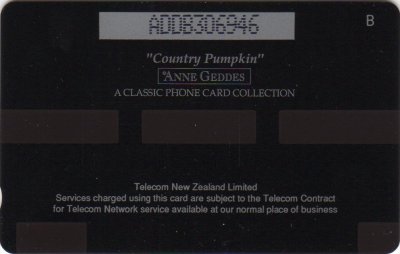 Another Limited Edition of 500 was issued by Event Masters. It was called Babies On Phonecards, illustrated at the bottom of page, and contained the four cards, along with the two Red Nose Day cards from 1994.