Salty Dogg
Line-Up:
Graham Chapman (Percussion / Vocals)
Chris Gunn (Bass Guitar / Percussion)
Mike Harvey (Keyboards / Vocals)
Vic Williams (Drums / Percussion)
Martin Winch (Lead Guitar)
The Salty Dogg were an Auckland pop group formed in 1976. The group evolved out of Trinity, a group that included Billy Belton, Mike Walker and Vic Williams.
They released two singles in their time, "Love To Play and Sing"/"All Gone Away" on Family and Parlophone in 1976, and "Face The Music"/"How Long Can This Go On" on EMI in 1977. These four songs all appeared on their only album "Love To Play and Sing" released on EMI in 1977.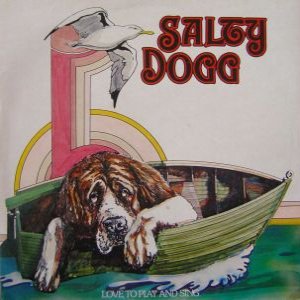 Vic Williams had previously been the drummer with Freddie Keil and the Kavaliers before eventually ending up in Trinity.
Mike Harvey went on to release a couple of singles himself, one in 1978 and the other in 1979, along with an album called "Great Expectations" in 1979.
Mike Harvey is also regarded as one of New Zealand's best producers and song writers, as well as in demand session musician. In 1973 he collaborated with Ray Columbus and produced his "Jangles Spanners and Banners" album. That same year, along with John Hanlon, he wrote a song called "Knowing". The song was entered into the Studio One Television contest, and, sung by Steve Gilpin, it took third place. Kim Hart was looked after by Mike Harvey, who also wrote all of her New Zealand recordings. Kim came second in the New Zealand finals of The South Pacific Song Contest and Mike took her to Tokyo to represent New Zealand at the Yamaha Song Festival in Japan. In 1978 he wrote songs for Rob Guest. In 1991 John Rowles released the album "From A Distance", which was recorded in Sydney and produced by Mike Harvey. These days Mike is in Australia where he is still very active in the production field.
Martin Winch was previously a member of Sylvester Winch Style in 1967 and went on to become a much sought after session guitarist, releasing his own self-titled album in 1986.