Radars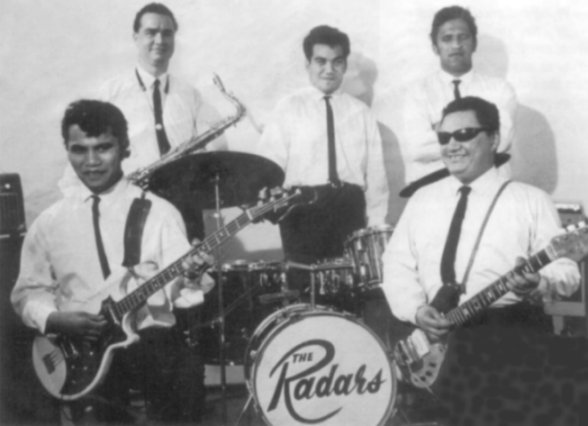 L to R: Neville Taura, Harvey Baker, Feau Halatau, Andrew Taylor and Ray Lemon.
Line-Up:
Ray Lemon (Lead Guitar / Backing Vocals)
Andrew Taylor (Rhythm and Lead Guitar)
Neville Taura (Bass Guitar)
Harvey Baker (Saxophone / Lead Vocals)
Feau Halatau (Drums / Backing Vocals)
The Radars were formed in 1962, with all its members being from the Auckland Blind Institute. They were all actually playing in the Brass Band there, and used this group as an outlet to play rock and roll and current hit material. They were strong on vocal harmonies and multi-talented when it came to instruments.
The group held a residency at the Picasso night spot for a few years, before being replaced there by the Brew in 1967. Whilst at the Picasso, they also provided backing for Ricky May and John Rowles.
In 1967 they released a single on Zodiac called "Don't Get Around Much Anymore"/"The Piper". They followed this with two more for Allied International, one in 1967 and the other in 1968. They were "Poor Boy's Dream"/"When Will I Be Loved" and "Heart"/"Hayride".
The group continued through the seventies and the eighties with quite a few personnel changes along the way. Some of the other notable members, although not necessarily blind, were James Tapini on guitar and vocals, Selwyn Davies on bass guitar, Mal Edwards also on bass, and Billy T James on guitar and vocals.
They released two more singles in 1983 on the Epic label called "That Lucky Old Sun"/"Tahiti Nui" and "Banana Boat Song"/"Chulu Chululu".
The longevity of this group was amazing, with three original members of the group, Feau Halatau, Ray Lemon and Andrew Taylor, still playing around Auckland in the mid-nineties. Harvey Baker died a few years ago.