Omnibus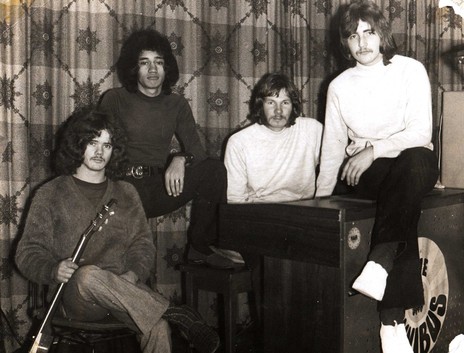 Larry Killip, Paul Langkilde, Denis Winters and Paddy Gibbons.
Line-Up:
Larry Killip (Guitar)
Paddy Gibbons (Keyboards)
Billy Williams (Bass Guitar)
Denis Winters (Drums)
Terry Bradley (Vocals)
In 1968 the Zarks had a few personnel changes and renamed themselves as the Omnibus. Leaving the Zarks were Tim Biggs and John Morrell. Terry Bradley moved to vocals and Billy Williams came in as the new bass player.
Omnibus still remained as a covers band, mainly hitting the top 40 chart, and continued playing around the Auckland clubs. They did have a residency at the Taboo Club in Lower Queen Street for most of 1968. At the beginning of 1969 they were offered a new residency at the Forum in Takapuna. While playing there, the Human Instinct played a guest spot. Maurice Greer, from Human Instinct, and his brother Frank were in the process of setting up a new club in Auckland city and asked Omnibus to be their new resident band. The club opened as Molly Hatchett's at the end of 1970 and Omnibus stayed there until they split up in 1971.
During their time, Billy Williams left in 1969 and joined Classic Affair. He was replaced by Paul Langkilde.
In 1970, the group actually changed their name to Sweet Charity.
The Omnibus never released any material, but did record at the Astor Recording Studios. Larry Killip and Denis Winters stayed together for many years in bands such as Denver, Crossroads, Killip, Starbow, Larry and the Ladders and Rock Me Bananas.
One of the songs from the Astor recording session, "Somebody's Watching You" made it onto the following compilation.