Minors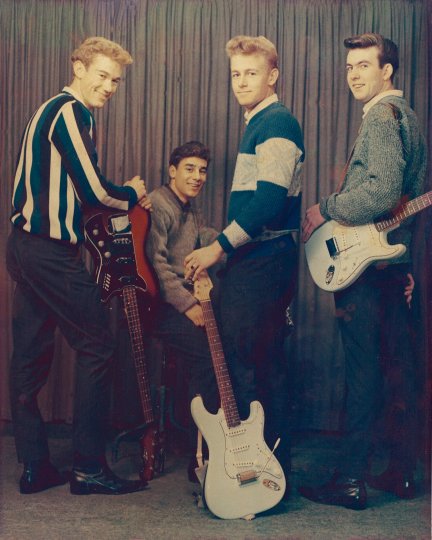 L to R: Leigh Grant, Graeme Brown, Alan Brider and Roger Brasell
Line-Up:
Roger Brasell (Lead Guitar / Vocals)
Leigh Grant (Bass Guitar)
Graeme Brown (Drums)
Paul Mill (Rhythm Guitar)
The Minors were a pop group formed by Roger Brasell in 1962 while he was at the Wanganui Technical College. The band did Shadows / Ventures style instrumentals, and began doing vocals when the Beatles influenced the scene. They did gigs around the lower North Island region, which included the Top Hat Ballroom in Napier, Wellington Town Hall "Surfin' Hops", youth clubs and church dances. They used to travel around in a big old De Soto with a trailer for the gear in tow. With help of parents and friends, they ran their own Saturday dances in Wanganui's AMDRAM Hall.
They released one single in 1963 on the Lexian label called "Avalanche"/"Moon Tide". Both songs were originals by Roger Brasell.
They switched to HMV in 1964 where they stayed until 1966, releasing five more singles along the way. These singles were "Flight 805"/"More", "My Turn To Cry"/"Pedro", "You're Not There"/"Misery", "This Girl"/"I'm Walkin' " and "Lies"/"Splish Splash".
During their time Leigh Grant left and he was replaced by Peter Martin on bass and vocals. Paul Mill also left and he was replaced by Alan Brider on rhythm guitar.
The band's single, "You're Not There", another Brasell composition, was nominated for the first Loxene Gold Disc Award in 1965.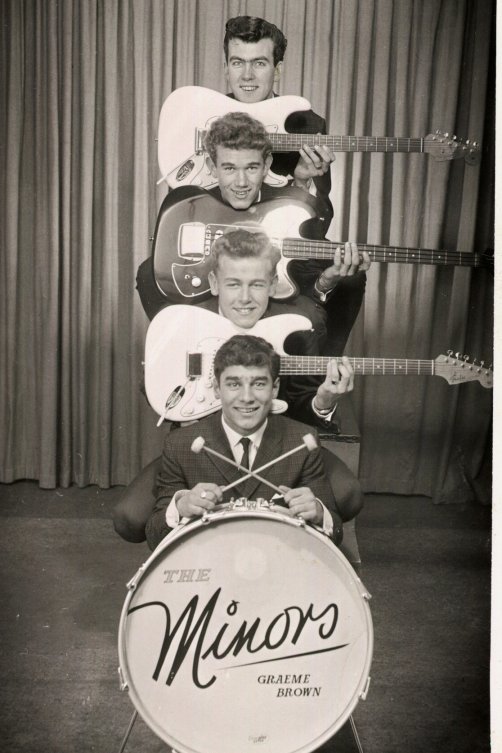 The Minors split in 1966 when Brasell and Brown moved to Wellington with their day jobs. Most of the band members continued playing music, Graeme Brown playing drums for various bands and genres over the years, including a significant stint with Hogsnort Rupert. Roger Brasell joined Wellington band, Regency Set on bass guitar. He also worked with HMV/EMI in Wellington, and was playing part-time with arranger/band leader Don Richardson and record producers, Peter Dawkins and Alan Galbraith. During this period he was used on 12-string guitar and backing vocals for Shane's hit "Saint Paul", and did other sessions on guitar and bass for various EMI artists of the day, whilst doing live gigs at the Majestic Cabaret and other venues.
Alan Brider continued playing guitar with groups in Wanganui, including Scorpio, who dominated the Wanganui pub scene in the early 70's. Peter Martin moved north to Dargaville and has continued with musical performance in various forms.
The Minors re-grouped and performed for 'nostalgia' purposes in 2007 at events such as their members 60th birthday celebrations, and the New Zealand Masters Games event.