1972 Round 1
Pukekohe

Round One: PUKEKOHE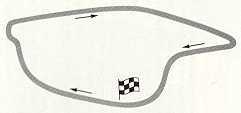 19th New Zealand Grand Prix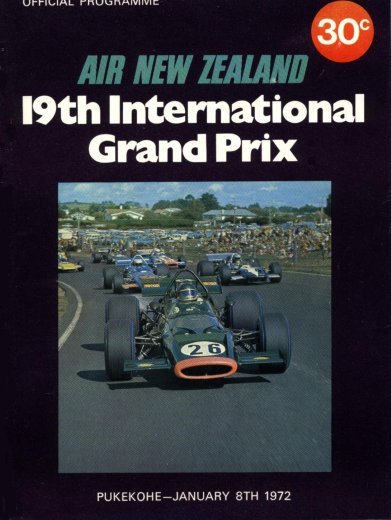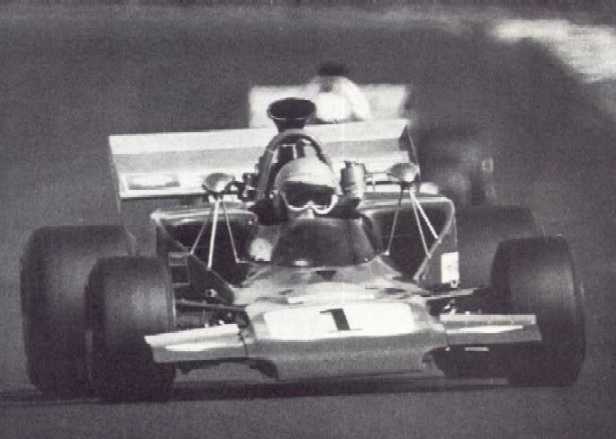 Frank Gardner's first NZGP win driving Lola T300 Chev.
Regular and popular Tasman campaigner, if not the luckiest, Frank Gardner turned up the right cards and won the 19th New Zealand Grand Prix at Pukekohe on 8 January at an average speed of 106.33 mph in his Lola T300 Chev. He took the lead in the third lap and held it untroubled to the end, 55 laps later, to finish 27 sec clear of Mike Hailwood (Surtees TS8A Chev). Third, 4.1 sec back, was David Hobbs (McLaren M22 Chev) and the next were Kevin Bartlett (McLaren M10B Chev), Max Stewart (Elfin MR5 Repco) and Teddy Pilette (McLaren M10B Chev). Race and lap speeds were down on the 1971 figures. Gardner made fastest lap at 110.71 mph. In 1971 Frank Matich (McLaren M10B Repco) set a record 111.05 mph, and race winner Niel Allen (McLaren M10B Chev) returned a record race average of 107.895 mph. This time Gardner had everything his own way after Graham McRae (Leda GM 1 Chev), who started from pole position and was early leader, was delayed in the pits with gear selector trouble. Oil on the track at a critical race stage and an accident in the concluding stages, in which Bryan Faloon (Stanton Porsche) sustained fatal injuries and Graeme Lawrence (Lola T300 Chev) was badly hurt, slowed the race.
McRae set standards beyond the reach of the others during the two-day practice period. First time out he was down to Matich's 1971 56.7 sec record with little apparent effort. Matich (Matich A50 Repco) was a tenth slower. Evan Noyes (McLaren M18 Chev, 57.7) and Lawrence 58.0 were also prominent. Later in the day Hailwood was attributed 56.2 sec but he reckoned himself at least 0.5 sec slower. Hobbs was given an official 57.6 and maintained it should have been 57.5. Subsequently his Boltoff engine made costly sounds and was replaced. Gardner came down to 56.4. Stewart headed the Elfins with 58.4, Garrie Cooper and John McCormack being around the minute mark. The real business was transacted in two Friday sessions. McRae, on top form, finished with two 55.2 sec rounds (114.13 mph) to be 3.03 mph faster than Matich's 1971 ultimate. Gardner achieved 113.2 mph, Hailwood 112.09. Matich, with head gasket troubles, was a tenth of a second slower with 56.8 sec, the figure finally achieved by Lawrence. Bartlett, Hobbs, McCormack and Noyes equaled on 109.37 mph. Pilette was next. Matich failed to improve on his Thursday best and went off for an engine change. By the time practice finished, the twenty starters had bettered 100 mph, slowest being Peter Hughes (Begg FM2 Chev), with 100.63 mph.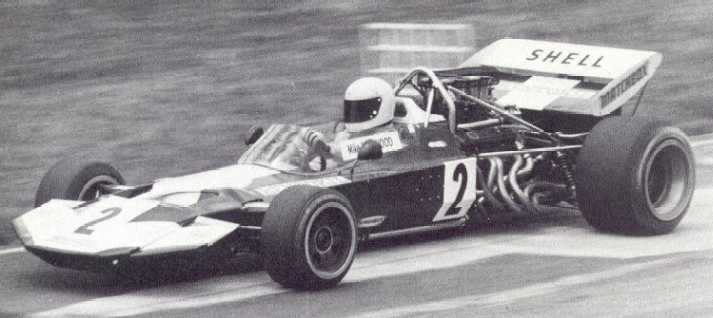 Second place Hailwood in the Surtees TS8A.
The grid was as follows:- McRae, Gardner, Hailwood, Stewart, Matich, Lawrence, Hobbs, Bartlett, McCormack, Noyes, Pilette, Oxton, Francevic, McConnell, Radisich, Smith, Cooper, Faloon, Robertson and Hughes. All but four of the cars on the grid were F5000s.
There were no defaulters when the field formed up on the dummy grid under a clear sky and before some 30,000 customers. The pace car led the 20-car field into the action, which came after one sedate round of the circuit. McRae zoomed into Champion Curve with Gardner, Stewart and Matich for company. Bartlett, Hobbs and McCormack were next. Lawrence was also prominent, but had trouble getting his feet and the Lola T300 pedals in harmony and elected to overshoot at Lion Hairpin rather than cause a mix-up in the heavily congested traffic. That dropped him to the rear of the field.
Robertson's FVA cried enough on the second lap and then McRae drove into the pits with a broken bracket that holds the gear linkage. He had dropped back while wrestling with an erratic gear selector lever and was in the pits after two laps. After some hasty repairs, he rejoined the race a number of laps later.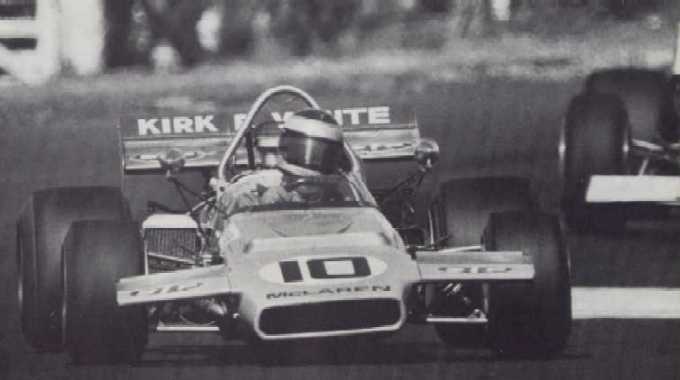 Hobbs came third in the McLaren M22 Chev.
By the end of lap 3 it was Gardner in front. Two later, Gardner was 8 sec clear of Hailwood who was comfortably ahead of Stewart and Matich. Then came Bartlett, Hobbs, McCormack, Pilette, David Oxton (Begg FM4 Chev), Hughes, Noyes and Frank Radisich (McLaren M10B Repco). Lawrence was running with the tail-enders.
After ten laps Gardner had put the length of the pit straight between himself and Hailwood; next were Stewart, Matich, Bartlett, Hobbs, McCormack and Pilette, with a considerable gap back to Oxton and Noyes. Robbie Francevic (McLaren M10A Chev) was next, followed by Hughes. McRae rejoined the fray as Gardner completed lap 12 and the order was substantially unchanged at that stage. Matich's oil tank was holed by a stone and he pitted after 18 laps. Then the order was Gardner, comfortably clear of Hailwood, with a similar distance to Stewart, then Hobbs, closely followed by Bartlett, with Pilette, McCormack, Faloon, Oxton, Noyes and Lawrence next in line.
Matich resumed, only to last a further lap, as Gardner reeled off his 24th lap well clear of Hailwood, Stewart and Hobbs. Bartlett and Pilette were next, nose to tail, and there was a fair gap back to McCormack, who was followed by Oxton, Noyes and Lawrence locked together. At the end of lap 32, Gardner had doubled Ken Smith's Lotus 69B FVC, and two laps later he treated Oxton, running ninth, in the same way. Hailwood was safely ensconced in second place, clear of Hobbs, with Bartlett and Pilette in close company next and a big space back to McCormack, Lawrence and Oxton and Smith, who was followed by Noyes.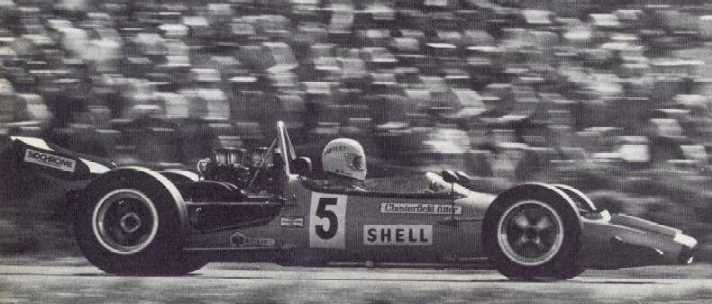 Bartlett finished 4th in the McLaren M10B that Niel Allen used to win the 1971 race.
After forty laps Gardner was about 14 sec ahead of Hailwood, who enjoyed a similar margin over Stewart. Then came Hobbs, Bartlett and Pilette, line astern, with a gap to McCormack and Lawrence, nose to tail, and Oxton, Noyes and Smith. Radisich's Repco V8 engine disintegrated, spewing oil and spreading metal in all directions, dramatically in front of the main grandstand. The oil flags went out and track workers dodged the traffic as they spread cement and everyone adopted unorthodox lines to avoid trouble as they entered Champion Curve. Gardner and Hailwood maintained station; Stewart drifted a bit with spasmodic fuel starvation problems as Hobbs gained ground, and on lap 44 Gardner doubled Lawrence who was running eighth and filling McCormack's mirrors. Cooper got a puncture and pitted for a quick change.
In lap 48 Hobbs, who had been really trying, robbed Stewart of third spot and the order then was Gardner, Hailwood, Hobbs, Stewart, Bartlett, Pilette, McCormack, Lawrence, Oxton, Noyes, with Francevic, McRae and Smith sorting things out among themselves. The Lawrence - McCormack battle was intense. It had been raging for over 20 laps with the Australian not giving the Kiwi any room to get by and Lawrence was not giving McCormack any peace.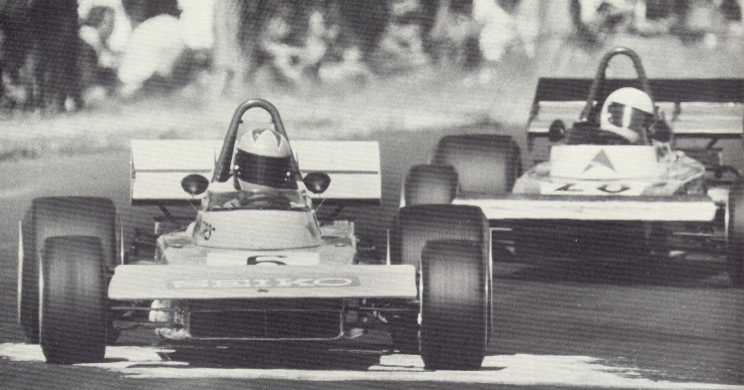 Privateer Max Stewart in the Elfin MR5 leading a works model.
Four laps later Faloon, well out of the running, and Lawrence, still pursuing McCormack, touched at the kink in the back straight to spark off a debris-strewn, dust-enveloped tragedy. Coming up the back straight on lap 52 Lawrence was slipstreaming McCormack while Faloon, seeing the red elfin bearing down on him, pulled to the left at the kink to let him through. At the same split second Lawrence pulled out of the slipstream to pass McCormack and ran into the back of the Stanton-Porsche at 155 mph. The Stanton was launched headlong into an earth safety barrier, taking to the air before crashing down onto its wheels again. The Lola was cart wheeled down the track, totally disintegrating on the way.
The Stanton looked relatively intact while the Lola was totally wrecked. The head injuries Faloon sustained in the impact proved fatal. Lawrence suffered broken legs, wrists and concussion.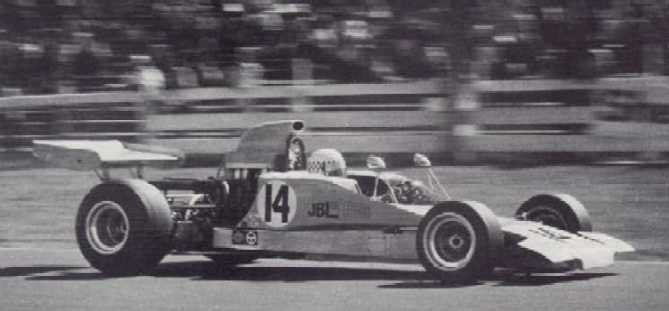 Graeme Lawrence in the Lola T300 prior to his crash with Faloon.
The concluding laps were run out at abated pace and Gardner coasted home an easy winner from Hailwood, Hobbs, Bartlett, Stewart and Pilette. Next in line were McCormack, Noyes and Francevic, the first resident finisher, for Oxton had struck the debris, puncturing and damaging the oil radiator, which sidelined his Begg FM4 Chev.
Gardner, obviously deeply moved by the sad last-minute race happening, accepted the laurels quietly, for his joy in finally winning a Tasman race after so many years, although fully justified, was not wholehearted.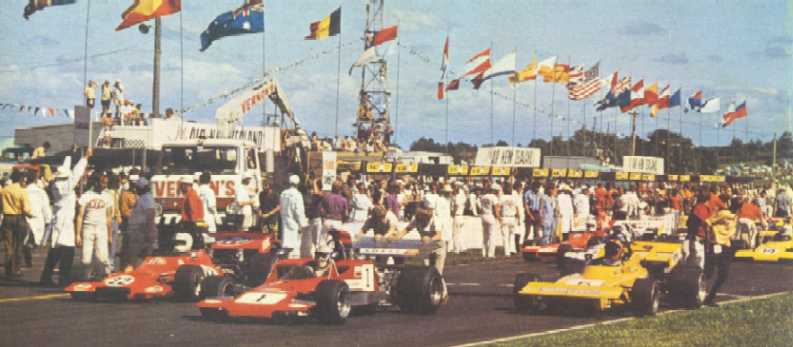 Getting ready for the start. Gardner (1) McRae (22).
19th New Zealand Grand Prix
Date: 8th January 1972
Venue: Pukekohe
58 laps of 2.816kms (163.33kms)
Result
Driver
Nat
Car

Laps

Time
1
Frank Gardner
Aust
Lola

T300 /

Chevrolet 4995cc

V8

58
57m 16.5s
2
Mike Hailwood
UK
Surtees

TS8A /

Chevrolet 4995cc

V8

58
57m 43.5s
3
David Hobbs
UK
McLaren

M22 /

Chevrolet 4995cc

V8

58
57m 47.6s
4
Kevin Bartlett
Aust
McLaren

M10B /

Chevrolet 4995cc

V8

58
57m 48.0s
5
Max Stewart
Aust
Elfin

MR5 /

Repco 4994cc

V8

58
57m 54.1s
6
Teddy Pilette
Belg
McLaren

M10B /

Chevrolet 4995cc

V8

58
58m 20.8s
7
John McCormack
Aust
Elfin

MR5 /

Repco 4994cc

V8

57
8
Evan Noyes
USA
McLaren

M18 /

Chevrolet 4995cc

V8

56
9
Robbie Francevic
NZ
McLaren

M10A /

Chevrolet 4995cc

V8

55
Ret
David Oxton
NZ
Begg

FM4 /

Chevrolet 4945cc

V8

53
Hit Debris
Ret
Graeme Lawrence
NZ
Lola

T300 /

Chevrolet 4995cc

V8

52
Accident
Ret
Bryan Faloon
NZ
Stanton

1 /

Porsche 1981cc

8cyl

51
Fatal Accident
10
Graham McRae
NZ
Leda

GM1 /

Chevrolet 4995cc

V8

49
11
Ken Smith
NZ
Lotus

69B /

Hart 1860cc

4cyl

49
12
Peter Hughes
NZ
Begg

FM2 /

Chevrolet 4945cc

V8

48
13
Garrie Cooper
Aust
Elfin

MR5 /

Repco 4994cc

V8

48
Ret
Dave McConnell
Can
GRD

2 /

Hart 1996cc

4cyl

48
Ret
Frank Radisich
NZ
McLaren

M10B /

Repco 4994cc

V8

40
Engine
Ret
Frank Matich
Aust
Matich

A50 /

Repco 4994cc

V8

19
Engine
Ret
Baron Robertson
NZ
Brabham

BT23C /

Cosworth 1791cc

4cyl

2
Engine
Fastest lap: F. Gardner, 56.9 sec.

Back to 1972 Series Round 2 Levin

20th NZGP 1973