1971 Round 2
Pukekohe

Round Two: PUKEKOHE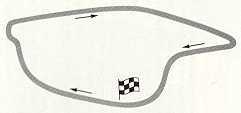 18th New Zealand Grand Prix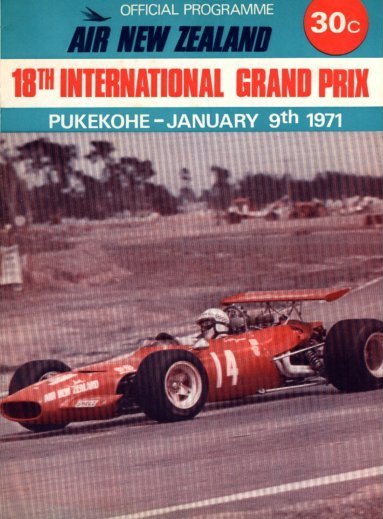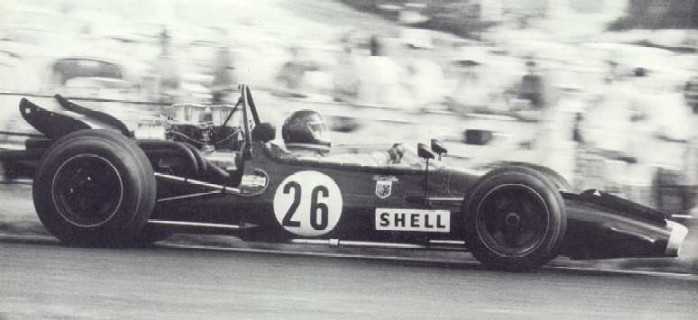 Race winner Niel Allen (McLaren M10B).
Australia carried the day in resounding style at Pukekohe on 9 January when Niel Allen beat Frank Matich by four-tenths of a second to capture the New Zealand Grand Prix at a record 107.895 mph, while Matich set a 111 mph lap record in a vain attempt to take Allen in the late stages of the race. Graham McRae finished 7.7 sec behind Matich to put McLaren Formula A/5000 cars in the three top spots. Mike Eyerly finished fourth in his Surtees TS8 Chev and, to add strength to the McLaren image, John Cannon drove his M10B Chev to fifth place. Graeme Lawrence was sixth with 57 of the 58 laps behind his 2.4 Ferrari V6. Allen's race time was 33 sec under the previous record of Chris Amon (2.4 Ferrari V6) and Matich's record 50th lap was 2.2 sec under the figure set by Jochen Rindt (Lotus 49 2.5 Cosworth-Ford V8). Both previous records had existed since 1969, the year before A/5000 cars were admitted to the Tasman Formula. Allen wrested the lead from McRae on lap 28 and Matich dropped the New Zealander to third in lap 54. Prominent early contenders included Frank Gardner (Lola T192 Chev), Amon (Lotus 70 Ford Boss 302) and David Oxton (March 701, 2.5 Cosworth-Ford V8), but after 13 laps the lead lay with Allen, Matich and McRae.
Figures to aim for at Pukekohe were Rindt's 58.9 sec lap record and Amon's qualifying time of 58.2 sec (108.24 mph) both of which were set in 1969. Two practice days stirred interest to high pitch because it was obvious that Rindt's official figure would be shattered in the race. Seven drivers qualified under it, five of them bettering Amon's unofficial figure as well. They were Allen with 56.9 sec, McRae (57.2), Matich and Gardner (57.3), Eyerly (57.9), Cannon (58.2) and Lawrence (58.4). Malcolm Guthrie in the second Lola T192 Chev made 59 sec dead. Amon was next with 59.1, the figure being achieved in STP's newly-acquired Lotus 70 early on the first day and with a deflating right rear tyre. Teddy Pilette (McLaren M10B Chev) was next with 59.4 sec and then came Oxton, now in the March, with 59.4 also.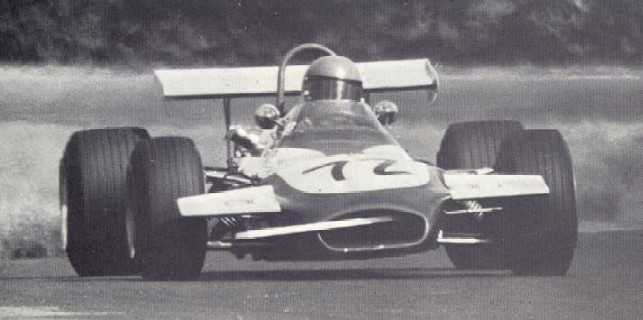 Evan Noyes (Brabham BT29) with some foreign matter in his intake.
McRae's chances looked slim when his only engine suffered a valve drop, with dire results, during the early part of the first practice day. However Pilette came to his rescue with a replacement.
The final practice session was cut short by heavy rain and no one had a last chance to improve. Nevertheless 16 of the 20 qualifiers were over 100 mph, Allen being at the top with 110.700 and Evan Noyes (Brabham BT29 Cosworth-Ford FVC) at the bottom with 102.744 mph. Faloon did not practice, but was allowed to start from the back of the grid.
The grid was as follows :- Allen and McRae, Matich and Gardner, Eyerly and Cannon, Lawrence and Amon, Oxton and Pilette, Bartlett and Brown, Guthrie and O'Sullivan, Noyes and Radisich, Smith and Robertson, McConnell and Faloon.
Gear selector problems forced Faloon to scratch before the race started.
The Grand Prix came at the end of a long race programme, but the track was in good shape for the rolling start, from which McRae shaded Allen, who was followed by Matich, Gardner, Cannon and Eyerly, who jostled for elbow room as they raced into the first turn where Pilette's M10B threw out a dense smokescreen. At the end of the first lap McRae narrowly led Allen, Matich, Eyerly, Gardner, Cannon, Amon and Lawrence. There was a gap back to the next bunch which included the smoking Pilette. Malcolm Guthrie, who had spun his Lola T192 Chev, came round last but was rapidly gathering the tail-enders.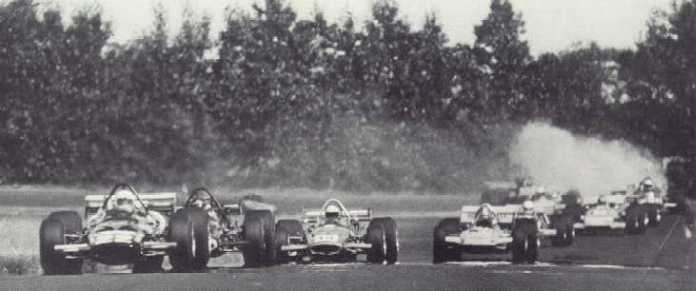 McRae heads Allen and Matich on the first lap. The smoke is from Pilette.
McRae moved into lap 3 a second clear of Allen and the queue behind was unchanged. The leader drew out another second in this lap and still the order up front remained the same, although Bob Brown (Lola T190 Chev) had moved in behind Lawrence. Pilette pitted permanently with no oil pressure and Bartlett made a brief stop for a plug change to the Mildren-Chev.
With an eighth lap average of 107.87 mph McRae extended his lead over Allen to 2.5 sec. Matich and Gardner were in close and there was a gap to Eyerly and Cannon and another to Amon and Lawrence, both of whom were clear of Brown, Oxton and Frank Radisich (McLaren M10A Chev). Don O'Sullivan (McLaren M10A Repco) dropped out with a broken half-shaft and a lap later Bartlett rejoined. After 11 laps Amon dropped back from sixth when he pitted the Lotus 70 for an aerofoil adjustment. A lap later McRae and Allen, still locked together, opened their lead to 6 sec over Matich, who had been forced to brake suddenly to avoid a spinning Noyes. This braking put paid to Gardner's chances for the Lola T192 Chev contacted the rear of the Repco-powered M10B and crashed out of the race, one front wheel detaching itself from the car.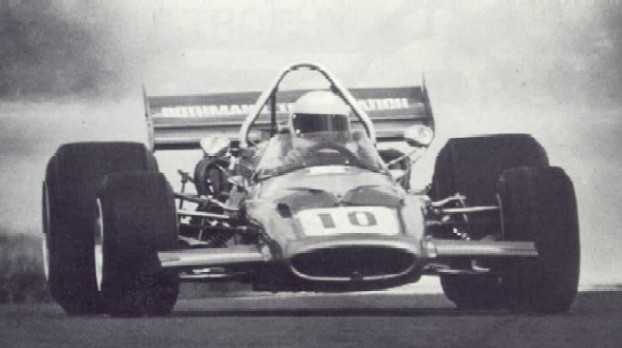 Frank Matich (McLaren M10B).
Only 8 sec bridged McRae, Allen and Matich after 17 laps, and two laps later Allen lifted the lap record to about 109 mph without making a visible gain on McRae; the order back to Lawrence stayed the same. Guthrie, who had been going well and was running on even terms with Oxton, took over eighth position in the next round when the March driver spun and dropped back to let Radisich into ninth place ahead of Brown. All the others were well out of the picture and, barring trouble, it looked as though McRae, Allen and Matich would sort things out among themselves as Eyerly and Cannon were losing ground. Allen made his winning bid in lap 28 and increased his pace to average 109.75 mph in lap 30. McRae hung on in close pursuit and Matich was 6.6 sec farther back. Eyerly, now clear of Cannon who was coping with handling problems, was another 8.8 sec back.
At the end of 37 laps, Allen's lead over McRae was 3 sec and there were 7 sec to Matich and 9 sec to Eyerly. Then came Cannon and Lawrence. Two laps later Allen led McRae by 3.5 sec and Matich was closing on the New Zealander. In lap 40 Matich set the new 110.13 mph record and, as the pace increased, it was noticeable that McRae's M10B was losing ground as Allen and Matich reached peak speed on the back straight.
Brown had oil pump failure and withdrew on lap 44 while Noyes dropped out with a puncture three laps later and Oxton stopped on lap 51 with a broken half-shaft.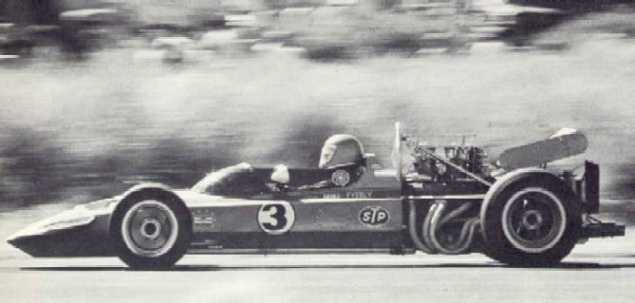 Mike Eyerly (Surtees TS8).
Matich after 50 laps was only 4 sec behind Allen. McRae was still between the Australians and remained there till the end of 53 laps when the bridge was reduced to 3 sec. Next time round the order was Allen, Matich and McRae; with Eyerly and Cannon next, clear of Lawrence, who in turn was clear of Guthrie and Radisich.
Matich moved in on Allen, who refused to be ruffled and went on without increasing his pace knowing he could make it to the finish in front, without taking any risks. He won by only 4 tenths of a second.
18th New Zealand Grand Prix
Date: 9th January 1971
Venue: Pukekohe
58 laps of 2.816kms (163.33kms)
Result
Driver
Nat
Car

Laps

Time
1
Niel Allen
Aust
McLaren

M10B /

Chevrolet 4988cc

V8

58
56m 27.0s
2
Frank Matich
Aust
McLaren

M10B /

Repco 4940cc

V8

58
56m 27.4s
3
Graham McRae
NZ
McLaren

M10B /

Chevrolet 4988cc

V8

58
56m 34.7s
4
Mike Eyerly
USA
Surtees

TS8 /

Chevrolet 4988cc

V8

58
56m 59.7s
5
John Cannon

UK

McLaren

M10B /

Chevrolet 4988cc

V8

58
57m 29.6s
6
Graeme Lawrence
NZ
Ferrari 246T

/ Ferrari

24

17

cc

V6

57

7
Malcolm Guthrie
UK

Lola T192 / Chevrolet 4988cc V8

56

8
Frank Radisich
NZ
McLaren

M10A /

Chevrolet 4988cc

V8

56

9
Chris Amon
NZ
Lotus

70 /

Ford 4997cc

V8

55

10
Ken Smith
NZ
Lotus

69 /

Cosworth 1850cc

4cyl

53

11
Baron Robertson
NZ
Brabham

BT23C /

Cosworth 159

8

cc

4cyl

12
Dave McConnell
Can
Lotus

69 /

Ford 1598cc

4cyl

Ret
David Oxton
NZ
March

701 /

Cosworth 2491cc

V8

51
Half-Shaft
Ret
Evan Noyes
USA
Brabham

BT29 /

Cosworth 1850cc

4cyl

47
Puncture
Ret
Bob Brown
US

A

Lola T190 / Chevrolet 4988cc V8

44
Oil Pump
Ret
Frank Gardner
Aust

Lola T192 / Chevrolet 4988cc V8

12
Accident
Ret
Kevin Bartlett
Aust
Mildren

/

Chevrolet 4988cc

V8

11

Ret
Don O'Sullivan
Aust
McLaren

M10A /

Repco 4940cc

V8

8
Half-Shaft
Ret
Teddy Pilette
Belg
McLaren

M10B /

Chevrolet 4988cc

V8

3
Oil Pressure
DNS
Bryan Faloon
NZ

Rorstan Mk1a / Porsche 1990 8cyl

Gear Selector

DNS
Dexter Dunlop
NZ
McRae

S2 /

Cosworth 159

8

cc

4cyl
Fastest lap: F. Matich, 56.7 sec. (Record)

Back to 1971 Series Round 3 Wigram

19th NZGP 1972