1971 Round 3
Wigram

Round Three: WIGRAM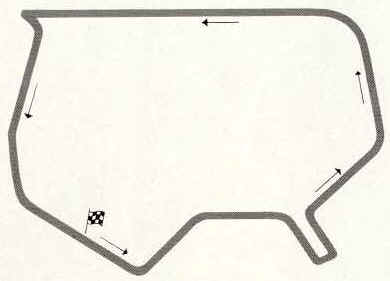 20th Lady Wigram Trophy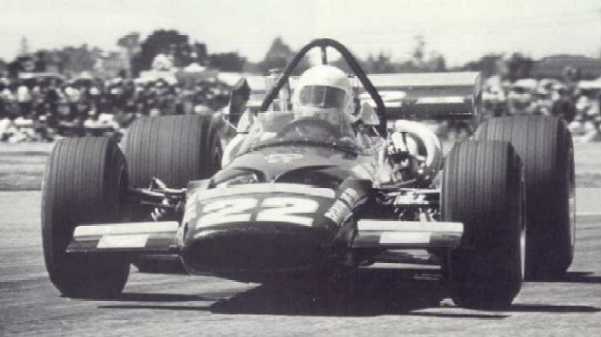 Race winner Graham McRae (McLaren M10B).
Graham McRae's ratio of 1971 Tasman race successes soared to 2-from-3 in the International Lady Wigram Trophy on 16 January when he led from the first lap in his McLaren M10B Chev, averaged a record 104.94 mph, set a 107.12 mph lap record and put 27.2 sec between himself and Frank Matich (McLaren M10B Repco) at the finish. A lap in arrears, with 43 laps completed, came Graeme Lawrence (2.4 Ferrari V6), Frank Gardner (Lola T192 Chev) and Chris Amon (March 701 2.5 Cosworth-Ford V8). Sixth, on 42 laps, was Malcolm Guthrie (Lola T192 Chev). McRae's race time of 57 min 51.8 sec was 1 min 1.8 sec better than the previous best, made by Jochen Rindt (Lotus 49B 2.5 Cosworth-Ford V8) in 1969, and his lap record was 1.78 mph faster than the figure he set in a McLaren M10A in the 1970 trophy race preliminary. John Cannon grabbed a short-lived lead from the rolling start but was overhauled by McRae before the race was a minute old and Matich dropped him to third in lap 7. His promising showing ended abruptly when, in lap 21, he crashed his McLaren M10B Chev to avoid hitting Don O'Sullivan (McLaren M10A Repco) who had taken his ground. Mike Eyerly (Surtees TS8 Chev) crashed when a suspension arm broke during the warm-up lap, and a spin in the first turn after the start dropped Amon to the field's tail. Niel Allen (McLaren M10B Chev) was well up until magneto trouble sidelined him in lap 11.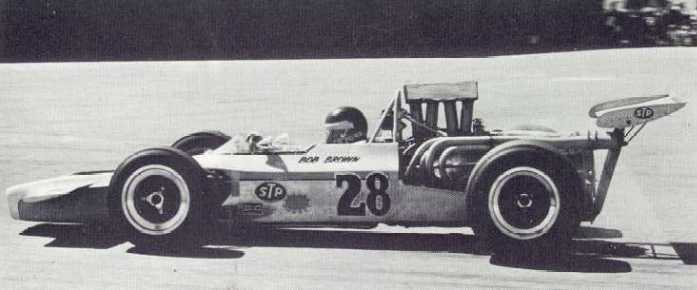 Bob Brown (Lola T190).
The field for Wigram was boosted by the arrival of Leo Geoghegan in the Lotus-Waggott, the Begg-Chevrolet of Geoff Mardon and the Katipo M70-Chevrolet of Robbie Francevic. Unfortunately the Katipo suffered engine problems and scratched. Bryan Faloon was another to scratch after only a few practice laps as gear ratios in the rebuilt Porsche transmission were found unsuitable for Wigram.
Time trials were preceded by unofficial morning runs in which most drivers, apart from McRae, took things quietly. McRae, his own engine back in the M10B, soon returned 1 min 17.3 sec (107.12 mph) which was well inside the 1 min18.6 lap record he set in the 1970 race preliminary. Amon was the first to strike trouble, when the brand-new engine in STP's Lotus 70 dropped a valve. He switched to the March 701, leaving team-mate David Oxton without a race drive.
McRae was out early in the afternoon and came down to 1 min 17 sec (107.532 mph) after which he sat back to watch Matich then Cannon record 1-17.7. Allen damaged a wheel when he clipped a kerb before he returned 1-18.0, the figure later equaled by Gardner. Amon finally brought the March down to 1-19.4, good for sixth on the grid. Leo Geoghegan (Lotus 59 Waggott) and Lawrence, both on 1-19.7 were next. Then came Frank Radisich (McLaren M10A Chev) 1-20.0, Kevin Bartlett (Mildren Chev) 1-20.2, Eyerly 1-21.0, Teddy Pilette (McLaren M10B Chev) and Guthrie, both on 1-21.4, and O'Sullivan 1-21.8. These were all 100mph-plus qualifiers. Next in line was Evan Noyes whose BT29 Brabham aided by the 1850cc FVC engine gained fifteenth grid position in the 22-car field with 1-22.8, a neat 100 mph.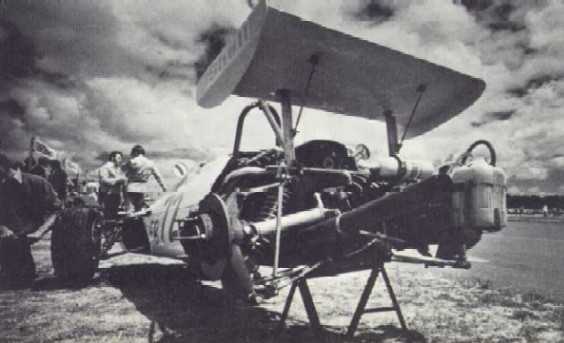 Evan Noyes's Brabham being readied for the race.
The grid was as follows :- McRae and Matich, Cannon and Allen, Gardner and Amon, Lawrence and Geoghegan, Radisich and Bartlett, Eyerly and Pilette, Guthrie and O'Sullivan, Noyes and Brown, Doyle and McConnell, Rhodes and Mardon.
The race started about five minutes behind time, delayed by Eyerly's warm-up lap crash, were he damaged the suspension in an altercation of some sort and became a non-starter. When the action did start it was Cannon who flew to the front from the second row, with McRae, Matich and Allen next. There was a mix-up in the first turn when Radisich and Amon spun and cars went in all directions. Radisich was under way first, but spent most of the race in and out of the pits, while Amon, who had more difficulty getting moving again, was left well behind the field.


The start with Cannon on the left from McRae and Matich.
Cannon's lead was short-lived. McRae took him on the back straight and completed the first lap about four lengths clear of the Canadian; then came Matich, Allen and Gardner in close formation. Next time round McRae had 3 sec over the tightly-bunched foursome. Following, on his own, was Pilette, with Bartlett, Geoghegan and Lawrence next and clear of Bob Brown (Lola T190 Chev). Farther back was O'Sullivan, already under pressure from Amon who was regaining lost ground quickly. At the end of lap 3 McRae had 7 sec over Cannon, who was being harried by Matich. The order remained the same until lap 6 when Bartlett pitted to diagnose what turned out to be terminal ailments two laps later, a faulty coil.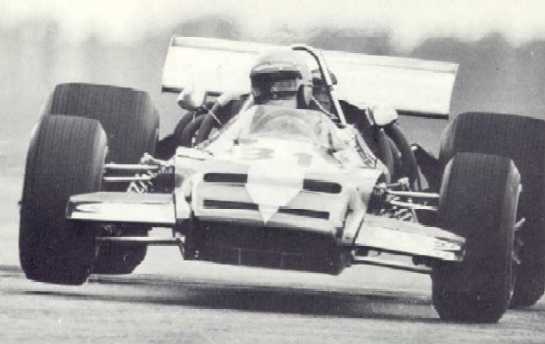 Frank Gardner (Lola T192).
On lap 7 Matich overhauled Cannon. McRae caught up with the tail-enders and lapped Geoff Mardon who was wrestling with an inoperative clutch. Allen and Gardner were battling behind Cannon, with Guthrie up to sixth, ahead of Pilette, Lawrence and Geoghegan. O'Sullivan had passed Brown and Amon was threatening to do likewise. Behind them came the surprisingly fast Lotus 69, Ford twin-cam powered, of Dave McConnell.
After 10 laps McRae led Matich by 15 sec and Gardner had taken Allen, who parked his car a lap later with magneto trouble. Pilette was the next casualty when, in lap 15, a rear tyre punctured and disintegrated. The Belgian kept his M10B on the track, but there was a dangerous fall-out from the incident: a chunk of the tyre, picked up by the wheel of another car, clouted Matich on his helmet before knocking his M10B's wing out of shape. The dazed Matich collected his senses and pressed on. Two laps later Geoghegan's battle with Lawrence ceased when the Australian pitted to have a flat tyre replaced. Three laps later Gardner spun his Lola T192 back to seventh place.
Then it was Cannon's turn as he swerved to avoid O'Sullivan's M10A at the entrance to the Loop. Cannon's M10B struck a course marker drum which wrinkled its rear suspension. The order became: McRae, running unopposed; Matich; Lawrence, the Ferrari clearly outpaced by the leading 5-litre cars but going like a well-oiled clock; Guthrie; Amon; Gardner.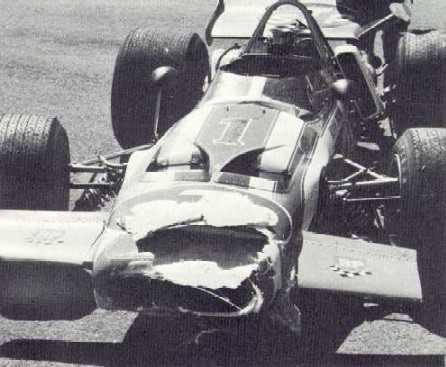 Cannon's McLaren M10B after hitting the course marker.
McRae was driving with some restraint as his oil and water temperature gauges had begun to soar because a piece of paper had partially blocked the air intake of his M10B, but he steadily outstripped the field. It was not because he was going faster: the rest had slacked off a little, realising they had small chance of improving. By the end of lap 28 McRae doubled Lawrence, who was securely third, and nine laps later Matich did the same. There were few changes after that. Amon found himself fourth when Gardner had another spin in lap 35, but the March driver was demoted by the Lola T192 three laps later. The final retirement was that of Noyes, who ran out of petrol after 40 laps. McRae came home clear of Matich, Lawrence, Gardner, Amon, Guthrie, O'Sullivan, and Geoghegan, who had worked hard to get back into the top ten. Brown and McConnell were flagged off next.
20th Lady Wigram Trophy
Date: 16th January 1971
Venue: Wigram Airfield
44 laps of 3.68kms (161.9kms)
Result
Driver
Nat
Car

Laps

Time
1
Graham McRae
NZ
McLaren

M10B /

Chevrolet 4988cc

V8

44
57m 51.8s
2
Frank Matich
Aust
McLaren

M10B /

Repco 4940cc

V8

44
58m 19.5s
3
Graeme Lawrence
NZ
Ferrari 246T

/ Ferrari

24

17

cc

V6

43

4
Frank Gardner
Aust

Lola T192 / Chevrolet 4988cc V8

43

5
Chris Amon
NZ
March

701 /

Cosworth 2491cc

V8

43

6
Malcolm Guthrie
UK

Lola T192 / Chevrolet 4988cc V8

42

7
Don O'Sullivan
Aust
McLaren

M10A /

Repco 4940cc

V8

42

8
Leo Geoghegan
Aust
Lotus

59 /

Waggott 1992cc

4cyl

41

9
Bob Brown
US

A

Lola T190 / Chevrolet 4988cc V8

41

10
Dave McConnell
Can
Lotus

69 /

Ford 1598cc

4cyl

40

11
Neil Doyle
NZ
Begg

FM2 /

Chevrolet 4948cc

V8

40

Ret
Evan Noyes
USA
Brabham

BT29 /

Cosworth 1850cc

4cyl

40
Out Of Fuel
12
Allan Rhodes
NZ
Brabham

BT21 /

Ford 1598cc

4cyl

39

13
Frank Radisich
NZ
McLaren

M10A /

Chevrolet 4988cc

V8

32

Ret
John Cannon

UK

McLaren

M10B /

Chevrolet 4988cc

V8

21
Accident
Ret
Teddy Pilette
Belg
McLaren

M10B /

Chevrolet 4988cc

V8

15
Puncture
Ret
Geoff Mardon
NZ
Begg

FM4 /

Chevrolet 4948cc

V8

10
Clutch
Ret
Niel Allen
Aust
McLaren

M10B /

Chevrolet 4988cc

V8

8
Magneto
Ret
Kevin Bartlett
Aust
Mildren

/

Chevrolet 4988cc

V8

8
Coil
DNS
Baron Robertson
NZ
Brabham

BT23C /

Cosworth 159

8

cc

4cyl

DNS
Robbie Francevic
NZ
Katipo

M70 /

Chevrolet 4948cc

V8

Engine
DNS
Bryan Faloon
NZ

Rorstan Mk1a / Porsche 1990 8cyl

Gear Ratios
DNS
Mike Eyerly
USA
Surtees

TS8 /

Chevrolet 4988cc

V8

Suspension

DNS

David Oxton

NZ
March

701 /

Cosworth 2491cc

V8

Chris Amon
Fastest laps: G McRae 1 min 17.3 sec (Record).