1970 Round 2
Pukekohe

Round Two: PUKEKOHE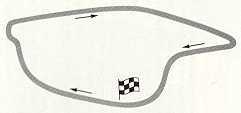 17th New Zealand Grand Prix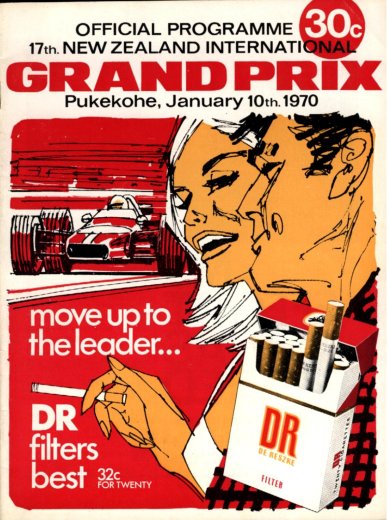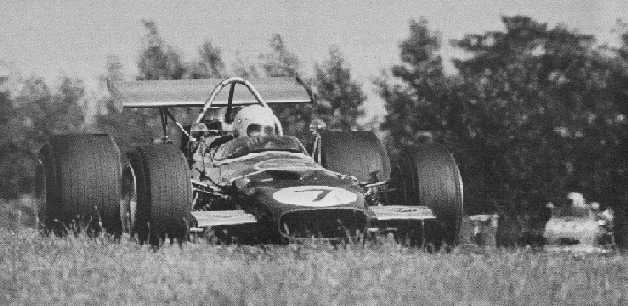 Frank Matich (McLaren M10A) became first Tasman Formula A/5000 winner.

Australia's top sports car driver, Frank Matich showed that he is equally at home in the cockpit of an open-wheeled McLaren M10A Chev when he won the New Zealand Grand Prix at Pukekohe on 10 January from end to end at an average speed of 103.82 mph and made fastest lap at 106.42 mph. He beat off the only other finisher to cover 58 laps, Derek Bell, by the handsome margin of 21.9 sec. Graeme Lawrence ran 57 laps for third and was followed in on the same lap by Ron Grable and Kevin Bartlett. Sixth, on 56 laps, was Ulf Norinder. Then came Mike Goth and Niel Allen. Bell held his place all the way, but Allen, Norinder and Grable had turns in third spot, Allen being delayed by a puncture, Norinder losing ground with handling problems and Grable encountering valve trouble. Lawrence and Bartlett were always handily placed to make the most of opportunities offered them as others' hopes were dashed. Graham McRae, who had not qualified but was allowed to start from the back of the grid, surged through to sixth place after 17 laps but retired soon after, following a second off-course spin which was probably initiated by ignition trouble. As had been the case at Levin, 1969 race and lap records were unbroken.

Since Levin, Grable and Allen had fitted new engines and Faloon managed to put together one whole engine out the bits from the two he had blown up previously. Stewart, encouraged by his second place at Levin, ran the 1.8 twin cam Waggott again, while Bartlett used the 2.0 litre unit. Graham Watson was the fastest NF car in practice, but unfortunately broke a crankshaft and took no further part.

Thursday practice was followed by an evening ballot to determine running order for Friday's Indy-style qualifying trials and, at the end of the day, Jochen Rindt's 1969 lap record of 58.9 sec (106.92 mph) was intact, as indeed was Chris Amon's fastest practice lap of 58.2 sec (108.24 mph). Friday's trials also left them unbeaten. Bell set the tempo in the morning opener at 60.8 sec and ultimately made 59.4. Also an early worker, Matich ran 61.0, and looked good for less than his final 60.9. Allen made 61.3 before the day ended. Bartlett improved from an early 63.7 to 62.4, his Mildren-Waggott companion Max Stewart being satisfied with a morning 62.6. Norinder reeled off many laps for a morning 62.0 and could not improve. Groping early in the day, Michael Campbell came up with 62.6 sec, the same as Goth. Frank Radisich ran 62.8 in the afternoon to be the last of the over 100 mph. A final 63.1 sec left Bill Simpson 0.1 sec outside the 100 mph barrier and Derrick Williams and Dennis Marwood were the best of the rest with 64.4 sec each.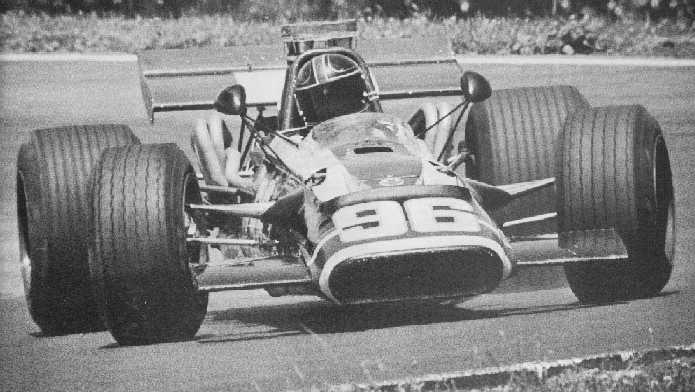 Mike Goth (Surtees TS5) qualified 2nd.

Fourth out to qualify on Friday, Matich was quickest with 59.25 sec (106.229 mph) but the surprise of the day came late when Goth, last out but one, did a fearsome 59.9 sec to be outside Matich for the start. Norinder, an early runner, relieved the tedium when, on his second timed lap, he spun off. But his first timed lap was a booming 60.8 sec and good enough to earn him outside place on the third row, those ahead being Allen and Bell, with Lawrence inside him. McRae, who should have been second out to qualify, did not do so as he was remedying a severe engine vibration. Derrick Williams needed a second attempt to make 63.81 sec late in the day and so head the dozen drivers who failed to record a 63 sec, 100 mph lap. Phillips and McRae were allowed to start from the back of the grid without posting a time.

The final grid for the main race was as follows:- Matich and Goth, Allen and Bell, Lawrence and Norinder, Stewart and Simpson, Bartlett and Grable, Marwood and Campbell, Williams and Faloon, Radisich and Smith, Boyd and Murdoch, Griffiths and Pellow, McRae and Phillips.

About 35,000 people saw Matich move to the front from the rolling start, while Bell slipped by Goth to follow the blue McLaren M10A into Champion Curve, the sweeping right-hander leading from the pit straight. The rest were so closely bunched that, apart from McRae, who was alone at the rear, it was almost impossible to identify them. By the end of the second lap the position had clarified and Matich led Bell by two seconds, then came Goth, Allen, Norinder, Stewart, Lawrence and Bartlett. Williams led the next bunch, and right at the rear was Simpson, who had spun off at the hairpin. McRae had already gained a couple of places.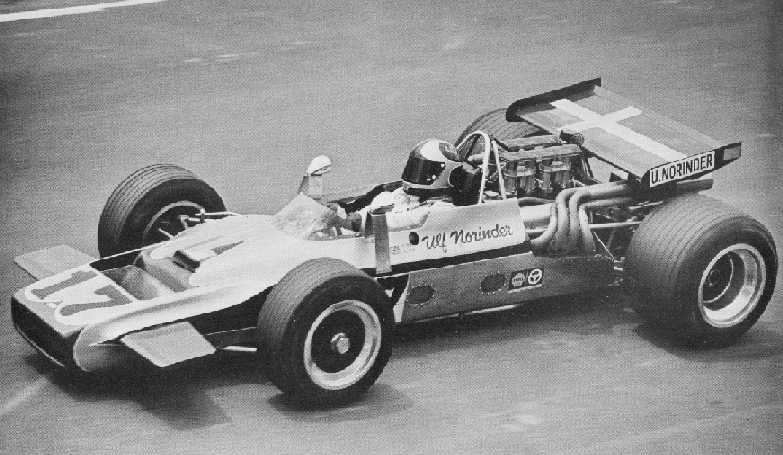 Ulf Norinder (Lola T190) had one of the quickest cars.

With five laps gone, Matich had cleared farther away from Bell, while Allen had moved to third and was followed by Norinder, Grable, Bartlett, Goth, Lawrence, Stewart and McRae. Williams still headed the next bunch, one prominent in it being Pierre Phillips. Marwood had already pitted for attention to his timing gear and gave up on lap 3.

Matich began to increase his advantage in startling style and by the end of lap 10 led Bell by 7.7 sec. Norinder had repassed Allen to be third again and was about three seconds behind Bell. Allen, right behind the Swede, was followed by Bartlett, Lawrence, Stewart and Goth, who had suddenly slowed as a cracked valve guide was limiting his revs. Griffiths pitted the steaming BRP on lap 8 and called it quits on lap 11 with a burst radiator.

At the end of 18 laps Matich was circulating at the 60.0 sec mark, while McRae, who had worked his M10A up to sixth place, was doing fractionally better. But next time round McRae spun at the hairpin and dropped several places while he was out of the car to restart it. He resumed, but was plagued by ignition trouble. Three laps later he skated off the track again at the same corner, clouting the bank and abandoned the contest.

Now the order was Matich, Bell a considerable distance back, Norinder, Allen, Grable and Lawrence running wheel to wheel, Bartlett, Simpson, and some distance away, Stewart and Goth. Two laps later Allen had displaced Norinder to be third and Matich had lapped Stewart. A deflating tyre sent Allen scurrying to his pit for a wheel change at the end of the 29th lap. The delay cost him his excellent chance of a high placing. Norinder resumed in third spot behind the flying Matich and the desperately trying Bell. Allen rejoined the race and began to make his way back through the field as Simpson retired his Eagle with a broken rocker arm.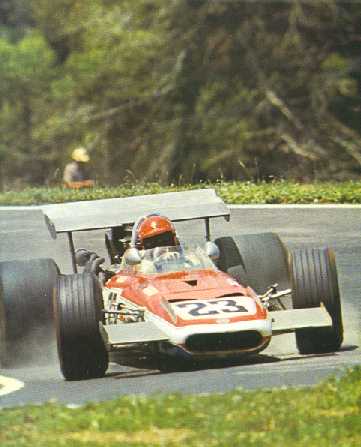 Simpson (Eagle-Chevrolet)
The next change came when Norinder made a lightning pit-stop after an off course spin. That let Grable up to third. He was still being harassed by Lawrence. But Grable's turn lasted only four laps. Lawrence came round in third place to start lap 44. Grable had left his braking too late for the hairpin and taken to the rough and that was all the Ferrari man needed to get through.
With 18 laps to go the order was Matich, Bell, Lawrence, Grable, Bartlett, Norinder and Goth. Stewart had lost ground because of a stop for a wheel change six laps earlier, and he and Allen were driving hard but well and truly out of the places that mattered. Matich had the situation under complete control and, apart from the climb back through the field of Allen and Stewart, there was no further excitement.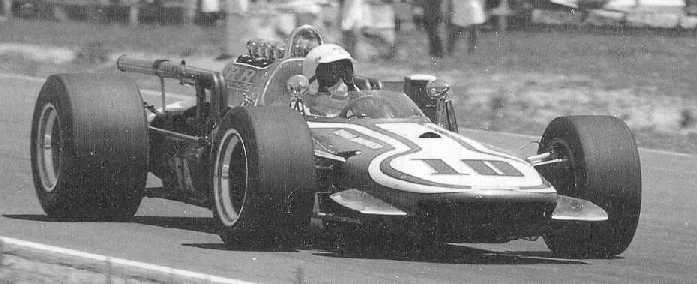 Dennis Marwood (Eisert-Chevrolet).
17th New Zealand Grand Prix
Date: 10th January 1970
Venue: Pukekohe
58 laps of 2.816kms (163.33kms)
Result
Driver
Nat
Car

Laps

Time
1
Frank Matich
Aust
McLaren

M10A /

Chevrolet 49

95

cc

V8

58
58m 38.9s
2
Derek Bell
UK
Brabham

BT26 /

Cosworth 2

495

cc

4cyl

58
59m 01.8s
3
Graeme Lawrence
NZ
Ferrari 246T

/ Ferrari

24

17

cc

V6

57

4
Ron Grable
USA
McLaren

M10A /

Chevrolet 49

95

cc

V8

57

5
Kevin Bartlett
Aust
Mildren

/

Waggott 1992cc

4cyl

57

6
Ulf Norinder
Swed
Lola

T190 /

Chevrolet 4991cc

V8

56

7
Mike Goth
USA
Surtees

TS5 /

Chevrolet 4995cc

V8

56

8
Niel Allen
Aust
McLaren

M10B /

Chevrolet 49

95

cc

V8

56

9
Max Stewart
Aust
Mildren

/

Waggott 1

860

cc

4cyl

55

10
Derrick Williams
UK
Lola

T142 /

Chevrolet 4995cc

V8

54

11
Pierre Phillips
USA
Begg

FM2 /

Chevrolet 4948cc

V8

54

12
Frank Radisich
NZ
McLaren

M4A /

Cosworth 1

598

cc

4cyl

54

13
Ken Smith
NZ
Lotus

41B /

Ford 1598cc

4cyl

53

14

Brian

Pellow
NZ
Brabham

BT6 /

Ford 1498cc

4cyl

52

Jim Boyd
NZ
Brabham

BT11A /

Climax 2

495

cc

4cyl

Wayne Murdoch
NZ
Brabham

BT18 /

Ford 1

598

cc

4cyl

Ret

Bryan Faloon
NZ
Rorstan

1 /

Climax 2

495

cc

4cyl

Overheating

Ret
Bill Simpson
USA
Eagle

51 /

Chevrolet 4995cc

V8

39
Rocker Arm
Ret
Graham McRae
NZ
McLaren

M10A /

Chevrolet 4948cc

V8

20
Accident
Ret
Mike Campbell
USA
Forsgrini

14 /

Ford 4998cc

V8

12
Engine
Ret
Kaye Griffiths
UK
BRP

64 /

Ford 4948cc

V8

11
Radiator
Ret
Dennis Marwood
NZ
Eisert

JE67 /

Chevrolet 4948cc

V8

3
Timing
Fastest lap: F. Matich, 59.2 sec.

Back to 1970 Series Round 3 Wigram

18th NZGP 1971