1970 Round 3
Wigram

Round Three: WIGRAM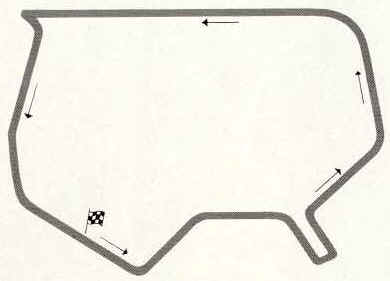 19th Lady Wigram Trophy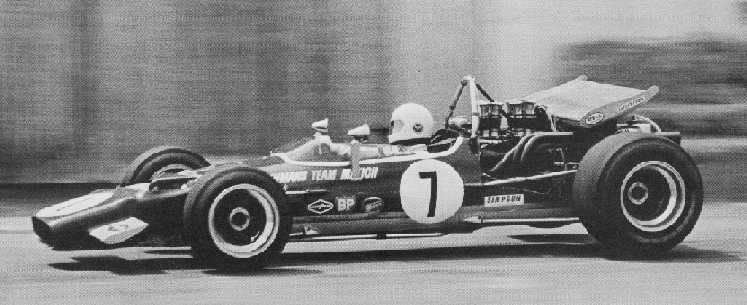 Frank Matich (McLaren M10A) makes it two wins in a row. Frank Matich continued his winning way with the 5.0 McLaren M10A Chev in the International Lady Wigram Trophy on 17 January when he beat Ron Grable, who led the first six of the 44 laps, by 10.3 sec. He averaged 101.47 mph, finished almost out of petrol, and withstood strong challenges from Grable and Derek Bell. Bell's attack ended when his engine blew in lap 34. Grable then regained the second position he had lost to the Englishman in lap 27. Never farther back than fifth, Max Stewart was third, 2.5 sec behind Grable. The rest of the 20 car field was doubled at least once. With 43 laps each, Bill Simpson and Mike Goth were fourth and fifth. Michael Campbell and Bryan Faloon were next in line with 42 laps. After setting a 105.34 mph lap record in his preliminary, Graham McRae lost more than a lap at the start as repairs were made to fire damage caused by ignition of petrol from an over-filled tank during the warm-up. He eventually retired with overheating. Kevin Bartlett and Ulf Norinder touched in the first lap. Bartlett then made two pit stops before retiring with piston failure and Norinder abandoned with a broken oil line. Running fifth, Graeme Lawrence pitted after 20 laps with ignition trouble and subsequently retired when well out of contention.

There were a few engine changes made between Pukekohe and this meeting. Goth had a new fuel-injected Chev flown in from the States, while Campbell had his engine rebuilt completely. Bartlett also had a rebuild of his Waggott to replace a burned piston, while the other Mildren of Stewart was refitted with the 2-litre motor when it was found the smaller version had a cracked block.

Untimed morning runs and timed runs at drivers' requests were practice day procedure. Four drivers had broken the 100 mph barrier and four or five others had nudged it by the end of the first session. McRae put in a 103.89 mph lap before stopping to stem a gearbox oil leak. Matich was next with 102.48 mph, while Bell, the Brabham mishandling badly, ran out a 102.35 mph lap, gaining an advantage over the 5-litre V8s by being faster into the back straight through Bomb Bay Bend. Grable, happy with the circuit, went 100.85 mph. Just below the century were Lawrence, Goth, Bartlett and Stewart. Apart from mishandling Bell also encountered gearbox and brake pad troubles and missed much of the important afternoon running. Niel Allen was even less fortunate. Confronted with the choice of contacting a Begg FM2 or a marker drum, he chose the latter and knocked off one of the 5.0 McLaren M10B Chev's wheels early in the day. The damage was repaired in time for race day. Matich with 1 min 18.2 sec (105.61 mph) was officially declared fastest qualifier, although McRae had been timed at 106.02 mph by unofficial watches. He was given second best time of 1 min 18.4 sec. Next were Grable (1.19.3), Bell (1.20.0), Norinder (1.21.1) and Lawrence (1.21.8). This meant that six had bettered the 100 mph lap average and they were well clear of Dennis Marwood and Frank Radisich, who had returned 1 min 24.8 sec and 1 min 25 sec respectively, to head the rest. It was the first 1970 Tasman training session during which a best 1969 practice time had been beaten. Jochen Rindt (2.5 Lotus 49BT Cosworth V8) was quickest in 1969 with 1 min 18.5 sec.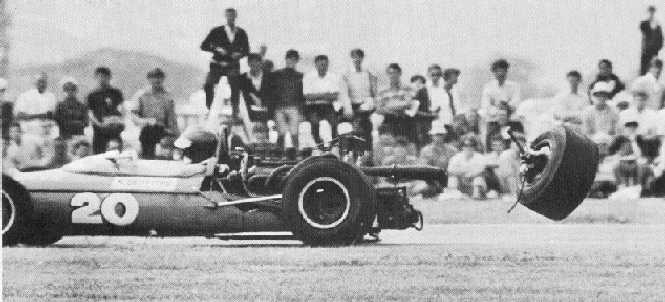 Wheels flying from the BRP-Ford of Kaye Griffiths. Griffiths failed to qualify the dreadful BRP after a rear upright broke and other miscellaneous items gave trouble. The BRP did have some use, though. The Eisert had problems with its Colotti-Francis gearbox and the Rorison team was able to borrow bits from the BRP's almost identical unit to keep it going. Griffiths had also found a buyer for the car in Peter Hughes.

A five-lap preliminary gave contestants an opportunity to improve their main race starting positions and the only one to profit from it was Bell who ran a fastest lap of 1 min 19 sec to muscle Grable back one place. At the start the Matich, McRae and Grable M10As stormed to the front, while Bartlett watched helplessly as his Mildren-Waggott had refused to start. Matich spun in the first corner and McRae cleared out from Bell, while Norinder, Grable and Lawrence disputed third place and were followed by Frank Radisich, Geoff Mardon, Goth and Dennis Marwood. Allen trailed along at the rear, having damaged a wheel rim by hitting a kerb. With McRae well in front, and Bell next, Norinder took third place from Grable in the fourth lap and Matich and Stewart displaced Radisich. Finishing order was McRae, with 10.8 sec to Bell, Grable, Norinder and Lawrence, and for the first time in the 1970 Tasman series a new lap record had been established, McRae's 1 min 18.6 sec.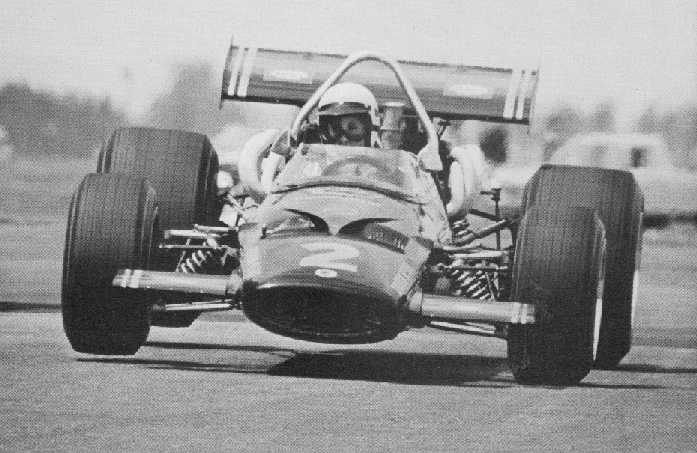 Graham McRae (McLaren M10A) impressed in the preliminaries but failed to start

on time

. The final grid positions for the main race were as follows:- Matich and McRae, Bell and Grable, Allen and Norinder, Lawrence and Stewart, Goth and Marwood, Radisich and Simpson, Williams and Mardon, Baker and Smith, Phillips and Campbell, De Lore and Bartlett, and Faloon at the rear.

The main race start was held up as repairs were made to the oil pressure and water temperature gauge lines on the McRae McLaren. Both were plugged and this resulted in McRae's subsequent retirement with pressurisation and overheating problems. The race could not be delayed indefinitely and so the field was sent on its way, and Matich led Grable, Bell, Allen, Norinder and Lawrence into the first corner. Goth and Allen spun and the Norinder Lola and Bartlett Mildren-Waggott touched, the outcome being that the Swede retired with a broken oil line while the Australian pitted with a damaged nose section, repeated it to have the rear spoiler removed and retired soon after with engine bothers. McRae finally got going as the field was commencing its second lap.

In the meantime Grable had hit the front, with Matich next, followed by Bell, Lawrence, Stewart, Simpson, Marwood, Pierre Phillips, Derrick Williams, Allen and Mardon. Lifted off the track by the strong breeze, a large piece of paper had lodged itself in the nose of the Lawrence Ferrari. Stewart moved to fourth in the third lap while Grable held on about a second ahead of Matich, who was seven seconds clear of Bell after five laps. Then came Stewart and Lawrence, comfortably clear of closely-bunched Goth, Allen and Marwood.

In the seventh lap, Matich assumed the lead he was not to relinquish, and the next few laps saw some minor place changes, Goth moving up to ninth and Allen to seventh; he improved to be challenging Lawrence for fifth when electrical troubles sidelined him after thirteen laps. Four laps later McRae abandoned the race with

electrical

problems and by then Marwood had also retired, having stalled the Eisert in a spin and been unable to restart it, owing to a flat battery.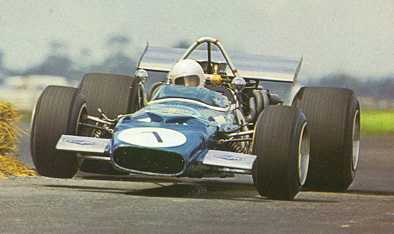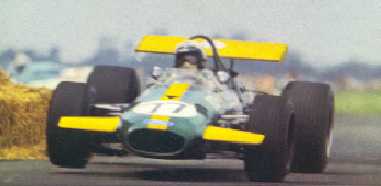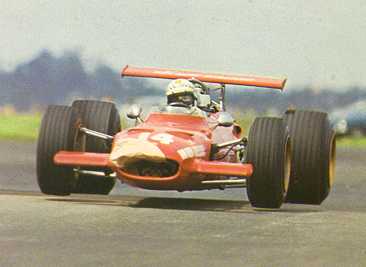 Matich (McLaren), Bell (Brabham) and Lawrence (Ferrari) through the loop.
At the end of 20 laps Matich was 13 sec ahead of Grable and there was 6 sec back to Bell. Then came Stewart, Lawrence, Simpson, Goth, Campbell, Phillips, Bryan Faloon and Graham Baker. Next time round Matich doubled Simpson, the sixth in the field, and in the following lap Lawrence pitted to have the paper removed and some coolant added, rejoined the race and soon stopped permanently after the transistor ignition box had failed.
Bell took Grable in the 27th lap and found himself 22 sec behind Matich. Behind Grable came Stewart, Simpson, Goth, Campbell, Phillips, Faloon and Baker. Bell's second place was short-lived. He coasted into the pits with smoke belching from the broken Cosworth-Ford engine after 33 laps. A new Cosworth was immediately ordered from England, to be ready for Teretonga. Mardon had stopped four laps earlier when the Begg's rear suspension failed.
Goth made a last ditch effort to get fourth place back from Simpson but ended any hope he had by spinning out on lap 39. Matich was now out on his own, while Grable led Stewart by about three seconds and the others held their places. In the concluding laps the leading McLaren M10A began to splutter from lack of petrol, but Matich held on to finish a most convincing winner.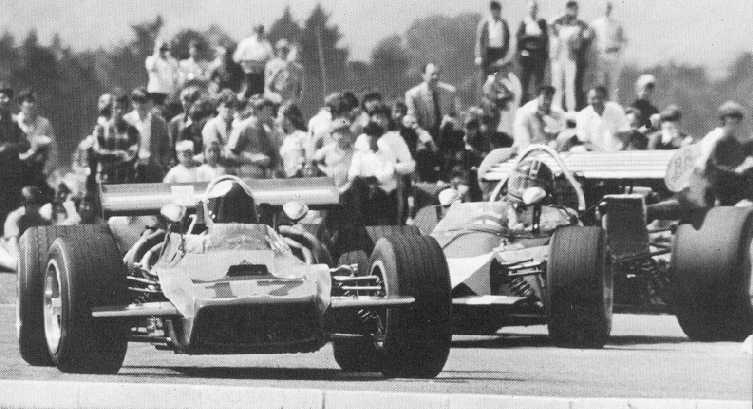 Norinder ahead of Grable.
19th Lady Wigram Trophy
Date: 17th January 1970
Venue: Wigram Airfield
44 laps of 3.68kms (161.9kms)
Result
Driver
Nat
Car

Laps

Time
1
Frank Matich
Aust
McLaren

M10A /

Chevrolet 49

95

cc

V8

44
59m 54.2s
2
Ron Grable
USA
McLaren

M10A /

Chevrolet 49

95

cc

V8

44
60m 04.5s
3
Max Stewart
Aust
Mildren

/

Waggott 1

860

cc

4cyl

44
60m 07.0s
4
Bill Simpson
USA
Eagle

51 /

Chevrolet 4995cc

V8

43

5
Mike Goth
USA
Surtees

TS5 /

Chevrolet 4995cc

V8

43

6
Mike Campbell
USA
Forsgrini

14 /

Ford 4998cc

V8

42

7
Bryan Faloon
NZ
Rorstan

1 /

Climax 2

495

cc

4cyl

42

8
Pierre Phillips
USA
Begg

FM2 /

Chevrolet 4948cc

V8

41

9
Derrick Williams
UK
Lola

T142 /

Chevrolet 4995cc

V8

41

10
Graham Baker
NZ
Brabham

BT21 /

Ford 1

598

cc

4cyl

41

11
Ken Smith
NZ
Lotus

41B /

Ford 1598cc

4cyl

40

12
Peter De Lore
NZ
Lotus

20 /

Ford

1998

cc

4cyl

13
Frank Radisich
NZ
McLaren

M4A /

Cosworth 1

598

cc

4cyl

Ret
Derek Bell
UK
Brabham

BT26 /

Cosworth 2

495

cc

4cyl

34
Engine
Ret
Geoff Mardon
NZ
Begg

FM2 /

Chevrolet 4948cc

V8

30
Suspension
Ret
Graeme Lawrence
NZ
Ferrari 246T

/ Ferrari

24

17

cc

V6

24

Overheating

Ret
Graham McRae
NZ
McLaren

M10A /

Chevrolet 4948cc

V8

20

Electrical

Ret
Dennis Marwood
NZ
Eisert

JE67 /

Chevrolet 4948cc

V8

13
Battery
Ret
Niel Allen
Aust
McLaren

M10B /

Chevrolet 49

95

cc

V8

11
Electrical
Ret
Kevin Bartlett
Aust
Mildren

/

Waggott 1992cc

4cyl

6
Engine
Ret
Ulf Norinder
Swed
Lola

T190 /

Chevrolet 4991cc

V8

0
Oil line

DNQ

Kaye Griffiths
UK
BRP

64 /

Ford 4948cc

V8
Fastest laps: G McRae 1 min 19.8 sec (in race) and
G McRae 1 min 18.6 sec (in preliminary heat)* * record.