1970 Round 4
Teretonga

Round Four: TERETONGA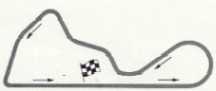 13th Teretonga International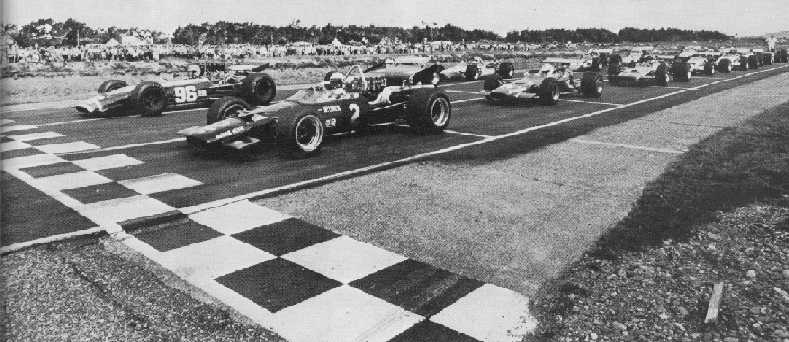 McRae on pole had an all the way win. Graham McRae fulfilled earlier promise with the 5.0 McLaren M10A Chev by winning the final New Zealand Tasman Championship round, the Rothmans Teretonga International, on 24 January, at 95.426 mph, having earlier in the day equaled the 99.48 mph lap record set by Jochen Rindt (2.5 Lotus 49BT Cosworth V8) in 1969. Second, 12.5 sec back, was Ron Grable and he was followed 38.9 sec later by Mike Goth, who led home fourth man Graeme Lawrence by the slender margin of 1.4 sec. Kevin Bartlett ran 61 of the 62 laps for fifth. Sixth, a further lap back, was Derrick Williams. Goth led from the start, but McRae took him in the fourth lap and led the rest of the way. Grable moved to second spot in lap 16, but at half distance McRae had a 16 sec lead. This diminished to 5 sec after 50 laps, as McRae contended with a sticking throttle and gear selection troubles, but he was able to pull away again as a front tyre on the American's car began to deflate. Ulf Norinder ran fourth behind Goth and hard pressed by Lawrence as the race ran into its middle stage, but retired with heat exhaustion at the half-way mark. Max Stewart, running sixth ahead of team-mate Bartlett, crashed on lap 17. McRae's race time was nearly two minutes slower than the 1969 record of Piers Courage (2.5 Brabham BT24 Cosworth V8). McLaren drivers Frank Matich and Niel Allen did not contest the race and Derek Bell scratched for lack of an engine.

Bell had a new DFW Cosworth V8 flown out from Britain and fitted into the Brabham while Norinder had a new Chev installed. A piston failed in Faloon's Rorstan, so yet another FPF was patched together for this race. Simpson had his Chev rebuilt but Campbell had to scratch after he cracked the block in the Ford V8. George Begg had extensively modified the rear end of his cars to get better handling. Hughes now proudly owned the BRP-Ford but it suffered from ignition problems and brake failure and could not make the grid for the main race.

Practice began with a Thursday afternoon sorting session as a prelude to Friday morning time trials to determine preliminary heat grid placings. Wheatcroft Racing was on the scene early and accompanied by Chris Amon who had flown down from the family home at Bulls to try and help Bell rectify the Brabham's handling problems. A brand new engine had been fitted since Wigram. Bell did a few laps before Amon took over. In all the car covered 13 laps of the 1.6-mile circuit before the engine blew disastrously. A connecting rod punched a hole through the block. With the engine damaged at Wigram on its way back to Britain Tom Wheatcroft had no option but to scratch from the race and after further consideration it was decided to abandon the Tasman series altogether. The rest of the session was a desultory affair, Lawrence being the most energetic and also the quickest, although his best time of 59.8 sec did not approach the 57.9 sec outright record Jochen Rindt had set the previous year.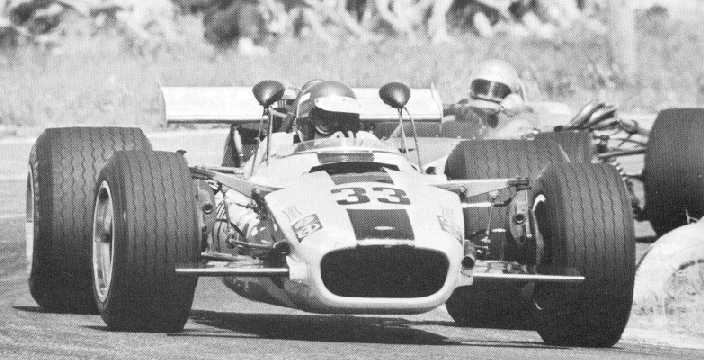 Derek Williams (Lola T142) finished sixth.

Friday morning's timed trials also failed to produce 1969 par figures. McRae, under-geared for the main straight, made 58.1 sec (99.2 mph) and this was subsequently equaled by Goth. Lawrence returned 58.4 sec and Bartlett and Norinder shared 59.0 sec. Frank Radisich and Stewart were given 59.6 sec each, the Radisich effort being queried by some. Grable worked down to 60.3 sec before oil pressure fluctuation set in and sent him off to investigate. Pierre Phillips managed 60.7 sec before a head gasket blew and Bill Simpson did likewise. Derrick Williams began to display form to be next with 61.9 sec. The session ended with lap times well down on those of the final 1969 session when Piers Courage (2.5 Brabham BT24 Cosworth V8) did 57.2 sec and the Gold Leaf Team Lotus men Rindt and Graham Hill were only 0.1 sec slower.

Two six-lap preliminaries were used to determine main race grid positions, which were allotted on the basis of individual lap times and were won by Norinder and McRae, the latter equaling the lap record of 57.9 sec in the process. In the first, Norinder and Stewart shared the front row and Michael Campbell scratched because of a cracked engine block. Grable snatched the lead from the start but the greater speed of the Norinder Lola T190 told on the main straight in the second lap, although the American momentarily headed it again in lap 3. Missed gear changes had dropped Grable to third behind Stewart at the finish. Begg cars, the FM2s of Pierre Phillips and Geoff Mardon, and 1600cc twin-cam of Russell Thomson filled the next three places.

McRae won the second heat convincingly after he had taken Goth in lap 2, the latter finishing second, 6.6 sec in arrears. Third was Lawrence, a second ahead of Bartlett; then came Radisich and Simpson. As McRae's morning effort gained him pole position and as no one else had improved on Goth's practice time he was outside him for the main race rolling start in which the pace car was driven by Bell.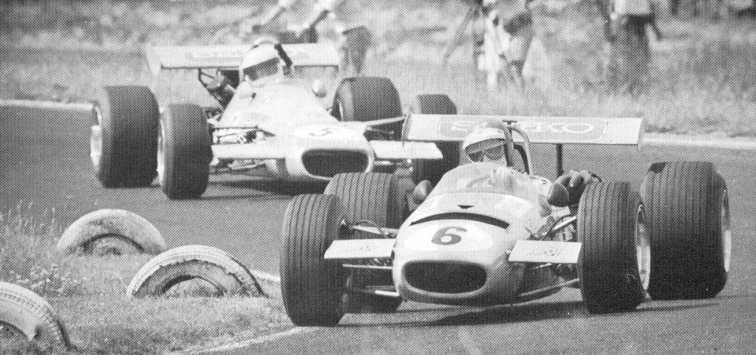 Stewart and Bartlett in the Mildren-Waggotts.
The final grid positions for the main race were as follows:- McRae and Goth, Lawrence and Bartlett, Norinder and Radisich, Stewart and Grable, Phillips ands Simpson, Williams and Marwood, Faloon and Mardon, Taylor and Thomson, Smith and Baker, Murdoch and Watson.
The race got underway with Goth out-dragging the rest but was closely followed by Bartlett who hit the front briefly on the twisty back section of the course, only to drop back again as the power of the F5000 cars began to tell. At the end of the first lap it was Goth from McRae and Norinder, Bartlett, Grable, Simpson, Lawrence, Stewart, Phillips and Radisich. Marwood was out already on lap 1 with a broken clutch. Two laps later McRae was challenging Goth, Norinder was next and then came Grable, Bartlett, Lawrence and Stewart. Next time round McRae was in the lead and he began to go away at the rate of nearly a second a lap. On lap 7 Grable took Norinder as Bryan Faloon pitted with an oil leak. Mardon retired with a broken gear linkage.
With eight laps gone, the leaders were doubling the tail-enders, McRae comfortably leading Goth who was followed by Grable, Norinder, Lawrence, Bartlett and Stewart, nose to tail, Phillips, Radisich, Williams, Graham Baker and Ken Smith. Eight laps later Grable took Goth, who had damaged a front spoiler in a minor brush with a tail-ender and Stewart crashed off the track through a wire-stranded fence, fortunately suffering only minor injuries, but ending up with a very sorry looking Mildren. Simpson also retired on lap 18 with low oil pressure.
By the time McRae had completed 20 laps he was 14.5 sec clear of Grable, who had 3.5 sec on Goth. Then there was 5 sec to Norinder and Lawrence, running wheel-to-wheel. Next was Bartlett on his own, and he was followed a long way back by Phillips, Radisich and Williams. Major interest was the in-fighting of Norinder and Lawrence. The bout abruptly ended at the half-way mark when the burly Swede pitted in a state of collapse from heat exhaustion. Lawrence automatically took fourth place and for the remainder of the race moved in on Goth. Phillips spun the Begg on lap 30 while seventh and retired with a bent radius arm.
McRae eased his pace a little and Grable came up to be less than 7 sec behind after 45 laps. At 50 the gap was 5 sec and McRae was in trouble with a sticking throttle and gear-changing difficulties. But a lap later he had extended his lead to 12 sec as Grable slowed with a deflating tyre. In the concluding laps Lawrence moved in on Goth, but was unable to take the American. Bartlett finished fifth, a lap down, while Williams was next two laps farther back.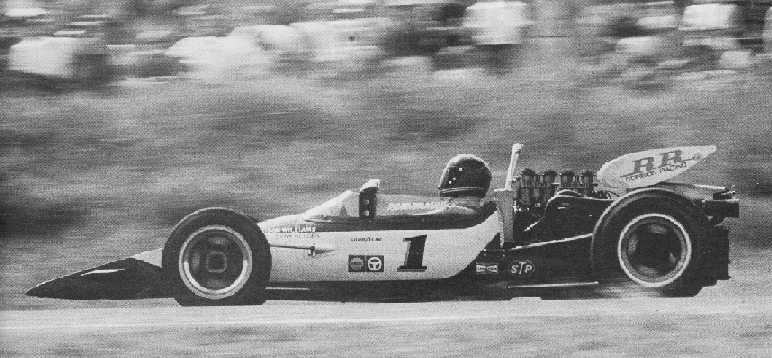 Ron Grable (McLaren M10A) had two seconds in a row.
13th Teretonga International
Date: 24th January 1970
Venue: Teretonga Park
62 laps of 2.575kms (159.65kms)
Result
Driver
Nat
Car

Laps

Time
1
Graham McRae
NZ
McLaren

M10A /

Chevrolet 4948cc

V8

62
63m 03.6s
2
Ron Grable
USA
McLaren

M10A /

Chevrolet 49

95

cc

V8

62
63m 16.1s
3
Mike Goth
USA
Surtees

TS5 /

Chevrolet 4995cc

V8

62
63m 55.0s
4
Graeme Lawrence
NZ
Ferrari 246T

/ Ferrari

24

17

cc

V6

62
63m 56.4s
5
Kevin Bartlett
Aust
Mildren

/

Waggott 1992cc

4cyl

61
6
Derrick Williams
UK
Lola

T142 /

Chevrolet 4995cc

V8

59
7
Frank Radisich
NZ
McLaren

M4A /

Cosworth 1

598

cc

4cyl

58
8
Ken Smith
NZ
Lotus

41B /

Ford 1598cc

4cyl

55
9
Wayne Murdoch
NZ
Brabham

BT18 /

Ford 1

598

cc

4cyl

53
10
Bryan Faloon
NZ
Rorstan

1 /

Climax 2

495

cc

4cyl

47
Russell Thomson
NZ
Begg

FM1 /

Ford 1

598

cc

4cyl

Cary Taylor
NZ
Brabham

BT21 /

Ford 1

598

cc

4cyl

Graham Baker
NZ
Brabham

BT21 /

Ford 1

598

cc

4cyl

Graham Watson
NZ
Brabham

BT18 /

Ford 1

598

cc

4cyl

Ret
Ulf Norinder
Swed
Lola

T190 /

Chevrolet 4991cc

V8

32
Exhaustion
Ret
Pierre Phillips
USA
Begg

FM2 /

Chevrolet 4948cc

V8

30
Radius Arm
Ret
Bill Simpson
USA
Eagle

51 /

Chevrolet 4995cc

V8

18
Oil Pressure
Ret
Max Stewart
Aust
Mildren

/

Waggott 1

860

cc

4cyl

17
Accident
Ret
Geoff Mardon
NZ
Begg

FM2 /

Chevrolet 4948cc

V8

9
Gear Linkage
Ret
Dennis Marwood
NZ
Eisert

JE67 /

Chevrolet 4948cc

V8

1
Clutch

DNS

Derek Bell
UK
Brabham

BT26 /

Cosworth 2

495

cc

4cyl

Engine

DNS

Mike Campbell

USA

Forsgrini

14 /

Ford 4998cc

V8

Engine

DNS

Peter Hughes

NZ

BRP

64 /

Ford 4948cc

V8

Engine

DNA

Frank Matich
Aust
McLaren

M10A /

Chevrolet 49

95

cc

V8

DNA

Niel Allen
Aust
McLaren

M10B /

Chevrolet 49

95

cc

V8
Fastest lap: G. McRae, 58.7 sec
G. McRae, 57.9 sec in preliminary heat * *equaled record