1969 Round 1
Pukekohe

Round One: PUKEKOHE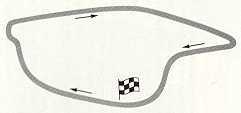 16th New Zealand Grand Prix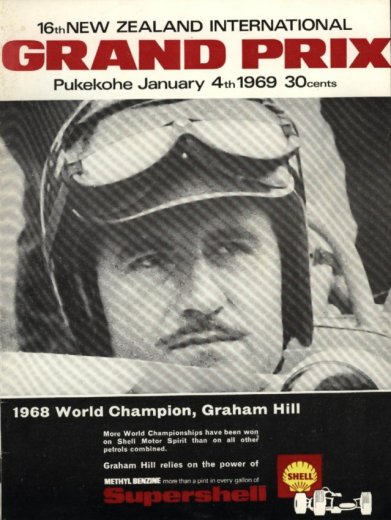 Chris Amon repeated his 1968 Pukekohe performance on 4 January when he won his country's sixteenth Grand Prix in the Tasman Ferrari V6 at a record 105.1 mph by 20.1 sec from Gold Leaf Team Lotus newcomer Jochen Rindt. Third was Piers Courage in Frank Williams's 2.5 Brabham-Ford BT24 V8, 30.7 sec behind the 2.5 Lotus-Cosworth 49T V8 and a lap clear of second Ferrari man Derek Bell. Australian Leo Geoghegan (2,5 Lotus-Repco 39 V8) was fifth, a further lap back, and then came resident Graeme Lawrence (1.5 McLaren-FVA M4A) in sixth spot, with 54 of the 58 laps completed. Amon led for the first lap, but was taken by Rindt on the second. The Gold Leaf Team Lotus challenge lost some of its sting when Graham Hill abandoned with front suspension trouble on the fateful lap 13 when running fourth. The final blow fell when Rindt, pressed hard by Amon, skated on oil and off the track in lap 18; the Austrian resumed in second place, but was unable to make any impression on the New Zealander. A Lotus has yet to win this race, but the marquee went into the record book because Rindt set a 106.92 mph lap record on his ninth lap. Amon improved on his 1968 race-winning average by about 2 mph.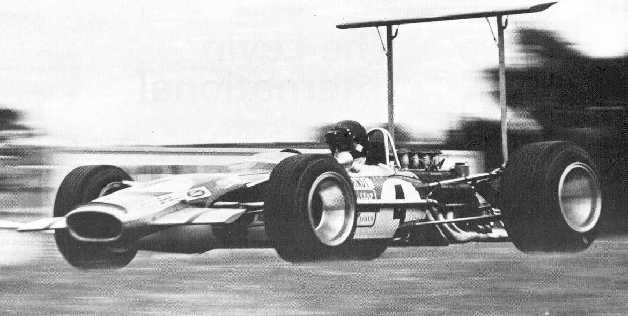 Jochen Rindt (Lotus-Cosworth). The Thursday sessions were sorting periods, although Amon and Courage, the latter, wingless, handicapped by wheelspin moved quickly and finally recorded 58.7 sec and 59.5 respectively. Courage was just outside Amon's 1968 59.3 sec, 106.7 mph lap record. Rindt, at his first Lotus outing, soon made friends with an impressive 58.9. Hill and Frank Gardner (2.5 Mildren-Alfa Romeo V8) arrived late and the world champion was deprived of much practice, first by a puncture and then gear selection trouble. Gardner managed 61 sec, but Bell, who had poked his Ferrari through a railing earlier in the day and emerged undamaged, settled with a worthwhile 60.0 sec. An impending overnight engine-change for the Amon Ferrari, because of a suspected slipped sleeve, ended the day.

All made the scene promptly for the final Friday sessions and the pressure was on as they drew to a lunch-time closure. Rindt came down to 58.4 sec after gear selection problems, including breaking the lever. Sheer determination rewarded Hill with 58.8. Courage, wings in place, made 59.0 sec. Amon went out to make the ultimate 58.2 sec, 108.24 mph, catching Gold Leaf Team Lotus on the hop. In last-minute retaliatory action, Rindt resumed, but broke his gear lever again, while Hill vainly demanded more petrol to re-enter the joust as the session ended. So the figures stood and behind this quartet Bell (59.6), Gardner (60.8), Lawrence (62.5), Roly Levis (63.4), Geoghegan (63.5), Dawson and Graham McRae (63.8) were the most prominent of the twenty qualifiers. They were followed in order by Oxton, Faloon, Brownlie, Smith, Nicholson, McCully, Hawthorne, Radisich, Anderson and Marwood.

There was drama before the race started. As the field moved off for the warm-up lap the 2.5 Brabham-Climax of Bryan Faloon caught fire when an errant distributor spark set petrol alight from an overfilled tank. The fire was put out quickly but Faloon was a late scratching with minor burns to his hands. Then Rindt had an unserviceable rev counter replaced on the starting grid. As the minute board went up Gardner's Mildren-Alfa was pushed aside with fuel pump trouble. He managed to start as the leaders completed 9 laps, ran for 23 and then packed it in.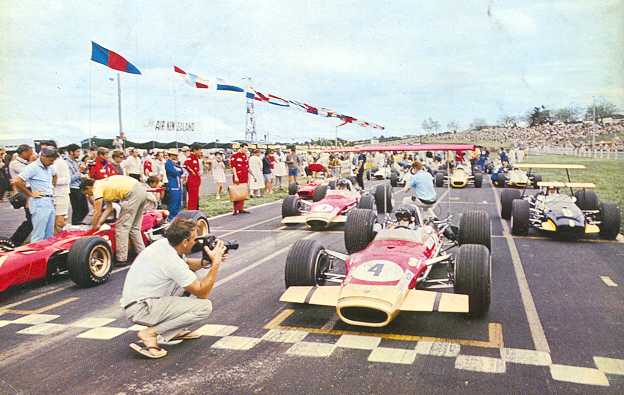 Rindt and Amon on the front row of the grid. Down came the flag and away went Amon with Rindt, Courage and Hill most prominent of the rest. Amon completed the first lap about two lengths clear of Rindt, with Courage, Bell, Hill, Geoghegan, Levis, Lawrence, the 2.5 Brabham-Climaxes of Red Dawson and Dennis Marwood and the amazing McRae next in line. Rindt evidently decided to start winning and slipped by Amon in the second lap, but as they completed the lap there was nothing much in it and the other places were unchanged.

With a battery coming loose and killing the electrics, Marwood left the scene before the end of lap 4, which Rindt ran in 59.6 sec and at that stage had 2 sec on Amon, who was clear of Courage. Then there was a moderate gap to Bell and Hill and a longer one to Geoghegan who was about 10 sec clear of Levis, Lawrence, Dawson, McRae and David Oxton who were pretty well bunched.

Two laps later the front-runners began lapping the tail-enders. Rindt and Amon cleared them in the easy patches, but Courage lost ground when he was delayed by a slow bunch in the fast sweeping right-hander out of the pit straight.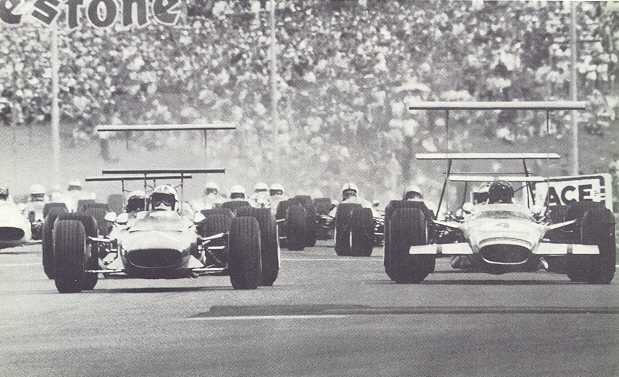 Amon just beating Rindt off the line. Rindt now pulled out all the stops in an effort to shake off Amon. He made lap 9 the fastest of the race with the new record at 58.9 sec and was timed through the traps on the back straight at 160 mph. In the meantime Hill had dislodged Bell from fourth place on lap 8 and in the next five laps cleared the second Ferrari to move in on Courage. On his 13th lap the world champion had a front suspension ball-joint go and he jogged back to the pits looking thoroughly disgusted as Gardner, fuel pump troubles overcome, started his race well out of contention. Bell was now back in fourth place some 11 sec behind Courage. Geoghegan was next but some distance away.

Then came Lawrence, who had pressed Levis hard and caused him to overshoot at the hairpin exit to the back straight. Levis was followed by Dawson, McRae and Oxton.

The next and most significant change came when Rindt, braking for the hairpin, struck oil and slithered off the track. This cost him the lead to Amon, but he resumed in second place still clear of Courage. In the next few laps the Austrian picked up some ground, but as he was having to make his gear-changes without the clutch and the feathering device for his aerofoil was no longer working he could make little impression and soon began to slip back at the rate of about a second a lap. Nevertheless, Rindt's pace was still too hot for Courage and at the end of 40 laps he was 24 sec clear of the Englishman, who seemed content to hold his place as he was well clear of Bell who, in turn, was in much the same relationship to Geoghegan.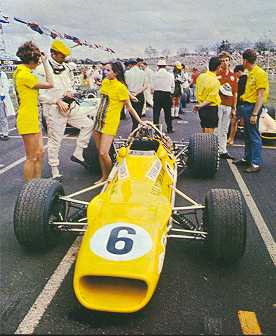 Frank Gardner awaiting the start. With eight laps to go the order was Amon, Rindt, Courage, Bell, Geoghegan, Lawrence, Levis, Dawson and Oxton miles behind. McRae had dropped out after

3

4 laps when a driveshaft joint failed. Nicholson stopped on the back straight two laps later with transmission failure.

So for the third time in the history of the NZGP a local man had turned the trick; Bruce McLaren was the first back in 1964 with a lightweight 2.5 Cooper-Climax. Oxton was the first 1.5 home with Hawthorne next, while Lawrence was first resident Kiwi home.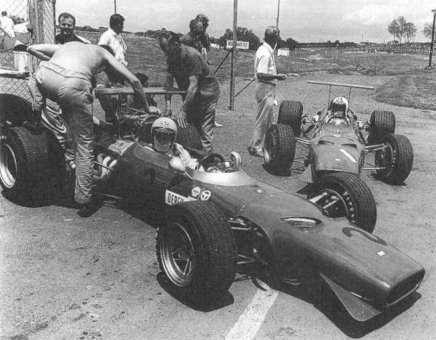 Amon and Bell in their Ferraris.
16th New Zealand Grand Prix
Date: 4th January 1969
Venue: Pukekohe
58 laps of 2.816kms (163.33kms)
Result
Driver
Nat
Car

Laps

Time
1
Chris Amon
NZ
Ferrari 246T

/ Ferrari

24

17

cc

V6

58
57m 55.4s
2
Jochen Rindt
Aus
Lotus

49T /

Cosworth 2

491

cc

V8

58
58m 15.5s
3
Piers Courage
UK
Brabham

BT24 /

Cosworth 2

491

cc

V8

58
58m 46.

2

s
4
Derek Bell
UK
Ferrari 246T

/ Ferrari

24

17

cc

V6

57

5
Leo Geoghegan
Aust
Lotus 39 / Repco 2

493

cc V8
56

6
Graeme Lawrence
NZ
McLaren

M4A /

Cosworth 1

598

cc

4cyl

54

7
Roly Levis
NZ
Brabham

BT23 /

Cosworth 1

598

cc

4cyl

53

8

Red Dawson
NZ
Brabham

BT7A /

Climax 2

495

cc

4cyl

5

2

9

David Oxton
NZ
Brabham

BT18 /

Ford 1

498

cc

4cyl

5

2

10

Frank Radisich
NZ
HCM

/

Cosworth 1

598

cc

4cyl

51

11
Laurence Brownlie
NZ
Brabham

BT23 /

Cosworth 1

598

cc

4cyl

50

12
Bert Hawthorne
NZ
Brabham

BT21 /

Ford 1

498

cc

4cyl

50

Vince Anderson
NZ
Brabham

BT11A /

Climax 2

495

cc

4cyl

Allan McCully
NZ
Brabham

BT18 /

Ford 1

498

cc

4cyl

Ken Smith

NZ

Lotus 41 / Ford 1498cc 4cyl

Ret
Graham McRae
NZ
McRae

S2 /

Ford 1

498

cc

4cyl

3

4
Driveshaft
Ret
John Nicholson
NZ
Brabham

BT18 /

Ford 1

498

cc

4cyl

26
Transmission
Ret
Frank Gardner
Aust
Mildren

/

Alfa 2

472

cc

V8

23
Fuel Pump
Ret
Graham Hill
UK
Lotus

49T /

Cosworth 2

491

cc

V8

13
Suspension
Ret
Dennis Marwood
NZ
Brabham

BT19 /

Climax 2

495

cc

4cyl

3
Electrics
DNS
Bryan Faloon
NZ
Brabham

BT4 /

Climax 2

495

cc

4cyl

0
Fire
Fastest lap: J. Rindt, 58.9 sec * on lap

9

*record

Back to 1969 Series Round 2 Levin

17th NZGP 1970