1969 Round 2
Levin

Round Two: LEVIN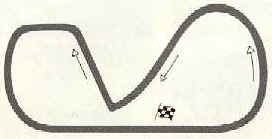 10th Levin International

An 88.68 mph race-winning record in the Rothmans International on 11 January rewarded Ferrari's Chris Amon with a repeat of his 1968 NZGP-Levin 'double'. Second, 6.8 sec back, was Piers Courage, a lap clear of Frank Gardner. Two laps behind came Leo Geoghegan, Graeme Lawrence and Graeme McRae. Gold Leaf Team Lotus pair Jochen Rindt and Graham Hill and Ferrari's Derek Bell were among non-finishers. Rindt set a 93.37 mph lap record in the preliminary, led Amon into lap 3, spun and dropped to sixth, then crashed in another spin at the same place two laps later. Subsequently, when running second behind Amon, Gardner, then Bell lost their placings with spins, to the profit of Courage who moved on to Amon's tail after 20 laps. Hill departed the scene with a broken driveshaft on lap 13, so neither 2.5 Lotus-Cosworth 49T V8 figured prominently. On lap 26 Amon made an error and Courage led for four laps, but a spin cost the Englishman his short-lived lead. Bell, who had pit-stopped to have a loose exhaust removed, edged back past Gardner, but abandoned on lap 40 with engine and steering malfunctions. Amon improved on his 1968 showing by nearly 4 mph.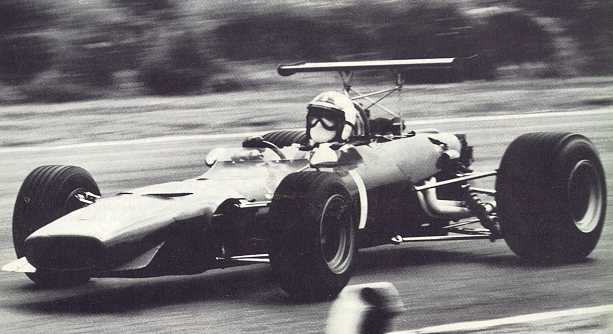 Amon on his way to his second win of the series. Although the track was open for unofficial practice earlier, as usual the Levin practice was a short, sharp, Friday afternoon affair with two reasonably long sessions. Best qualifying times were used as the grid position basis, and drivers who improved their lap times in the 14-lap race-day preliminaries were automatically elevated.

Frank Williams turned up at Levin with a spare car for Malcolm Guthrie, a Brabham BT23 F2 car powered by an FVA. It was almost needed by his number one driver Courage as his DFW let go in a big way and had to be immediately flown back to Britain to be repaired in time for Wigram. It looked as though Courage would be put into Guthrie's car but Gold Leaf Team Lotus came to the rescue with a loan of one of their spare DFW's.

Rindt found the short, tight course to his liking and returned 45.2 sec (93.5 mph) by mid afternoon. Amon, who served his apprenticeship at Levin, tried hard to better that but had to be content with 45.6 sec, and Bell, tucked in behind his team-mate, came up with a creditable 45.8 sec. Gardner, who goes well at this circuit, was given 46.0 sec and this engendered doubts about time-keeping efficiency as his own crew and private watches had recorded some consistent 45.6 sec laps. Courage managed 46.3 sec, but looked faster, and Hill, whose car was still troublesome, managed 46.4 sec and was embarrassed by McRae who shadowed him through the twisty bits in his home-built car for lap after lap to be next qualifier with 47.0 sec. Roly Levis and Geoghegan shared 47.4 sec, while Lawrence and David Oxton came up with 48.2 sec and 49.0 sec. The rest were out of the picture with Englishman Malcolm Guthrie, making his New Zealand debut, perhaps the slowest of the lot. As the day drew to a close Courage blew his engine, so his borrowed engine was fitted overnight, while leaky fuel cells in the Hill Lotus also received attention.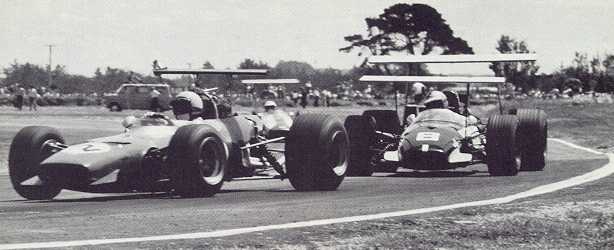 Bell closely followed by Courage. All the serious contenders were on the grid for the first race morning heat. Rindt was caught fumbling for a gear, as also was Gardner, when the starter dropped his flag. Bell, with Amon close, surged to the lead he was not to relinquish. Then came Hill, Courage, Lawrence and Rindt. After six laps Rindt took Courage and moved in on Hill. Gardner was sixth ahead of Levis and Geoghegan. With Bell and Amon clear and in close formation the real action involved the Lotus pair, with an exasperated Rindt looking for a way past an obstructive Hill at the hairpin each time round. About four laps from the finish Rindt got the message when the world champion chopped across the Austrian's left front spoiler with his rear right wheel. Seconds before Courage's retirement had been forced when the Cosworth-Ford V8 engine disgorged its oil through a bolt hole. The bolt, a suspension pick-up point in the Lotus set-up but only a plug in the Brabham arrangement, having dropped out. So Bell narrowly led home Amon, who was fairly well clear of Hill, Rindt, Gardner, Geoghegan and Levis. Rindt, who had a terse exchange with his team-mate, was credited with a 45.2 sec lap record which was unbettered that day.

In marked contrast, the second heat for 1.5-litre cars was prosaic. McRae drove away from the factory-built runners to set a 48.1 sec class lap record and win as he liked from Oxton, Hawthorne and Allan McCully in their Brabham-Ford twin-cams. The heats did not take their usual toll of cars although Radisich and Brownlie collided during a frantic battle, eliminating the HCM. Brownlie's crew managed to ready his Brabham in time for the start only to have the motor catch fire while it was being warmed up. Peter Hughes also had his Daimler V8 stop and he did not start.




Gardner (Mildren-Alfa). The order on the grid was as follows. Rindt, Amon; Bell,

Gardner

:

Hill

, Courage: McRae, Geoghegan: Levis, Lawrence: Marwood, Oxton: Hawthorne, McCully: Dawson, Guthrie.

Amon shaded poleman Rindt from the front of the main race grid, but was taken by the Austrian almost immediately. Gardner, Hill and Bell were in close attendance. Rindt led Amon by a whisker in lap 2. There were a few lengths to Gardner, Bell, Hill, Geoghegan, the enterprising McRae, Courage and Lawrence.

Next time round Rindt had opened his lead on Amon to 1.8 sec, while the gap to Gardner had widened; Bell had taken Hill. Then came Courage, McRae, Geoghegan, Lawrence, Levis and Hawthorne. Marwood stopped on the back straight with a blown piston. A spin on lap 4 dropped Rindt to sixth behind Courage and he had not improved two laps later when he repeated his error in, more costly fashion, finishing upside-down over the top of a safety embankment, petrol-soaked but unhurt and securely strapped in his wrecked Lotus. Now the order was Amon, well clear; Gardner, with Bell and Hill tied to his tail; Courage, on his own; Geoghegan, Lawrence and McRae next, the punctured Levis having temporarily fallen by the wayside. Gardner held his place into the tenth lap when he spun and let Bell through, as well as Hill and Courage. Geoghegan and Lawrence were tied together behind Gardner, and McRae was still in striking distance. Bell closed to within 3 sec of Amon, but spun on lap 14 to hand his place to Courage, who had effortlessly moved to third when Hill abandoned with driveshaft failure a lap earlier. Clutch problems forced Dawson to abandon his race on lap 14.

At the start of lap 16 Amon led Courage, Bell and Gardner. Then came Geoghegan, who had cut loose from Lawrence, McRae and Oxton. Courage made his bid to be front-runner and was nudging the Ferrari's tail after twenty laps, being some 5 sec clear of Bell, who had a loose exhaust and stopped soon after to remove it. This dropped him to fourth behind Gardner but he remained clear of Geoghegan. Lap 26 cost Amon his lead to Courage who ran a 46 sec lap. One lap later Bell took Gardner, now contending with a drop of 1500 rpm because a distributor had gone on the blink. With Courage in front, Ferraris were two and three ahead of Gardner, Geoghegan, Lawrence and McRae, and next were Hawthorne, Levis and Guthrie just in the picture.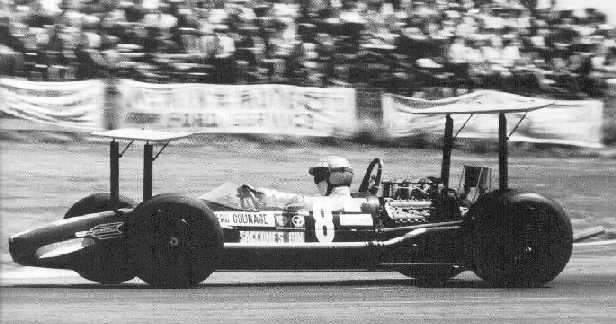 Courage in his distinctive double-winged Brabham.
Courage relegated himself to second, 15 sec behind Amon, with a spin on lap 32, but stayed 26 sec ahead of Bell who was just clear of Gardner. Bell's race ended on lap 41 due to an oil leak and the order became Amon, Courage, Gardner, Geoghegan, Lawrence, McRae, Hawthorne, Levis and Guthrie. On lap 42 Oxton blew his twin cam. Amon doubled Gardner at the end of lap 43 and Courage, gaining a second a lap, did likewise at the end of lap 50. Ten laps later it appeared that Courage, only 3.1 sec behind Amon, might feature in a grandstand finish, but he dropped a pair of wheels in the rough at the hairpin's exit thereby letting Amon win under reduced pressure.
10th Levin International
Date: 11th January 1969
Venue: Levin
63 laps of 1.92kms (120.69kms)
Result
Driver
Nat
Car
Laps
Time
1
Chris Amon
NZ
Ferrari 246T

/ Ferrari

24

17

cc

V6

63
50m 08.8s
2
Piers Courage
UK
Brabham

BT24 /

Cosworth 2

491

cc

V8

63
50m 15.6s
3
Frank Gardner
Aust
Mildren

/

Alfa 2

472

cc

V8

62

4
Leo Geoghegan
Aust
Lotus 39 / Repco 2

493

cc V8
60

5
Graeme Lawrence
NZ
McLaren

M4A /

Cosworth 1

598

cc

4cyl

60

6
Graham McRae
NZ
McRae

S2 /

Ford 1

498

cc

4cyl

60

7
Bert Hawthorne
NZ
Brabham

BT21 /

Ford 1

498

cc

4cyl

57

8
Malcolm Guthrie
UK
Brabham

BT21B /

Cosworth 1

598

cc

4cyl

57

9

Roly Levis
NZ
Brabham

BT23 /

Cosworth 1

598

cc

4cyl

57

Allan McCully
NZ
Brabham

BT18 /

Ford 1

498

cc

4cyl

Ret
David Oxton
NZ
Brabham

BT18 /

Ford 1

498

cc

4cyl

42
Engine
Ret
Derek Bell
UK
Ferrari 246T

/ Ferrari

24

17

cc

V6

41
Oil Pressure
Ret
Red Dawson
NZ
Brabham

BT7A /

Climax 2

495

cc

4cyl

14
Clutch
Ret
Graham Hill
UK
Lotus

49T /

Cosworth 2

491

cc

V8

12
Driveshaft
Ret
Jochen Rindt
Aus
Lotus

49T /

Cosworth 2

491

cc

V8

7
Accident
Ret
Dennis Marwood
NZ
Rorstan

1 /

Climax 2

495

cc

4cyl

4
Engine

DNS

Frank Radisich
NZ
HCM

/

Cosworth 1

598

cc

4cyl

Accident

DNS

Laurence Brownlie
NZ
Brabham

BT23 /

Cosworth 1

598

cc

4cyl

Fire

DNS

Peter Hughes
NZ
Lotus

33 /

Daimler 2

497

cc

V8
Fastest lap: P. Courage, 46.0 sec (on lap 49).
J. Rindt 45.3 sec in preliminary heat* *record