1969 Round 3
Wigram

Round Three: WIGRAM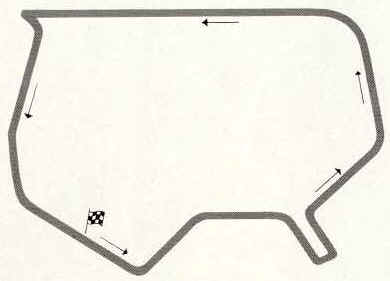 18th Lady Wigram Trophy

Gold Leaf Team Lotus made it an International Lady Wigram Trophy grand slam on 19 January taking out race and lap records when Jochen Rindt averaged 103.11 mph in his replacement 2.5 Lotus-Cosworth 49BT V8 to lead home Graham Hill in the older 49T by 26 sec. Rindt shared the 105.08 mph lap record with Chris Amon, 1968 joint holder with Jim Clark at 104.02 mph. Amon finished third, 3.9 sec behind Hill. Fourth, 5.6 sec farther back, was Piers Courage, while next, 25.6 sec away, was Derek Bell. Roly Levis went 41 of the 44 laps for sixth and first resident home. Within 300 yards of the start Frank Gardner was eliminated in a tangle with another car. Leo Geoghegan ran four laps and pitted with an oil leak in his Lotus-Repco 39 V8. Rindt won from end to end, but Courage was a challenger until steering trouble intervened. Hill took him on lap 18 and Amon repeated the move ten laps later. Amon made a strong bid to displace Hill as the race ran out, but the Cosworth-Ford V8 power advantage was sufficient to keep the world champion ahead. This was Rindt's third Gold Leaf Team Lotus drive and first victory. He improved on Clark's 1968 winning average by 2.35 mph.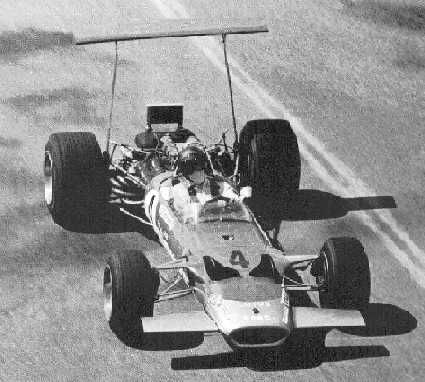 Jochen Rindt with his new Lotus 49B. Practice does not count for much at Wigram. Grid positions for the preliminary heats are allocated on the basis of past and potential performances and main race positions are determined by individual race times in the heats, although this year, on the suggestion of Hill, best lap times in the heats were used instead.

The Friday morning runs were devoted to suspension and aerofoil tuning and tyre experimentation. No one went below 1 min 20 sec (103.05 mph). Drivers complained that blustery conditions were causing some 'lift' on their winged cars in the back straight. Rindt, having demolished his older car at Levin, appeared with the later 'B' model, which went well, but Hill was plagued with a misfire all day and this called for an overnight engine change. The 'B' car of Rindt's was actually the same car that Jim Clark used in the last Tasman series. It had been completely rebuilt to 'B' specs, complete with new chassis number R8. It was flown out from England in time for the Wigram round. The main difference between his 'B' and Hill's 'T' was a revised exhaust system and a different gearbox, and also a new DFW was fitted.

In the afternoon lap times dropped quickly. Rindt made 1 min 20 sec. Hill went 1 min 19.6 sec. Courage equaled that. Amon then did two at 1 min 19.5 sec, to which Courage replied with 1 min 19.4 sec. Rindt went out again for a quick 1 min 19.2 sec. Bell managed 1 min 22 sec, but oil surge in the fast left-handers caused him concern. Hill, his engine off-song, slipped to 1 min 20 sec. Amon tried again and came down to 1 min 19.4 sec and Rindt ultimately capped that with 1 min 18.5 sec (105.48 mph).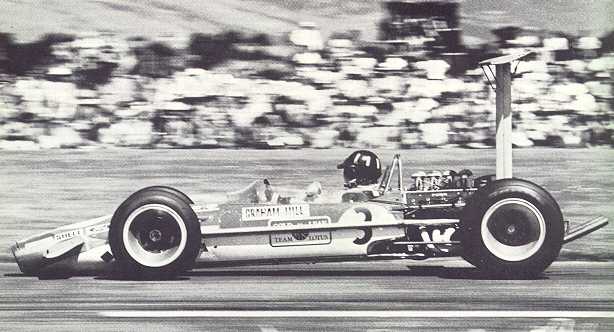 Graham Hill (Lotus-Cosworth) finished second. Gardner broke an engine mount which also served as an oil line and hurried off for repairs, while Geoghegan was also in trouble with a recurrence of oil leaks. Best of the New Zealanders were Graeme Lawrence, 1 min 24.6 sec and Laurence Brownlie (1 min 25.4) and Levis (1 min 25.6 sec) with their 1.6 Brabham-FVA BT23Cs.

First of the two 11 lap heats was a round in the New Zealand National Formula series and Graham McRae in his Ford twin-cam engined car, although left at the start, made no bones about winning it, taking the lead after about half a mile and establishing an 8 sec margin over Bert Hawthorne in four laps. Hawthorne retired in the next round and that left David Oxton in second spot some 10 sec behind the leader, with Ken Smith next and a fair gap back to Allan McCully. That was the way they finished, with McRae's average fractionally less than 95 mph.

In the much more exciting second heat Rindt, Amon and Hill shared the front row of the grid. Rindt was left slightly at the start and Amon just headed Hill to lead for two laps, with Courage next, Rindt hot on his heels, then Bell and Gardner. The residents, led by Brownlie, were already a long way behind. Hill took Amon on the third lap, but there was very little between him and Amon and Courage as they started their fourth lap. On lap 5 Rindt took Amon and Courage to move to second spot. He had a go at Hill and led briefly in the eighth lap but Hill almost immediately regained a meagre advantage. The Lotuses could not draw out much on Amon, who was harassed by Courage, but they had enough in hand to get home in reasonable comfort ahead of the Ferrari. Bell had Gardner for company in the early stages, then raced very much on his own after the Australian ran out of road at the fast left-hander leading into the pit straight and made a massive detour behind straw bales. Brownlie lost his lead over the residents on the sixth lap, leaving Levis and Lawrence to fight out the honours. Lawrence lost when Levis took him on lap 9. Hill came home by 0.1 sec from Rindt; Amon, third, had a 2.3 sec advantage over Courage; Bell was 10 sec farther back and followed by Gardner, Levis and Lawrence. The new lap record of 1 min 18.8 sec went to Rindt, who repeated it in the trophy race, as did Amon.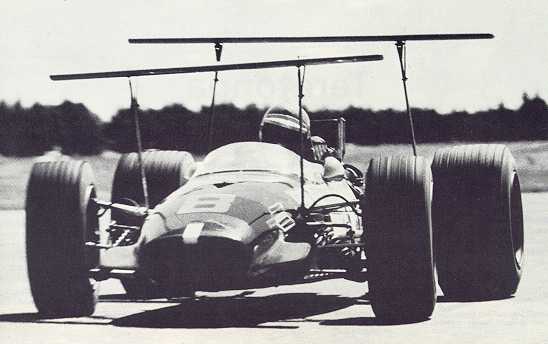 Courage pushing his Brabham to the limit. The grid for the main race was as follows. Rindt, Hill and Courage; Amon, Bell; Gardner, Geoghegan and Lawrence; Brownlie, Levis; McRae, Smith and Guthrie; Dawson, Oxton; Nicholson, Hawthorne and Radisich; McCully, Murdoch; Anderson, Moloney and Marwood.

At the start of the main action Rindt, momentarily overshadowed by Hill and Amon, was right with them as the field swept into the first left-hand bend, the turn that put paid to Gardner's chances and also eliminated Smith. Gardner was caught in the corner by a suddenly slowing Ferrari and had to brake right into the apex, causing the Mildren to slide around and block half the track. All the following cars managed to get around him except Smith, who hit him right in the side, putting both cars out. Rindt was the most prominent of the tightly bunched front-runners as they started the second lap, with Courage, Hill, Amon and Bell next and a gap back to the remainder. The Austrian, really motoring, proceeded to draw away from Courage by 8.8 sec on the ninth lap. Then came Hill, Amon and Bell, well bunched, with some 40 sec back to Lawrence and Levis, who were trailed by McRae. Geoghegan retired on lap 4 with lack of oil pressure and Vince Anderson had also departed at that time. Next lap saw Marwood's FPF expire again.

With 14 laps gone, Rindt had drawn out 18 sec on Courage, and Hill was obviously seeking second place. The leaders had lapped McRae, running about eighth, after ten laps and they did the same to the battling Lawrence and Levis, fifth and sixth, on lap 13. Hill now made his big effort and in the course of lap 18 took Courage to be some 20 sec behind Rindt. Courage was followed by Amon and Bell, and Levis now headed Lawrence, who was drifting; then came McRae, and the rest were a long way back. Rindt increased his lead and at half-way was 28 sec clear of Hill who had 5 sec on Courage. Oxton had to pit with battery problems while in the space of three laps, Radisich (clutch), McCully (dropped valve) and Brownlie (fuel pump failure) all retired. Next Amon made his bid and dislodged Courage on lap 29. The Amon-Courage battle left Bell breathless and by the leader's 33rd lap he had dropped away. Lawrence's bid to be first resident home had come to naught for he had pitted with failing brakes; he resumed to find Levis and McRae firmly entrenched in sixth and seventh spots.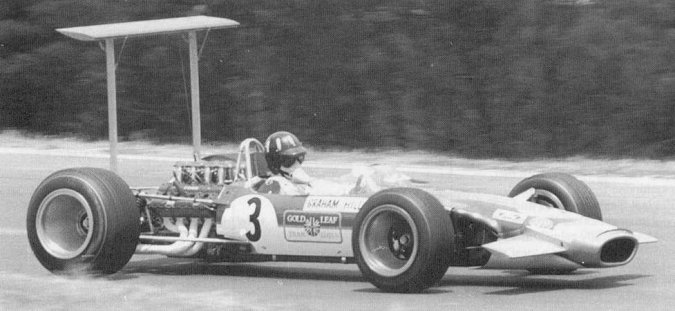 Graham Hill (Lotus-Cosworth). Rindt eased off a little as he had the situation well in hand and the interest shifted to Amon's attack on Hill. After 38 laps the Ferrari was 7 sec behind the Lotus and three laps later the margin was down to 4.8 sec, but there was not enough race left for Amon to make it and Rindt rolled home an easy winner, with Hill, Amon, Courage and Bell next. They had all averaged more than 100 mph. Then came Levis three laps back and on 40 laps McRae led home Hawthorne and Red Dawson.

18th Lady Wigram Trophy

Date: 18th January 1969
Venue: Wigram Airfield

44 laps of 3.68kms (161.9kms)
Result
Driver
Nat
Car

Laps

Time
1
Jochen Rindt
Aus
Lotus

49BT /

Cosworth 2

491

cc

V8

44
58m 53.6s
2
Graham Hill
UK
Lotus

49T /

Cosworth 2

491

cc

V8

44
59m 19.6s
3
Chris Amon
NZ
Ferrari 246T

/ Ferrari

24

17

cc

V6

44
59m 23.5s
4
Piers Courage
UK
Brabham

BT24 /

Cosworth 2

491

cc

V8

44
59m 29.2s
5
Derek Bell
UK
Ferrari 246T

/ Ferrari

24

17

cc

V6

44
59m 54.8s
6
Roly Levis
NZ
Brabham

BT23 /

Cosworth 1

598

cc

4cyl

41

7
Graham McRae
NZ
McRae

S2 /

Ford 1

498

cc

4cyl

40

8
Bert Hawthorne
NZ
Brabham

BT21 /

Ford 1

498

cc

4cyl

40

9
Red Dawson
NZ
Brabham

BT7A /

Climax 2

495

cc

4cyl

40

10
Malcolm Guthrie
UK
Brabham

BT21B /

Cosworth 1

598

cc

4cyl

11
John Nicholson
NZ
Brabham

BT18 /

Ford 1

498

cc

4cyl

12
Graeme Lawrence
NZ
McLaren

M4A /

Cosworth 1

598

cc

4cyl

David Oxton
NZ
Brabham

BT18 /

Ford 1

498

cc

4cyl

Wayne Murdoch
NZ
Brabham BT10 / Ford 1498cc 4cyl

Ret

Peter Moloney
NZ
Cooper

T66 /

Climax 2

495

cc

4cyl

Ret
Laurence Brownlie
NZ
Brabham

BT23 /

Cosworth 1

598

cc

4cyl

26
Fuel Pump
Ret
Allan McCully
NZ
Brabham

BT18 /

Ford 1

498

cc

4cyl

25
Engine
Ret
Frank Radisich
NZ
HCM

/

Cosworth 1

598

cc

4cyl

24
Clutch
Ret
Dennis Marwood
NZ
Rorstan

1 /

Climax 2

495

cc

4cyl

5
Engine
Ret
Vince Anderson
NZ
Brabham

BT11A /

Climax 2

495

cc

4cyl

4

Ret
Leo Geoghegan
Aust
Lotus 39 / Repco 2

493

cc V8
4
Oil Pressure
Ret
Frank Gardner
Aust
Mildren

/

Alfa 2

472

cc

V8

0
Accident
Ret
Ken Smith
NZ

Lotus 41 / Ford 1498cc 4cyl

0
Accident
Fastest laps: C Amon 1 min 18.8 sec (in race) and
J Rindt 1 min 18.8 sec (in preliminary heat)* * record.