1968 Round 1
Pukekohe

Round One: PUKEKOHE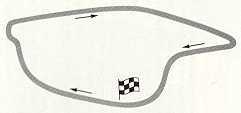 15th New Zealand Grand Prix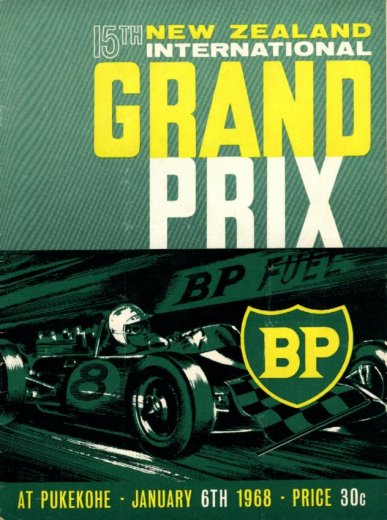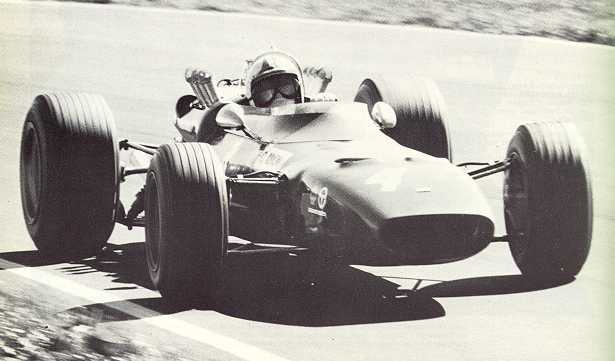 An impressive first up win for Amon in the Ferrari in the NZGP.

Following in the footsteps of the 1964 victor, Bruce McLaren, Chris Amon became the second New Zealander to win his country's Grand Prix when he averaged nearly 103 mph for 58 laps of the Pukekohe short circuit on 6 January and brought home his Formula 2-based V6 Ferrari well clear of Frank Gardner's Brabham-Alfa Romeo V8. Amon set a new lap record of 106.07 mph in his 32nd lap. He ran Lotus-Ford V8 driver Jim Clark a close second through to the 46th lap when the Flying Scot was sidelined with a dropped valve. Amon and Gardner were the only ones to go the distance. Two laps behind in third place was Piers Courage in his F2 McLaren-FVA, while Jim Palmer, similarly mounted, was fourth a further lap back and narrowly ahead of Paul Bolton. Graeme Lawrence ran out 53 laps for sixth spot. Drama in lap 56, which could have had tragic consequences, robbed world champion Denny Hulme of a certain third place when he was involved in a massive shunt with Laurence Brownlie. The V12 BRMs of McLaren and Pedro Rodriguez were never in the picture and out of the race before the leaders had completed thirty laps.

Official practice sessions were held two days before the race and most of the people who mattered were on hand for the first day, but there were long faces in the Lotus and Ferrari camps as the latest Firestone tyres had not turned up. Amon pitched for Goodyears, but Clark experimented with the available Firestones then switched to Dunlops, which proved quicker, and stuck with them. The BRMs, Gardner, Hulme and Palmer were on Goodyears, while Courage was on Dunlops.

What with the chopping and changing, this was a mixed-up day, but Clark came out fastest with a 60 sec (105 mph) lap, while Amon managed 60.5 sec. The BRMs were off-key, manager Tim Parnell attributing the trouble to lack of spark.

On the second day Clark went round at 105.5 mph, a time of 59.8 sec and just 0.1 sec better than Amon's best. Rodriguez and McLaren tried the 2-litre V8 BRM and returned 61 sec but had to bow to Gardner who returned the figure first. Hulme hurled the Brabham-FVA around for 61.4 sec, while Courage returned 62.2, tried to improve and ran out of road, damaging his McLaren's suspension. Brownlie was the fastest of the 1.5's with 65.6 sec, followed by Levis on 66.5 sec and Lawrence 67.0 sec.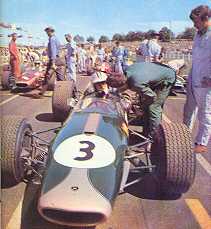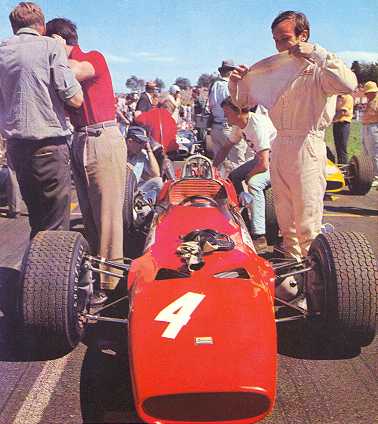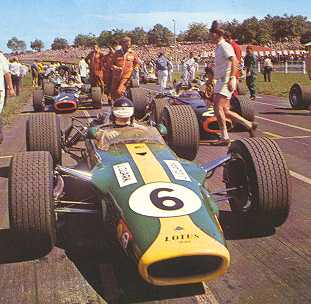 Start line preparations for Hulme (Brabham), Amon (Ferrari) and Clark (Lotus). An estimated 37,000 people were on hand to see the twenty-one cars come on to the dummy grid two abreast. The line-up was as follows :- Clark, Amon; Rodriguez, Gardner; McLaren, Hulme; Courage, Palmer; Bolton, Brownlie; Levis, Yock; Lawrence, Faloon; Oxton, McDonald; Smith, Nicholson; Dawson, Stone; and Anderson.

Amon made the best of the start, with Clark, Gardner, Rodriguez, Hulme and McLaren next. Palmer was badly left after flooding his engine and, by the time he was rolling, Clark had taken Amon and was well in front. At the end of the first lap the Lotus and Ferrari had a few yards on Gardner. Then came Rodriguez, Hulme, McLaren and Courage. Bolton in the elderly Brabham-Climax was next; with Roly Levis, Lawrence and Brownlie, in their 1.5 Brabham-Fords, tagging along clear of the rest.

Clark settled in to lap consistently about 103 mph but could not shake off Amon, although these two had soon shrugged off Gardner. Rodriguez had Hulme too close for comfort, while McLaren had drifted back a little with a clutch that wasn't engaging properly, so Courage was looming large in his mirrors.

By lap 5 Palmer had already got up to fourteenth. Lap 6 saw Anderson in the pits with plug trouble and Yock hitting the bank and losing the front of his Lotus. He continued for a couple of laps before retiring with a huge oil leak. Anderson went missing after a driveshaft fractured. McLaren was now having fuel injection problems to go with his misbehaving clutch.

After ten laps Clark led Amon by 6 sec. A lap later Rodriguez pitted for clutch adjustments and Levis also made a stop. Now the order was Clark, Amon, Gardner, Hulme, Courage and McLaren. Then, some distance back, came Bolton, Palmer, who had pulled out all the stops, Brownlie and Lawrence. Tailend doubling had already started and, to all intents and purposes, the rest were out of the contest.

A lap later and McLaren was in the pits to get the injection system checked. He made one more desultory lap, then abandoned to watch team-mate Rodriguez resume and circulate well out of contention until he, too, finally had to call it a day also with clutch trouble. Oxton also retired on the same lap as McLaren, with a broken driveshaft.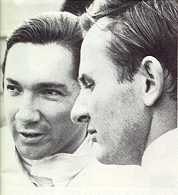 Disappointment for both BRM drivers, Rodriguez and McLaren, with early retirements. The Clark, Amon, Gardner, Hulme, Courage, Bolton, Palmer, Brownlie, Lawrence pattern now appeared firmly set. Nevertheless, Amon was keeping Clark up to his work and pushing him as hard as he knew how. The Ferrari seemed quicker in the corners and was outbraking the Lotus, but Clark had it on the straights and was timed through the traps more than once at 153 mph. Hulme was getting everything he could from his little Formula 2 Brabham as he harassed Gardner, and farther back Palmer was almost rubbing his McLaren's nose on the tail of the Bolton Brabham-Climax.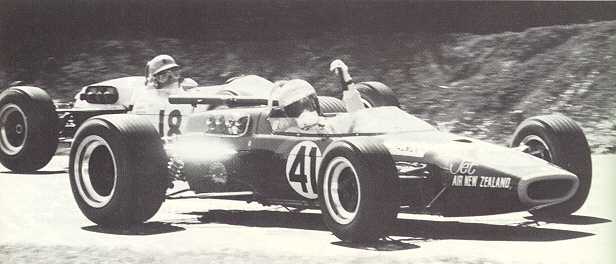 A thankyou wave from Palmer (McLaren) as he passes Oxton (Brabham). Up to lap 30 Clark managed to hold an 8 sec advantage over Amon for most laps. Then the young New Zealander really turned on the tap and made the new record of 59.3 sec two laps later to whittle the gap to 5 sec. That was how they were when Clark completed his 44th lap and headed into the right-hand sweep out of the grandstand straight. As he did so the V8 spluttered and within seconds Clark had his hand up as he pulled to the verge with a dead engine. Amon hit the front and, with his big lead over Gardner, he only had to keep going. Dawson was going well and snuck past Brownlie into eighth place on lap 37 only to have his battery go flat eight laps later, forcing him out.

It then became clear that the Australian was having trouble. The Brabham-Alfa slowed appreciably as its battery lost its charge and it looked as though Hulme might take Gardner's place before the finish. Meantime, Palmer had finally taken Bolton; then came Brownlie and Lawrence. With Amon circulating at diminished pace, most interest centred on the Gardner-Hulme duel. The Australian managed to slip by Brownlie, who was being doubled for the fourth time, just before the right-hander leading to the Esses and sharper right-hander that leads to the back straight. Hulme was not so lucky and had to tuck in behind the 1.5 Brabham-Ford until they cleared this section. Then on the gentle swerve that warns of the hairpin their cars touched and there was flying debris everywhere. Both were catapulted onto either side of the track, both turning over and disintegrating. Brownlie had also hit a pole in the disaster. Brownlie was trapped inside his car with a broken leg and foot and underwent many hours of surgery. Hulme appeared unscathed though furious.

Thus Gardner found himself secure in second spot, with a surprised Courage next. Palmer was fourth, ahead of Bolton and Lawrence, and then came the six remaining runners from the original field of twenty-one. Amon became the second Kiwi to win a New Zealand Grand Prix in 15 years in the first appearance in Australasia of a works Ferrari.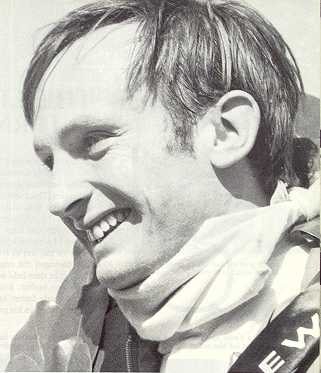 Amon became the 2nd New Zealander to win his country's Grand Prix.
15th New Zealand Grand Prix
Date: 6th January 1968
Venue: Pukekohe
58 laps of 2.816kms (163.33kms)
| | | | | | |
| --- | --- | --- | --- | --- | --- |
| Result | Driver | Nat | Car | Laps | Time |
| 1 | Chris Amon | NZ | Ferrari 246T / Ferrari 2417cc V6 | 58 | 59m 20.1s |
| 2 | Frank Gardner | Aust | Brabham BT23D / Alfa 2472cc V8 | 58 | 59m 57.8s |
| 3 | Piers Courage | UK | McLaren M4A / Cosworth 1600cc 4cyl | 57 | |
| Ret | Denny Hulme | NZ | Brabham BT23 / Cosworth 1600cc 4cyl | 56 | Accident |
| 4 | Jim Palmer | NZ | McLaren M4A / Cosworth 1600cc 4cyl | 55 | |
| 5 | Paul Bolton | Aust | Brabham BT19 / Climax 2495cc 4cyl | 55 | |
| 6 | Graeme Lawrence | NZ | Brabham BT18 / Ford 1498cc 4cyl | 53 | |
| Ret | Laurence Brownlie | NZ | Brabham BT23 / Ford 1498cc 4cyl | 53 | Accident |
| 7 | Bryan Faloon | NZ | Brabham BT4 / Climax 2495cc 4cyl | 52 | |
| 8 | Roly Levis | NZ | Brabham BT18 / Ford 1498cc 4cyl | 51 | |
| 9 | John Nicholson | NZ | Lotus 27 / Ford 1498cc 4cyl | 50 | |
| 10 | Bill Stone | NZ | Brabham BT6 / Ford 1498cc 4cyl | 50 | |
| 11 | Don Macdonald | NZ | Brabham BT10 / Ford 1498cc 4cyl | 49 | |
| 12 | Ken Smith | NZ | Lotus 41 / Ford 1498cc 4cyl | 49 | |
| Ret | Jim Clark | Scot | Lotus 49T / Cosworth 2491cc V8 | 45 | Engine |
| Ret | Red Dawson | NZ | Brabham BT7A / Climax 2499cc 4cyl | 45 | Battery |
| Ret | Pedro Rodriguez | Mex | BRM P261 / BRM 2136cc V8 | 30 | Clutch |
| Ret | Bruce McLaren | NZ | BRM P126 / BRM 2493cc V12 | 15 | Clutch |
| Ret | David Oxton | NZ | Brabham BT16 / Ford 1498cc 4cyl | 15 | Driveshaft |
| Ret | Vince Anderson | NZ | Brabham BT11A / Climax 2499cc 4cyl | 9 | Driveshaft |
| Ret | Peter Yock | NZ | Lotus 33 / BRM 1998cc V8 | 8 | Radiator |
Fastest lap: C. Amon, 59.3 sec (106.07 mph)* *record