1968 Round 2
Levin

Round Two: LEVIN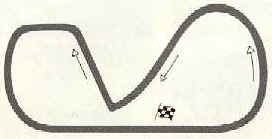 9th Levin International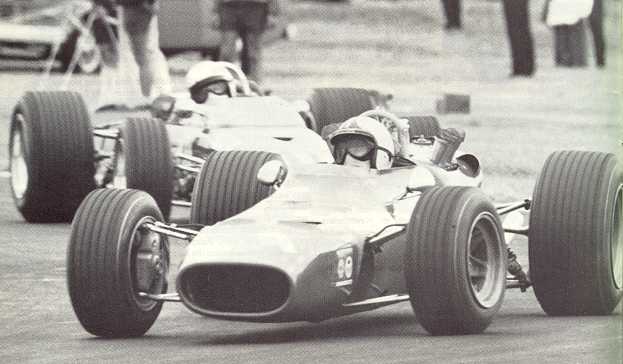 Amon makes it two in a row with his win at Levin. Palmer is in the background.
Grand Prix winner Chris Amon made it two in a row at Levin on 12 January when he won the Rothmans International Tasman Championship race at 84.9 mph in the Ferrari V6, almost doubling second-place man Piers Courage in the McLaren-Cosworth FVA, who finished 50.3 sec in arrears. Third and three laps behind, with 60 laps completed, was Jim Palmer and next in line, a further lap behind, were Roly Levis, Red Dawson and Bill Stone. Failure rate among overseas drivers was high. Frank Gardner, who led from the start in the Brabham-Alfa, spun off on lap 14 when in second spot and was out with suspension damage. Jim Clark in the Lotus-Cosworth V8 ran out of road at the hairpin on lap 14, resumed in third place but clipped a kerb and damaged the rear suspension when challenging Amon for the lead in lap 31. Pedro Rodriguez then held second place until lap 41 when he pitted and retired two laps later with black box bother. Bruce McLaren in the other V12 BRM had similar troubles on lap 56. Amon made fastest race lap at 90.385 mph, but it was Clark who set the 91.558 mph course record in his preliminary heat.
After some desultory unofficial training, during which Rodriguez had the misfortune to blow up the V8 engine in one of the old 2-litre BRMs, qualifying runs were held the day before the race. Clark had a brand new Cosworth DFW engine flown from Britain that, to the disquiet of the other participants, seemed to have more torque than the one damaged in the GP. Both he and Amon were back on their regular Firestones, so most of their problems related to chassis tuning. Modifications had been made to the V12 BRMs but they were still not spot on.
Amon set things alight, getting down to 46.9 sec (90.19 mph) with what looked reasonable ease, then tried a bit harder, spun off and damaged the front suspension. Gardner, in the groove, returned an unbettered 46.5 sec and looked the best prospect. A supreme effort by Rodriguez brought a 46.9 sec reward, while McLaren tail-wagged the other V12 down to 47.2 sec. Clark got down to 47.0 sec, then the Lotus-Ford dumped all its water at the hairpin. Courage finished his day with 48.5 sec, while Palmer went 50.5 sec. Levis was the quickest of the 1.5's with a 49.6 sec. Hulme and Brownlie, still recuperating from their GP crash, were the involuntary scratchings.
Race day opened with the fourteen-lap prelims, the first being for all Tasman contenders using engines bigger than 1500cc. It was a thriller. Rodriguez out-dragged Gardner and Amon from the front of the grid, followed by Clark, McLaren and Courage. Gardner ran out of road at the hairpin, after his battery went flat again. So it was Rodriguez from Amon, McLaren and Clark at the end of the first lap, with Peter Yock also fairly prominent. Then the Mexican dropped to fifth with a hairpin spin and Amon took over. In the seventh lap Clark caught McLaren and, three laps later, shot past Amon in the grandstand straight. Finishing order was Clark, Amon, McLaren, Rodriguez, Courage, Gardner and Palmer. Clark had set the 46.2 sec lap record, cut out the distance in 11 min 6.6 sec and finished 2.6 sec clear of Amon, whose margin over McLaren was 6.6 sec.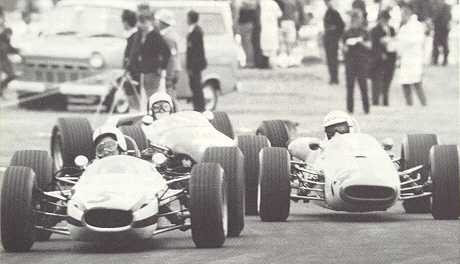 Dawson (2.5 Brabham) ahead of Lawrence and Stone (1.5 Brabhams). The second heat was for the 1.5-litre cars and counted towards the New Zealand National Formula series. Graeme Lawrence won comparatively easily in 11 min 59.6 sec, by 12.2 sec from Stone, with David Oxton and Graham McRae next in line, but a fair way behind, followed by McDonald and Nicholson. All were Brabham-Ford mounted. Unfortunately Levis stripped his gears at the start of the race and was pushed away for some hurried repairs before the main race.

Eighteen cars in rows of three lined up for the 75-mile Tasman contest, pole-man being Clark, with Gardner and Amon outside him, while Rodriguez, McLaren and Courage shared the second row. Next came Bolton, Levis and Palmer; Stone, Lawrence and Dawson; Faloon, Yock and McRae; Radisich, Oxton and Smith. The differential between the fastest and slowest qualifiers was 6 sec. Gardner got the jump at the start and had Clark, Amon, Rodriguez, Courage and Lawrence streaming out after him. The Australian returned a sizzling 59.2 sec for the first lap and followed it up with 47.5 sec for his first flying lap, at the end of which he had Clark and Amon close behind with Rodriguez next, in splendid isolation, then Courage and McLaren together, and another interval to Brabham-Climax man Paul Bolton and Palmer.

The leading trio were in among the tail-enders after six laps. Rodriguez was still on his own in fourth spot and Courage was still holding off McLaren. This group had the length of the straight on Bolton and Palmer. In lap 7 Clark took Gardner. Amon was next, then Rodriguez, on his own, McLaren and Courage. Clark increased his lead over Gardner to about 2.5 sec, Amon was about three car-lengths behind the Australian, with Rodriguez another 4 sec back.

The situation changed radically on lap 14 when Clark slithered to the grass at the hairpin and Gardner went off in the sweeping left-hander leading to the straight, on the very next lap. The Australian was out after hitting the bank and damaging his suspension, but Clark resumed behind Amon and Rodriguez. Peter Yock retired with battery trouble.




A rare mistake from Clark on lap 14 cost him the lead. Amon was now comfortably in front of Rodriguez. Then came Clark, going like the clappers, Courage and McLaren. The Scotsman took back second place, 9.2 sec behind the Ferrari, as they went into their 18th lap. Clark then proceeded to whittle a second a lap off Amon's lead. Rodriguez drifted a shade and, farther back, McLaren was making a determined bid to oust Courage from fourth place. He made it in their 26th lap.

In the meantime the Bolton-Palmer duel had been settled with the departure of Bolton. His fuel pump packed up on lap 20. Farther back, Dawson led Lawrence, and Stone was moving into this part of the picture. Lawrence faded to the background subsequently through a stop to replace a plug lead. On lap 28 McLaren undid his good work by getting onto the grass at Cabbage Tree and letting Courage back into fourth. On the next lap McRae stopped with a seized gearbox.

Up front Amon was holding off Clark, but it appeared that it would only be a matter of time before the Lotus would poke its nose ahead of the Ferrari. This was not to be. Amon came round on his own to start the 32nd lap, for Clark had abandoned, having bent a radius rod through clipping the kerb in an attempt to pass Amon, thereby leaving the Ferrari some 48 sec ahead of Rodriguez's BRM. Next in line were McLaren, who had recovered his placing from Courage, Courage and Palmer, then Dawson, Stone and Levis, with Lawrence doggedly coming up through the ranks.

Amon was now motoring much as he liked and his situation was further enhanced when Rodriguez pitted in lap 41 with fuel pick-up problems. McLaren held second spot for a lap, then Courage confidently took him to assume his finishing position and drew out 8 sec in the next ten laps. Palmer was on his own, while a spin had cost Stone ground and enabled Levis to take fifth place ahead of Dawson.

Now the package looked neatly tied, but there was obviously a loose end in the surviving BRM. McLaren raised an arm as he slowly started his 56th lap and just managed to struggle in to the pits. His fuel was near boiling. So it was that Amon, who had served his early apprenticeship at Levin, came home almost a lap clear of Courage.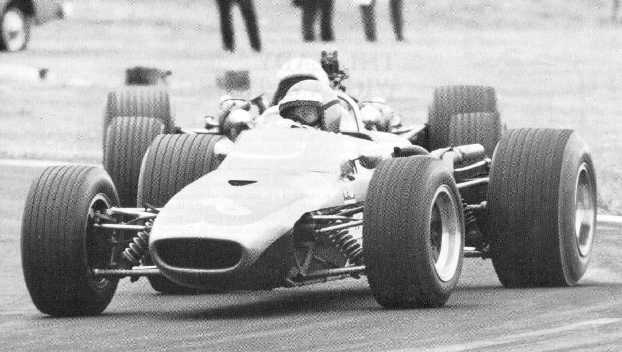 Courage (McLaren) with McLaren (BRM) behind had an easy second.
9th Levin International
Date: 13th January 1968
Venue: Levin
63 laps of 1.92kms (120.69kms)
| | | | | | |
| --- | --- | --- | --- | --- | --- |
| Result | Driver | Nat | Car | Laps | Time |
| 1 | Chris Amon | NZ | Ferrari 246T / Ferrari 2417cc V6 | 63 | 50m 40.2s |
| 2 | Piers Courage | UK | McLaren M4A / Cosworth 1600cc 4cyl | 63 | 51m 30.5s |
| 3 | Jim Palmer | NZ | McLaren M4A / Cosworth 1600cc 4cyl | 61 | |
| 4 | Roly Levis | NZ | Brabham BT18 / Ford 1498cc 4cyl | 60 | |
| 5 | Red Dawson | NZ | Brabham BT7A / Climax 2499cc 4cyl | 60 | |
| 6 | Bill Stone | NZ | Brabham BT6 / Ford 1498cc 4cyl | 60 | |
| 7 | Bryan Faloon | NZ | Brabham BT4 / Climax 2495cc 4cyl | 59 | |
| 8 | Frank Radisich | NZ | Lotus 22 / Ford 1750cc 4cyl | 59 | |
| 9 | Graeme Lawrence | NZ | Brabham BT18 / Ford 1498cc 4cyl | 58 | |
| 10 | David Oxton | NZ | Brabham BT16 / Ford 1498cc 4cyl | 58 | |
| Ret | Bruce McLaren | NZ | BRM P126 / BRM 2493cc V12 | 56 | Fuel Boil |
| Ret | Pedro Rodriguez | Mex | BRM P126 / BRM 2493cc V12 | 44 | Fuel Pickup |
| Ret | Jim Clark | Scot | Lotus 49T / Cosworth 2491cc V8 | 31 | Suspension |
| Ret | Graham McRae | NZ | Brabham BT6 / Ford 1498cc 4cyl | 29 | Gearbox |
| Ret | Paul Bolton | Aust | Brabham BT19 / Climax 2495cc 4cyl | 20 | Fuel Pump |
| Ret | Peter Yock | NZ | Lotus 33 / BRM 1998cc V8 | 16 | Battery |
| Ret | Frank Gardner | Aust | Brabham BT23D / Alfa 2472cc V8 | 15 | Suspension |
| DNS | Ken Smith | NZ | Lotus 41 / Ford 1498cc 4cyl | | |
Fastest lap: C. Amon, 46.8 sec (90.385 mph)
J. Clark, Lotus-Ford 49T V8 2.5, 46.2 sec (91.558 mph) in heat* *record