Eighth New Zealand
Grand Prix 1961



1961 was the first time Ardmore saw almost the complete grand prix 'circus'. Every championship team except Ferrari was present, and nearly all the top drivers. World Champion Jack Brabham and runner-up Bruce McLaren had works Coopers; third placeman Stirling Moss had Rob Walker's Lotus; Innes Ireland, Jim Clark and John Surtees represented Team Lotus; Roy Salvadori (Lotus) and Joakim Bonnier (Cooper) drove for Yeoman Credit, managed by Reg Parnell; Ron Flockhart had Brabham's own Cooper that he had raced at Ardmore last year, and Dan Gurney and Graham Hill represented BRM. With the cars came John Cooper himself and Stan Chapman, father of Lotus designer, Colin Chapman.
There were 38 entries for the Grand Prix, 14 international drivers, plus 2 overseas New Zealanders. There were also seventeen cars entered that had Coventry-Climax engines. They were all Coopers or Lotus's. Jack Brabham and Bruce McLaren brought their 1960 championship winning Coopers to New Zealand. They were the latest T53 models that they had won most of the years formula one races.
There were 6 of the new Lotus 18s entered, all but one being FI machines. Team Lotus had three. One each for Innes Ireland, world motorcycle champion John Surtees and new boy Jim Clark. Jim had shown some promise but lacked experience and results. He joined the Lotus team after Allan Stacey, Lotus number two, had been killed. Yeoman Credit had one for Roy Salvadori. His had been a particularly successful car and was the second chassis built. Stirling Moss had the fifth one. His differed from the others by the fact that he replaced the gearbox with a Colotti one and also used outboard rear disc brakes. The last was a Formula Junior Lotus 18, acquired from Team Lotus for Jim Palmer to drive. It was the car that Jim Clark had used to win the opening round of the British FJ Championship. It was fitted with a Cosworth developed 105E Ford engine.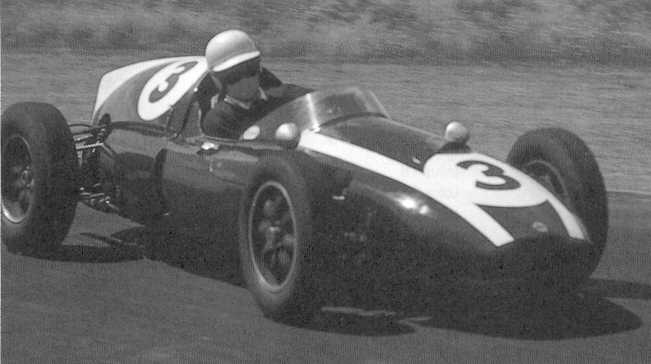 Flockhart in Brabham's 1960 car.
BRM sent two new P48's to contest the race. These were 1960 FI works cars with the only modification being the fitting of outboard disc brakes at the rear in place of the single inboard one. Harry Schell was due to lead the team in New Zealand, but he was unfortunately killed at Silverstone. His place was taken by Dan Gurney and the second car was driven by another relatively newcomer, Graham Hill.
From Australia came Stan Jones in a 2.2-litre Cooper T51, Arnold Glass was no longer in the Maserati 250F, he now joined the Cooper ranks with a 2.5-litre Cooper-Maserati T45, and the inevitable Bib Stillwell, this time in a 3-litre monoposto Aston Martin DBR1. David McKay returned to drive Stan Jones's old 250F Maserati.
Obvious choice for top New Zealand honours was Denny Hulme, now at the wheel of a dark-blue 2.5-litre Cooper leased from Yeoman Credit. His older 1960 cc car was driven by Tony Shelly and similar ex-Jensen machines by Angus Hyslop and David Evans. Angus had purchased Syd Jensen's championship winning 2-litre T45. Shelly was making a comeback after nearly two years' absence, while Evans had come up by way of the ex-Roly Levis RAL sports-car and the single-cam FII Cooper.
Following Evans in ownership of the RAL and now the single-cam Cooper was another young Wellingtonian, Duncan Mackenzie, but he was not expected to be as fast as Lionel Bulcraig, whose twin-cam car was now fitted with a 2-litre motor.
It was also expected that Pat Hoare's new Ferrari 256 would be much faster than these, and indeed it was. This car was a 1960 ex-works Formula I car, the very car that Phil Hill had used when the last front engined car won a grand prix, fitted with a 3-litre V12 sports-car engine, and was tremendously powerful.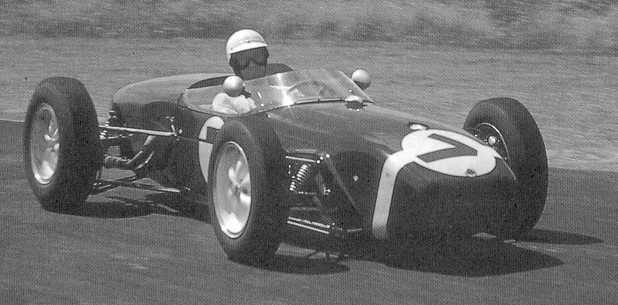 Stirling Moss (Lotus-Climax).
Johnny Mansel had ordered a short-stroke Maserati-engined Tec-Mec, but the car did not arrive in time and he reverted to his old car, now owned by Auckland novice Bob Eade. Two other 250F Maseratis were entered: the green ex-Quirk car driven by Len Gilbert and the blue and gold ex-Ross Jensen machine driven by Brian Prescott, who had shown a certain amount of promise in the Cooper-Bristol.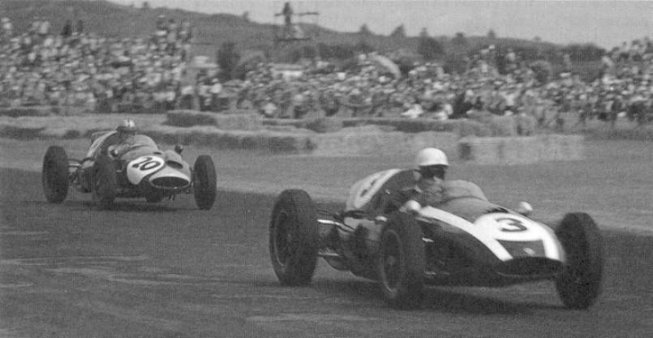 Flockhart and Hulme fighting for 4th place late in the race.
Other entrants included Frank Shuter in the ex-Hoare Ferrari 625 and Bob Smith in his Super Squalo 555 Ferrari. Bill Thomasen now had the Ferrari Monza. Allan Freeman had the Lago-Talbot for the last time, and Jim Boyd started his second season in the HWM-Alta. The ex-Prescott Cooper-Bristol was entered for a very successful Auckland hillclimber and sports-car racer Peter Elford, and Jack Malcolm had at last got his Repco-Holden engined Cooper T23 going. Arthur Moffat had purchased Palmers Lotus 15 and had his sites set on the sports car race, not expecting to qualify for the Grand Prix. Bill Gardiner had bought the Tojeiro-Jaguar off Moffat.
The two Formula Junior Cars, Roly Levis's black Cooper T52 and the Palmer Lotus 18, were a little too slow to qualify, but the Lycoming Special, now modified and re-engined, with a capacity now just over 5 litres, was as fast as ever and once again was the only New Zealand-made car to qualify.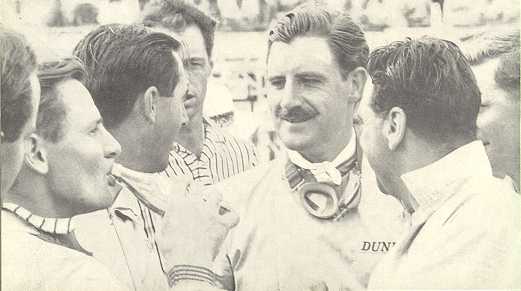 Internationals at Ardmore. From left, Bruce McLaren, Jack Brabham, Graham Hill
and John Cooper of Cooper Cars Ltd.
With such an evenly matched field of leading drivers, there was much interest in practice times. Moss and Brabham were once again the two fastest, times being 1min 20.2 sec and 1:20.4 respectively. Next came the BRMs of Hill 1:20.7 and Gurney 1:20.8, followed by McLaren 1:20.9, Ireland 1:21.1, Surtees 1:21.4 and Bonnier 1:21.8.
Fastest New Zealander was Hulme, with a time of 1:24.5, with Hoare 1:27.0, Gill 1:29.1 and Hyslop and Gilbert 1:29.8 being next. Jim Palmer at 1:31.8 was only 0.2 faster than his old car.
It will be noted that none of these times was exceptionally good. The reason for this was that the track surface was in the worst condition it had been for any Ardmore Grand Prix.
In the first heat Moss broke his own lap record of 1:20.7, leaving it at 1min 19.6 sec, or over 90 mph, which stands as an all-time record for the circuit. He won the heat from McLaren, Hill, Flockhart, Salvadori and Surtees. Hoare was first New Zealander. Total heat time was 20m 16.3s.
Jack Brabham was victor in the second heat in 20m 28.6s, with Dan Gurney second, Ireland third, Hulme fourth, Stillwell fifth and then Jones. Other than Hulme, the best Kiwi was Mansel. Brabham's best lap time was 1m 20.0s. The only top driver to have any trouble was Bonnier, who withdrew with gearbox trouble. He was allowed to start from the back row of the grid.
The makeup of the grid was Moss on pole, followed by, in order, McLaren, Brabham, Hill, Flockhart, Ireland, Salvadori, Surtees, Gurney, Hulme, Clark, Stillwell, Jones, Hoare, Glass, Hyslop, Mansel, Gilbert, Gill, McKay, Evans, Bulcraig, Shuter and Bonnier.
The race itself was the biggest sorting out of cars and drivers in the history of the event. The winner? Once again the champion Jack Brabham, making it the third win on the airfield circuit for the Australian Cooper driver, and awarding him the rubber in his five-race tussle with Stirling Moss.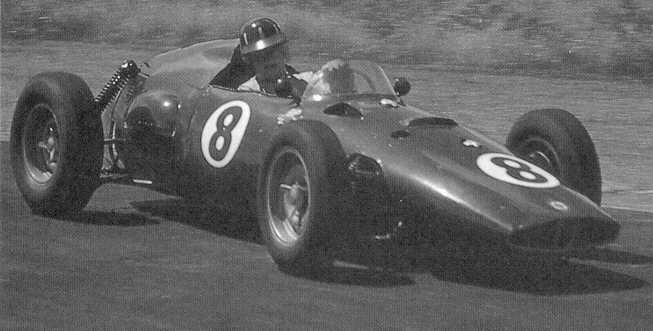 Graham
Hill in the BRM.
Jack won the race like a champion, with a motor which sounded like an ill-organised chaff-cutter but fortunately performed not far below peak.
Once again it was Ardmore weather - a blazing hot day with a record attendance officially put at 65,000.
Second man in was Cooper team-mate and runner-up to Brabham in the World Championship, Aucklander Bruce McLaren, and the only break in a Cooper run down to the sixth place was Graham Hill's steady drive into third a lap behind in a BRM.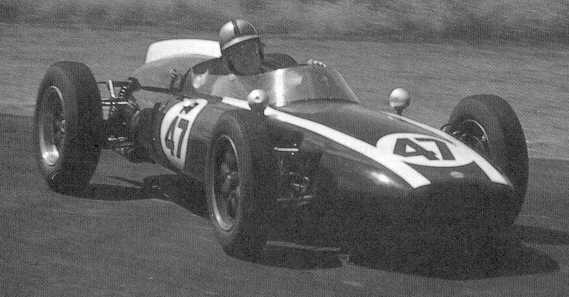 Bruce McLaren (Cooper-Climax).
First New Zealander home was Denny Hulme (Cooper) who drove a steady race into fifth place overall, and others to finish were Pat Hoare, Malcolm Gill, Frank Shuter, Angus Hyslop, David Evans and Lionel Bulcraig.
The shattering part of the meeting was the trail of broken cars left lying in the pits by half-way through the race. Five Lotus's had started, and only Jim Clark's staggered gamely into sixth place, behind the Coopers of Ron Flockhart and Denny Hulme.
The other overseas defections were Dan Gurney, whose BRM broke a selector, and Joakim Bonnier, who coasted in after only a lap of the course with a run gearbox in the Yeoman Credit Cooper.
It was Flockhart first into the corner, but by the time the scramble was sorted out McLaren was away down Hangar Straight with Moss breathing down his neck, followed by Brabham and Flockhart.
By the time the leaders were round to the pits Ireland was moving up on Flockhart to take fourth place, and a gap had already been opened up on Hill, Clark, Surtees, Salvadori and Hulme, with Stillwell and Glass hanging on and another gap back to the rest of the field.
The crowd was elated as McLaren sped on, lapping at around 1:21.2 in spite of full tanks, with Moss thrusting for an opening. But it took the master six laps to get by, on the first leg of the Cloverleaf.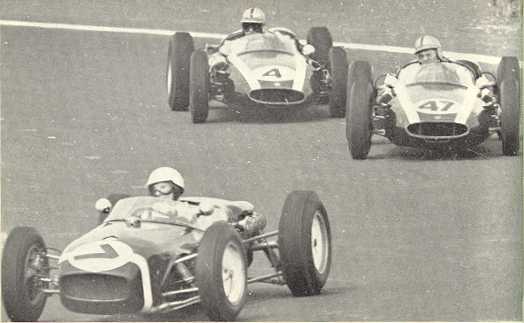 Moss followed by McLaren and Brabham.
In the meantime Ireland was holding on to fourth, but Flockhart had disappeared back in the field. Coming out of the fast left-hander into Pit Straight he had put up a hand to straighten his goggles and lost the Cooper in the biggest possible way. A half spin, and it was shooting backwards towards the pits and official area (and the Press spot) at 80mph. Maximum correction, a shriek of rubber, and he was away again safely, but down in ninth place instead of fifth.
Bonnier's hastily repaired gearbox lasted half a lap before the bolts again snapped. Gurney called into the pits at the end of the first lap to have his gear selector plate in the cockpit straightened. He only had half his regular number of gears. Surtees followed Gurney in to clear a fuel blockage. Gilbert called it a day with a rod out of each side of the block.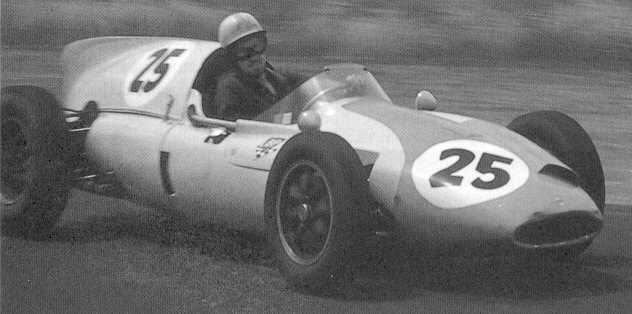 Joakim Bonnier (Cooper-Climax) had no luck with his gearbox.
Jones retired when his Climax had zero oil pressure. McKay was having a few problems with Jones's 250F. He had a broken exhaust which was sending fumes into the cockpit and making him feel quite ill. He retired at that point and Jones jumped into it and did two laps before deciding he was wasting his time.
Over the next 14 laps Moss was pulling away at the rate of a second a lap from Brabham, whose motor was already sounding out, while Hill's was distinctly hairy and he had decided to nurse it for the race in the hope of a placing. The order at that point was Moss, Brabham, McLaren, Ireland, Hill, Surtees, Clark, Flockhart, Salvadori, Hulme, Gurney, Stillwell and Glass. McLaren had drifted back seven seconds behind Brabham and Moss's average speed was 88 mph.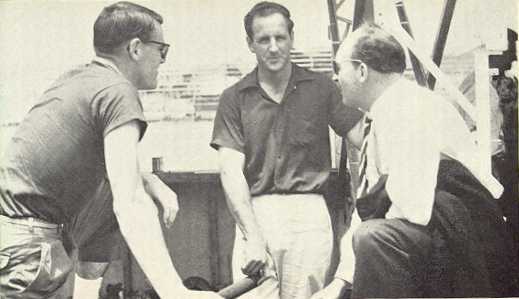 Denny Hulme (centre) chats with Tony Shelly (left) and Ron Frost during practice.
Within two laps Ireland's race was over. He had dropped back to 12 seconds behind McLaren with worsening noises in the back end, and finally his crown-wheel and pinion gave up the ghost. Surtees pulled in with the same trouble on the very next lap. Evans had to stop with fuel leaking into the cockpit. He continued after the leak had been fixed, but lost many laps in the process.
The race order appeared to have settled down by lap 30, with Moss still galloping along in front, Brabham a whole 15 seconds behind and just about giving up hope of catching the flying Lotus, and McLaren up to within five seconds of Brabham.
But on lap 32 disaster struck. Moss was into the pits, and out for good with advanced clutch slip. Brabham heaved a big sigh of relief and concentrated on keeping ahead of McLaren.
On his home ground and with a good car McLaren had been told he could have an all-out go to win, and at this stage, with Brabham's motor popping erratically, he seemed to have a royal chance.
But as the race speeded up he found he was making little impression on the champion. Hill was sitting safely in third spot, 23 seconds behind, and not pushed by Salvadori another 20 seconds back, or Flockhart.
On lap 36, Salvadori stopped at College Corner without any gears. Mansel also stopped on the back straight with a noise in the engine.
With a lap of 1:20.5 on lap 59 McLaren started his bid to overhaul the leader. He drifted a bit owing to being forced to change his goggles, smeared by a collision with a bee, but by lap 65 he was up to within five seconds again.
Brabham spotted the closure and put in a brilliant lap at 1:19.9, a new race record. By brilliant driving, using every available inch of track, Brabham was nosing ahead on the corners, being pulled back on the straights.
As McLaren shut off to go into the Cloverleaf on the 74th lap his motor cut out momentarily - probably caused through fuel vaporisation in the intense heat - and the best part of a second was lost while it stuttered to life again.
McLaren made up the leeway through the last lap, but the same thing happened on lap 75, and Brabham flashed across the line 1.7s ahead.


Denny Hulme (Cooper-Climax).
| | | | | | |
| --- | --- | --- | --- | --- | --- |
| Result | Driver | Nat | Car | Laps | Time |
| 1 | Jack Brabham | Aust | Cooper T53 / Climax 2495cc 4cyl | 75 | 102m 30.0s |
| 2 | Bruce McLaren | NZ | Cooper T53 / Climax 2495cc 4cyl | 75 | 102m 31.7s |
| 3 | Graham Hill | UK | BRM P48 / BRM 2491cc 4cyl | 74 | |
| 4 | Ron Flockhart | Scot | Cooper T51 / Climax 2495cc 4cyl | 73 | |
| 5 | Denny Hulme | NZ | Cooper T51 / Climax 2495cc 4cyl | 73 | |
| 6 | Jim Clark | Scot | Lotus 18 / Climax 2495cc 4cyl | 71 | |
| 7 | Pat Hoare | NZ | Ferrari 256 / Ferrari 2953cc V12 | 70 | |
| 8 | Arnold Glass | Aust | Cooper T45 / Maserati 2489cc 6cyl | 70 | |
| 9 | Malcolm Gill | NZ | Lycoming Special / Lycoming 5239cc 4cyl | 69 | |
| 10 | Angus Hyslop | NZ | Cooper T45 / Climax 1964cc 4cyl | 67 | |
| 11 | Frank Shuter | NZ | Ferrari 625 / Ferrari 2994cc 4cyl | 67 | |
| 12 | Bib Stillwell | Aust | Aston-Martin DBR4-300 / Aston 2991cc 6cyl | 66 | |
| 13 | David Evans | NZ | Cooper T43 / Climax 1964cc 4cyl | 52 | |
| 14 | Lionel Bulcraig | NZ | Cooper T43 / Climax 1700cc 4cyl | 45 | |
| Ret | David McKay | Aust | Maserati 250F / Maserati 2497cc 6cyl | 45 | Exhaust |
| Ret | Johnny Mansel | NZ | Maserati 250F / Maserati 2497cc 6cyl | 45 | Engine |
| Ret | Dan Gurney | USA | BRM P48 / BRM 2491cc 4cyl | 42 | |
| Ret | Roy Salvadori | UK | Lotus 18 / Climax 2495cc 4cyl | 36 | Gearbox |
| Ret | Stirling Moss | UK | Lotus 18 / Climax 2495cc 4cyl | 32 | Clutch |
| Ret | Stan Jones | Aust | Cooper T51 / Climax 2205cc 4cyl | 20 | Oil Pressure |
| Ret | John Surtees | UK | Lotus 18 / Climax 2495cc 4cyl | 17 | Transmission |
| Ret | Innes Ireland | Scot | Lotus 18 / Climax 2495cc 4cyl | 16 | Crown Wheel |
| Ret | Len Gilbert | NZ | Maserati 250F / Maserati 2497cc 6cyl | 9 | Engine |
| Ret | Joakim Bonnier | Swed | Cooper T51 / Climax 2495cc 4cyl | 0 | Gearbox |
| DNQ | Tony Shelly | NZ | Cooper T45 / Climax 1964cc 4cyl | | |
| DNQ | Brian Prescott | NZ | Maserati 250F / Maserati 2497cc 6cyl | | |
| DNQ | Bob Smith | NZ | Ferrari Super Squalo 555 / Ferrari 3431cc 4cyl | | |
| DNQ | Allan Freeman | NZ | Lago-Talbot 26C / Talbot 4485cc 6cyl | | |
| DNQ | Jim Boyd | NZ | HWM / Alta 1971cc 4cyl s/c | | |
| DNQ | Peter Elford | NZ | Cooper-Bristol Mk I / Bristol 1971cc 6cyl | | |
| DNQ | Roly Levis | NZ | Cooper T52 FJ / BMC 994cc 4cyl | | |
| DNQ | Jim Palmer | NZ | Lotus 18 FJ / Ford 994cc 4cyl | | |
| DNQ | Doug Whiteford | Aust | Maserati 250F / Maserati 2497cc 6cyl | | |
| DNQ | Bill Thomasen | NZ | Ferrari 750 Monza / Ferrari 2999cc 4cyl | | |
| DNQ | Bill Gardiner | NZ | Tojeiro 3/56 / Jaguar 3800cc 6cyl | | |
| DNQ | Arthur Moffatt | NZ | Lotus 15 / Climax 1964cc 4cyl | | |
| DNQ | Duncan Mackenzie | NZ | Cooper T41 / Climax 1460cc 4cyl | | |
| DNQ | Bob Eade | NZ | Maserati 250F / Maserati 2497cc 6cyl | | |
| DNA | Jack Malcolm | NZ | Cooper-Bristol Mk II / Holden 2358cc 6cyl | | |
Fastest lap in Grand Prix: Stirling Moss, 1m 21.2s (88.5 mph) lap 25. Others: McLaren 1m 21.7s, lap 56; Brabham 1m 21.8s laps 15, 17 & 75.
Lap record: Moss 1m 19.6s (90.5 mph) in first heat, lap 14.