Ninth New Zealand
Grand Prix 1962




For the fourth year in succession the New Zealand Grand Prix, run at Ardmore for the last time, was headed by the 'eternal triangle' of Moss, Brabham and McLaren. All overseas entrants were now at the wheel of Inter-Continental Formula cars, machines with a maximum capacity of 3 litres, as compared with the current Formula I limit of 1.5 litres.
Moss had Rob Walker send both a Lotus and Cooper car. The Lotus was a new 21 having a 2500cc Climax motor. This car had not yet raced. The Cooper was the latest T55 with a 2750cc Climax motor. It had only raced once in the Aintree 200. Jack Brabham's car was his own 2750cc Cooper T55, and McLaren was driving his specially modified 2750cc Cooper T53 car belonging to Tommy Atkins. The chassis itself was Brabham's 1960 works car.
The 23-year-old Italian driver Lorenzo Bandini was the only newcomer to New Zealand; his car was a 2890cc Cooper-Maserati T53 entered by Scuderia Centro-Sud.
John Surtees and Roy Salvadori returned to represent the Bowmaker-Yeoman Racing Team of Coopers. They had T55's with a 2750cc and 2600cc motors respectively. Australian Lex Davison drove a 2500cc T55 Cooper for the same stable, still managed by Parnell. Ron Flockhart entered his own yellow 2500cc Lotus 18.
Bib Stillwell brought his 3-litre Aston-Martin over from Australia and Arnold Glass raced his red ex-works 2500cc BRM P48. David McKay was at the wheel of a 2500cc Cooper-Climax T51 belonging to Scuderia Veloce, a new team he had formed. The car was a regular visitor to Ardmore, having been driven by Brabham in 1960 and Flockhart in 1961.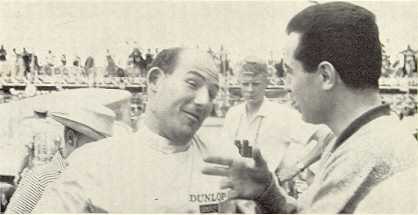 Stirling Moss and Lorenzo Bandini chatting
Denny Hulme did not consider it financially worthwhile to return to New Zealand, so leading local entrant was Angus Hyslop with his completely rebuilt Cooper, now housing a 2500cc motor. It was a T45 rebuilt to T53 'lowline' specs. Johnny Mansel had negotiated with the Centro-Sud team and signed to drive their 2890cc Cooper-Maserati T51 during the season. This was an updated T51 with double wishbones and coils at the back. His ex-Hulme Cooper-Climax T51 had been bought by Bill Thomasen. It was still using the 2000cc Climax motor.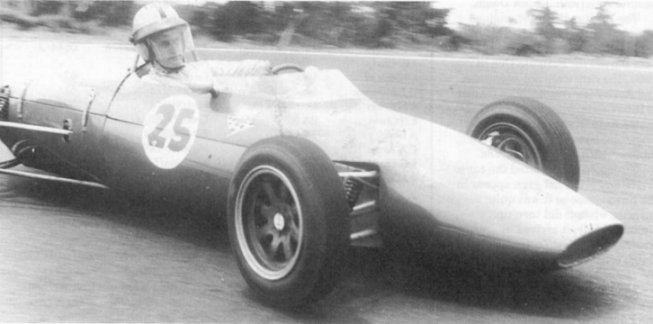 Rex Flowers (Gemini-Ford MK IIIa)
Pat Hoare's Ferrari was another leading contender, and Tony Shelly entered his rebuilt and tuned 2000cc Cooper T45. The Cooper-Climax T43 of David Evans was entered but didn't race.
An interesting new car was Jim Palmer's latest Lotus, basically a Mk 20 Formula Junior car but fitted with a highly-modified 1498 cc Ford 109E engine, bringing it into Formula I class. Other new Juniors were Rex Flower's red rear-engined Gemini and the black front-engined Mk II Lola of successful Auckland saloon driver Johnny Histed. Twenty one year old Morrinsville new-comer Ross Greenville was driving the older ex-Palmer Lotus FJ 18. Another of these Lotus 18 FJ's was in the hands of Scott Wiseman.
Again on the entry-list was Jack Malcolm's Cooper-Holden, this time to be driven by Len Gilbert, and the red ex-Gilbert 250F Maserati was in the promising hands of Manawatu lad Chris Amon. Bob Smith's Ferrari had been thoroughly overhauled, using body panels off the old 375, and was entered once more. Peter Elford also had the very old Cooper-Bristol.
Leading special was Forrest Cardon's Lycoming. He had bought it from Malcolm Gill and would try and qualify it for its seventh straight New Zealand Grand Prix. Hec Green was back again with his fuel-injected RA, and newcomer Lou Stonnell entered a Formula Junior Lynx. This car was fitted with a 105E Ford engine. The Tec-Mec was driven by Rod Coppins. He had turned it into a sports car, believing that it would never be successful as a single seater.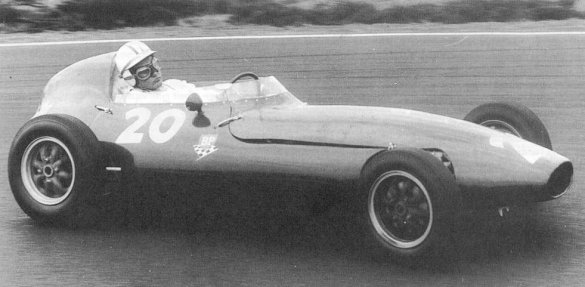 John Histed (Lola Mk2 / Ford)
Taking place of the heats was a national race, the fastest six drivers in which would be offered positions on the grid of the Grand Prix. Leading cars among the entrants (other than those already entered in the Grand Prix) were the 250F Maseratis of Bob Eade and Brian Prescott. Sports-cars were entered for Bill Gardiner (Tojeiro), Barry Cottle and Doug Lawrence (Lola) and former saloon-driver Simon Taylor (D-type Jaguar). The rest of the field was made up of small sports-cars and outmoded Cooper 500s.
Practice was held in pouring rain, and times were in consequence very slow. Neither Moss nor Brabham was expected to be at practice because the planes on which they were due to travel out were snowbound in Britain.
However, Brabham was eventually able to get here, having utilised a roundabout route from the Continent, and was second fastest. McLaren was fastest with 1min 25.4 sec, a time which reflects the track conditions. Brabham's time was 1:25.7, next being Surtees 1:26.8, Hyslop 1:27.3, Salvadori 1:29.0, Davison 1:32.5, Stillwell 1:32.7 and Shelly 1:33.0.
An unofficial practice was held on the Friday, the times being valueless for grid position qualification, but very interesting nevertheless. In the dry, Brabham was credited with a fantastic 1:16.3 (94 mph), and Moss, who decided to drive the Lotus, was not much slower at 1:17.1.
The New Zealanders' race was an easy one for Hyslop, although Hoare, who finished second, and Mansel, who was third, both led in the early laps. Tony Shelly was fourth. This race, run on a dry track, produced the day's fastest laps, Hyslop doing 1:22.6 (87 mph) and Hoare 1:22.9.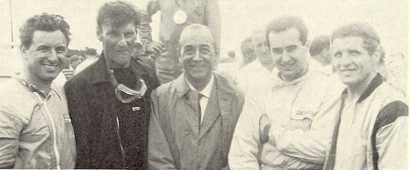 Scuderia Centro-Sud boss Guglielmo Dei (centre) with drivers Bandini (on his left),
Johnny Mansel (right) and mechanics
The grid placings were taken from the Thursday's practice times plus the faster qualifiers (from Mansel back on the grid) in the national race. McLaren was on pole, followed by, in order, Brabham, Surtees, Hyslop, Salvadori, Davison, Stillwell, Shelly, McKay, Glass, Hoare, Flockhart, Bandini, Palmer, Mansel, Thomasen, Amon, Greenville, Cardon, Histed and Moss. Moss was at the back because he had missed Thursday's qualifying completely.
Aquaplaning around the circuit with uncanny anticipation and unruffled calm, Moss shot through to an astounding win in a downpour which started precisely as the flag fell.
The only driver to stick with Moss in the flying Lotus 2.5 was Surtees. Though lapped by Moss he clung on behind, and when the race was shortened to 100 miles from the standard 150 owing to the weather, Surtees nipped by again to finish on the same lap as Moss.
Otherwise it was a cataclysmic experience for the rest of the field. McLaren, tipped to win in dry conditions, finished two laps further back in third place, and Roy Salvadori in the second Bowmaker-Yeoman Cooper hung on for fourth with 47 laps completed.
There was one thing certain at the end of the race, that on the day no other driver of the present could have lived with Moss, and it is doubtful whether another driver of any previous era could have beaten him.
While others were snaking all over the track, spinning up and sometimes colliding (mercifully with no serious results), Moss continued serenely. He did lose the Lotus once, but once only, when he struck a broad expanse of water lying at the entrance to Pit Straight. His driving was an awe-inspiring sight, and one which kept most of the drenched crowd of 45,000 on the course until the race was terminated.
Moss won in the astounding time, in the circumstances, of 83m 14.8s, an average of 72.3 mph and almost exactly the average returned by Australian Stan Jones in winning the first NZGP in the dry. Moss's fastest lap was 1m 32.8s (78 mph); Surtees put in a lap of 1m 34.2s and McLaren one of 1m 34.9. Alone among the Internationals Brabham elected to run on dry-weather tyres, and before going out with a jammed gear selector he had a desperate struggle to keep his car on the track.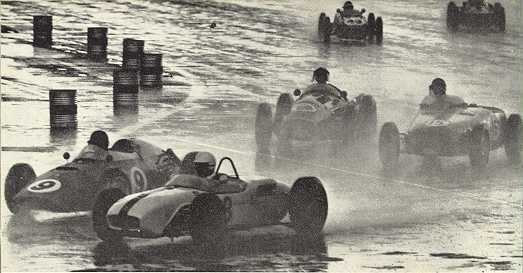 Appalling conditions. Ron Flockhart (8) and Arnold Glass (9) inside him.
The flagfall at the start of the race and the rain happened simultaneously. Hyslop was away fractionally fastest at the start, with Shelly sneaking up from the second row, but in a couple of seconds McLaren and Brabham were in front, then Surtees. Out of College Corner the first time Surtees was ahead of McLaren and Hyslop, with Stillwell lying next just shading Brabham, Salvadori and Shelly. And incredibly the next car was Moss, who had raced down the outside of the field from the back of the grid, nipped back between the markers, and popped into seventh place.
As the cars started the second lap, Surtees was still in front, with McLaren, Brabham, Stillwell still hanging on, Moss just in behind, and Salvadori and Bandini further back. Already McKay had been involved in a shunt with Shelly, both damaging wheels and going into the pits, from which McKay emerged to carry on. By the end of the second lap Moss had taken the lead from Surtees, and already a gap was opening back to Brabham and McLaren. Stillwell and Hyslop had both tangled with the bales and called into the pits for straightening out. Others were out with rain-drenched motors.

Jim Palmer's Lotus 20 sending up a spray.
Even at this stage it was clear that Moss was the master. Despite the lightness of the Lotus he was chasing it through water in some places three or four inches deep, right on the limit. At one point he took off his visor, obscured by the rain, and drove one-handed, shading his face with the other, for the best part of two laps. He was lapping a good three seconds faster than Brabham or McLaren and drawing away from Surtees too.
By now almost everyone had succumbed to some sort of unplanned excursion, College Corner seeming to be the main venue for such activity. Flockhart had pitted on lap 6 with water in the carbs, returned to the fray for one more lap and then quit. Greenville came in to have his exhaust pipe secured. MacKay came in for a replacement wheel as the one that had banged into Shelly was anything but round.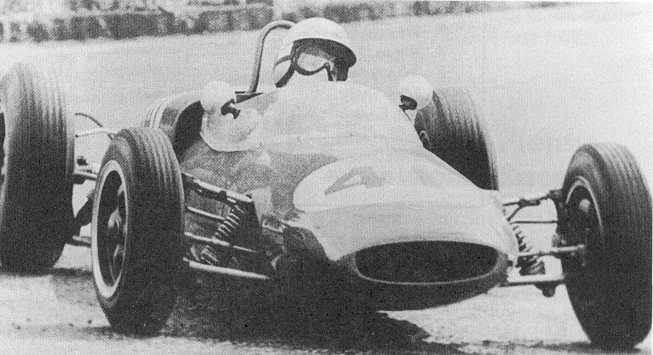 Jim Palmer (Lotus 20 Ford)
By lap 14 Moss had lapped everyone except Brabham, McLaren and Surtees, and the further the race went the further he drew ahead, to lap McLaren on the 18th, Brabham on the 21st and Surtees on the 39th. On lap 32 Brabham withdrew as he suddenly found he was unable to get any gear as the selector had disengaged itself somehow. Young Amon was having a steady drive towards an eventual eleventh place.
At the cloverleaf, Moss was lapping Bandini when the Cooper-Maserati drifted a little wide and shaved the hay bales. An eager Salvadori jumped at the opportunity and snatched fourth as Bandini extricated himself from the hay bales, losing two laps in the process. McLaren was lapped by Moss for the second time on lap 40.
In the closing stages Surtees came back with a rattle to overtake Moss just before the finish and complete the full 50 laps. Moss had, however, backed off when the boards went out on lap 44 indicating that the race had been cut short. Surtees summed up the situation at the prize-giving, for which the rain lifted, perversely enough. "He's just not normal," he remarked of Moss.
Pat Hoare had a good race in the Ferrari. He never put a foot wrong and was rewarded with sixth place and first resident Kiwi home. Mansel also had a steady drive in the rather sluggish Cooper-Maserati and was a little unlucky not to snatch eighth place off Davidson in the closing laps.

Stirling Moss acknowledges the chequered flag at the end of his epic drive in the storm.
| | | | | | |
| --- | --- | --- | --- | --- | --- |
| Result | Driver | Nat | Car | Laps | Time |
| 1 | Stirling Moss | UK | Lotus 21 / Climax 2495cc 4cyl | 50 | 83m 14.3s |
| 2 | John Surtees | UK | Cooper T53 / Climax 2750cc 4cyl | 50 | 84m 53.7s |
| 3 | Bruce McLaren | NZ | Cooper T53 / Climax 2750cc 4cyl | 48 | |
| 4 | Roy Salvadori | UK | Cooper T53 / Climax 2596cc 4cyl | 47 | |
| 5 | Lorenzo Bandini | Italy | Cooper T53 / Maserati 2890cc 4cyl | 45 | |
| 6 | Pat Hoare | NZ | Ferrari 256 / Ferrari 2953cc V12 | 45 | |
| 7 | Angus Hyslop | NZ | Cooper T53 / Climax 2495cc 4cyl | 45 | |
| 8 | Lex Davison | Aust | Cooper T53 / Climax 2495cc 4cyl | 44 | |
| 9 | Johnny Mansel | NZ | Cooper T51 / Maserati 2890cc 4cyl | 44 | |
| 10 | Bib Stillwell | Aust | Aston-Martin DBR4-300 / Aston 2991cc 6cyl | 44 | |
| 11 | Chris Amon | NZ | Maserati 250F / Maserati 2495cc 6cyl | 43 | |
| 12 | Ross Greenville | NZ | Lotus 18 FJ / Ford 998cc 4cyl | 42 | |
| 13 | David McKay | Aust | Cooper T51 / Climax 2495cc 4cyl | 42 | |
| 14 | Bill Thomasen | NZ | Cooper T51 / Climax 1964cc 4cyl | 41 | |
| 15 | Jim Palmer | NZ | Lotus 20 / Ford 1475cc 4cyl | 41 | |
| 16 | Forrest Cardon | NZ | Lycoming Special / Lycoming 5239cc 4cyl | 39 | |
| Ret | Jack Brabham | Aust | Cooper T55 / Climax 2750cc 4cyl | 32 | Gear Selector |
| Ret | Arnold Glass | Aust | BRM P48 / BRM 2497cc 4cyl | 15 | |
| Ret | Ron Flockhart | Scot | Lotus 18 / Climax 2495cc 4cyl | 7 | Engine |
| Ret | John Histed | NZ | Lola Mk2 / Ford 998cc 4cyl | 6 | Brakes |
| Ret | Tony Shelly | NZ | Cooper T45 / Climax 1964cc 4cyl | 1 | Suspension |
| DNQ | Rex Flowers | NZ | Gemini Mk IIIa FJ / Ford 998cc 4cyl | | |
| DNQ | Len Gilbert | NZ | Cooper-Bristol Mk II / Holden 2258cc 6cyl | | |
| DNQ | Bob Smith | NZ | Ferrari Super Squalo 555 / Ferrari 3431cc 4cyl | | |
| DNQ | Hec Green | NZ | RA / RA 2100cc 4cyl s/c | | |
| DNQ | Lou Stonnell | NZ | Lynx FJ / Ford 998cc 4cyl | | |
| DNQ | Rod Coppins | NZ | Tec Mec 1 / Chevrolet 4600cc V8 | | |
| DNQ | Scott Wiseman | NZ | Lotus 20 / Ford 998cc 4cyl | | |
| DNQ | Peter Elford | NZ | Cooper-Bristol Mk I / Bristol 1971cc 6cyl | | |
| DNA | David Evans | NZ | Cooper T43 / Climax 1964cc 4cyl | | |
| DNA | Roly Levis | NZ | Cooper T52 FJ / BMC 994cc 4cyl | | |
| DNA | Barry Thomas | NZ | Lynx FJ / Ford 998cc 4cyl | | |
Fastest lap: Stirling Moss, 1m 32.8s (77.5 mph) on lap 25.