Seventh New Zealand
Grand Prix 1960


Stirling Moss once again led the entry for the 1960 New Zealand Grand Prix, driving this time a light greenish-yellow red-nosed 2.5-litre Cooper-Climax for the Yeoman Credit Organisation. This car was a T51 chassis, with the Borgward 30 motor it had during its F2 life removed. World Champion Jack Brabham and NZ champion Bruce McLaren (now classed as an overseas entrant) had works-entered 2.5-litre Coopers. McLaren's car was a T45 updated to 1959 specs and Brabham had a new T51. McLaren was still riding on a high from just having won the US Grand Prix at Sebring to become the youngest ever grand prix winner.
English driver Ian Burgess was to race a 2.5-litre Maserati-engined Cooper, but eventually drove his own 2200cc Cooper-Climax, that he had driven during 1959 in the formula one championship. Another Englishman, David Piper, brought an apple-green 2.5-litre Fl Lotus 16 (front-engined) for himself, and a similar 1500cc car for a New Zealander to drive.
Australians Stan Jones and Bib Stillwell were at the wheels of 2200 cc Coopers and Australian champion Len Lukey had his ex-Brabham 1960 cc car. Arnold Glass drove the ex-Stillwell 250F Maserati, and Ted Gray completed the overseas entry with his big blue Tornado Special, a temperamental Corvette-engined car, reputedly the fastest in Australia.
Right up until race-day it was difficult to forecast who would be best New Zealander, because no one knew who would be driving Piper's second Lotus. The choice had finally been narrowed down to four drivers - Ross Jensen, Syd Jensen, Johnny Mansel and promising sports-car driver Roly Levis of Putaruru. Any of these could have put up a good performance, but none of them accepted the offer, mainly because it was only powered by a 1500cc FPF motor.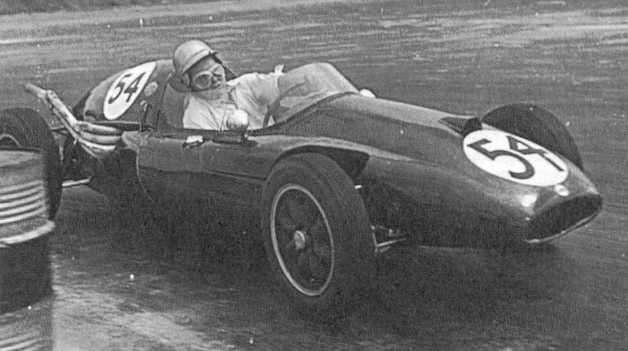 George Lawton (Cooper-Climax).
Although the 2-litre Coopers of Lawton and Hulme had been successful in the season's earlier races, it was expected that the more experienced drivers would fare better in the actual GP. Lionel Bulcraig had bought Ray Thackwell's brown 1957 Cooper F2.
Len Gilbert and Jack Malcolm were also entered in their front engined Cooper variants, one Bristol powered and the other with the Repco Holden unit.
Two other Lotus's were entered. One was the ex-Crowther Lotus 11 for John Windleburn and the other was the leading sports-car entry, Jim Palmer's 2-litre ex-works Lotus 15. The Monza Ferrari was now owned by a new-comer, Bill Thomasen, but driven once more by Ken Harris. The other three Ferraris were Bob Smith in the ex-Tom Clark Super-Squalo, Pat Hoare in his rebuilt 625 and Ron Roycroft was back again in the V12 engined 375. The ex-Cantwell Tojeiro was to be driven by Canterbury driver Arthur Moffatt, but didn't make an appearance.
Piper's second Lotus was still driverless, so Frank Shuter accepted the Englishman's offer and put up some really brilliant times (a 1min 24.6s lap) in practice. This time would have put him ahead of all those who turned the drive down on the grid. At the last minute Ross Jensen took over Quirk's Maserati and was considered to have as much chance as any other local for a high placing in the race.
Steadman Kilgour entered a Maserati that had a Mercury V8 fitted. It was the original 6CM that Fred Zambucka had acquired a few years before. Allan Freeman was back for his last go in the Lago-Talbot. The Lycoming Special was now in the hands of Malcolm Gill.
Hec Green brought the RA5 out of retirement and the RA3 was also present in the hands of DW McKee. It had a well worked Humber 80 engine. Jack Weaver entered a rear engined JW Special powered by a Citroen Light 15 motor.
Fastest driver in practice was Brabham, with a time of 1 min 20.1 sec; Moss was only 0.3 sec slower than this, but Piper and Burgess, the next two fastest, returned times of 1.22.6 and 1:22.9 respectively. Next in line was the surprise of the day: young Denny Hulme in his underpowered Cooper recorded the amazing time of 1 min 23.1 sec! After him were Jones, Stillwell and McLaren.
George Lawton was third-fastest New Zealander, Shuter in the Lotus (1 min 25.0 sec) being next. Then came Johnny Mansel and Ron Roycroft.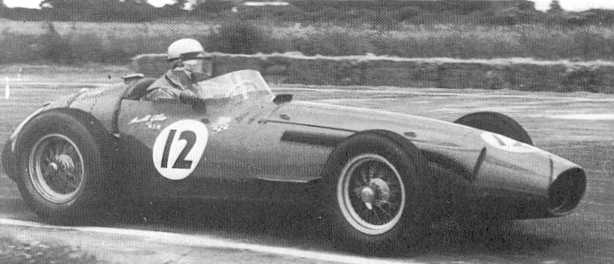 Arnold Glass (Maserati 250F).
Like previous years, the grid positions were determined by heats rather than practice times. In the first heat an exciting battle developed between McLaren and Moss, the latter taking the lead at the end of the race to win by a second and a half. David Piper and Stan Jones were third and fourth, ahead of Glass and Gray.
The second heat saw some fantastic driving by Hulme, who kept his little Cooper right up with the bigger-engined cars of Burgess and Stillwell, only Brabham being ahead. Unfortunately, however, his transmission jammed in the final laps and he only just qualified for the big race. Brabham was forced to retire when well in the lead, when his motor caught fire on the back straight. He guided the car safely to the grass and bailed out unhurt and was able to start in the GP, albeit from the back of the grid. This left the second heat to Burgess, followed by Stillwell, Lukey, Ross Jensen and Mansel.
Frank Shuter didn't drive in the heats: he had unfortunately succumbed to appendicitis the night before the grand prix and Arnold Stafford drove the Piper Lotus, after a retirement of three years. He also started from the back of the grid.
After the heats, the grid was Moss on pole, followed in order by McLaren, Piper, Burgess, Stillwell, Jones, Lukey, Roycroft, R Jensen, Mansel, Gray, Glass, Gill, Palmer, Hoare, Harris, Freeman, Bulcraig, Gilbert, Lawton, Stafford, Smith, Hulme and Brabham.
With the start this year in the hands of veteran driver George Smith, the cars rolled away splendidly. McLaren took off in his usual bomb-like fashion to head the field into College Corner, at the end of Pit Straight. Burgess was right behind him away from the line, with Piper and Stillwell shading Moss.
But by the time the cars were out of College Comer, Brabham, who had come around the field like a rocket from the back of the grid, was lying in fourth place, behind McLaren, Moss and Piper.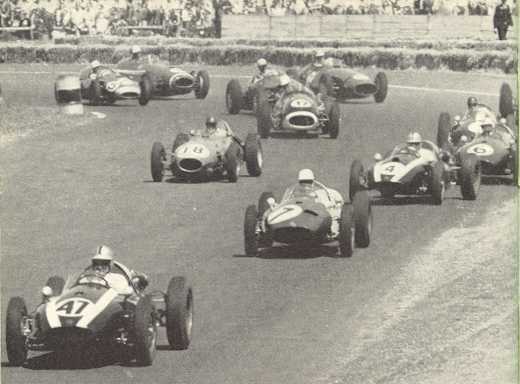 The field going through College Corner just after the start. McLaren (47) in the lead, Moss (7) behind,
Piper (18) and Brabham (4) already challenging after starting from the rear of grid.
When the cars went out on to the grid for the race, Hulme's team had not finished assembling the box. Incredibly, he roared out on to the track when the leaders were on their fifth lap and drove so well that, had he started at the right time, he would have filled fourth or fifth place.
Poor Lawton had to pull out of the big race on the 11th lap with clutch failure and thought his chance of going to Europe had gone down the drain.
In the evening, at the prizegiving ceremony, came the bonanza. The organisation had decided to send both drivers and their cars, subsidising them as the official New Zealand International Grand Prix team to race under the management of Feo Stanton.
Round past the start and the pits for the first time, McLaren was still leading; Moss was sitting in behind him with Brabham now ahead of Piper, whom he had taken going into the Cloverleaf. Stillwell was in fifth place, where he was having a see-saw battle with Burgess, and the next pair were Mansel and Roycroft.
The heat was really on in lap 3, Moss taking McLaren to lead along the back straight. But Brabham was right on Stirling's tail coming out of the fast left-hander into Pit Straight, and they roared past the pits at better than 120 mph side by side.
McLaren was firmly ensconced in third place; Piper was lying fourth, a couple of hundred yards behind. Then came Stillwell and Burgess, sticking together as though glued, and Jones and Mansel, also locked in a private war.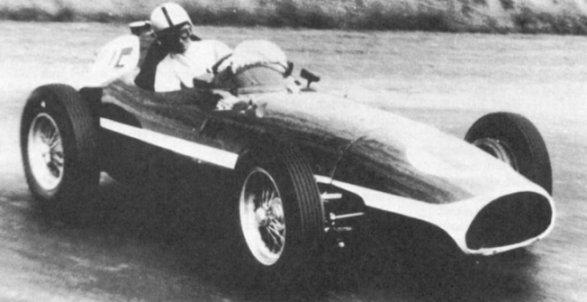 Pat Hoare (Ferrari 256).
In lap 4 Brabham overtook Moss, who tucked in six feet behind the champion as they sped round the circuit at something like 86 mph, already more than a quarter-mile clear of McLaren who was as far again ahead of Piper.
Hulme made his dramatic entry during lap 5, while the Tornado of Gray disappointingly dipped out on the back of the course with magneto trouble.
George Lawton bowed out on lap 11 with a slipping clutch - but at this stage all eyes were on Moss as he probed for an opening time after time after time, while Brabham just kept racing along in front.
The real challenge came on lap 15, which Moss put in at 1min 21.2 sec - the fastest lap time of the race and over 88 mph. Brabham responded with one of his four fastest, 1min 21.8 sec, but Moss prevailed and took the lead at the beginning of the 16th lap.
For the next two frantic laps, a desperate Moss pulled every trick out of the bag to stay ahead, but Brabham's determination and slight edge in performance put him in front again on lap 18, shooting through and away from College Corner just a fraction faster.
Thereafter he was never headed again, except by his No. 2 McLaren, at the very end of the race when the pair staged a realistic struggle for the benefit of the crowd - Brabham, of course, just holding off his team-mate.
While Brabham and Moss were dicing away in front, Piper was playing a waiting game. His Lotus was obviously very fast, and there was more than a suspicion that he had not been extended either in practice or in the heats.
But on lap 21 his hopes were dashed when the driveshaft broke going into the Cloverleaf, and Piper coasted into Pit Straight, hopping out and disconsolately wheeling the machine to the pits.
By the time a broken clutch-shaft stopped Moss in the 27th lap, Burgess had dropped a lap with his first pit stop. Stillwell, Jones, and Lukey had worked their way up to the next places, and Mansel was the first 'official' New Zealander in sight, with Ross Jensen not far behind. Burgess had to make a second stop on lap 28 and finally withdrew, after touring around the course as far as lap 44.
Arnold Stafford did a magnificent double spin and shot off into the grass when the 1960 cc Lotus broke a radius arm at nearly 100 mph on the back straight on lap 36.
The crowd was kept entertained in the closing stages as McLaren reduced an 11 sec gap to Brabham down to nothing in just 6 laps. The two then swapped the lead for a number of laps until the end when McLaren had to give way to team orders and Brabham won by 0.6 secs.


McLaren and Brabham dicing late in the race.
Unobtrusively, the 18-year-old Jim Palmer, driving his father's sports-racing Lotus, had been circulating very fast for that class of machine, and for a long period was actually ahead of Glass. Mansel also had an impressive drive. He stayed out of trouble and lapped consistently enough to take fifth place ahead of a lot more fancied drivers.
The other outstanding drive was that of Hulme, who managed to finish tenth despite a late start and a water-stop on lap 43.
Practice before the meeting was so dull as to be scarcely worth comment. Some drivers did not bother to practice, others turned in only a few laps, since the only thing which depended on practice times was the grid for the heats.
Nevertheless, the highlight of the two days was certainly Brabham's smart 1min 20.2 sec practice lap - now the unofficial record for the course (almost 90 mph) and 1.3 seconds faster than Moss's best practice lap in 1959.
| | | | | | |
| --- | --- | --- | --- | --- | --- |
| Result | Driver | Nat | Car | Laps | Time |
| 1 | Jack Brabham | Aust | Cooper T51 / Climax 2495cc 4cyl | 75 | 103m 49.2s |
| 2 | Bruce McLaren | NZ | Cooper T45 / Climax 2495cc 4cyl | 75 | 103m 49.8s |
| 3 | Bib Stillwell | Aust | Cooper T51 / Climax 2205cc 4cyl | 72 | |
| 4 | Stan Jones | Aust | Cooper T51 / Climax 2205cc 4cyl | 71 | |
| 5 | Johnny Mansel | NZ | Maserati 250F / Maserati 2497cc 6cyl | 70 | |
| 6 | Arnold Glass | Aust | Maserati 250F / Maserati 2497cc 6cyl | 68 | |
| 7 | Jim Palmer | NZ | Lotus 15 / Climax 1964cc 4cyl | 68 | |
| 8 | Pat Hoare | NZ | Ferrari 256 / Ferrari 2996cc 4cyl | 68 | |
| 9 | Ross Jensen | NZ | Maserati 250F / Maserati 2497cc 6cyl | 66 | |
| 10 | Denny Hulme | NZ | Cooper T45 / Climax 1964cc 4cyl | 66 | |
| 11 | Len Gilbert | NZ | Cooper-Bristol Mk II / Bristol 1971cc 6cyl | 65 | |
| 12 | Ron Roycroft | NZ | Ferrari 375 / Ferrari 4493cc V12 | 63 | |
| 13 | Allan Freeman | NZ | Lago-Talbot 26C / Talbot 4485cc 6cyl | 50 | |
| Ret | Ian Burgess | UK | Cooper T51 / Climax 2205cc 4cyl | 44 | |
| Ret | Arnold Stafford | NZ | Lotus 16 / Climax 1960cc 4cyl | 36 | Radius Arm |
| Ret | Len Lukey | Aust | Cooper T45 / Climax 1964cc 4cyl | 36 | |
| Ret | Lionel Bulcraig | NZ | Cooper T43 / Climax 1498cc 4cyl | 35 | |
| Ret | Stirling Moss | UK | Cooper T51 / Climax 2495cc 4cyl | 27 | Clutch |
| Ret | David Piper | UK | Lotus 16 / Climax 2495cc 4cyl | 21 | Driveshaft |
| Ret | Ken Harris | NZ | Ferrari 750 Monza / Ferrari 2999cc 4cyl | 20 | Overheating |
| Ret | George Lawton | NZ | Cooper T45 / Climax 1964cc 4cyl | 11 | Clutch |
| Ret | Bob Smith | NZ | Ferrari Super Squalo 555 / Ferrari 3431cc 4cyl | 9 | |
| Ret | Malcolm Gill | NZ | Lycoming Special / Lycoming 4733cc 4cyl | 6 | |
| Ret | Ted Gray | Aust | Tornado / Chevrolet 4640cc V8 | 5 | |
| DNS | Frank Shuter | NZ | Lotus 16 / Climax 1960cc 4cyl | | |
| DNQ | John Windleburn | NZ | Lotus 11 / Climax 1098cc 4cyl | | |
| DNQ | Jack Weaver | NZ | JW-Citroen Special / Citroen 1999cc 4cyl | | |
| DNQ | DW McKee | NZ | NZRA / Humber 1350cc 4cyl | | |
| DNQ | Hec Green | NZ | RA / RA 2100cc 4cyl s/c | | |
| DNQ | Steadman Kilgour | NZ | Maserati 6CM / Mercury 4500cc V8 | | |
| DNQ | Merv Neil | NZ | Cooper T39 / Climax 1498cc 4cyl | | |
| DNA | Jack Malcolm | NZ | Cooper-Bristol Mk II / Holden 2258cc 6cyl | | |
| DNA | Arthur Moffatt | NZ | Tojeiro 3/56 / Jaguar 3800cc 6cyl | | |
| DNA | Brian Prescott | NZ | Cooper-Bristol Mk I / Bristol 1971cc 6cyl | | |
Fastest Lap in Grand Prix: Moss, 1m 21.2s (88.4 mph) on lap 25. Others: McLaren, 1m 21.7s lap 56; Brabham, 1m 21.8s laps 15, 17 and 75.
Lap record: Moss, 1m 20.7s (89.7 mph) in first heat, lap 15.
Back to New Zealand Grand Prix