Denomination

$5
$5
$5
Description

Josh Kronfield
All Black Haka
Jonah Lomu
Control Number

204B & ADCB
201B & ADCB
201B
Quantity

10,500
10,500
10,500

Pacific Coin Company issued 1,500 of these cards in a special presentation folder, illustrated below. This pack also contained a specimen card and a souvenir booklet.
Another two packs were also produced in this series, one of Jonah Lomu (3,500) and the other of Sean Fitzpatrick (2,500). Each of these two packs were personally autographed and each contained a different specimen card, illustrated further below.

These cards were also included in the Collector Pack AdCards Volume Twelve NZ-CP-50 and were overprinted on the reverse with Collectors Issue 1995 or International Collectors Issue 1995, if included in the International Pack.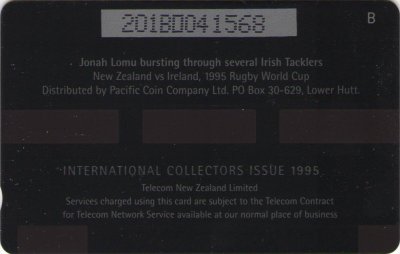 The reverses of the original cards.