Reference Number

NZ-A-111
NZ-A-112
NZ-A-113
NZ-A-114
NZ-A-115
NZ-A-116
NZ-A-117
NZ-A-118
Denomination

$5
$5
$5
$5
$5
$5
$5
$5
Description

Frank Bunce
Michael Jones
Blair Larsen
All Black Pack
Mike Brewer
Zinzan Brooke
Sean Fitzpatrick
John Kirwan
Control Number

ADDB & ADCB
ADDB
ADDB & ADCB
ADCB
ADDB
ADDB & ADCB
ADDB
ADDB
Quantity

16,250
16,250
16,250
16,250
16,250
16,250
16,250
16,250

The reverses of the normal cards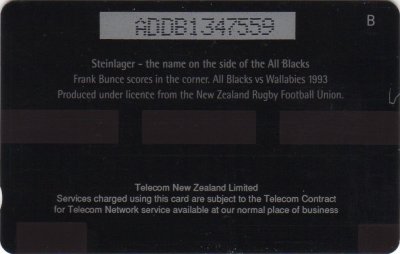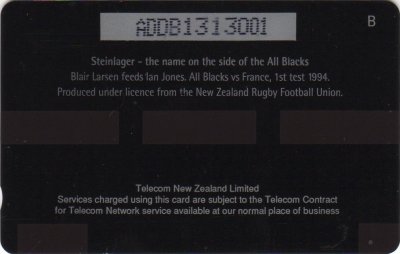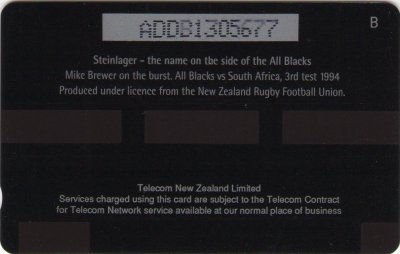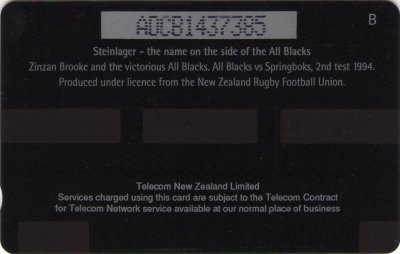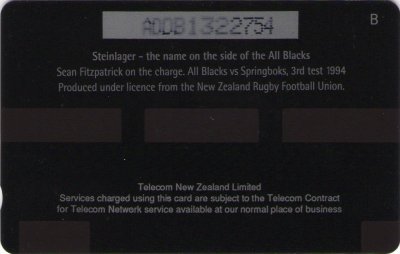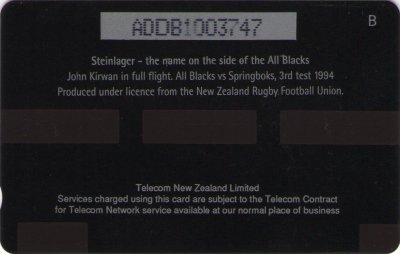 The Frank Bunce, All Black Pack, Mike Brewer & Zinzan Brooke cards were included in a special All Black Pack of 2,500, illustrated below. This pack also contained a specimen card.
Another pack containing all 8 cards was produced by Liquor King, illustrated at bottom.

All eight cards were also included in the Collector Pack NZ-CP-40 and were overprinted on the reverse with Collectors Issue 1995 or International Collectors Issue 1995, if included in the International Pack.