Reference Number

NZ-A-143
NZ-A-144
NZ-A-145
NZ-A-146
NZ-A-147
NZ-A-148
Denomination

$5
$5
$5
$5
$5
$5
Description

Danny Morrison
Gavin Larsen
Lee Germon
Emily Drumm
Northern Districts
Chris Cairns
Control Number

ADCB
ADCB
ADCB
ADCB & ADDB
ADCB & ADDB
ADCB & ADDB
Quantity

14,600
14,600
14,600
14,600
14,600
14,600

Shell issued 750 Summer Of New Zealand Cricket Packs, illustrated below, that contained all six cards.

These cards were also included in the Collector Pack AdCards Volume Twelve NZ-CP-50 and were overprinted on the reverse with Collectors Issue 1995 or International Collectors Issue 1995,
if included in the International Pack.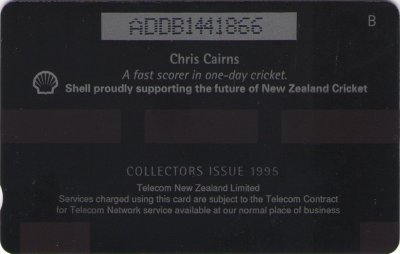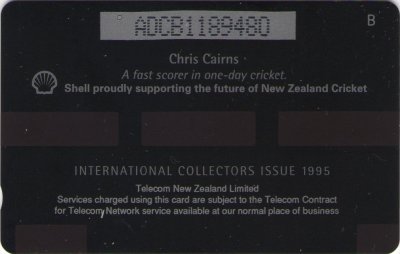 The reverses of the normal cards.