Denomination

$10
$10
$20
$20
$20
Description

88 Prosperity
Double Happy
Giant Panda
Buried Army Of Xian
Great Wall Of China
Control Number

ADCC
ADCC
ADCD
ADCD
ADCD
Quantity

6,500
6,500
6,500
6,500
6,500

These cards were also included in the Collector Pack NZ-CP-38 and were overprinted on the reverse with Collectors Issue 1994 or International Collectors Issue 1994,
if included in the International Pack.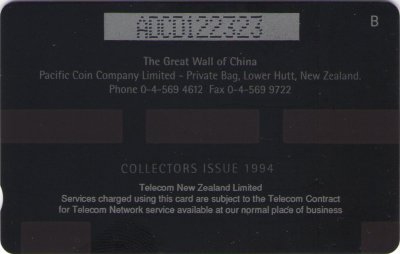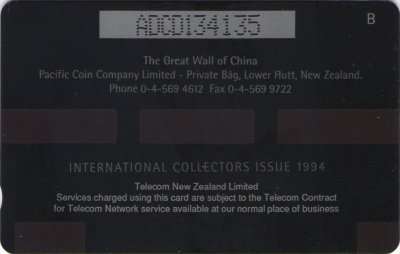 The Giant Panda card was also included in the Animal Tales Folder issued by the Pacific Coin Company. Refer Animal Eyes.
The reverses of the normal cards