This Cartoon series of cards portrays hedgehogs from the popular New Zealand cartoon strip Bogor, created by Burton Silver.
The strip appeared every week in the Listener magazine from 1973, to be New Zealand's longest running comic strip at the time.
There were no known varieties in this issue.
The cards in the Collector Pack NZ-CP-5 were overprinted on the reverse with 1992 Collector Issue and each card in the pack had matching serial numbers.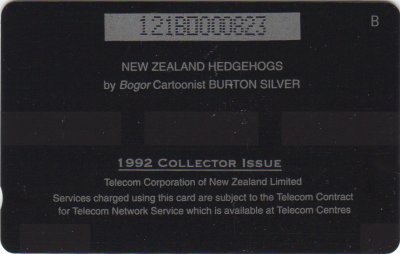 Illustrated below are the reverse of the four normal cards.