Benson & Hedges Fashion Design Awards commemorated its 30th year in 1994 and this card, commissioned by WD & HO Wills NZ Ltd, formed part of the publicity and advertising programme for the event.
There were 500 of this card that were erroneously printed on $20 blanks. They can be identified as they have a control number of ADCD.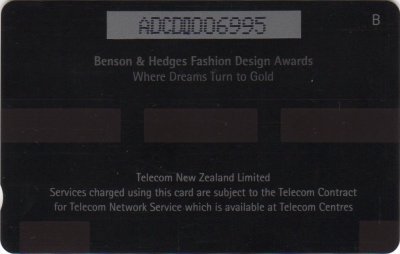 This card was also included in the Collector Pack AdCards Volume Five NZ-CP-25 and was overprinted on the reverse with Collectors Issue 1994, and had the same overprint for the card in the International Pack.