650 of this card was sold in a special presentation pack, called the Gallery Edition.
350 were in a Masters Premier Edition.
500 were released by Telecom in a special folder, illustrated below, and the cards were overprinted Collectors Issue 1996.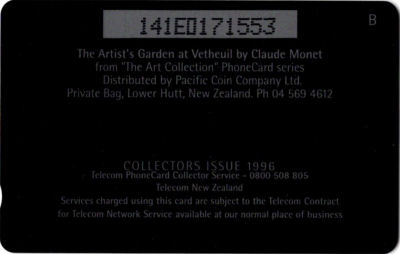 The Gallery Edition was a large black satchel, illustrated below, that contained spaces to place the six cards in this series, each in their own gold frame.
There was also a replica print of the Master contained on each card.
The Masters Premier Edition was even more impressive, with rimu framed replicas and gold plated plaques.