Shaft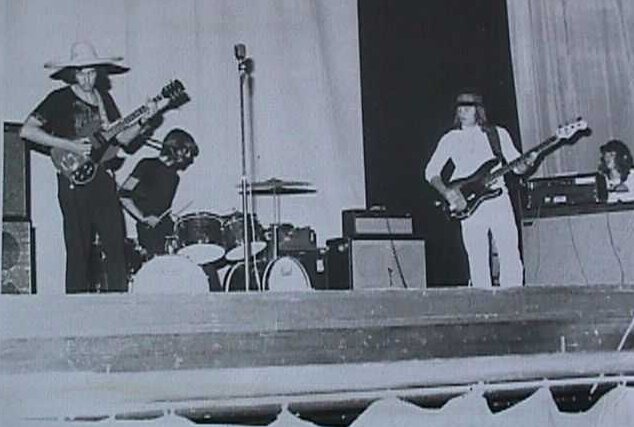 Shaft : Dave Burbidge, Craig Houston, Roger Birch and Ali Wells.
Line-Up:
Dave Burbidge (Guitar )
Ali Wells (Organ )
Roger Birch (Bass Guitar)
Craig Houston (Drums )
Shaft were born in New Plymouth, around 1970, in the afterglow of Woodstock the Movie. Shaft were the first 'heavy' band in Taranaki, playing mainly rock covers of bands like Uriah Heep, Jethro Tull, Black Sabbath, Led Zeppelin, Cream, John Mayall, 10 Years After, Wishbone Ash and Santana.
Shaft began its line-up with Dave Burbidge on guitar, Roger Birch on bass, Ali Wells on organ and Craig Houston on drums.
During their time, Shaft underwent several personnel changes, with Craig Houston leaving for several months to try different work with Footpath, only to return when that folded. Ali Wells left and was replaced by several different keyboard players, including Roger at one stage. Paul Asquith joined on drums for a year, followed by Franz Franzen. Ken Sole played guitar for a while. During their nine years together, the band also used a brass section, including a young Phil Mulraney (later in Frantic Fossils) on trumpet. Phil later moved to bass when Roger changed to keyboards. Later a young, brilliant pianist, Paul Adams, joined on keys and Roger went back on bass.
Shaft became involved with the New Plymouth Little Theatre and played at three pantomimes for them. This was a joy for a Rock Band to be playing to kids. There are many never-to-be-told stories hidden away in this era. However, one highlight was the actor Russell Smith (Count Homogenised), who gave the best male strip even witnessed, during an after-show party.
When the political Values Party was launched, Shaft played at their Paritutu outdoors event, until the generator-supplied power caused an explosion as the guitar amp blew up.
In 1971, Shaft played, along with most other local bands, at the Star Gym for the Taranaki Musicians Union annual cabaret. Their choice of music was a little new for the patrons and just a tad loud. During their set, some disgruntled person pulled the power lead out and silence settled over the hall. The night continued at a lower volume. At a later annual cabaret, Craig Houston distinguished himself by falling head over heels off his drums to the floor behind, when his drum throne slipped off the stage during the frantic finale of Santana's 'Soul Sacrifice', to much merriment.
When Dave Burbidge left, Shaft eventually folded. During Shaft's reign, they performed consistently well in Benny Levin's Battle of the Bands and he tried to get them to move to Auckland. However, the guys decided to stay put in New Plymouth.
Shaft mainly played the pub scene in New Plymouth, centred on the Bell Block and White Hart Hotels. They backed the normal rounds of singers touring in the '70s successfully.
Radio NZ used Shaft in their recording studios to train new staff, so the band spent a bit of time in the studio, but never progressed their music from live to recordings, although they did write a few numbers at the time, the most popular being 'Ode to W. W. Watermangler'.
Today, Dave Burbidge and Ali Wells have retired from music, Craig Houston still plays in a rock and roll band in Cambridge and Roger Birch has diversified to play in three bands in Palmerston North – now playing lead guitar, keys and bass, as well as lead singing. He's still playing rock and blues.