Merseymen
Line-Up:
Bob Paris (Lead Guitar)
Mike Leyton (Vocals)
Jim Newton (Bass Guitar)
Dave Moan (Rhythm Guitar)
Jett Rink (Drums)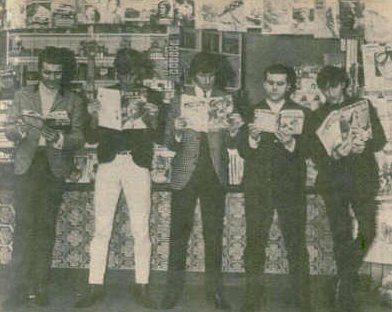 Dave Moan, Jim Newton, Jett Rink, Bob Paris and Mike Leyton.
In 1964, Phil Warren of Prestige Promotions, opened a club in Little Queen Street, Auckland, to capitalise on Beatlemania. He called the club the Beatle Inn and installed the Merseymen as its resident band.
The Merseymen had the credentials to play the beat music required, as three of its members all hailed from England. Mike Leyton (real name Mike Puddyfoot) and Dave Moan were both from London, and drummer Jett Rink had also only recently arrived in the country. Jett Rink's real name was John Tait and later on he was to use the name Dylan Tait, when he became a television reporter.
Bob Paris had been around the Auckland music scene for several years. His Bob Paris Combo had been the resident band at the Jive Centre in 1958. Jim Newton was originally from Wellington, but had left the group before the end of 1964. He was replaced by Ian McIntyre.
Not long after commencing their residency at the Beatle Inn, they were signed to Zodiac and quickly released an album called "A Visit To The Beatle Inn".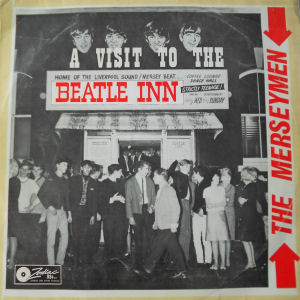 From the album came three singles, using non-album tracks as B-sides. All released on the Zodiac label in 1964, they were "Memphis Tennessee"/"Great Balls Of Fire", "Jambalaya"/"Maybelline", "Talkin' Bout You"/"Don't You Just Know It". Due to their popularity at the Beatle Inn, the singles and the album sold well locally.
Live radio broadcasts followed as well as appearances on television shows like "In The Groove". By the end of 1964, the group had joined other local groups for quick tours of other parts of the North Island, even making it as far as Wellington.
When a package tour consisting of Manfred Mann, the Kinks and the Honeycombs was scheduled for New Zealand, the Merseymen and Tommy Adderley were added to the line-up as support acts.
In 1965 they switched to Allied International and released two singles before breaking up. The singles were "The Girl Can't Help It"/"Just A Little Bit" and "Down The Hall On Saturday Night"/"It's Alright".
Bob Paris continued to work in the music industry up until his death in November 1994. Mike Leyton became a member of the Sounds, who had originated as Sounds (Auckland) Unlimited. He married singer Lyn Barnett and they moved to Sydney, where he became a singer in the late sixties with the Southern Contemporary Rock Assembly.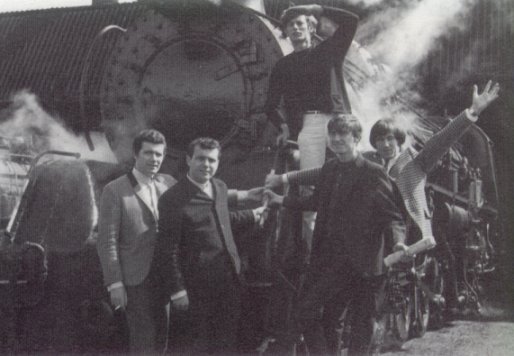 L to R: Dave Moan, Bob Paris, Mike Leyton, Jett Rink and Jimmy Newton.
The Beatle Inn didn't last for more than a year, but continued under the new name of the Latin Quarter.