Link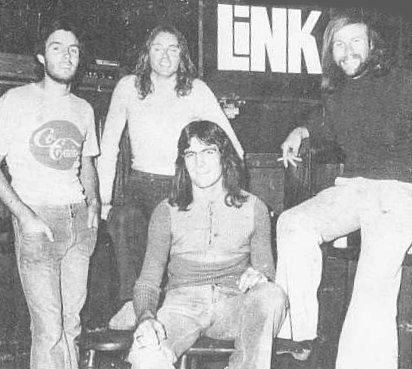 Ron Mahoney, Dave Gillies, Brian Gerrard and Dave Kennedy.
Line-Up:
Dave Kennedy (Guitar / Vocals)
Dave Gillies (Keyboards)
Neville Claughton (Bass Guitar)
Craig Nicholson (Drums)
When Christchurch band Chapta folded at the end of 1972, Dave Kennedy formed a new group called Link. During their time, bass players and drummers changed quite often. Firstly, Neville was replaced by Dick Watson and he was then replaced by Brian Gerrard on bass guitar. Craig was replaced by Chris Fox and he was then replaced by Ron Mahoney on drums.
Link only recorded one single in 1973 on HMV, but it was a big hit for them, reaching number 17 on the National charts in August. The single was "Only Time Could Let Us Know"/"Highway Driver - The Day You Came Into My Life". The song "Only Time Could Let Us Know" also made it as an entry into the 1973 "Studio One" television series.
Link can also be found on the following compilations.