Ian Lowe and the Tornadoes
Line-Up:
Glyn Conway (Vocals)
Paddy McAneney (Lead Guitar)
Ian Lowe (Rhythm Guitar)
Errol Timbers (Guitar)
Bill Coleman (Piano)
Gene Blazer (Bass)
Bruce Mowatt (Drums)
Ian Lowe and the Tornadoes were formed in Auckland in 1960 by Glyn and Ian, after the Stereotones folded. They worked the suburban dance hall circuit for the latter part of 1960 and 1961.
One recording was made on the Zodiac label in 1961, "Carol"/"I'm In Love", as Glyn Tucker With Ian Lowe and the Tornadoes.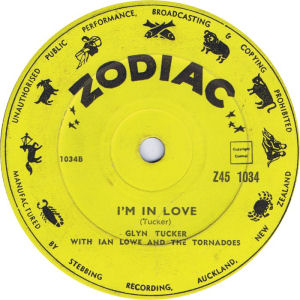 The band had folded by the end of 1961. Glyn Conway (also known as Glyn Tucker) and Paddy McAneney both ended up in the Gremlins. Glyn had a stint with the Embers after the Tornadoes. Errol Timbers later played with Terry Dean and the Nitebeats. Gene Blazer had previously played with the Bob Paris Combo and was also a member of the Jive Centre Band, a group that Ian Lowe had also spent some time in, before going to the Stereotones.