Frankie Stevens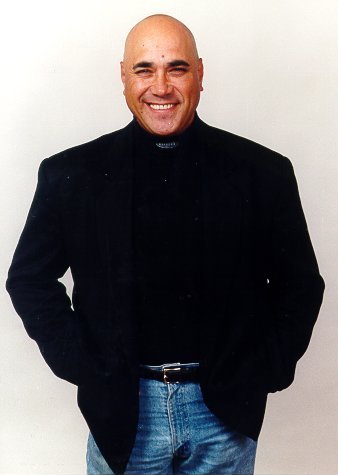 Frankie Stevens was born Francis Donald McKechnie Stevenson in Wellington, New Zealand in 1950. His mother was Maori, and his father Scottish. He has 10 brothers and sisters. One of his younger brothers is Jon Stevens, who has also had a very successful career in his own right. In 1970 Frankie married his childhood sweetheart Margaret. They have two children, Amanda and Taryn.
Frankie knew from an early age that singing was going to be his career, commencing when he sang with the school band in Upper Hutt at the age of thirteen. This was in 1962 when Wayne Mason formed his first band with classmates from Heretaunga College. Calling themselves the Southern Auroras, they consisted of Frank Stevenson, as he called himself then, on vocals, Martin Hope on lead guitar, Les Gruebner on bass, Jim McEwan on drums, and Wayne Mason on rhythm guitar. As a group they never really got going, but it was a sufficient experience to learn their musical basics. This group was the embryo band for Wayne Mason and he evolved it over the years into what would later become the Fourmyula.
Frankie's professional career began at the age of 16 when he moved to Sydney, Australia in 1966. At the same time as Frankie went to Australia, another New Zealand group was doing the same. They were Peter Nelson and the Castaways and following the groups arrival in Australia, Peter Nelson left them to find fame as a solo artist. Peter was replaced by new vocalist Frankie Stevens, and they changed their name to the Castaways.
As the Castaways they released the singles "Any Little Bit"/"Early Morning" in 1967 and "One More Fool"/"Baby What I Mean" and "Angelica"/"Love Is A Hurtin' Thing" for EMI in Australia before returning to New Zealand in 1968. After a couple of years of touring Australia and New Zealand, he left the group to try his luck as a solo artist.
The first song he released was "My Elusive Dreams"/"Everything I Am" on Columbia in late 1969. "My Elusive Dreams" became a major New Zealand hit, reaching the number one spot on many local charts throughout New Zealand and reaching the number 5 position on the National New Zealand chart in March 1970, staying around on that chart for 7 weeks.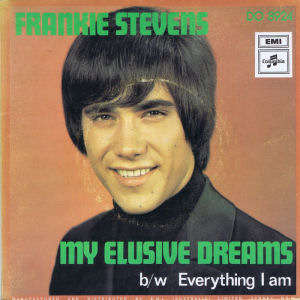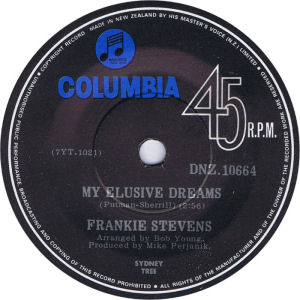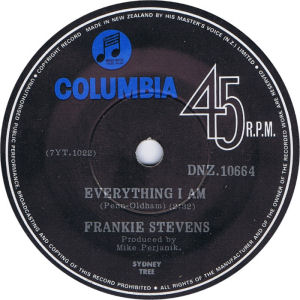 In 1970, Frankie moved to London where he became something of a minor sensation winning the talent show 'Opportunity Knocks' six times in a row. He sang at both The Palladium and Albert Hall, the latter being one of the high peaks of his career. While in London, he represented Great Britain in several song contests, winning the Silver Prize in the Second Tokyo Music Festival, the Bronze Medal in Caracas Venezuela, and the Gold Medal at the Golden Orpheus Song Festival in Bulgaria. Frankie Stevens was the first singer from outside the eastern block to win this coveted prize.
He released his second single, "Family Man"/"I'll Be Home In About A Day Or So" on the MAM label in England in 1970 and followed this with "You're Such A Good Looking Woman"/"Take Advantage Of Me" in 1971.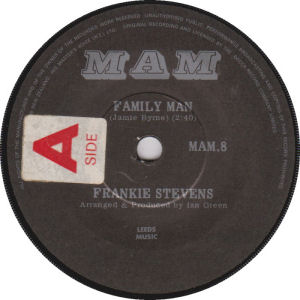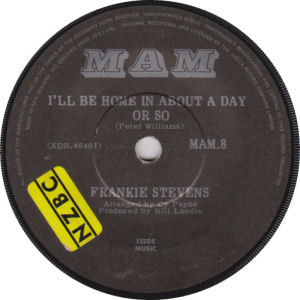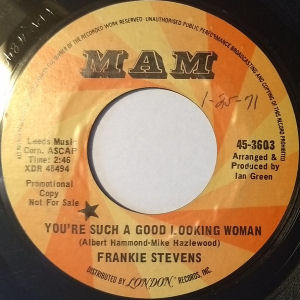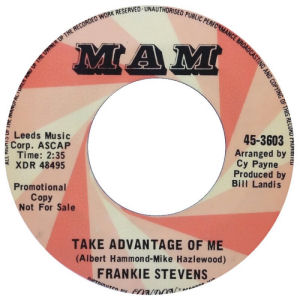 1971 saw him move to Las Vegas where a contract to appear for five weeks as a featured act in Tessie O'Shea's London Music Hall Variety Show at the world famous Sand's Hotel turned into a 32 week season. From the Sand's he moved to the MGM Grand Hotel, the largest Hotel at the time in the world.
Over the next few years Frankie Stevens toured or appeared with number of International stars, Olivia Newton-John, Shirley Bassey, Milton Berle, Sammy Davis Jr, just to name a few.
In 1972, an opportunity arose for Frankie to join what was regarded at the time as New Zealand's best International show band, Mary and the Maoris, who were previously known as the Maori Hi Five. The group was starring in their own show at the Nassau Beach Hotel in the Bahamas, and Frankie regards this as one of the most entertainment learning experiences of his career. From there, they moved onto the Sheraton Hotel and Casino in San Juan, Puerto Rico for an 8 month season.
Two more solo singles were released on Decca. The first was in 1972, called "Leave The World Alone"/"If" and the second in 1973 was "Sandy Sandy"/"If You Add All The Love In The World". The British release on York is shown.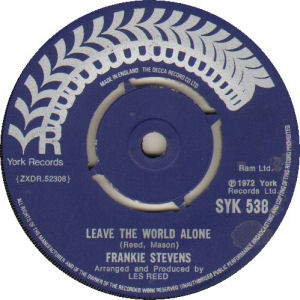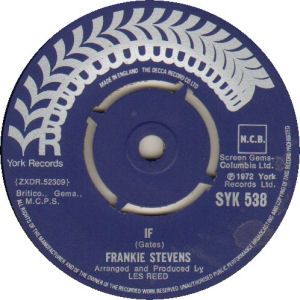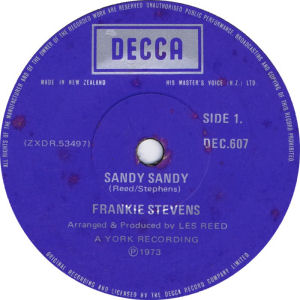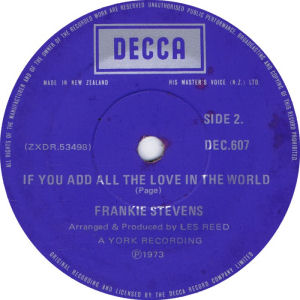 1974 saw him sign a 3 year contract with CBS Records in London. This was followed by a tour of some of the finest Showroom's in Great Britain and the Continent as far as Northern Scandinavia. He appeared in musical specials on television with artists such as Petula Clark, Morecambe and Wise, as well as Cilla Black. During this period he also appeared at the World renowned "Talk of the Town" for a 5-week season where he starred in his own show.
The CBS singles were "She's Gone"/"Wrap Your Love Around Me" and "Vanilla O'Lay"/"Mama Married A Preacher Man" in 1974, and "I Feel Love Coming On"/"I Believe" and "Shola"/"Your Broken Heart" in 1975 and a final one in 1976 called "Loving You Ain't Easy"/"Carey". He also had another single in 1976 for Polydor called "There She Goes Again"/"My Thanks To You".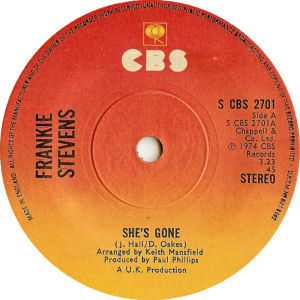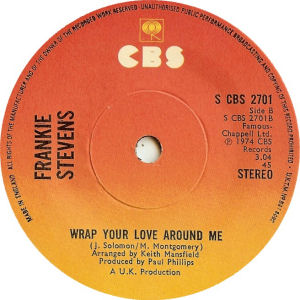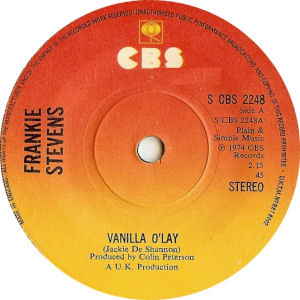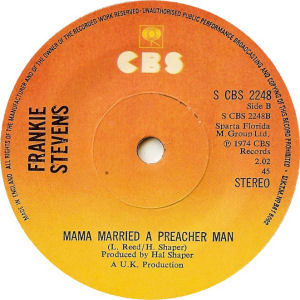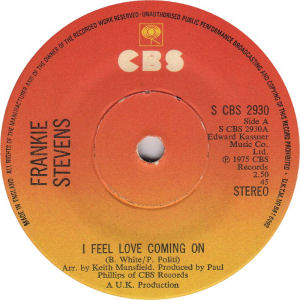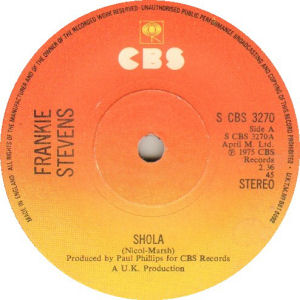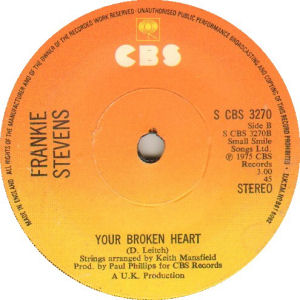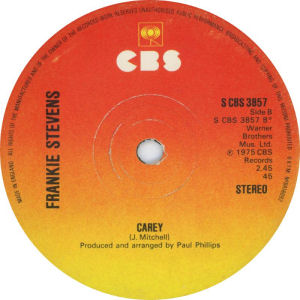 After Europe, Frankie Stevens embarked on a tour of Japan's major cities, anchoring the first half of the show for one of the world's great performers, Shirley Bassey.
1976 saw him move to Honolulu, Hawaii, where for the next 5 years he appeared in his own show for 8 months of the year at the magnificent Royal Hawaiian Hotel in the beautiful Monarch Showroom.
During his Hawaiian stay he featured in one of the most successful TV cop shows of the day, "Hawaii Five-O" and played a Russian spy in a CBS Movie of the Week called M Station Hawaii which was directed by Hawaii Five-O's Jack Lord. During the Hawaiian off-season he performed in Europe, mainland USA and Canada.
In 1978 Frankie released two more singles on the Magnet label. They were "Come On And Rock Me"/"Wish I Had Your Love" and "Wish I Had Your Love"/"Dancing In The Moonlight".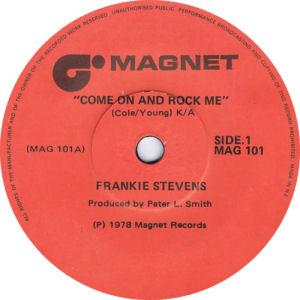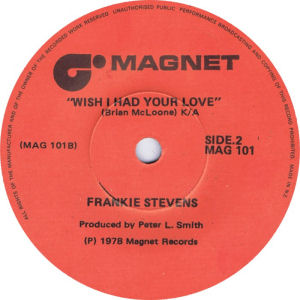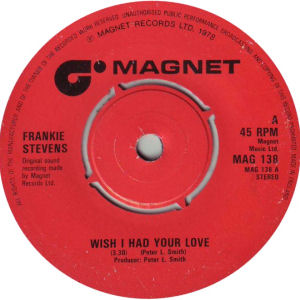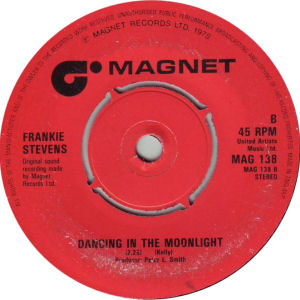 Since 1982, Frankie has resided in his homeland, New Zealand where he once owned and operated one of New Zealand's major Nightclub Restaurants, "Chips". This gave him an opportunity to learn and utilise different skills, while at the same time continuing to sing, and assist in raising two young children. He also managed to fit in his own TV series for TVNZ as well as trips to Japan, Australia, and the USA.
In 1994, Stevens was invited to appear in Harry M Miller's New Zealand's touring theatre production of "Jesus Christ Superstar" in the role of the High Priest "Caiaphas".
On the strength of his highly acclaimed performance Miller invited him to reprise the role in the '94-95' tour of Australia, this he did to not only raise his profile in Australia, but to take the opportunity of performing with his younger brother Jon Stevens who played the role of Judas.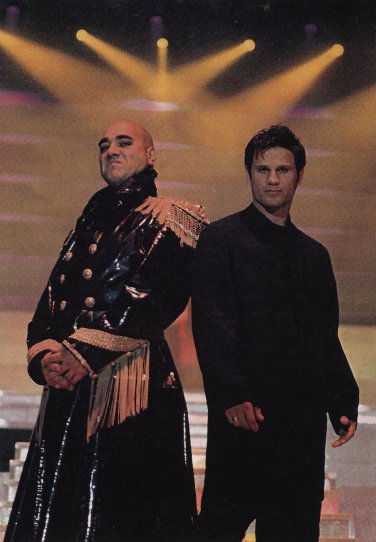 Frankie and Jon as Caiaphas and Judas in Jesus Christ Superstar.
After returning from Australia he had the opportunity to tour New Zealand with one of the countries greatest performers, Sir Howard Morrison, and he regards this as a personal highlight of his career.
In 1998 he was invited to join the New Zealand Millennium Office as their events coordinator for the upcoming millennium celebrations. This office was responsible for ensuring that New Zealand received maximum exposure from all Government sponsored events before during and after the year 2000.
He was part of a specialist team that delivered some of the following events as the year 2000 arrived:
Dame Kiri Te Kanawa and the NZSO dawn concert from Waikanae beach in Gisbourne
Mt Hikurangi celebrations with the people of Ngati Porou
First to see the Sun celebrations in the Chatham Islands
TV3 New Years Eve and Millennium Day Broadcast (host NZ government broadcaster)
BBC New Years Eve and Millennium Day Broadcast
Since 2000 Stevens has been constantly on the road traveling throughout New Zealand, Australia and to many other parts of the world such as Malaysia, the United States, and the Bahamas where he has performed in numerous Corporate Events, acting in an MC role or as a performer. One of his recent MC roles was Master of Ceremonies for the Governor-Generals Waitangi Day Celebrations held at Government House in Wellington.
In 2005 Frankie was on the judging panel for New Zealand Idol.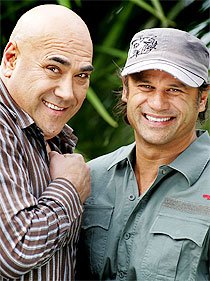 Frankie and brother Jon
Frankie Stevens can also be found on the following compilations:-