Capell Hopkins Blues Dredge
Line-Up:
Gerald Bull (Lead Guitar)
John Hannan (Keyboards / Vocals)
Neil Hannan (Bass Guitar)
Robin Clarkson (Drums)
The Capell Hopkins Blues Dredge were a Wellington based group who formed in 1967. Gerald Bull and Neil Hannan had previously played together in a group called Jason Tory. Robin Clarkson was from a group called Chain Reaction.
Their style of music at the beginning was very much doing covers of British blues groups, like John Mayall and Fleetwood Mac. After a little while they started also including a lot of their own material as part of their repertoire. They also played around with adaptations of old country blues standards. This came about with their association with blues supremos Midge Marsden and Bill Lake, both of whom appeared with them on many occasions.
They used to appear regularly at the Montmartre for the Sunday afternoon blues club, and before long were one of the main bands responsible for promoting the growing following of blues fans from around the country to the Wellington blues scene.
Although they never released any recordings of their own, they did actually record two songs in 1969 for inclusion on an ODE album called "In The Blue Vein". The two songs were "Work Song" and "Kidman Blues". On the album they also provided backing for Val Murphy. They had often worked with Val at the Blues Club.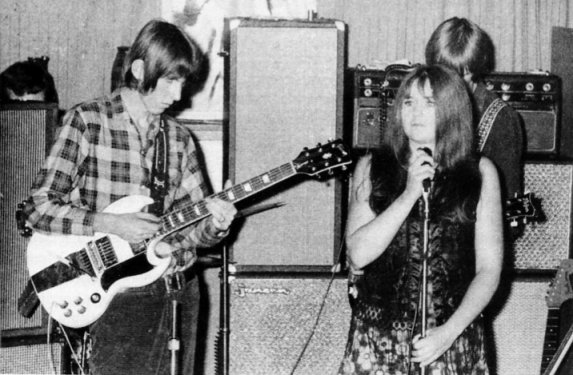 L to R: Gerald Bull, Val Murphy and Neil Hannan behind.
Towards the end of their time, Gerald and Neil formed a band on the side called the KBA Band, (Keep The Blues Alive). Gerald was on lead guitar, with Neil playing bass. Midge Marsden joined in on rhythm guitar, harmonica and vocals, while a friend of Neil's, Dave Porter played drums.
By the end of 1969 they had broken up. John, Neil and Robin then teamed up with ex Supernatural Blues Band lead guitarist John O'Connor, and Krissy Klocek, to form Mephisto. Neil Hannan was to later appear as a member of Coup D'Etat.