1976 Round 3
Wigram

Round Three: WIGRAM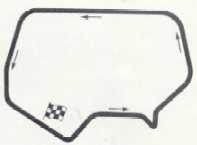 25th Lady Wigram Trophy
The small team of cars headed to the South Island for the third round of the series at Wigram. Booth, Calgher and Radisich didn't make the trip, but Neil Doyle dusted the cobwebs off his Surtees to give it another run, having fitted a brand-new Chev engine.
Ken Smith put himself in a good position to win the 1976 Peter Stuyvesant Series when he added the Lady Wigram Trophy race to his NZGP title at Christchurch. It was one of the most disastrous big races held in New Zealand, with really only five cars contesting most of the event. Both practice sessions were of only 20 minutes duration, less than the scheduled 30 and 35 minutes respectively, which would have been almost as bad. Not only that, scheduled times were altered, without notifying all drivers.
Kevin Bartlett still had the single plane crank Chev installed in his Lola and a new metering unit seemed to have cured the miss which plagued him in round two. Even so, the best Kevin could manage was a 69.8 sec which put him on grid position three behind Smith on 67.5 sec, and Stewart on 67.8 sec. Graeme Lawrence was fourth fastest having done a 70.3 sec lap before blowing a head gasket. However, he was destined not to start, having fixed that, a rod let go in his Chev engine in a pre-race practice.
Doyle recorded an 82.1 sec lap before his new engine disintegrated with rods out of both sides of the block. He packed the car away again, not having a spare engine to use. During practice Allison also blew an engine and Murdoch blew his head gaskets. Love and Robertson both missed their practice session and a special run was held for them. Love didn't qualify, but in the end was allowed to start when the organisers were desperate for numbers to start the race.
There were now only 11 competitors ready to face the starters flag, however when the field rolled around on the pace lap, there were only 10 as Robertson was still in the pits receiving attention.
From the flag, Smith led clearly into the first corner from Bartlett, Stewart, Bernasconi and Redman. With two laps gone, Stewart was in second and three seconds away from Smith. Then both the T400 Lolas of Stewart and Bartlett pitted with inoperable oil pumps. Blame for this was laid on the starters for doing two rolling start laps at a snails pace. Baker was also out with a collapsed piston and Love was in the pits having a flat battery seen to. Bruce Allison now found himself in second spot. With three laps of the 44 lap race gone, only six cars were on the track.
On entering the fifth lap, the BMW engine in Redman's Chevron broke a rod and, ten laps later, Allison had a tyre burst. The Lola was sent spinning onto the grass but Bruce gathered it up and headed for the pits. He rejoined the race in fourth place behind Bernasconi and ahead of Edmonds. Robertson finally joined the race after 12 laps had been completed and Love came back later in the race after borrowing the battery out of Redman's retired Chevron.
There was nothing to watch, although Smith was motoring fairly quickly, finishing the 44 laps at an average speed of 180 km/h and over a lap ahead of second placed driver Jim Murdoch in his Begg 018. On the same lap in third and fourth were Paul Bernasconi and Bruce Allison. To add further insult to what was certainly a shambles, Robertson was awarded sixth place and some prize money for only 29 laps, while Love also got some for a miserable 14 laps.
Ken Smith's round three win gave him a total of 18 points, eight clear of Allison, who was the only other driver with a chance.
25th Lady Wigram Trophy
Date: 18th January 1976
Venue: Wigram Airfield
44 laps of 3.43kms (150.9kms)
Result
Driver
Nat
Car

Laps

Time
1

Ken Smith

NZ

Lola T332 / Chevrolet

499

5

cc

V8

4

4

5

1

m

53

.

9

s
2

Jim Murdoch

NZ

Begg 018

/ Chevrolet

499

5

cc

V8

4

3

3

Paul Bernasconi

Aust

Lola

T400 /

Chevrolet 4995cc

V8

4

3

4

Bruce Allison

Aust

Lola T332 / Chevrolet

499

5

cc

V8

4

3

5

John Edmonds

Aust

Elfin

MR5 /

Repco 4994cc

V8

4

0

6
Baron Robertson
NZ
Elfin

MR5 /

Repco 4994cc

V8

29

7

Gary Love

NZ

Begg FM4 / Chevrolet

499

5

cc

V8

14

Ret

Brian Redman

UK

Chevron B29 / BMW 2000

cc

4cyl

4

Engine

Ret

Kevin Bartlett

Aust
Lola

T400 /

Chevrolet 4995cc

V8

3

Oil Pump

Ret

Max Stewart

Aust

Lola

T400 /

Chevrolet 4995cc

V8

3

Oil Pump

Ret

Graham Baker

NZ

Begg FM5

/

Chevrolet 4995cc

V8

3

Piston

DNS

Graeme Lawrence

NZ

Lola T332 / Chevrolet

499

5

cc

V8

Engine

DNS

Neil Doyle

NZ

Surtees TS9 /

Chevrolet 4995cc

V8

Engine
Fastest laps: Ken Smith 1 min 8.0 sec.