1976 Round 4
Teretonga

Round Four: TERETONGA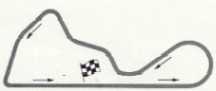 19th Teretonga International
The 1976 Peter Stuyvesant Series petered out at Teretonga, with Ken Smith winning the title by coming home second to Graeme Lawrence, who finally got it all together for a well-deserved victory. Third, after a great battle, with Bruce Allison, was Kevin Bartlett, with Brian Redman sitting behind this duo until he retired with damaged wheel studs.
Allison virtually had to win the fourth round to have any chance of beating Smith, and he was ready to try. His Lola had been stripped and checked and the Wigram engine had been rebuilt with the demon heads used at Pukekohe.
Baker and Doyle didn't show up at Teretonga, and after practice organisers decided Love's qualifying time of 69.9 sec was too slow, and he was not permitted to start.
In the second session of practice, Lawrence served notice of his intentions when he lapped the circuit in 52.9 seconds, one second under Graham McRae's lap record. Similarly, Smith got under the record with a 53.2 sec. Third on the grid was Allison on 54.2 sec, with Bartlett only 0.1 sec slower.
Again Smith won the drag from Lawrence as the pace car pulled off the track and the flag came down on the 10 car field. Allison, desperate not to lose any ground, tried taking the T400's of Stewart and Bartlett on the outside of the loop and found himself sliding backwards on the grass. Somewhat annoyed with himself, he resumed the race behind the field.
On lap three, Stewart moved past Lawrence to take second and began closing on Smith. Four laps later Stewart stormed by the older model Lola. But soon after, he found all sorts of throttle control problems, caused by a small pebble which had found its way onto the floor of the Lola. While Stewart was sorting out his problem, both Smith and Lawrence slipped by, relegating the luckless Australian driver back to third place.
After 10 laps Allison had moved back up to fifth place and was gaining on Bartlett. On lap 17 Lawrence had a spin at the Elbow, which allowed Stewart back into second spot, but Lawrence got the position back again after a further eight laps.
Bartlett had lost touch with the front three drivers because of brake problems. But Smith's Lola started slowing by lap 38, due to an overheating engine and Lawrence surged past into the lead. On lap 42 Redman was in the pits with a wobbly right rear wheel. Three of the studs in the wheel had loosened, one jamming the rim and damaging the hub sufficient enough to force him to retire.
Ten laps from the finish, Stewart coasted to a halt in the pits with a dead engine. Although his oil pressure had been falling, Max was able to restart his engine. He then decided it wasn't worth risking it, as there was so little of the race left. As it happened, an annoyed Stewart learned, after Graeme Lawrence had taken his long-awaited victory, that he was classed as a non-finisher due to not crossing the finish line after the chequered flag had fallen. Bernasconi pushed his car over the line after it had cut out just short of the finish. He was declared as not classified as he hadn't covered two-thirds of the race distance. This seems to be a regulation that is applied when it suits, as it certainly wasn't applied a week before at Wigram.
19th Teretonga International
Date: 25th January 1976
Venue: Teretonga Park
62 laps of 2.575kms (159.65kms)
Result
Driver
Nat
Car

Laps

Time
1

Graeme Lawrence

NZ

Lola T332 / Chevrolet

499

5

cc

V8

62

56

m

56.6

s
2

Ken Smith

NZ

Lola T332 / Chevrolet

499

5

cc

V8

62

57

m

34

.

6

s
3

Kevin Bartlett

Aust
Lola

T400 /

Chevrolet 4995cc

V8

6

1

4

Bruce Allison

Aust

Lola T332 / Chevrolet

499

5

cc

V8

6

1

5

Jim Murdoch

NZ

Begg 018

/ Chevrolet

499

5

cc

V8

59

6

John Edmonds

Aust

Elfin

MR5 /

Repco 4994cc

V8

55

7

Baron Robertson
NZ
Elfin

MR5 /

Repco 4994cc

V8

53

Ret

Max Stewart

Aust

Lola

T400 /

Chevrolet 4995cc

V8

52

Engine

Ret

Brian Redman

UK

Chevron B29 / BMW 2000

cc

4cyl

42

Wheel Studs

NC

Paul Bernasconi

Aust

Lola

T400 /

Chevrolet 4995cc

V8

39

DNQ

Gary Love

NZ

Begg FM4 / Chevrolet

499

5

cc

V8
Fastest lap: Graeme Lawrence, 53.4 sec (Record).