1973 Round 3
Wigram

Round Three: WIGRAM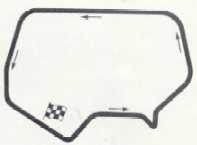 22nd Lady Wigram Trophy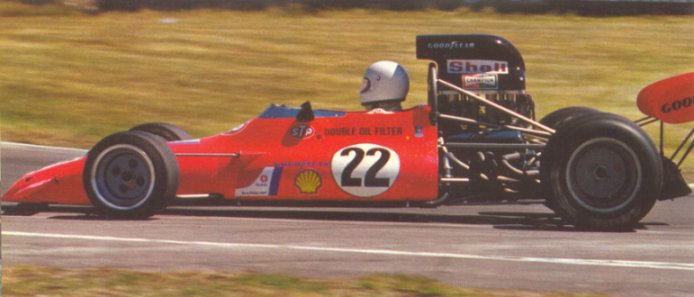 Race winner McRae in the McRae-Chevrolet GM1.
The third round of the Tasman Series was held at Wigram on the 20th January 1973 on another hot day. The circuit had been modified slightly, resulting in faster lap times. The hairpin had been changed into a fast left-hand sweeper, and Hanger Bend became a little tighter. The pits had also been moved and improved.
Since Levin, Matich, Noyes, Brown and Posey had fitted new engines to their cars. Cameron and Robertson didn't have that luxury and set about rebuilding their Cosworth engines from scratch. Stewart had rebuilt the severely damaged Lola that hit the dirt bank at Levin.
Practice was again no surprise as to who was the fastest. McRae was half a second faster than Stewart. Perhaps the biggest surprise was the time of Evan Noyes, who was running a very new Bartz V8 Chevrolet that had been tuned to perfection. With this he qualified third. At the end of practice, the grid, alternating rows of two, was as follows:- McRae and Stewart, Noyes and Bartlett, Matich and Brown, McCormack and Oxton, Thompson and Posey, Rollinson and Pedersen, Dunlop and Cameron, Radisich and Doyle, Takahara and Robertson, and Heney at the rear.
The efforts of Cameron and Robertson to rebuild their Cosworths came to nothing when Cameron blew his again during the race morning practice and Robertson's let go on the race's warm-up lap, both therefore registering as non-starters.
The race got underway with Stewart getting the better of the jump and leaving McRae and the others quite a way back. McCormack continued his run of bad luck by spinning at the sweeper and dropping to the back of the field. He rejoined and managed to make up eight places in three laps, but then he experienced gearbox trouble and after eight laps was forced to retire.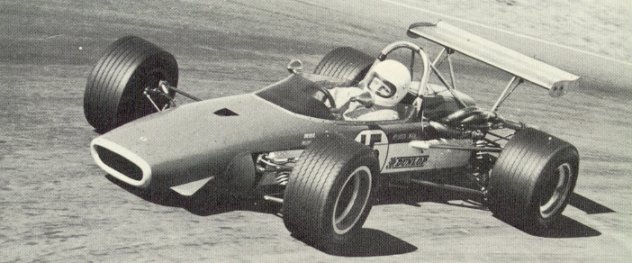 Doug Heney in the ex-Lawrence McLaren-Cosworth M4A.
On lap 2 Posey pitted with a rough sounding Chev. He sat in the pits for about seven laps before rejoining. Brown managed to pass Bartlett on lap 7, but this was probably because Bartlett was having problems and he immediately pitted for new plugs. Noyes was still running in third place when his clutch gave way on lap 11. Two laps later Rollinson was also out with an over-heating engine. Brown suddenly found himself in third position. Posey was still had a rough sounding engine and after completing 18 laps he called it a day.
After 20 laps Stewart was still leading comfortably and Brown was catching McRae. On lap 21 Brown actually caught McRae unawares and passed him. It took McRae a further seven laps before he could get the position back by out-braking him at Hanger Bend. Meanwhile up the front, on lap 36, Stewart had something come adrift in his Chev and he was forced to coast back to the pits, thereby ending his race. This left McRae in front with a 1.6 sec gap over Brown, who was 37 secs in front of Matich and Thompson.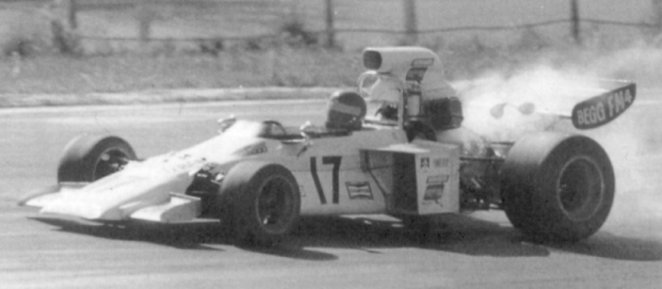 Garry Pedersen with an unfortunate blow-up 3 laps from home in the Begg-Chev FM4.
Matich had a spin, caused by suspension bothers and a broken rear aerofoil stay, and that put him behind Thompson, while Brown found it difficult to challenge McRae anymore as his throttle was sticking open and closed at varying intervals, and he had also lost third gear. But McRae's run was not perfect, his tyres had gone off and his motor was running warm. They all did manage to maintain their positions to the finish, with Oxton and Dunlop filling the last points scoring positions. The only exception was Pedersen, who unfortunately blew his engine just three laps from home.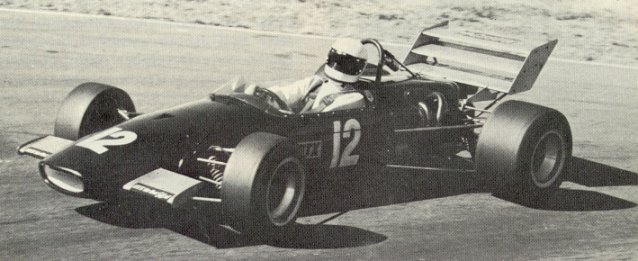 Kelvin Cameron's ex-Robertson Brabham-Cosworth BT23C.
McRae now had 21 points, with Brown on 10, Matich and McCormack on 9, Thompson on 8 and Rollinson on 6.
22nd Lady Wigram Trophy
Date: 20th January 1973
Venue: Wigram Airfield
47 laps of 3.43kms (161.1kms)
Result
Driver
Nat
Car

Laps

Time
1
Graham McRae
NZ
McRae

GM1 /

Chevrolet 4995cc

V8

47
52m 33.8s
2
Warwick Brown
Aust
Lola

T300 /

Chevrolet 4995cc

V8

47
52m 58.4s
3
Steve Thompson
UK
Chevron

B24 /

Chevrolet 4995cc

V8

47
53m 24.9s
4
Frank Matich
Aust
Matich

A50 /

Repco 4994cc

V8

46
5
David Oxton
NZ
Begg

FM5 /

Chevrolet 4995cc

V8

46
6
Dexter Dunlop
NZ
McRae

GM1 /

Chevrolet 4995cc

V8

45
Ret
Garry Pedersen
NZ
Begg

FM4 /

Chevrolet 4995cc

V8

44
Engine
7
Kevin Bartlett
Aust
Lola

T300 /

Chevrolet 4995cc

V8

43
8
Frank Radisich
NZ
McLaren

M10B /

Repco 4994cc

V8

43
9
Neil Doyle
NZ
Begg

FM2 /

Chevrolet 4995cc

V8

42
10
Noritake Takahara
Jpn
Brabham

BT36 /

Cosworth 1790cc

4cyl

41
11
Doug Heney
NZ
McLaren

M4A /

Cosworth 1598cc

4cyl

39
Ret
Max Stewart
Aust
Lola

T330 /

Chevrolet 4995cc

V8

36
Engine
Ret
Sam Posey
USA
Surtees

TS11 /

Chevrolet 4995cc

V8

18
Engine
Ret
Alan Rollinson
UK
McRae

GM1 /

Chevrolet 4995cc

V8

13
Engine
Ret
Evan Noyes
USA
McRae

GM1 /

Chevrolet 4995cc

V8

11
Clutch
Ret
John McCormack
Aust
Elfin

MR5 /

Repco 4994cc

V8

8
Gearbox
DNS
Baron Robertson
NZ
March

722 /

Cosworth 1790cc

4cyl

0
Engine
DNS
Kelvin Cameron
NZ
Brabham

BT23C /

Cosworth 1791cc

4cyl

0
Engine
Fastest laps: W Brown 1 min 5.7 sec (Record).