1973 Round 4
Teretonga

Round Four: TERETONGA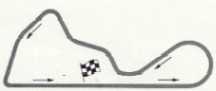 16th Teretonga International
The fourth round of the Tasman Series was held on 28th January 1973 at Teretonga on a very wet and windy day. Practice saw the usual domination by McRae, but not by as much as he had shown in the earlier rounds. Evan Noyes had a very troubled practice, suffering failures with engine, driveshaft and brakes. This led to a hard thump into a dirt bank. Evan was so frustrated by these events that he decided to pull the plug on the series and packed up and went back to the US.
After practice, the grid layout, alternating rows of two, was as follows:- McRae and Stewart, Bartlett and Matich, Thompson and Brown, Oxton and Rollinson, Posey and McCormack, the gap where Noyes would have been and Pedersen, Radisich and Dunlop, and Takahara at the rear.
As race day dawned there were black clouds in the sky but the rain held off and held off. As the race time neared it still hadn't rained but looked more threatening than ever. Tyre choice was going to have a major impact on the race. Some chose wets, McRae chose to run on grooved slicks. Those who chose to run on dry tyres made the wrong decision for the rain began to fall just before the starter's flag fell. As the field trailed around on the rolling lap the heavens opened but the start was made anyway and it was Stewart who got the jump on McRae once again. Bartlett, Matich, Thompson, Oxton, Posey, McCormack and Brown followed. Posey got by Oxton on the opening lap, but the person making the moves was Thompson in the Chevron. His Firestone wet weather tyres were handling the conditions perfectly. On the first lap he got past Matich and then took Bartlett on the second. On lap three he passed both McRae and Stewart and was six seconds ahead by lap 5. Posey moved into fourth ahead of Bartlett but was 6 secs behind McRae, who was a second down on Stewart.
It was not too hard to tell those who were on wets because moving through the field quite well and staying on the track were Pedersen, Takahara, Thompson, Posey, McCormack and Rollinson. On lap 6 Oxton became the first spinner and dropped to the rear of the field. On the next lap Matich did the same, dropping to tenth. On lap 8 Posey took both McRae and Stewart to take second and began chasing Thompson up front.
Stewart was all at sea, spinning off, and having to stop for wet weather tyres. McRae was also in trouble, as was Brown, who both spun off the circuit. Despite an on-off misfire, Rollinson was also working his way up the field.
Steve Thompson looked to have things all his own way when suddenly his engine stopped on lap 9. His electrics were being affected by all the water. He made it to the pits with a malfunctioning coil. It was replaced and by the time he returned to the track, he was in fourth place. Matich spun again at Castrol, this time ending up in a ditch and terminating his race. Oxton also had another spin two laps later but managed to get going again, as did Stewart.
Posey was now 18 secs ahead of McRae, who was struggling to stay on the track. Behind him were Rollinson, Thompson, McCormack, Pedersen, Bartlett, Takahara, Brown, Oxton and Dunlop. On lap 15 Thompson was again suffering from water in the electrics and lost more time while rectifying the problem. Radisich was the next to retire and on lap 20 Pedersen came into the pits with a detached radius arm. This took a while to fix and he was sent back out ten laps later, any chance of a result well gone.
Also on lap 20, both Bartlett and Brown had spins and they decided they could not go one with dry tyres, so they headed to the pits for a change. The same happened to McRae on lap 22 and he also changed to wets.
Heading for the half-way point, the positions were Posey with a 30 second lead over Rollinson, who couldn't make much impression on the leader as he was suffering water in his electrics too, McCormack was next and Takahara, who had been just cruising around staying on the track, found himself in fourth.
Posey now had a problem when his left front tyre deflated, so he dashed into the pits for a replacement on lap 30, but his crew didn't have a spare wet tyre to put on, so they had to re-inflate his existing tyre and send him back out. He was now 26 seconds behind Rollinson and started pulling him back in at over two seconds a lap. By lap 54 he was back in front, but with his tyre almost flat again, he had to go back to the pits. This time his crew had managed to procure a new tyre and it was fitted with Posey returning, to be back in second, 30 seconds down. With only about seven laps to go, he did not have enough time to catch Rollinson again.
Meanwhile, Stewart had been making steady progress back through the field after changing to wets. When he got up to McCormack, McCormack let him through, believing that he was just unlapping himself after being passed during his spin and pitstop.
Rollinson crossed the line first with Posey 26 seconds behind. Stewart was flagged at third, ahead of McCormack, with a very happy Takahara taking his first points scoring position at fifth, and then the unlucky Thompson, who had been the quickest car in the conditions taking sixth.
McCormack lodged a protest against Stewart's number of laps, as most believed he had only completed 60 laps, but the protest was dismissed and the positions stood.
The series points now stood at 21 for McRae, Rollinson on 15, McCormack 12, Brown 10, Matich and Thompson 9 each.
16th Teretonga International
Date: 28th January 1973
Venue: Teretonga Park
62 laps of 2.575kms (159.65kms)
Result
Driver
Nat
Car

Laps

Time
1
Alan Rollinson
UK
McRae

GM1 /

Chevrolet 4995cc

V8

62
73m 43.7s
2
Sam Posey
USA
Surtees

TS11 /

Chevrolet 4995cc

V8

62
74m 10.2s
3
Max Stewart
Aust
Lola

T330 /

Chevrolet 4995cc

V8

61
4
John McCormack
Aust
Elfin

MR5 /

Repco 4994cc

V8

61
5
Noritake Takahara
Jpn
Brabham

BT36 /

Cosworth 1790cc

4cyl

60
6
Steve Thompson
UK
Chevron

B24 /

Chevrolet 4995cc

V8

58
7
Warwick Brown
Aust
Lola

T300 /

Chevrolet 4995cc

V8

57
8
Kevin Bartlett
Aust
Lola

T300 /

Chevrolet 4995cc

V8

56
9
David Oxton
NZ
Begg

FM5 /

Chevrolet 4995cc

V8

10
Graham McRae
NZ
McRae

GM1 /

Chevrolet 4995cc

V8

11
Dexter Dunlop
NZ
McRae

GM1 /

Chevrolet 4995cc

V8

NC
Garry Pedersen
NZ
Begg

FM4 /

Chevrolet 4995cc

V8

36
Ret
Frank Radisich
NZ
McLaren

M10B /

Repco 4994cc

V8

19
Ret
Frank Matich
Aust
Matich

A50 /

Repco 4994cc

V8

9
Accident
DNS
Evan Noyes
USA
McRae

GM1 /

Chevrolet 4995cc

V8

0
Fastest lap: M Stewart, 64.1 sec.