1973 Season

THE 1973 SERIES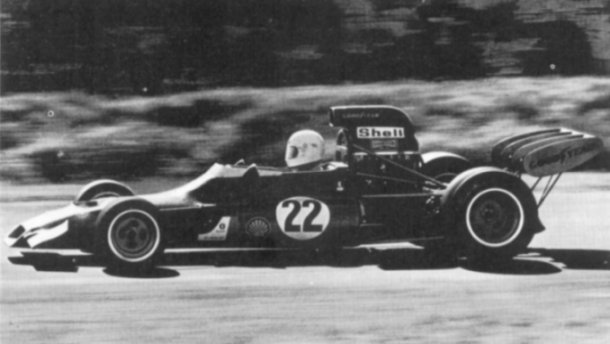 Graham McRae in the McRae-Chevrolet GM1
When Graham McRae returned to New Zealand for the start of the 1973 Tasman Series he had just one immediate ambition, to become the first person to win the Series three years in a row. Only one person had won the series three times before, the great Jim Clark, but his wins in 1965, 1967 and 1968 had been broken when he was defeated in 1966 by the rapid and reliable 1.9 litre BRM's of Jackie Stewart and Graham Hill.
McRae's mount for 1973 was the McRae GM1 Chevrolet, a development of the Leda which had taken him to victory in 1972. It was a known quantity, fast, and reliable. For motive power McRae had switched from the Swiss-built Morand Chev engines to the British Alan Smith developed Chevs. McRae had just returned from the USA where he had won the rich L&M series in GM1-001. This car was now in the hands of Dexter Dunlop, while McRae himself used a chassis, GM1-005, the car he had used for the European championship.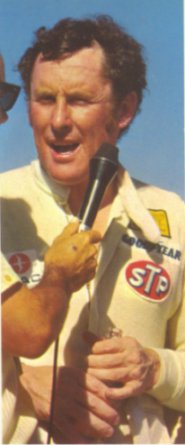 Graham McRae
The man most expected to give McRae the strongest opposition was Frank Matich. Also driving a car bearing his own name, the Matich A50 Repco, the former Australian Sports Car Champion was fresh from his dominant victory in the Gold Star, Australia's driving championship, in the same car. With the full backing of Repco behind him with the supply and service of his Repco Holden engines, Matich had the skill, the car, and the engines, to beat McRae. Johnnie Walker was also going to come to New Zealand to make a two car team, but in the end he only did the Australian rounds.
Their next most likely opponent was Max Stewart. A proven, fearless, and hard-charging driver who settles for nothing less than first, Stewart had a brand new Lola T330 at his disposal. The car was a works car and Lola test driver Frank Gardner was in attendance to see that Stewart settled into the car quickly. Like McRae, Stewart was using Alan Smith Chev engines.
The US contingent was the smallest for some years, but Evan Noyes was back for the third time so knew what it was all about. He had bought a McRae GM1 Chev, chassis 002, and felt that he had the right car-engine combination. He was accompanied by Sam Posey. Sam came to the Tasman with a big reputation and experience in many spheres of the sport, F5000 racing in the US, Indianapolis, and even Le Mans in a Ferrari. He was driving a Surtees TS11B backed by the Champ Car organisation with a good budget and some strong Bartz engines.
From England came Alan Rollinson, one of the top names of British and European F5000 racing and he too was running what was felt to be the top car, a McRae GM1 Chev, chassis 007. Along with him came his 24 year-old cousin Steve Thompson. Steve was relatively new to F5000 but his Chevron B24 (which he drove for the first time at Pukekohe) had shown great promise in the hands of Brian Redman in England. The car was owned by Alan Brodie, sponsored by Servis Washing Machines and had three Race Engine Services Chev engines along to keep it mobile.
Apart from those already mentioned, local hopes were placed on such people as Kevin Bartlett in his now rather old Lola T300 Chev, David Oxton in the latest New Zealand built Begg FM5 Chev, Johnnie Walker in a Matich A50 Repco similar to Matich's, Warwick Brown with sponsor and friend Pat Burke having obtained the ex-Bob Muir Lola T300 Chev that had been created out of the Niel Allen wreck and sponsorship from Target Discount Stores at the last moment, John McCormack in the Ansett Team Elfin MR5 Repco, and Dexter Dunlop with a McRae GM1 Chev.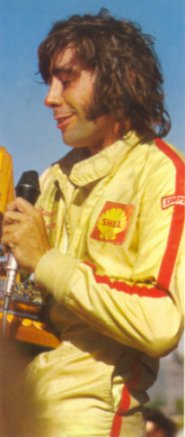 1973 New Zealand Gold Star Champion David Oxton
There was no separate class for cars under 2-litres, and they are well and truly outgunned these days by the full F5000s, but some still chose to run them. Graeme Lawrence, the former Tasman Champ who had been out of action since his terrifying crash in the 1972 New Zealand Grand Prix when his Lola T300 was destroyed and he was lucky to escape death, was using the second half of the series to sort his brand new Surtees TS15 and to get himself back on form for the South East Asian series later in the year. Canada's David McConnell with his Surtees TS15 was back for another go. This car was actually Carlos Pace's F2 championship car and the prototype TS15. Japan's 20-year-old Noritake Takahara had a Brabham BT36 fitted with a 1.8 Cosworth FVC. He had won many races in Japan and was really along for the experience. One interesting fact was that he was running Bridgestone tyres on his car, which was a first for single-seaters in New Zealand.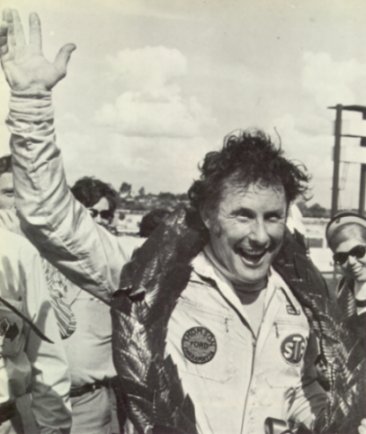 Tasman Champion 1973, Graham McRae