1973 Round 2
Levin

Round Two: LEVIN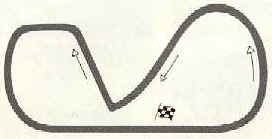 14th Levin International
The second round of the Tasman Series was held a week after Pukekohe on 13th January 1973 at Levin. Lawrence was still waiting for his Surtees to arrive and had to sit out the race once again. There were no chicanes at Levin, so everybody settled into recording quick times straight away.
Matich was initially the quickest at practice, before being overhauled by Stewart. But it wasn't long before McRae, who had been experimenting with different diameter and width tyres, posted a time 0.3 sec quicker than anybody. McCormack, winner of the Grand Prix a week earlier, was having all sorts of trouble with suspension, and with minimal practice time, only managed to qualify fifteenth on the grid.
The line-up on the grid, in alternating rows of two, was as follows:- McRae and Stewart, Matich and Brown, Bartlett and Rollinson, Posey and Oxton, Thompson and Dunlop, McConnell and Smith, Radisich and Noyes, McCormack and Pedersen, Takahara and Cameron, and Robertson at the rear.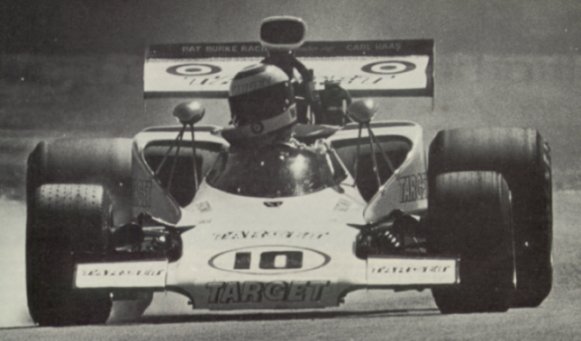 Warwick Brown in the Lola-Chevrolet T300.
The warm-up on race morning saw drama for both McConnell and Robertson as engine problems forced both to abandon racing for the day. There were more dramas on the grid as Rollinson had a leaking fuel bag in the McRae, but despite a hasty patch-up by his team, the leak continued and he withdrew on the opening lap. A week after Pukekohe, it seemed that McCormack's luck had had a sudden reversal. After all his problems at practice, he didn't make it to the end of the back straight on the opening lap and was out with a broken throttle cable.
Levin is Graham McRae's home circuit and he is virtually unbeatable there in front of his staunchest fans. This race was no different and he led from start to finish. Heading into the second lap, McRae was being chased by Stewart, Matich, Brown, Bartlett, Posey, Oxton, Dunlop and Thompson. Hard driving Max Stewart chased McRae from close quarters, but as they swept into Lake Bend on the second lap, Stewart speared off and hit the bank when a front suspension upright broke. Matich was now holding second and appeared to be no threat to McRae, but was having trouble staying clear of Warwick Brown who had taken no time at all to grow accustomed to the difficult Lola and was showing great form.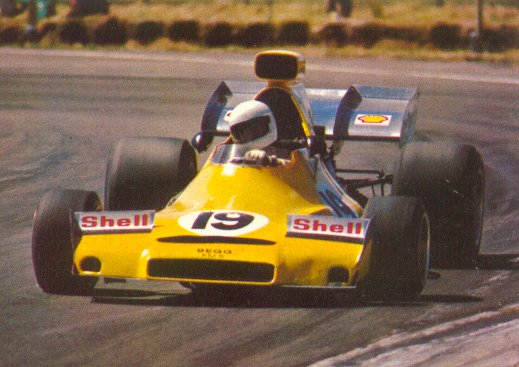 David Oxton in the Begg FM5.
Thompson passed Dunlop on lap 3 and Pedersen moved up to eleventh after passing Smith on lap 18. Around the halfway point, Posey got a puncture and pitted. When he got going again he had dropped to eleventh. Pedersen was having handling problems and this allowed Smith to re-pass him on lap 36. On lap 40 Pedersen spun at Cabbage Tree and stayed there for ages before he eventually got re-started many laps down.
McRae continued to increase his lead. Posey had moved up to ninth, but Noyes had to pit on lap 49 to have his throttle reconnected. He was only able to complete two more laps before retiring, even though he was officially classified as tenth. Takahara also had a spin at Cabbage Tree, but managed to recover, although a number of laps down. Posey's progression continued to happen and by lap 50 he had take sixth from Dunlop, while Thompson retired with a burst radiator. On the very next lap, Posey's engine blew in a big way, depositing oil all over the track.
Matich eventually eased away from Brown, but was half a minute behind McRae at the finish. Brown was lapped by the winner just before the finish line, and fourth went to Bartlett who had to fight off challenges from first Posey, and then from Oxton in the Begg, who eventually placed fifth only seconds behind the Australian. Sixth was Dexter Dunlop's McRae GM1 Chev.
McRae now had the lead in the series with twelve points to nine for McCormack, and six each for Rollinson and Matich.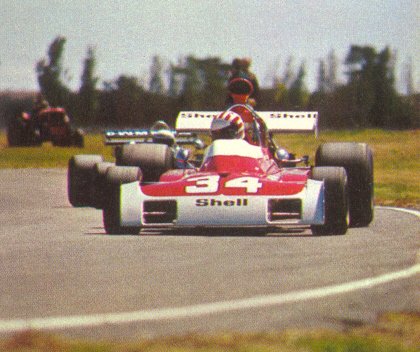 Sam Posey in the Surtees TS11 followed by Dave McConnell's Surtees TS15.
14th Levin International
Date: 13th January 1973
Venue: Levin
63 laps of 1.92kms (120.69kms)
Result
Driver
Nat
Car
Laps
Time
1
Graham McRae
NZ
McRae

GM1 /

Chevrolet 4995cc

V8

63
47m 09.1s
2
Frank Matich
Aust
Matich

A50 /

Repco 4994cc

V8

63
47m 38.7s
3
Warwick Brown
Aust
Lola

T300 /

Chevrolet 4995cc

V8

62
4
Kevin Bartlett
Aust
Lola

T300 /

Chevrolet 4995cc

V8

62
5
David Oxton
NZ
Begg

FM5 /

Chevrolet 4995cc

V8

62
6
Dexter Dunlop
NZ
McRae

GM1 /

Chevrolet 4995cc

V8

60
7
Ken Smith
NZ
March

722 /

Cosworth 1930cc

4cyl

60
8
Frank Radisich
NZ
McLaren

M10B /

Repco 4994cc

V8

59
9
Noritake Takahara
Jpn
Brabham

BT36 /

Cosworth 1790cc

4cyl

53
10
Evan Noyes
USA
McRae

GM1 /

Chevrolet 4995cc

V8

51
Ret
Sam Posey
USA
Surtees

TS11 /

Chevrolet 4995cc

V8

51
Engine
11
Kelvin Cameron
NZ
Brabham

BT23C /

Cosworth 1791cc

4cyl

50
Ret
Steve Thompson
UK
Chevron

B24 /

Chevrolet 4995cc

V8

50
Radiator
12
Garry Pedersen
NZ
Begg

FM4 /

Chevrolet 4995cc

V8

42
Ret
Max Stewart
Aust
Lola

T330 /

Chevrolet 4995cc

V8

1
Suspension
Ret
John McCormack
Aust
Elfin

MR5 /

Repco 4994cc

V8

0
Throttle
Ret
Alan Rollinson
UK
McRae

GM1 /

Chevrolet 4995cc

V8

0
Fuel Leak
DNS
Baron Robertson
NZ
March

722 /

Cosworth 1790cc

4cyl

0
Engine
DNS
Dave McConnell
Can
Surtees

TS15 /

Hart 1975cc

4cyl

0
Engine
Fastest lap: G. McRae, 43.3 sec. (Record)