1972 Round 3
Wigram

Round Three: WIGRAM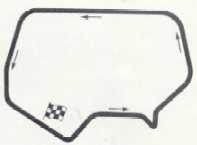 21st Lady Wigram Trophy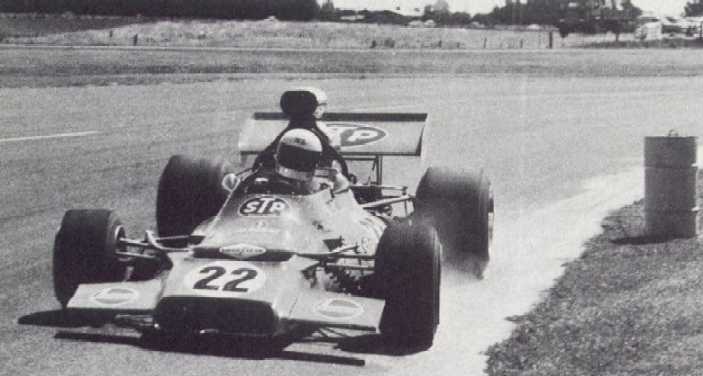 McRae at Bomb Bay bend on his way to another win.
Graham McRae dominated the 18th International Lady Wigram Trophy at Christchurch on 22 January. Averaging 112.92 mph in his Leda GM1 Chev, he lapped the field except for second-placed Mike Hailwood (Surtees TS8A), who finished 55 sec behind. Kevin Bartlett (McLaren M10B Chev), Evan Noyes (McLaren M18 Chev) and David Oxton (Begg FM4 Chev) went 46 of the 47 laps in that order. McRae and Frank Matich (Matich A50 Repco) shared fastest lap of 115.35 mph. Matich made it when he was out of contention, for early in the race he pitted for a wheel change and repairs to the nose of the A50. David Hobbs (McLaren M22 Chev) ran second for 26 laps until he pitted with a punctured tyre. Realignment of the tricky Loop, and the substitution of a relatively fast left-hander for the old hairpin at the end of the main straight, shortened the course slightly and made it by far the fastest Tasman circuit. In 1971 McRae set a 107.12 mph lap record and was fastest qualifier at 107.532 mph. This time he clinched pole place with a 116.358 mph lap.
Gardner's Lola and Smith's Lotus could not be repaired in time for Wigram. Gardner had actually already packed the Lola up and gone back home to prepare for the Australian rounds. Francevic managed to have his McLaren repaired in time. McConnell scratched from the event after having two Hart FVCs blow during practice.
Practice was the customary affair with official time-keeping in the afternoon only. However, contestants' crews carefully logged morning progress. Despite a brisk wind blowing up the main straight McRae soon established Wigram as the quickest Tasman track when he circulated in 68.4 sec for an average of 112.105 mph. Hobbs, despite engine worries, did a 68.8, while Hailwood, on the limit, ran a 69.6 and Bartlett was a tenth of a second slower. Oxton ran a 71.6 (109 mph) but most of the others pottered around. In the afternoon, McRae, with a temperature gauge reading much too high, made an official 65.9 sec and sat back to watch others try vainly to beat it. Hobbs proved deceptively fast and returned 66.3 sec. Bartlett, also with overheating troubles, went 66.5. Coping with suspension troubles, Hailwood and Matich returned 66.7 and 67 sec respectively. Despite damaging a couple of wheels, Noyes ended the day with a well done 67.6 sec. None of the others could better 68 sec. There was a final qualifying session on race morning. McRae, whose Leda was undergoing an engine change, was absent. Max Stewart (Elfin MR5 Repco) went out to steal seventh place on the grid from John McCormack (Elfin MR5 Repco) with a 68.1 sec lap, but the effort caused a camshaft to go and required an engine change. Matich, who had sorted out his suspension problems, improved his Friday time by .2 sec, insufficient to elevate him on the grid. Oxton did a 68.7 to demote Teddy Pilette (McLaren M10B Chev, 68.9) and Garrie Cooper (Elfin MR5 Repco, 69.4).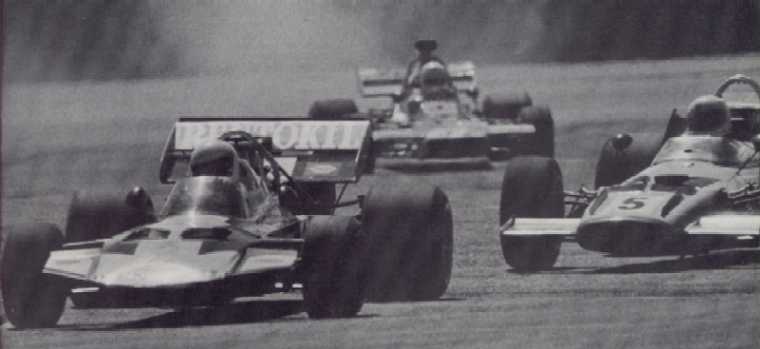 Hailwood (Surtees), Bartlett (McLaren) and Matich (Matich) early in the race.
The grid was as follows:- McRae, Hobbs, Bartlett, Hailwood, Matich, Noyes, McCormack, Stewart, Oxton, Pilette, Cooper, Robertson, Radisich, Doyle and Francevic.
While 22,000 people waited for the start of the race they were told that David McConnell would be a non-starter because he could not get an engine ready in time. It was only at the very last minute that Stewart took his place on the grid with the engine in his Elfin MR5 sounding decidedly off-key. From the rolling start, Hobbs and Hailwood shaded McRae into the first left-hander, Hanger Bend. But by the time the front-runners were setting themselves up in the bends at the south-east end of the circuit to run into the main straight, McRae had hit the front and he completed the first lap 100 yards clear of Hobbs, Hailwood, Bartlett, Matich, Noyes and Oxton. Then there was a gap to the next bunch, which comprised Stewart, Pilette, Cooper, Radisich, McCormack, Baron Robertson (Brabham BT23C), Neil Doyle (Begg FM2) and Robbie Francevic (McLaren M10A Chev). Stewart pitted next time round with a malfunctioning gear linkage and so those behind him all gained a place. The order ahead was unchanged except that McRae was busy building up space between himself and Hobbs and Hailwood, who were running nose to tail.
After five laps, McRae was 4 sec clear of Hobbs and Hailwood. Bartlett and Matich were not far back, while Noyes, Oxton and Pilette were closely associated and comfortably clear of the next bunch that was headed by Cooper and Radisich. After nine laps McRae was out on his own and had already lapped the last man, Francevic. Bartlett had taken Hailwood to be third. Oxton had displaced Pilette. Doyle was out with a broken clutch.
Next time round the order was McRae, Hobbs, Hailwood, Noyes, Oxton, Bartlett, Pilette and Matich, who immediately pitted. Bartlett had spun in the Loop and Matich had contacted him to the detriment of the Matich A50. He resumed three laps behind the front runners, out of contention, but showing the sort of form, had fate not intervened, that would certainly have given him some Tasman points. He finally retired after 13 laps.
McRae was hitting 180 mph through the traps on the main straight. After fifteen laps he was 16.5 sec clear of Hobbs and he had lapped the ninth man, Radisich. Hailwood was still shadowing Hobbs and Noyes was next, some 25 sec back, with Bartlett tucked in close behind.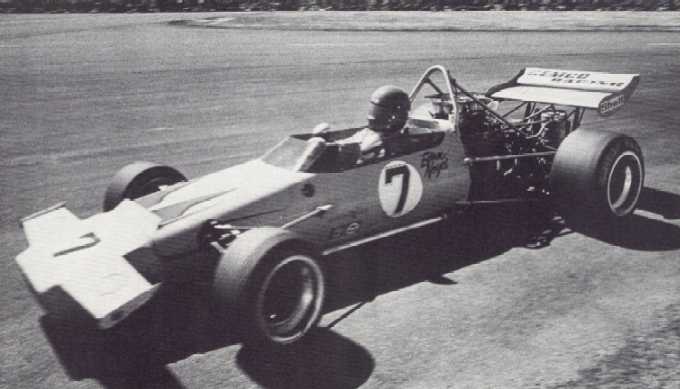 Evan Noyes (McLaren M18) finished 4th.
After lap 20 McRae lapped Noyes, who was lying seventh and was well clear of Pilette, whose engine had turned sour. Oxton, right behind the Belgian, was obviously moving in to take him. Hobbs, who had been having his work cut out holding off Hailwood, came into the pits for a wheel change, after a puncture, and so the Surtees TS8A was automatically elevated to second spot, but so far behind the flying McRae that nothing short of a miracle could cause an upset.
McRae finished his lap 30 leading Hailwood, Bartlett who had made up ground, Noyes, Oxton, Pilette, Radisich, Cooper, Robertson and Francevic.
Whether the Leda driver could have lapped Hailwood in the concluding stages is problematical, but the fact that he had doubled third placed Bartlett and went on to win easing up, but still 55 sec clear of the Surtees driver, suggests that if he had wanted to, he probably could have done so. Bartlett, who had lost so much ground in his early tangle with Matich, went an excellent race for third. Noyes posted his best placing for the series, while Oxton gained his second Tasman race placing in the Begg and Radisich scored his first ever Tasman point.
Wigram proved that McRae and the Leda were just as much at home on a fast circuit as on a slow one, such as Levin.
21st Lady Wigram Trophy
Date: 22nd January 1972
Venue: Wigram Airfield
47 laps of 3.43kms (161.1kms)
Result
Driver
Nat
Car

Laps

Time
1
Graham McRae
NZ
Leda

GM1 /

Chevrolet 4995cc

V8

47
53m 11.6s
2
Mike Hailwood
UK
Surtees

TS8A /

Chevrolet 4995cc

V8

47
54m 06.6s
3
Kevin Bartlett
Aust
McLaren

M10B /

Chevrolet 4995cc

V8

46

4
Evan Noyes
USA
McLaren

M18 /

Chevrolet 4995cc

V8

46

5
David Oxton
NZ
Begg

FM4 /

Chevrolet 4945cc

V8

46

6
Frank Radisich
NZ
McLaren

M10B /

Repco 4994cc

V8

45

7
Teddy Pilette
Belg
McLaren

M10B /

Chevrolet 4995cc

V8

45

8
Baron Robertson
NZ
Brabham

BT23C /

Cosworth 1791cc

4cyl

43

9
Garrie Cooper
Aust
Elfin

MR5 /

Repco 4994cc

V8

42

10
Robbie Francevic
NZ
McLaren

M10A /

Chevrolet 4995cc

V8

42

11
David Hobbs
UK
McLaren

M22 /

Chevrolet 4995cc

V8

42

12
Frank Matich
Aust
Matich

A50 /

Repco 4994cc

V8

34

Ret
John McCormack
Aust
Elfin

MR5 /

Repco 4994cc

V8

13
Oil Line
Ret
Neil Doyle
NZ
Begg

FM2 /

Chevrolet 4948cc

V8

8
Clutch
Ret
Max Stewart
Aust
Elfin

MR5 /

Repco 4994cc

V8

8
Gears
DNS
Dave McConnell
Can
GRD

2 /

Hart 1996cc

4cyl

0
Engine
DNS

Graham Baker

NZ

Allross / Chevrolet 4945cc V8

DNA

Frank Gardner
Aust
Lola

T300 /

Chevrolet 4995cc

V8

DNA

Ken Smith
NZ
Lotus

69B /

Hart 1860cc

4cyl
Fastest laps: G McRae 1 min 6.6 sec (Record).