1972 Round 4
Teretonga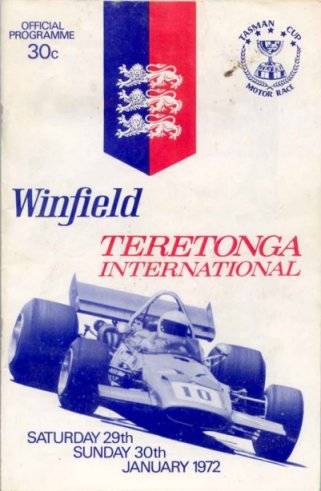 Round Four: TERETONGA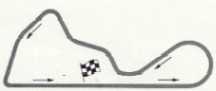 15th Teretonga International
The weather was dismal for the final New Zealand Tasman round, the Winfield Teretonga International, at Invercargill on 30 January, when pre-race favourites failed to cope with a wet track and Kevin Bartlett won in his McLaren M10B Chev - which Niel Allen drove to victory here last year - in the slow time of 67 min 46 sec, for an average of 87.8 mph. Teddy Pilette, similarly mounted, led from lap 7 to lap 33 and finished second, 50.4 sec behind. David Oxton (Begg FM4) drove 61 of the 62 laps to be third, a lap clear of Frank Matich (Matich A50 Repco). Fifth and sixth were Evan Noyes (McLaren M18 Chev) and John McCormack (Elfin MR5 Repco). Matich made fastest lap at 94.81 mph. In 1971 Allen won at 97.8 mph and set fastest lap at 101.12 mph in ideal weather. This time the race and rain started almost simultaneously and, after seven laps, poleman and leader Mike Hailwood (Surtees TS8A Chev) skidded out of the race only seconds after Graham McRae (Leda GM1 Chev) had done likewise and David Hobbs (McLaren M22 Chev) had abandoned with damaged suspension arising from a tangle with Matich. It was Bartlett's wariness on a wet and windy track that earned him his second Tasman win in a campaign he opened in 1967.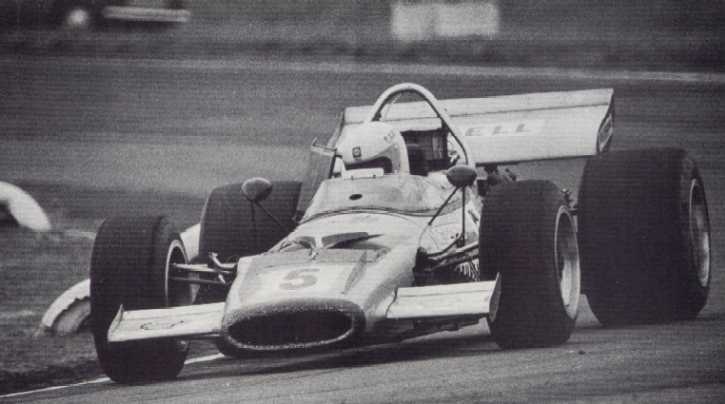 Kevin Bartlett, popular winner in the McLaren M10B.
Those who reached Invercargill early in the week, eager to do some unofficial training at Teretonga Park, were greeted by wind-driven rain and, winter temperatures - conditions that persisted through to race day. Saturday dawned no better and it was with reluctance that drivers faced the inevitable late in the morning to put in cautious shake-down laps before official timing in the afternoon. Spray cut visibility to zero and the only fact that emerged was that Hailwood was not only extremely brave but also had a major advantage over his adversaries, for his Firestone 'wet' tyres were much more effective than the Goodyears used by most of the others. Spins and off -course excursions were commonplace.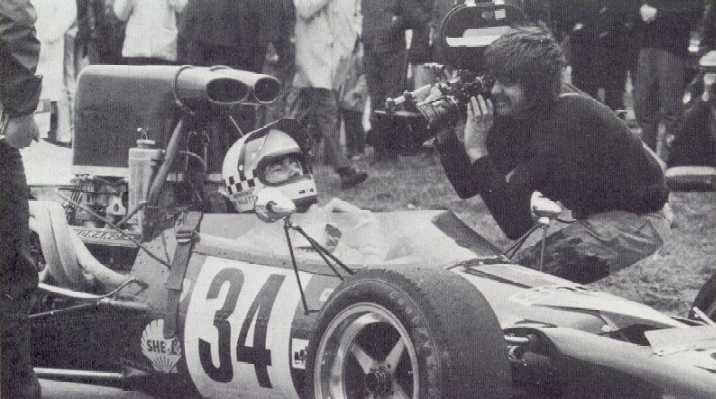 Teddy Pilette just before the start.
The second timed sessions were held in light rain with some sections of the track on the verge of dryness. Hailwood, who had been 2 sec quicker than anyone else in the first session, maintained his superiority with 62.1 sec, although he was chased hard by Matich (63.1 sec), McRae (63.3) and Hobbs (63.4). Pilette could not better 65.5, but that put him well clear of Oxton (67.2), Noyes (68.4), Bartlett (68.8) and Radisich (68.9). In the last minutes Dave McConnell (GRD FVC) made a final bid and demoted Radisich with a workmanlike 68 sec dead.
Tyre selection was the guessing game on race morning. Rain was still failing lightly but a southerly wind helped to make the track almost dry by the time the field for the final New Zealand round was called out. The sky was heavily overcast. All those who mattered decided that the weather would not change and elected to run on dry-weather tyres, sticks in Hailwood's case, although a few temporised by selecting 'intermediates'.
The grid was as follows:- Hailwood, Matich, McRae, Hobbs, Pilette, Oxton, Stewart, McCormack, Noyes, McConnell, Bartlett, Radisich, Francevic, Robertson, Cooper and Smith. Smith started from the back as he was unable to practice and Doyle scratched.
Twenty minutes elapsed between the time the field came under starter's orders and the two warm-up laps before the rolling start. By then the rain had set in. Noyes had a puncture during his warm-up and the change cost him the better part of a lap. Hailwood managed to out drag Matich by the finest of margins when the flag fell and the two led the rest into the braking area for the first left-hand sweeper. Hailwood held his tenuous lead over Matich at the end of the first round, followed by Hobbs, McRae, Pilette, Max Stewart (Elfin MR5 Repco), Bartlett, McCormack, Oxton, Garrie Cooper (Elfin MR5 Repco), Radisich, Smith and Noyes - a long way back, but ahead of Francevic whose McLaren M10A Chev had a timing problem.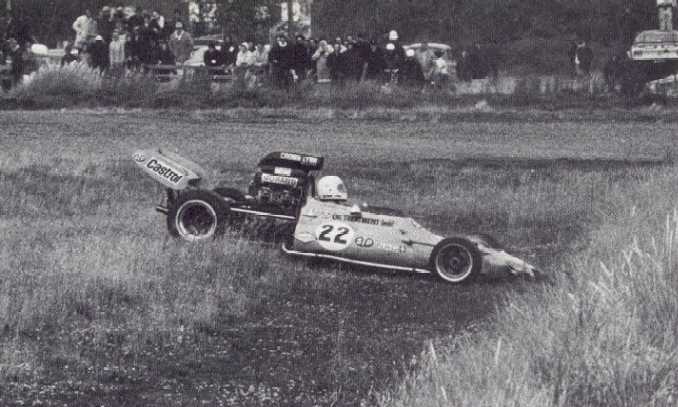 McRae came to rest in a ditch early on.
Up front Hailwood held on grimly and put some daylight between himself and Matich. In the sixth lap McRae managed to slither by Matich to be second, but not for long. In the next lap he gyrated to the infield, the Leda coming to rest in a ditch. McRae barely had time to step from the cockpit before Hailwood lost the Surtees TS8A at almost the same spot and it was wrecked when it hit a utility truck that was parked infield. Then Hobbs and Matich touched as they braked for the Elbow leading to the main straight. Matich's A50 escaped unscathed, but the McLaren M22 limped to the pits with a broken suspension wishbone. So, out of all this quick fire drama, Pilette emerged in front after nine laps, with Stewart, Bartlett, Oxton, Matich, McCormack and Radisich next. About 12 sec farther back came McConnell, Smith and Robertson. Stewart's second-place run did not last long. He spun at the Elbow and dropped back behind Bartlett and Oxton.
After twenty laps Pilette was 16 sec ahead of Matich, who had put in the fastest race lap of 60.8 sec and had picked off Oxton and Bartlett in the process. Stewart's Elfin sounded sick and, to all intents and purposes, his race was over. Three laps later Matich pitted to change to rain tyres and dropped to sixth place. Bartlett, now second, began to move in on Pilette and between laps 28 and 33 he whittled the margin from 9.5 sec to 1.5 sec. In the next lap the Elbow claimed Pilette when he spun out and Bartlett assumed the lead. Pilette was able to rejoin the race, with the help of a push from the many on-lookers, which should have meant disqualification, but somehow this went unnoticed. He joined more than 40 sec behind Bartlett. Oxton was now third, but 42.5 sec behind the Belgian, although comfortably clear of Matich, who was running fourth.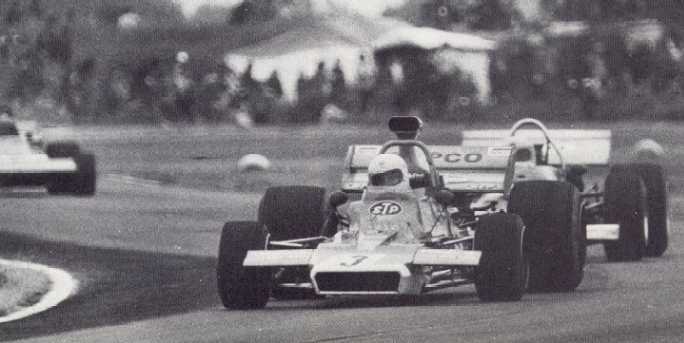 Frank Matich clocked fastest lap.
With the weather gradually improving, Bartlett continued his steady progress, knowing that his margin was such that Pilette, try as he might, had no hope of overhauling him.
With 50 of the 62 laps completed, the order was Bartlett, Pilette, Oxton, Matich, McCormack, Noyes (who had gone well to make up so much leeway), Smith and Robertson. The rest of the field was sidelined. Radisich had had an off-course excursion and was unable to get his McLaren M10B off the wet grass. McConnell had been forced to abandon when oil began to leak in ever-increasing volume from the FVC-engined GRD. In the course of lap 52, Noyes managed to slip by McCormack and that was the only pattern change until Bartlett took the victory flag to notch his second Tasman race win, the first being at Warwick Farm in a 2-litre Mildren Waggott in 1970.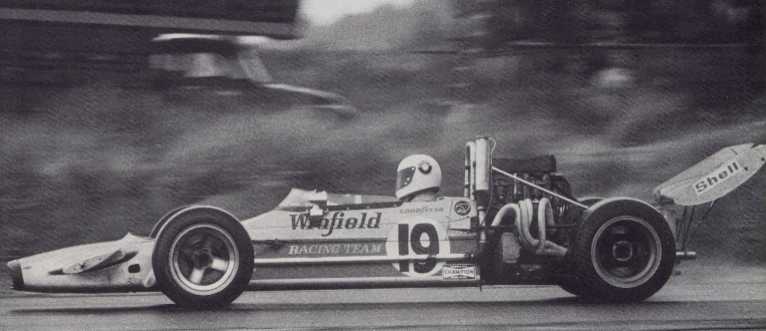 David Oxton (Begg-Chev FM4) finished third.
15th Teretonga International
Date: 30th January 1972
Venue: Teretonga Park
62 laps of 2.575kms (159.65kms)
Result
Driver
Nat
Car

Laps

Time
1
Kevin Bartlett
Aust
McLaren

M10B /

Chevrolet 4995cc

V8

62
67m 46.0s
2
Teddy Pilette
Belg
McLaren

M10B /

Chevrolet 4995cc

V8

62
68m 36.4s
3
David Oxton
NZ
Begg

FM4 /

Chevrolet 4945cc

V8

61

4
Frank Matich
Aust
Matich

A50 /

Repco 4994cc

V8

60

5
Evan Noyes
USA
McLaren

M18 /

Chevrolet 4995cc

V8

59

6
John McCormack
Aust
Elfin

MR5 /

Repco 4994cc

V8

59

7
Ken Smith
NZ
Lotus

69B /

Hart 1860cc

4cyl

57

8
Baron Robertson
NZ
Brabham

BT23C /

Cosworth 1791cc

4cyl

52

Ret
Garrie Cooper
Aust
Elfin

MR5 /

Repco 4994cc

V8

24
Engine
Ret
Dave McConnell
Can
GRD

2 /

Hart 1996cc

4cyl

22
Engine
Ret
Frank Radisich
NZ
McLaren

M10B /

Repco 4994cc

V8

22
Steering
Ret
Max Stewart
Aust
Elfin

MR5 /

Repco 4994cc

V8

21
Oil Pump
Ret
Mike Hailwood
UK
Surtees

TS8A /

Chevrolet 4995cc

V8

8
Accident
Ret
David Hobbs
UK
McLaren

M22 /

Chevrolet 4995cc

V8

8
Suspension
Ret
Graham McRae
NZ
Leda

GM1 /

Chevrolet 4995cc

V8

5
Accident
Ret
Robbie Francevic
NZ
McLaren

M10A /

Chevrolet 4995cc

V8

1
Timing
DNS
Neil Doyle
NZ
Begg

FM2 /

Chevrolet 4948cc

V8

0

DNA

Frank Gardner
Aust
Lola

T300 /

Chevrolet 4995cc

V8
Fastest lap: Matich, 60.8 sec.