1970 Season

THE 1970 SERIES
Whether the purists liked it or not, liberalisation of the Tasman Formula to admit the stock block, pushrod-engined American 'A' and British '5000' 5-litre V8s this year introduced new faces, sights, sounds and an element of uncertainty regarding the outcome of the series until the seventh and final round had been decided at Sandown Park. It also contributed to the establishment of a number of precedents that radically changed the Tasman Championship pattern for the first time since it was introduced in 1964. Cars could run standard push-rod motors up to 5 litres capacity or racing motors up to 2.5 litres (the old Formula Tasman). The National Formula Championship capacity was also raised to 1600cc.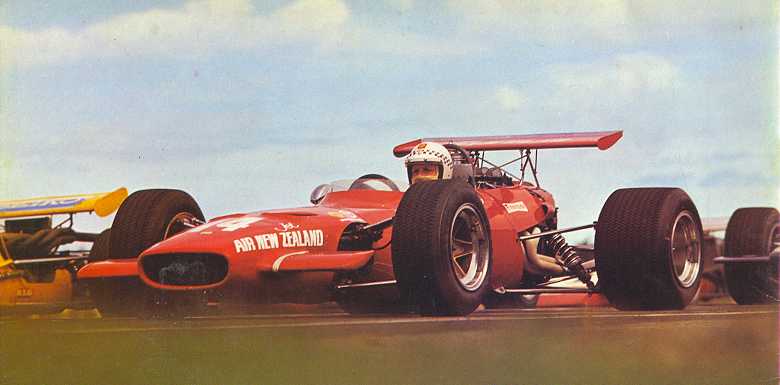 Tasman Champion Graeme Lawrence in the ex-Amon Ferrari 2.4 V6.
The original 2.5-litre 'avgas' formula was introduced to help Australian and New Zealand resident drivers contest international races on more favourable terms than earlier Formula Libre conditions had allowed. Undoubtedly it raised the standard of open-wheeled racing, but overseas visitors remained the stars and residents continued in the minor roles. This year the residents were the stars of the Tasman play and, as the points table shows, overseas drivers often barely made the stage in each of the seven acts. Never in first places in the past, five different residents won all seven races. This number was unprecedented. In 1968, four drivers were winners, but in other years two or three had shared the spoils of outright success. Fluctuating fortunes of favoured runners helped Graeme Lawrence to take the title, for he won only the opening race at Levin. Consistently good minor placings in five of the remaining six races gave him a five-point advantage over Frank Matich at the finish. The other winners were Matich at Pukekohe and Wigram, Graham McRae at Teretonga Park and Surfers' Paradise, Kevin Bartlett at Warwick Farm and Niel Allen at Sandown Park. By makes, the scores were McLaren M10, 5; Ferrari and Mildren-Waggott, 1 each.
Of the 42 drivers who participated in the series, 14 intended to contest all the races (but didn't) and of the grand total, eight came from overseas, 18 from Australia and 16 from New Zealand. Numerically, overseas representation was around Tasman par figures, but the quantity lacked the usual quality. Californian Ron Grable, most professional of the Americans, having won the pre-Tasman warm-up at Bay Park, fared best of all, scoring two seconds, a fourth and a fifth with his modified McLaren M10A. That put him on the fourth uppermost rung of the Tasman ladder, one below Mildren men, Bartlett and Max Stewart, who shared the third.
When the liberalised Tasman Formula was announced the previous year, some commentators predicted that the traditional 2.5-litre Tasman racing engines would be more than a match for the Formula A/5000 cars. Lawrence proved this partly right, but the other evidence found in the Tasman results was against it. The only other users of 2.5 engines who scored were Englishman Derek Bell and Australian John Harvey. Bell, with a 2.5 Brabham BT26 Cosworth-Ford V8, was second in the New Zealand Grand Prix, 61.9 sec behind Matich's McLaren M10A. Harvey, with a Brabham BT23 Repco V8, was fifth at Warwick Farm, 1 min 56.1 sec behind Bartlett's winning Mildren-Waggott. The margins were indicative of the ineffectiveness of the traditional Tasman engines.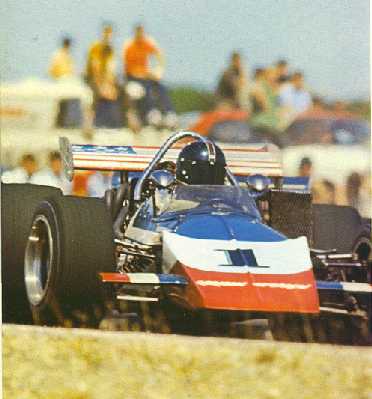 Ron Grable (McLaren M10A).
Although the reliability of the Formula A/5000 cars was nothing to write home about, it was not as bad as some critics suggested. In the Tasman races, 24 of the 42 points-scoring places were taken by them, twelve being McLaren M10s, three of which scored in one race, two in three races and one in three races. Of the rest, the Surtees TS5 (Mike Goth) was most successful with four places, and then came the Lola T190 (Ulf Norinder) with three places. Eagle-Chevrolet (Bill Simpson), Forsgrini Ford Boss (Michael Campbell) and Lola T142 (Derrick Williams) each scored a place.
To complete the break-down, the Mildren-Waggotts of Bartlett and Max Stewart took eight places, including first and second at Warwick Farm, and two 1.6s, the Alfredo Costanzo McLaren M4A FVA and Tony Stewart Elfin-Ford twin-cam, finished fifth and sixth respectively, in a depleted Sandown Park field.
On the face of it, Lawrence could have been considered a lucky winner. In fact, this was not so. His approach to the series was a carefully considered one. His aim was to win the Tasman Championship, if not the races. He realised that, other things being more-or-less equal, reliability was the one factor that would enable him to achieve it. The selection of the 2.4-litre Ferrari Dino V6, made before the completion of the 1969 series, was a calculated choice. It was reliable and it had weight and handling advantages over the Formula A/5000 cars, which gave favourable odds for a succession of high placings, and a win in at least one of the seven races. Apart from being rebuilt most carefully and having a tab attached to the back of its rear aerofoil and larger nose spoilers, it was in the same shape as when Amon won the 1969 title. Lawrence showed his and the car's worth when he took pole position at Warwick Farm and any doubts about the efficiency of the V6 Ferrari engine were erased when one, untouched after four New Zealand races and 1200 miles, carried him home second at Sandown.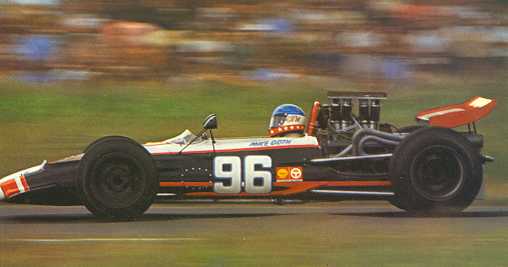 Goth (Surtees TS4).
But the performances of the Matich, McRae and Allen McLaren M10s, when they were functioning properly, showed that, given the reliability this year's European season should produce, prospects for success for other than a Formula A/5000 car are not bright for 1971. Matich, billed the fastest man on four wheels in Australia, because of his sports car exploits, was Lawrence's major adversary. His car was a straight M10A with revised suspension pick-up points, modified nose section and, like Allen's new M10B chassis, it had fuel injection, something that has been banned for 1971. Third at Levin behind the nippier Ferrari and Stewart 1.8 Mildren-Waggott, he won as he liked at Pukekohe and repeated the performance at Wigram, despite a broken rocker arm. His only other finish was fourth at Surfers' Paradise, a new engine having been fitted for this and subsequent Australian races. But at Warwick Farm he was sidelined with a broken suspension upright and when a throttle cable broke at Sandown Park he lost his chance of winning the title. In retrospect, Matich's decision not to run at Teretonga Park but return home to prepare for the Australian section and perhaps use the Holden-Repco Formula 5000 engine, which did not eventuate, may have cost him the title.
Devastatingly successful with his self-designed and built National Formula car in the 1968-9 season, and fresh home from a short but promising European Formula 2 campaign, McRae was considered by many the man to beat in the Tasman series. His McLaren M10A, sponsored by Crown Lynn Potteries, looked better than it was and lack of a spare engine proved to be a severe handicap for the confident Wellingtonian. His two finishes were winning ones. On top of that he bettered his own lap record at Bay Park, shaved 0.2 sec off that set by Amon and Rindt at Wigram in 1969 and equaled Rindt's Teretonga lap record. Good though he may be, in January 1970, McRae was not in the class of the forceful Rindt, now Gold Leaf Team Lotus leader, and this underlines the point that, when it is right, a Formula A/5000 car will take a power of beating. To add further weight to this contention, Matich and Allen set lap records at Surfers' Paradise and Warwick Farm, respectively.
Hampered mainly by ignition problems, Allen did not come into his own in New Zealand, but was rewarded with a fourth at Warwick Farm. Then in the final round at Sandown Park he dictated all the terms and handsomely beat Lawrence by 1 min 1.1 sec, using a second engine for this race.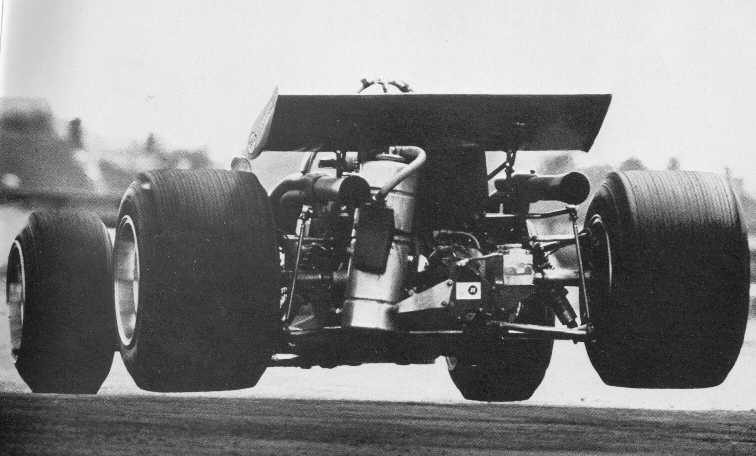 Frank Matich in the air with the McLaren M10A.
The one-two finish of Mildren cars at Warwick Farm, coupled with the fact that drivers Bartlett and Stewart finished third equal in the series, was a personal triumph for Sydney engine designer and builder Merv Waggott. The Waggott TC4V engine bears a close resemblance to the Formula 2 Cosworth FVA. This is not surprising because both are based on the Ford Cortina stock block, although the 2-litre versions used in the series were completely Waggott and, with Lucas fuel injection and transistorised ignition, developed 250 brake horsepower. Bartlett's car was the Len Bailey-designed Mildren monocoque, which Frank Gardner used with an enlarged version of the Alfa Romeo Tipo 33 V8 in 1969, and Stewart had a Brabham-style spaceframe car. In both instances the power-weight ratios were very good. There was also a spare Cortina blocked 1850cc engine which came in for some use. The engines themselves proved their worth, but former Australian champion and Sydney sponsor Alec Mildren, a keen Tasman supporter who has never been very lucky, more often than not had the fates against him.
At Levin Stewart finished second to Lawrence, and the Mildren-Waggotts were running second and third until a stone holed Bartlett's radiator. At Pukekohe Bartlett was fifth, a lap down, while Stewart was delayed by a puncture. Stewart was third at Wigram and shared fastest race lap with McRae, while Bartlett retired with piston troubles finally diagnosed as too high a compression ratio. Bereft of third gear after briefly leading the race at the start, Bartlett finished fifth at Teretonga, and Stewart, who had been with Bartlett, crashed. Bartlett was second at Surfers' Paradise, but a loose ignition wire delayed Stewart. The successful Warwick Farm outing was followed by misfortune at Sandown Park. A faulty condenser sidelined Bartlett and transmission trouble kept Stewart out of a points-scoring place.
The record shows that the engines proved themselves and, on the face of it, a Tasman Formula Waggott V8 might be competitive next season. But it would take an extremely brave or rich man to proceed with a project that would have such a limited application.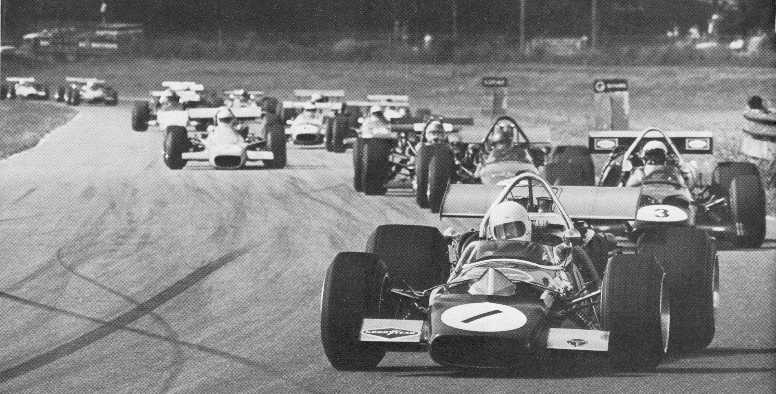 Matich leads McRae, Allen, Goth, Bartlett, Lawrence and Stewart at Surfers Paradise.
Tom Wheatcroft, the wealthy English patron, and his driver Derek Bell were confident that they had a winner in the DFW Cosworth-Ford V8 powered Formula 1 Brabham BT26. The car was the one used by Jacky Ickx to win the German Grand Prix in 1969. It was very much the dark horse as no one knew quite how a destroked F1 car would go against the F5000's. They soon found they had saddled the wrong horse for this series. Shadows of doubt appeared when Bell found he could not make better than sixth place on the grid at Levin; grew longer when the car could not foot it with the Matich McLaren at Pukekohe; spread when an engine broke at Wigram, and engulfed them in despair when the second went in more devastating fashion during Amon's brief pre-race test session at Teretonga Park. Bell, possibly the most seasoned driver in the series, frightened himself and everyone else when he tried all he knew to gain a top qualifying spot with a badly mishandling car at Wigram and then, when Wheatcroft Racing's campaign came to an abrupt end at Teretonga, he frankly admitted that it had been a mistake to tackle the series with a 2.5-litre car.
The overwhelming success of the Australians and New Zealanders suggests that some of the overseas entrants and/or drivers took the series too lightly or underestimated the strength of the resident opposition. Those of the visitors who turned up for the pre-Tasman warm-up at Bay Park were shaken by the times the better New Zealand National Formula drivers returned in unofficial training sessions and qualifying trials. One was left with the impression that, probably deluded by past Tasman race results, some visitors had been drawn into the series feeling there were prospects of picking up easy money and at the same time having a pleasant summer holiday; or simply to gain racing experience, a thing that some of them badly needed.
Norinder, the flamboyant and burly Swede, almost certainly had the quickest car in the Tasman fields: the Lola T190 which, at the time, was the latest design off Eric Broadley's drawing-board. But his lackadaisical approach to the job kept him among the also-rans. Bell was but one of the Tasman contenders who would have given almost anything to drive this car.
Goth's near-new Surtees TS5, modified by much-better-than-average U.S. mechanic Bruce Burness, who had adapted the Bosch direct fuel injection for the Falconer-modified Chevrolet engine and fitted a snugly-mounted oil tank at the rear, was also an impressive entry. Backed up by a load of spares in the smartest racing tender on the circuits, Goth turned in some extremely quick qualifying times but lacked the experience to profit by them when running in close company. Although he finished everywhere with the exception of Bay Park and Sandown Park, this must have been a costly exercise, for by the time the series ended he had used up four engines.
American U.S.A.C. driver Simpson ran a well-turned out monocoque Eagle with a normally aspirated Thompson-modified Chevrolet engine. His only placing was a lap down fourth at Wigram. Elsewhere he failed to finish, the end coming at Warwick Farm where he hit a fence and damaged the Eagle too badly to contest Sandown Park.
The only important interloper among the Chevrolet-engined Formula A/5000 cars was Campbell's Ford-Boss-powered Forsgrini. Built by Lyle Forsgren, an American who had previously concentrated on sports cars, the Forsgrini, notable for the unusual spaceframe design and lack of front and rear anti-roll bars, was Forsgren's first Formula A design. The Ford Boss 302 engine was claimed to give more than 500 brake horsepower, but Campbell, who had won the 1.1-litre U.S. National Formula C Championship in 1968, did not appear to have anything approaching that figure at his command and, indeed, he was dogged by a succession of engine maladies. Including Bay Park, he finished in three races, his best placing being sixth at Wigram.
Williams, the quiet and pleasantly-spoken Welshman, frankly admitted that he had brought his Lola T142 to the Tasman party to gain experience. A comparative newcomer to motor racing, he started off at a disadvantage as he was recovering from a bout of pneumonia, and he had to pull out at Bay Park because of illness. But, with the exception of Sandown Park, where he was sidelined by a cracked cylinder head, he finished elsewhere, his best placing being sixth at Teretonga Park.
For serious followers of the series, the BRP Ford Boss was a joke in poor taste. The origin of the entrant was an English hotel with which the driver, Kaye Griffiths, and some of his helpers were associated in one way or another. Performance wise, the BRP Ford Boss was about as effective as the pub with no beer and when Griffiths failed to show up at Teretonga Park, the least surprised appeared to be his associates who coaxed New Zealander Peter Hughes into the cockpit for an abortive run in the preliminary heat.
At the other end of the scale, and a cut above the rest of the overseas visitors, was Grable. If money speaks louder than words, the fact that after Lawrence, who picked up $13,100, the tall, slim Californian was the next biggest money earner, his take was $10,000, must mean something. Technically, his near new, second-hand McLaren M10A was most interesting. American Ken Holden, the man behind the Sceptre with which Grable won at Bay Park in 1968, had given the car a Sceptre wedge nose by removing the front-mounted radiator and replacing it with an aluminium Chevrolet Corvette radiator at the back above the engine, thereby also eliminating the need for water pipelines. A Lucas fuel-injected Traco-Chevrolet engine was used. Grable had his problems. After his Bay Park win, a connecting-rod bearing went at Levin in training and severely damaged the engine, making Grable a non-starter. He ran fourth at Pukekohe and then a good second at Wigram where for two thirds of the race he had a broken rocker. At Teretonga Park a slow puncture forced him to ease up as he was challenging McRae for the lead in the final laps. A fifth followed at Surfers' Paradise, but ignition trouble at Warwick Farm and a bent rocker at Sandown Park, caused by a missed gear change, sidelined him in the last two races. Like the other overseas visitors, Grable would not have met his expenses, but no one could begrudge him his winnings for he clearly showed that he is a complete racing driver.
For the rest, an ingenious and resourceful George Begg fielded a pair of brand new Begg monocoque FM2 Chevrolet-engined '5000' cars for Geoff Mardon and Pierre Phillips, the other American. Neither fulfilled the early promise provided by McRae when he ran one in M.A.N.Z. Gold Star races before the arrival of his McLaren, but there was enough potential in these cars, which in many respects follow McLaren constructional principles, to suggest that the Southland racing car constructor could make his presence felt in subsequent Tasman races.
Frank Radisich, with the ex-Lawrence McLaren M4A FVA, was never a front-runner, and Bryan Faloon, who put in some meteoric times with Feo Stanton's 2.5 Coventry-Climax-engined Rorstan, an ultra lightweight Brabham-style car, found as so many others have in recent years, that Climax engines are long since past their halcyon days. But if there was a Tasman award for ingenuity and determination Faloon and Stanton would certainly have won it this year, for they concocted engines out of wreckage and from spares in miraculous fashion, to the wonderment of all who followed their progress.
The National Formula drivers with their 1600cc Ford-based twin-cams filled out the fields and were not disgraced. In this group Ken Smith, with his Lotus 41B, and Graham Baker, with his Brabham BT21C, were the most prominent and often gave Radisich embarrassing moments, not to mention some of the overseas Formula A/5000 men.
It will be surprising if the standard of entry from overseas is not considerably higher next season, for although the $126,000 prize and guarantee money was fairly widely and thinly spread this year, overseas interests, many of which gave the series a miss, will have realised by now that the new-style Tasman Championship can offer good pickings for the right man in the right car. That was the winning recipe this time, but the 1970 Tasman Champion, Graeme Lawrence, for one, knows that a Formula A/5000 car with Ferrari reliability will almost certainly be the answer in 1971.