1970 Round 1
Levin

Round One: LEVIN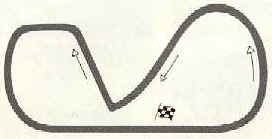 11th Levin International




Graeme

Lawrence (Ferrari 2.4 V6). Graeme Lawrence became the first New Zealand resident driver to win a Tasman Championship race since the series was inaugurated in 1964, when he ran away with the first 1970 round, the Rothmans International at Levin on 3 January, averaging 88.39 mph in the ex-Chris Amon 2.4 Ferrari V6. Second, 17sec back, was Max Stewart and he was followed by Frank Matich. Fourth, a lap down, was Mike Goth, and a further lap back was Dennis Marwood; sixth, on the same lap, was Ulf Norinder. Twenty-six drivers attempted to qualify for the 20 places but only 19 came under starter's orders. Lawrence led all the way to notch the third successive Levin Ferrari victory, but fortunes changed behind him. Stewart ran second until overhauled by team-mate Kevin Bartlett in lap 10, but regained the position when Bartlett withdrew with a holed radiator in lap 17. Derek Bell, from a slow start, moved to second in lap 25, but two pit stops, following a brush between his 2.5 Brabham BT26 Cosworth-Ford V8 and Norinder's Lola, put him out of contention and Stewart resumed second spot in lap 32 with Matich, who had always been handily placed, next. Lawrence made fastest lap at 90.968 mph, but the 1969 race and lap records remained intact.

'In thing' for this Tasman series was the rolling start introduced because, it was claimed, the 5-litre V8's transmissions would not stand normal grid take-offs. Also in was Indy-style qualifying, which was time-consuming and rather boring. As things turned out, after morning practice the organisers announced that contestants could count their practice times, as opposed to their qualifying times, for starting positions. This led to some confusion, for when the starting places were posted it was found that in some instances they were not in accordance with the best times. However, there was no doubt about Lawrence's 45.7 sec, set in morning practice. When he learnt it could count he was not a hard trier during official qualifying.

Leo Leonard was a non-arrival as he was still confined to hospital after getting burned so badly at Bay Park the week before, while Peter Hughes was out with a broken crank-shaft. Practice eliminated John McLellan's Talon after it crashed at Rothmans, and Jack Oakley broke a wishbone on the same bend in the older McRae S2 Ford.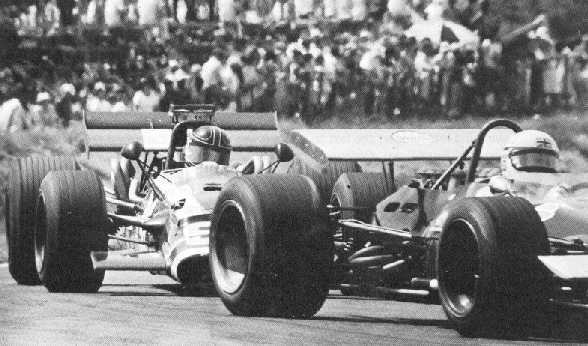 Bell (Brabham) closely followed by Goth (Surtees). Bell, having his first outing in the Wheatcroft Racing Brabham, found the gearing unsatisfactory and was not as quick as he would have liked to be. The Mildren-Waggotts proved nippy on the tight 1.175-mile track and Stewart ran an exact 46.0 sec, while Bartlett did a 46.2. Bryan Faloon astounded everyone by posting 47.0 sec on his home course. Graham McRae was a late-comer and was given 46.1 sec, which should have put him in third place, but when final positions were posted he was found to be on the front row outside Lawrence.

Goth, who recorded a 47.5 sec, had a new engine fitted after the Bay Park problem of a jamming timing gear reappeared. He was slower than Matich (47.1 sec), Bell (47.2 sec) and Allen (47.4 sec). Radisich was the fastest of the 1.6 cars at 48.8 sec. Kaye Griffiths was a non-qualifier in the BRP-Ford. It looked rough and sounded even rougher. He was unable to do a lap under 60 secs. The top saloon cars were quicker, yet he still got his appearance money as an international.

Late in the day, during the Gold Star race, Faloon's Climax engine split and that called for an all-night replacement session, during which a new short-stroke Climax was fitted. Less fortunate was Ron Grable who broke a crankshaft in the opening practice session and took no further part in Levin activities.

A preliminary 10 lap race was held, prior to the main race, for New Zealand drivers, which Lawrence, Marwood and Faloon wisely opted out of. McRae started and led until lap 4 when his engine seized, putting him out of the main race. Officials refused to allow him to start in the McRae TC as he had not practiced in it.

The grid for the main race, now without McRae looked as follows:- Lawrence and Stewart, Bartlett and Faloon, Matich and Bell, Allen and Goth, Norinder and Radisich, Marwood and Mardon, Smith and Baker, Williams and Campbell, Simpson and Watson, and Phillips at the rear.

The race was run in scorching heat. The McLaren M10B of Niel Allen, inside Goth in the fourth row, refused to start so was wheeled aside as the field was sent off for the rolling lap which concluded with everyone in his allotted place which in turn meant that the race was on. Allen managed to repair the ignition fault and got underway after 9 laps had been completed.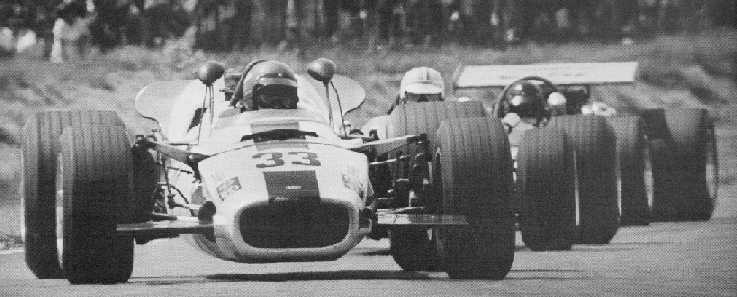 Derek Williams (Lola T142) at the head of a queue.

Lawrence led Bartlett, Stewart, Faloon, Matich and Goth into the first sweeping left-hander, the last to reach it being Michael Campbell. Obviously determined to stay in front, Lawrence had drawn out three seconds on Bartlett, who was now followed by Faloon, at the end of the first lap. Next time round the margin was five seconds, with the Bartlett and Stewart Mildren-Waggotts nose to tail and Faloon, Matich and Bell next, Norinder and Goth also being fairly prominent. Next lap Lawrence had eight seconds on Bartlett. Geoff Mardon, whose Begg FM2 Chev had been smoking badly, caused excitement when his rear wheels locked up at the end of the straight and the car spun backwards out of the race.

At the end of ten laps the rock-steady Lawrence led Stewart by 10 sec and Bartlett, Faloon, Matich, Bell and Dennis Marwood followed him. Farther back Ken Smith was mixing it with Derrick Williams and Pierre Phillips. Bill Simpson was even farther away and among those already doubled by the leaders. Campbell went out on lap 14 with overheating in his Ford V8 and Simpson spun the Eagle two laps later and retired. Bartlett lost ground and finally departed the scene with overheating problems after a stone had gone through his radiator. By the time Lawrence had covered 20 laps he was 17.4 sec ahead of Stewart and there was about 10 sec to Matich, who had shaken off Bell and Goth. Faloon was next, followed by Norinder whom Marwood was desperately trying to take. Allen had joined the contest when the leaders had made about ten laps, but was not in contention.

On lap 24 Faloon's replacement Climax FPF engine burst, as had its predecessor. Lawrence was 24 sec clear of Stewart. Then came Matich, with Bell moving in to take him, Goth a fair way behind, and an even longer interval to Marwood who had taken Norinder and was then able to increase his speed.

Bell came round in second spot to begin lap 25, having displaced Matich first, then Stewart, but he was 25 sec behind Lawrence. In the next six laps he gained about three seconds, but in the course of getting by Norinder, the Brabham and Lola touched and one of Bell's front spoilers was knocked awry. Stewart resumed second place while Bell stopped to have the spoiler removed. So on lap 35 the order was Lawrence, 23.8 sec to Stewart, Matich, Goth, Bell, Marwood, Norinder, Smith, Frank Radisich, Williams and Graham Baker.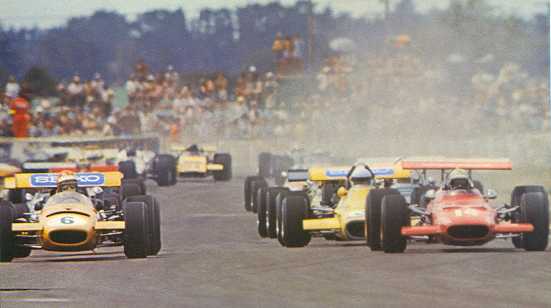 Lawrence starts well to lead the Mildrens of Stewart and Bartlett.
Lawrence doubled Bell after 39 laps, so only Stewart, Matich and Goth were left on the same lap as the flying Ferrari. Farther back there was no change in the order and there were no more upsets until Bell failed to appear for lap 53. He had stopped for fuel and this dropped him to ninth, between Radisich and Williams.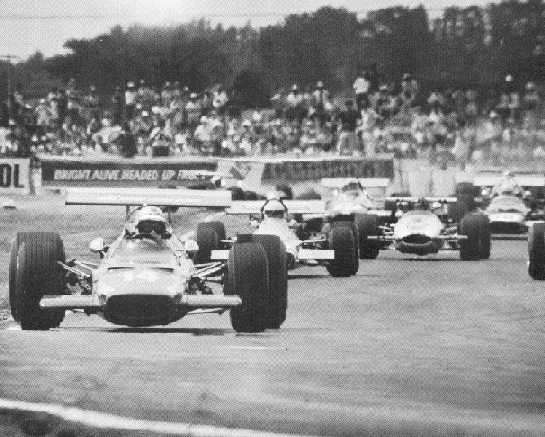 Lawrence leading the field into Beach Bend.
On lap 60 Lawrence doubled Goth's TS5 and in the final laps he increased his pace a shade to come home an unpressed winner in a time that was five seconds slower than the 1969 record set by Chris Amon in the same car. Also Amon's race was from a standing start and there were periods of yellow flags, so it is hard to make and exact comparison.
11th Levin International
Date: 3rd January 1970
Venue: Levin
63 laps of 1.92kms (120.69kms)
Result
Driver
Nat
Car
Laps
Time
1
Graeme Lawrence
NZ
Ferrari 246T

/ Ferrari

24

17

cc

V6

63
50m 13.8s
2
Max Stewart
Aust
Mildren

/

Waggott 1

860

cc

4cyl

63
50m 30.8s
3
Frank Matich
Aust
McLaren

M10A /

Chevrolet 49

95

cc

V8

63
51m 00.0s
4
Mike Goth
USA
Surtees

TS5 /

Chevrolet 4995cc

V8

62

5
Dennis Marwood
NZ
Eisert

JE67 /

Chevrolet 4948cc

V8

61

6
Ulf Norinder
Swed
Lola

T190 /

Chevrolet 4991cc

V8

60

7
Ken Smith
NZ
Lotus

41B /

Ford 1598cc

4cyl

60

8
Frank Radisich
NZ
McLaren

M4A /

Cosworth 1

598

cc

4cyl

59

9
Derek Bell
UK
Brabham

BT26 /

Cosworth 2

495

cc

4cyl

58

10
Derrick Williams
UK
Lola

T142 /

Chevrolet 4995cc

V8

58

11
Graham Baker
NZ
Brabham

BT21 /

Ford 1

598

cc

4cyl

57

12
Pierre Phillips
USA
Begg

FM2 /

Chevrolet 4948cc

V8

56

Graham Watson
NZ
Brabham

BT18 /

Ford 1

598

cc

4cyl

Niel Allen
Aust
McLaren

M10B /

Chevrolet 49

95

cc

V8

39

Ret
Bryan Faloon
NZ
Rorstan

1 /

Climax 2

495

cc

4cyl

25
Engine
Ret
Kevin Bartlett
Aust
Mildren

/

Waggott 1992cc

4cyl

17
Overheating
Ret
Bill Simpson
USA
Eagle

51 /

Chevrolet 4995cc

V8

16
Spun
Ret
Mike Campbell
USA
Forsgrini

14 /

Ford 4998cc

V8

14
Overheating
Ret
Geoff Mardon
NZ
Begg

FM2 /

Chevrolet 4948cc

V8

8
Engine
DNS
Graham McRae
NZ
McLaren

M10A /

Chevrolet 4948cc

V8

Engine

DNS

Ron Grable
USA
McLaren

M10A /

Chevrolet 49

95

cc

V8

DNQ

Kaye Griffiths
UK
BRP

64 /

Ford 4948cc

V8
Fastest lap: G. Lawrence, 46.5 sec.