1967 Round 3
Wigram

Round Three: WIGRAM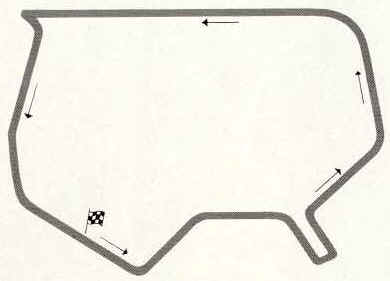 16th Lady Wigram Trophy
After exceptionally hard races at Pukekohe and Levin, Jim Clark rounded off the New Zealand section of the Tasman series by winning the Lady Wigram Trophy on 21 January very much as he pleased. His main adversary Jackie Stewart was dramatically eliminated in the fifth lap when a course marker, kicked up by a rear wheel of Clark's 2-litre Lotus-Climax V8 shattered the windshield of the closely following BRM, broke an oil line and struck the unfortunate Stewart a glancing blow on his helmet. In the early laps Clark was seriously worried by Stewart, but once the other Scot was sidelined the Lotus driver was able to cut out the balance of the race quite sedately, averaging about 96 mph for the 101.2 miles and clipping a neat 10 sec from the record set by Stewart in 1966. It was left to Richard Attwood to uphold the reputation of BRM and this he did in workmanlike style to finish second, 16.9 sec in arrears. Third, a lap back, was Denny Hulme in a sick Repco-Brabham V8. He fared much better than his boss, Jack Brabham, who made a long stop to remedy overheating troubles in the new lightweight BT23A V8 and resumed to make fastest race lap in 1 min 25 sec and finish in 13th place. Fourth and fifth were the Alec Mildren Brabhams of Frank Gardner and Kevin Bartlett.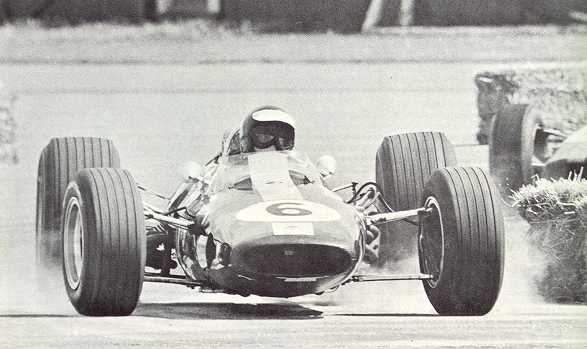 Clark (Lotus) wins at Wigram. Profiting from the defections of others, Roly Levis in his 1.5 Brabham-Ford motored to sixth place, a lap behind Bartlett, a stout effort on this power-driving circuit which leaves smaller cars a bit breathless. New Zealand's main hopes came to naught. In fifth spot and ahead of Gardner and Bartlett after 14 laps, Jim Palmer abandoned with a broken crankshaft in his 2.5 Brabham-Climax. Dennis Marwood's rather leisurely progress in the 2.5 Cooper-Climax was marked by the oil it left on the track. Graeme Lawrence, who had done well in the earlier international races, had the thankless task of trying to cope with overheating in his 1.5 Brabham-Ford.

Main interest in the practice session was the £400 side prize for the driver who put in the first 100 mph race lap. Although it was destined to remain in the Motor Racing Club's coffers for another year at least, the thought that it was there for the taking caused the faster men to flex their muscles. In the morning things did not look promising as there was a strong headwind on the main straight and the best effort was Stewart's 1 min 23.7 sec, 0.9 sec outside the target.

In the early afternoon the wind dropped and Stewart broke the 'ton' with 1 min 22.6 sec using Goodyear tyres, but was so impressed with Clark's new Firestones that he asked team manager Tim Parnell to obtain the all-clear from Sir Alfred Owen back in England to use them also in the race. He had good reason to go to the trouble for Clark finally returned a lap of 1 min 21.8 sec, 101.2 mph. The best Brabham and Hulme could manage was 1 min 23.8 sec each. Attwood was next with 1 min 2.6 sec, then Gardner (1 min 26.6 sec) and Palmer (1 min 28.0 sec). Lawrence was the fastest 1.5 with 1 min 30.1 sec.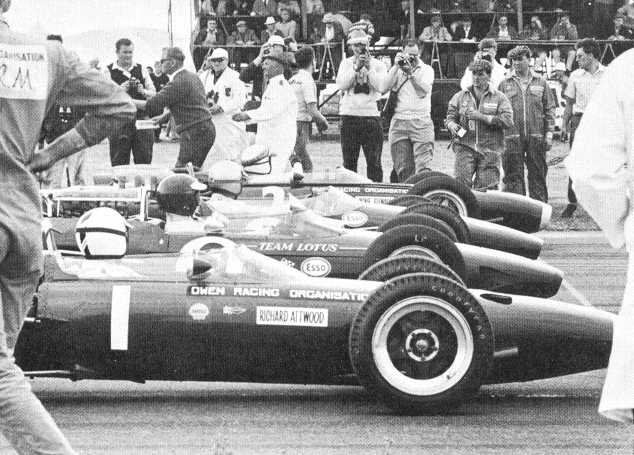 Stewart, Brabham, Clark and Attwood at the start. The headwind came up early on race morning and kept lap times in the preliminary 11-lap heats something like 1 sec away from that £400.

Clark had pole position in his heat and gained a handy lead over Stewart and Brabham from the fall of the flag. These three romped off from Hulme, whose car sounded snuffly, and Attwood. There was a gap back to Bartlett, Palmer and Gardner, who swapped places fairly frequently. In the eighth lap Stewart pushed ahead of Clark in the pit straight and next time round so did Brabham. Attwood had taken Hulme. There was not much between Stewart, Brabham and Clark at the finish and Attwood was about 20 sec in arrears in fourth place. Hulme, Palmer and Bartlett were next in line while Gardner, slowed by lack of fuel pressure, had to be content with eighth. Stewart had run 1 sec outside the 100 mph lap and this turned out to be the fastest lap of the day.

The other heat went to Levis, with his team-mate Bill Stone next and Hollier third. It was nothing to write home about, many of the smaller 1.5-litre cars encountering trouble along the way. Bolton lead until a lap from the end when a piston collapsed. Brownlie blew his clutch also.

Contrary to normal procedure, starting positions for the trophy race were allocated to the drivers on the basis of their potential performances rather than on actual times recorded either in training or the heats. Front row comprised Stewart, Brabham, Clark and Attwood. In the next were Hulme, Palmer and Bartlett, followed by in order Gardner, Levis, Marwood, Stone, Hollier, Dawson, Weston, Boyd, Harvey, Lawrence, McDonald and Brownlie.

Brownlie got his clutch fixed in time for the race only to have his gear selector break as he lined up for the dummy grid, so he retired. Stewart outgunned Clark at the start but Clark quickly reversed positions to lead Stewart and Brabham through the left-hander out of the pit straight. Next came Attwood and Hulme, clear of Palmer, Gardner and Bartlett. Clark looked supremely happy up front. In the third round Hulme amended the order by taking Attwood, although the Repco V8 still had a nasty wheeze. But the actors dominating the stage were Clark and Stewart. The BRM seemed to have a slight advantage over the Lotus under braking, but there was not much in it and Clark was able to hold Stewart off by a car's length or so as they progressed.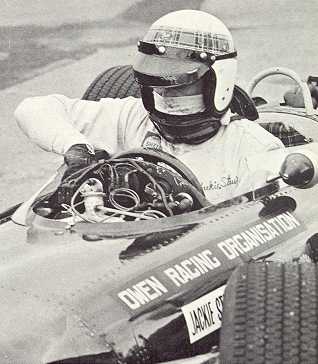 Disabling damage to Stewart's car after a course marker was thrown up by Clark's Lotus. In those opening laps the race showed every indication of being the GP and Levin all over again. But it was not to be. The pattern changed when Clark, unbeknown to him, blasted Stewart out of the contest quite involuntarily. With the No. 1 BRM man gone, Brabham had his try. At that juncture he was only about 1.5 sec back but he had Hulme and Attwood right behind him. The world champion could do nothing about Clark, but Attwood, obviously aware that BRM's reputation now rested on his shoulders, set to work and took Hulme. By the 12th lap these two had taken Brabham, who was rapidly losing ground in the lightweight car, and by then Clark was fully in command of the race. Lawrence pitted with more overheating problems and McDonald retired after 8 laps with the same problem. Marwood's engine was blowing smoke and he retired after 13 laps.

Palmer was not lingering either. In fifth place, he had the measure of Gardner and Bartlett, but it was not long before he was out when an oil seal ring on the crankshaft went, and Gardner was back in fifth spot. Dawson led the local lads with Levis and Hollier next. But Hollier soon retired also with ignition problems.

Even at this stage the race was losing a lot of interest. Clark was well in front, driving immaculately, Attwood was safely second, with Hulme next and Brabham a drifting fourth. Well slicked with rubber and oil, the circuit was in no condition for the 100 mph lap unless one of the leaders was prepared to chance his arm, so it all boiled down to a race to finish. Clark drew out 19 sec on Attwood. Brabham decided that there was another day and stopped to try and remedy the heating trouble, while Hulme plugged on steadily, increasing his advantage, in third place.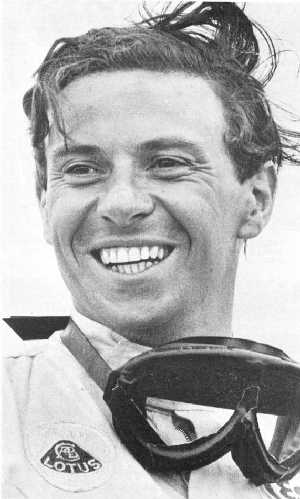 There has only ever been one smile like this in motor racing. It belongs to Clark.
With ten laps left, Clark doubled Hulme and all that remained was to see whether the Flying Scot would attempt to bolster his bank account by trying for the 1 min 22.8 sec lap. But with four Australian Tasman races still to go and 15 points virtually in his pocket he decided that discretion was the order of the day. Thus he sailed home well clear of Attwood, while Hulme, Gardner, Bartlett and Levis were flagged off some miles behind. Brabham, who had briefly returned to the scene after his long stop, was credited with the fastest lap of the race, 1 min 25 sec, and was classified as 13th, appropriate in the light of his dismal experiences in the two Tasman races.
16th Lady Wigram Trophy
Date: 21st January 1967
Venue: Wigram Airfield
44 laps of 3.7305kms (164.14kms)
| | | | | | |
| --- | --- | --- | --- | --- | --- |
| Result | Driver | Nat | Car | Laps | Time |
| 1 | Jim Clark | Scot | Lotus 33 / Climax 1987cc V8 | 44 | 63m 34.1s |
| 2 | Richard Attwood | UK | BRM P261 / BRM 2136cc V8 | 44 | 63m 51.0s |
| 3 | Denny Hulme | NZ | Brabham BT19 / Repco 2493cc V8 | 43 | |
| 4 | Frank Gardner | Aust | Brabham BT16 / Climax 2495cc 4cyl | 42 | |
| 5 | Kevin Bartlett | Aust | Brabham BT11A / Climax 2499cc 4cyl | 41 | |
| 6 | Roly Levis | NZ | Brabham BT18 / Ford 1498cc 4cyl | 40 | |
| 7 | Jim Boyd | NZ | Brabham BT4 / Climax 2495cc 4cyl | 40 | |
| 8 | Bill Stone | NZ | Brabham BT6 / Ford 1498cc 4cyl | 39 | |
| 9 | Red Dawson | NZ | Brabham BT7A / Climax 2499cc 4cyl | 39 | |
| 10 | Grahame Harvey | NZ | Brabham BT6 / Ford 1498cc 4cyl | 38 | |
| 11 | John Weston | NZ | Brabham BT6 / Ford 1498cc 4cyl | 36 | |
| 12 | Graeme Lawrence | NZ | Brabham BT18 / Ford 1498cc 4cyl | 36 | |
| 13 | Jack Brabham | Aust | Brabham BT23A / Repco 2493cc V8 | 34 | |
| Ret | Dene Hollier | NZ | Lotus 27 / Ford 1498cc 4cyl | 18 | Ignition |
| Ret | Jim Palmer | NZ | Brabham BT22 / Climax 2495cc 4cyl | 15 | Crankshaft |
| Ret | Dennis Marwood | NZ | Cooper T66 / Climax 2495cc 4cyl | 13 | Engine |
| Ret | Don Macdonald | NZ | Brabham BT10 / Ford 1498cc 4cyl | 8 | Overheating |
| Ret | Jackie Stewart | Scot | BRM P261 / BRM 2136cc V8 | 5 | Accident |
| DNS | Laurence Brownlie | NZ | Brabham BT6 / Ford 1498cc 4cyl | | Gearbox |
| DNQ | Peter Yock | NZ | Brabham BT6 / Ford 1498cc 4cyl | | |
| DNQ | Paul Bolton | Aust | Brabham BT7A / Climax 2499cc 4cyl | | |
Fastest laps: Jack Brabham, 1 min 25 sec (97.41 mph)
Jackie Stewart, 1 min 23.8 sec (98.8 mph) in heat * record.