1967 Round 2
Levin

Round Two: LEVIN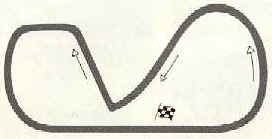 8th Levin International
In a 43-lap duel that kept patrons on their toes from start to finish, Jim Clark maintained the slightest of edges over Jackie Stewart to win the 50.5-mile Wills Levin International race on 14 January by 3 sec. Averaging 85.6 mph in the Lotus-Climax V8, Clark made amends for his defeat by Stewart in the GP the previous Saturday and again had the satisfaction of making the fastest lap by circulating the revised 1.175-mile circuit on laps 20 and 30 in 47.5 sec, an average speed of fractionally more than 89 mph. The Scots soon outstripped the rest of the 17-car field to leave the third and fourth men home, Richard Attwood and Frank Gardner, a lap in arrears at the finish. Retirements included Denny Hulme in the Formula I based Repco-Brabham V8, Jim Palmer and Dennis Marwood. Hulme went out with ignition troubles at about half distance. Palmer, in the second lap, struck oil, clouted a bank and damaged the rear suspension which forced him to retire after 12 laps. Marwood held a tenuous ninth place when forced to abandon in his 18th lap. Unluckiest of all was Australian Kevin Bartlett. A minor fire broke out in his Alec Mildren entered Brabham-Climax as the field was coming to the dummy grid and he did not make the start.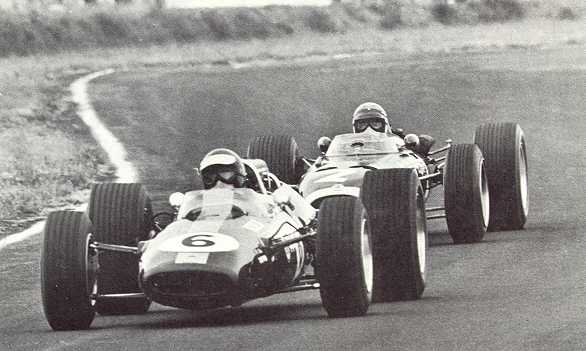 Clark leads Stewart. It stayed this way for most of the race. Brabham returned to Australia after the Grand Prix, leaving his BT19 with the Repco V8 to Hulme. Practice was held in fine weather on the previous afternoon. It was comparatively incident-free although Gardner struck oil on the new section of the track and ran out of road. Before he had regained his breath, Attwood executed a neat double spin at the same spot but caught the car and went on his way. It was Clark who made the training headlines, taking pole position for his preliminary heat with 48.6 sec, or fractionally more than 87 mph. Stewart was only 0.2 sec slower. Then came Hulme (49.6 sec), Attwood (49.7 sec), Bartlett (49.9 sec) and Gardner (50.1 sec). Fastest local lads were Palmer (50.2 sec, and Marwood and Graeme Lawrence with 51.6 sec each. Practice casualty was Smith, who broke an engine.

The heats, to determine the grid positions, got under way on race day in overcast warm conditions, the Tasman Formula drivers performing first. Clark, Stewart and Hulme had the front row, while Attwood, Gardner and Bartlett shared the second, with Palmer, Marwood and Red Dawson at the back.

Clark established his main race pattern by hitting the front from the start, closely attended by Stewart. These two constantly whittled down their times to the low 'forty-eights'. Attwood and Bartlett finished third and fourth respectively, a spin in the course of this sprint relegating Gardner from fourth to fifth spot. Hulme, lying third, disappeared in his seventh lap and Palmer abandoned with gearbox trouble.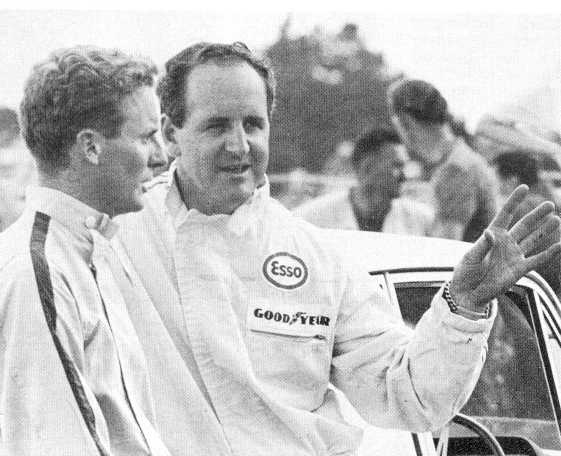 A few words of advice from Denny Hulme may have helped
Lawrence become first resident finisher. In the second heat for the 1.5-litre cars, Levis withstood a spirited challenge from Lawrence and Hollier to win. Fourth and fifth went to Bill Stone and Laurence Brownlie in a similar car. Levis cut out the race in 12 min 15.4 sec, rather slow compared with Clark's 11 min 25.4 sec. McDonald was eliminated when a collapsed rear suspension sent him into a bank. Sager was also out when a rod went through the block.

Grid positions in the feature event were allocated on the basis of the fastest lap by each driver in the heats, so when they lined up Clark had pole position with Stewart and Attwood outside him. Bartlett failed to fill the outside of the second row, as a small fire had just broken out in his car, and this left Gardner by himself. Next in line were Levis, Lawrence and Hollier; then Marwood and Dawson; followed by Stone; Harvey and Weston; then Brownlie and Boyd; with Hulme and Palmer at the rear.

Clark made a copybook start to lead Stewart and Hulme into the sweeping left-hander, but on the second lap Gardner and Attwood picked off the Repco-Brabham V8 to be third and fourth respectively. A lap later, Clark and Stewart had drawn out a 3 sec lead over Gardner, who had Attwood and Hulme in his mirrors. Then, about 200 yards back, came Lawrence with Hollier, Levis and Marwood for company. Palmer, wrestling with his now poor-handling Brabham, was drifting back in the field.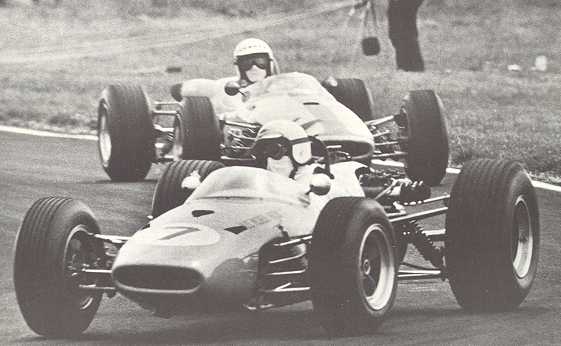 Gardner laps Lawrence to finish 4th, with Lawrence still managing 5th. With five laps behind them, Clark and Stewart were nose to tail and 8.4 sec clear of Gardner and Attwood, and Hulme was beginning to fade badly. Already the leaders were preparing to double the slower cars.

In their tenth lap Clark and Stewart doubled Palmer, who was then eighth behind Marwood. Attwood put in a bid for third place and was successful five laps later when Gardner overdid it, had a spin and lost ground. It was also on the 15th lap that both Clark and Stewart doubled Lawrence, in sixth place, for the first time. Palmer had a spin a short time later and damaged his suspension. On lap 20 Clark, now with the bit between his teeth, returned his first 47.5 sec lap and in the process took himself and Stewart past Hulme, whose engine sounded ragged. Marwood then went out when a rod went through the block and soon afterwards Hulme left the stage with engine misfire and that let Lawrence, who was going great guns, into fifth place and well clear of Hollier and Levis.

From then on main interest centred on the Clark-Stewart duel. The slightest indiscretion on Clark's part was all that was needed to let Stewart repeat his GP run. But Clark was in fine fettle and looked much more at home on the circuit than Stewart. In any event, after 30 laps, when Clark repeated his 47.5 sec effort, the two lapped Attwood and Gardner. At that stage Stewart seemed to tire a little, for Clark managed to gain some ground. However, Stewart rallied and drew in close again. Clark, with the V8 Climax sounding as crisp as ever, finally took the flag narrowly ahead of Stewart. Then came Attwood and Gardner, a lap behind, and Lawrence, who had driven a magnificent race, another lap back.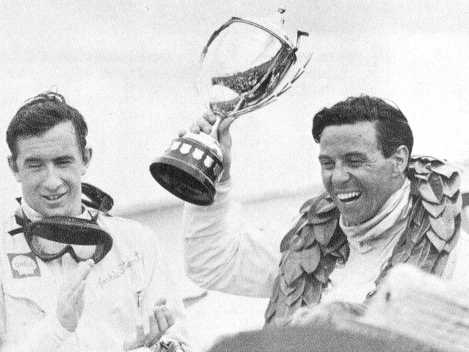 Clark holds the trophy alongside Stewart.
8th Levin International
Date: 14th January 1967
Venue: Levin
43 laps of 1.93kms (83.03kms)
| | | | | | |
| --- | --- | --- | --- | --- | --- |
| Result | Driver | Nat | Car | Laps | Time |
| 1 | Jim Clark | Scot | Lotus 33 / Climax 1987cc V8 | 43 | 34m 59.4s |
| 2 | Jackie Stewart | Scot | BRM P261 / BRM 2136cc V8 | 43 | 35m 02.4s |
| 3 | Richard Attwood | UK | BRM P261 / BRM 2136cc V8 | 42 | |
| 4 | Frank Gardner | Aust | Brabham BT16 / Climax 2495cc 4cyl | 42 | |
| 5 | Graeme Lawrence | NZ | Brabham BT18 / Ford 1498cc 4cyl | 41 | |
| 6 | Dene Hollier | NZ | Lotus 27 / Ford 1498cc 4cyl | 40 | |
| 7 | Roly Levis | NZ | Brabham BT18 / Ford 1498cc 4cyl | 40 | |
| 8 | Bill Stone | NZ | Brabham BT6 / Ford 1498cc 4cyl | 40 | |
| 9 | Laurence Brownlie | NZ | Brabham BT6 / Ford 1498cc 4cyl | 39 | |
| Ret | Red Dawson | NZ | Brabham BT7A / Climax 2499cc 4cyl | | |
| Ret | Grahame Harvey | NZ | Brabham BT6 / Ford 1498cc 4cyl | | |
| Ret | John Weston | NZ | Brabham BT6 / Ford 1498cc 4cyl | | |
| Ret | Denny Hulme | NZ | Brabham BT19 / Repco 2493cc V8 | 27 | Ignition |
| Ret | Dennis Marwood | NZ | Cooper T66 / Climax 2495cc 4cyl | 21 | Engine |
| Ret | Jim Palmer | NZ | Brabham BT22 / Climax 2495cc 4cyl | 15 | Suspension |
| DNS | Kevin Bartlett | Aust | Brabham BT11A / Climax 2499cc 4cyl | | Fire |
| DNQ | Jim Boyd | NZ | Brabham BT4 / Climax 2495cc 4cyl | | |
| DNQ | Ken Smith | NZ | Lotus 22 / Ford 1498cc 4cyl | | |
| DNQ | Don Macdonald | NZ | Brabham BT10 / Ford 1498cc 4cyl | | |
| DNQ | Ken Sager | NZ | Brabham BT16 / Ford 1498cc 4cyl | | |
Fastest lap: Jim Clark 47.5 sec (89.05 mph).