1965 Round 3
Wigram

Round Three: WIGRAM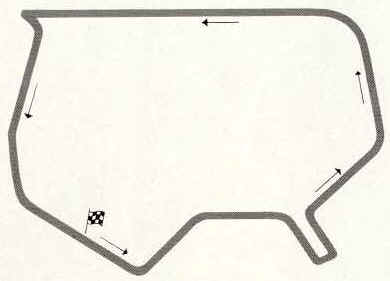 14th Lady Wigram Trophy

Jim Clark made it two in a row when he won the International Lady Wigram Trophy in the green and yellow Lotus-Climax in the record time of 64 min 19.3 sec, well inside Bruce McLaren's 1964 race-winning time of 65 min 0.8 sec in a Cooper-Climax. Moreover, Clark, in his 25-mile preliminary heat before the 100-mile feature race, set a lap record of 1 min 25.9 sec, a time that was equaled by McLaren in the trophy race itself. McLaren made his best showing of the season to come second, but at no stage looked a winner, although Clark, after half-way, reduced his pace to nurse home a car sadly lacking oil pressure. Leading resident driver Jim Palmer finally got the better of his Australian adversary Frank Gardner and brought his 2.5 Brabham-Climax home third ahead of the similarly mounted Gardner. These were the only ones in the sixteen-car field to go the full distance. Next in line were Kerry Grant (2.5 Brabham-Climax) and Roly Levis (1.5 Brabham-Ford). McLaren's American team-mate Phil Hill, who ran out the greater part of his race in fifth position, kept going until the 25th lap when his 2.5 Cooper-Climax was forced to abandon with a broken half-shaft.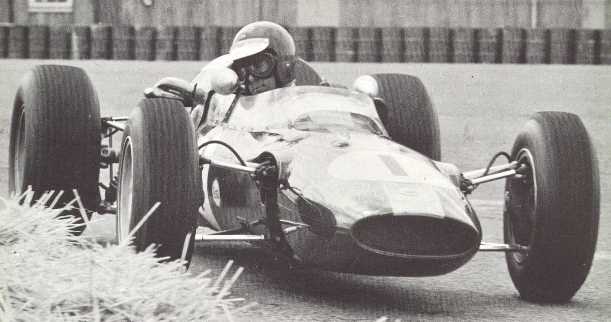 Clark again in fine winning form at Wigram. Ken Sager finally had his Brabham ready for the event and was looking for a good debut. Peter Gillum had purchased David Young's FJ Cooper T65 and entered it here for his first major race.

The Canterbury drought broke on the eve of practice day and large puddles, coupled with light rain, made conditions unpleasant for the morning training session. Consequently, times were slow with Clark in the low one-thirties and McLaren a little slower. Gardner, running on Goodyear tyres, found his car a handful in the wet and the McLaren team Coopers, fitted with hand-cut Firestones, were also rather twitchy. Hill was plagued by electrical troubles. Conditions improved for the afternoon qualifying trials and when the times were posted, Clark was at the top of the list with 1 min 26 sec, well ahead of the best practice time of 1964, 1 min 27.7 sec set by Denny Hulme (Brabham-Climax). Next came Jim Palmer with 1 min 28.6 sec, McLaren (1 min 29.4 sec), Hill (1 min 29.8 sec), Grant (1 min 30.2 sec) and Gardner (1 min 30.5 sec).

Race day proceedings started with the 25-mile preliminaries. In the first, McLaren, Gardner, Bruce Abernethy (2.5 Cooper-Climax) and Levis filled the front row. Behind them were Red Dawson (2.5 Cooper-Climax), Andy Buchanan (1.5 Brabham-Ford) and John Riley (2.5 Lotus-Climax). McLaren immediately took the lead and remained there, with Gardner, Abernethy and Buchanan following. After two laps Levis went out with gearbox trouble. Rex Flowers, who had started his 2.5 Lola-Climax from the back of the grid, lasted another lap and withdrew with an oil leak. In the eighth lap Abernethy spun at Hangar Bend and let Dawson and Buchanan up into third and fourth places, behind McLaren and Gardner. And that was how they finished. McLaren's winning time of 16 min 11.2 sec earned him pole position for the trophy race.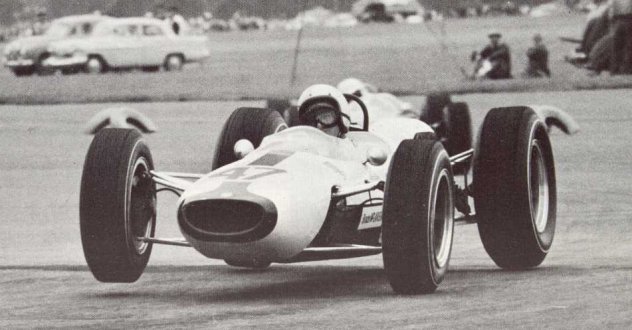 McLaren lifting a wheel at the bumpy approach to the Loop. It was Clark all the way in the second heat. Hill stripped first gear at the start and took no part. Palmer held second spot until overheating troubles forced him to ease off in the ninth lap and Grant and Bill Thomasen (2.5 Brabham-Climax) moved up to second and third places. To Clark went the honour of setting the first lap record for the Wigram circuit which had been revised in 1964.

The trophy race field lined up on the four-three-four grid, under a sky holding threat of rain which never came. In the front row were McLaren, Gardner, Clark and Grant. The rest of the formation comprised Buchanan, Dawson, Thomasen; Palmer, Riley, Lawrence, Abernethy; Gillum, Hill, Levis; Flowers and Sager.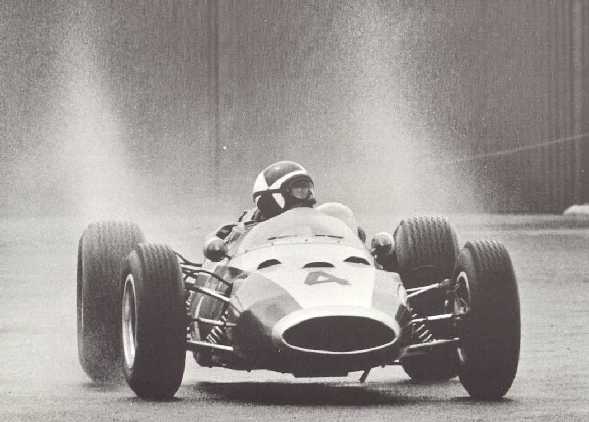 Practice day was wet as seen by the spray from Abernethy's Cooper. Mechanic Bill Hannah was still working on Abernethy's Cooper as the flag fell. Clark shot to the front, with McLaren, Gardner, Palmer and Grant in close attendance. Hill was rather badly left, as his gearbox was still not right. At the end of the first lap Clark was well clear of McLaren who had Gardner and Palmer on his heels. Grant was next, well clear of Hill, who was followed by Levis and Buchanan.




Bruce McLaren on the grid awaiting the start of the race. Lap 4 saw Flowers enter the pits with a smoking car, the result of a burst oil pipe. It was later found to have a collapsed piston as well. As Clark completed his sixth lap he began to lap the tail-enders, something that was to become normal procedure for him as the race progressed. Dawson went out at this point with another crown wheel failure. With twelve laps gone Clark was 11 sec ahead of McLaren, who was well clear of Gardner and Palmer. Hill then took Grant, who began to lose ground. Abernethy, who had started half a lap down, caught Buchanan and moved up to eighth place. Two laps later, Thomasen got by Lawrence for tenth spot. Interest now centred on the Gardner-Palmer tussle. Palmer moved in, seemingly inch by inch, and finally he made it in the course of the 34th lap. Although he did not know it at the time, Gardner had split the casing of his gearbox. Only McLaren, Gardner and Palmer remained unlapped by Clark on lap 26. Hill stopped that lap with a broken half-shaft and Abernethy made the first of three pitstops on successive laps with over-heating, finally quitting on lap 30. With Clark, McLaren and Palmer securely placed, Alec Mildren, owner and manager of the Gardner Brabham, gave his driver the 'hold position' signal. On lap 38, Riley's race came to an abrupt end with a broken universal and then Lawrence ran out of fuel on the next lap.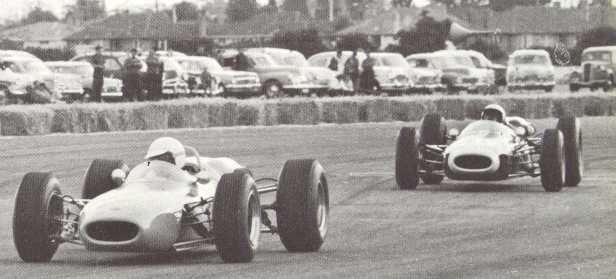 The Gardner - Palmer battle continued at Wigram.
Now Clark had problems. Engine oil pressure was falling badly and he was forced to ease up fractionally. McLaren had already made a bid, and in his 26th lap he had equaled Clark's morning record, but Clark was still 27 sec ahead with eight or nine laps left to travel, and his main concern now was to keep the McLaren pit ignorant of his trouble. This he tried to do by building up speed on the straight sections and then coasting up to the bends, but always racing past the pits at full chat. The subterfuge was successful. Clark took the chequered flag as McLaren negotiated the hairpin and was given a tremendous reception by the crowd. It was a happy moment for Clark as at his previous Wigram appearance in 1961 his Lotus had skated out of the race after aquaplaning on the drenched circuit.


Race winner Clark.
14th Lady Wigram Trophy
Date: 23rd January 1965
Venue: Wigram Airfield
44 laps of 3.7305kms (164.14kms)
| | | | | | |
| --- | --- | --- | --- | --- | --- |
| Result | Driver | Nat | Car | Laps | Time |
| 1 | Jim Clark | Scot | Lotus 32B / Climax 2499cc 4cyl | 44 | 64m 19.3s |
| 2 | Bruce McLaren | NZ | Cooper T79 / Climax 2495cc 4cyl | 44 | 64m 29.5s |
| 3 | Jim Palmer | NZ | Brabham BT7A / Climax 2499cc 4cyl | 44 | 65m 58.0s |
| 4 | Frank Gardner | Aust | Brabham BT11A / Climax 2499cc 4cyl | 44 | 66m 11.0s |
| 5 | Kerry Grant | NZ | Brabham BT4 / Climax 2495cc 4cyl | 43 | |
| 6 | Roly Levis | NZ | Brabham BT6 / Ford 1495cc 4cyl | 42 | |
| 7 | Andy Buchanan | NZ | Brabham BT6 / Ford 1498cc 4cyl | 41 | |
| 8 | Bill Thomasen | NZ | Brabham BT4 / Climax 2495cc 4cyl | 40 | |
| 9 | Ken Sager | NZ | Brabham BT6 / Ford 1498cc 4cyl | 39 | |
| Ret | Graeme Lawrence | NZ | Brabham BT6 / Ford 1498cc 4cyl | 39 | Fuel |
| Ret | John Riley | NZ | Lotus 18/21 / Climax 2495cc 4cyl | 38 | Universal |
| 10 | Peter Gillum | NZ | Cooper T65 / Ford 1473cc 4cyl | 35 | |
| Ret | Bruce Abernethy | NZ | Cooper T66 / Climax 2495cc 4cyl | 30 | Overheating |
| Ret | Phil Hill | US | Cooper T70 / Climax 2499cc 4cyl | 26 | Half-Shaft |
| Ret | Red Dawson | NZ | Cooper T53 / Climax 2495cc 4cyl | 6 | Crown Wheel |
| Ret | Rex Flowers | NZ | Lola T4 / Climax 2499cc 4cyl | 4 | Engine |
Fastest laps: Jim Clark, 1 min 25.9 sec (in preliminary heat); Bruce McLaren, 1 min 25.9 sec (in main race).