1965 Round 4
Teretonga

Round Four: TERETONGA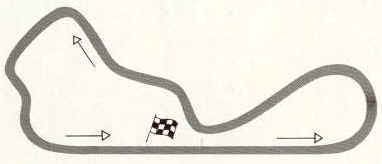 8th Teretonga International

As most followers of the international events expected, Jim Clark completed a hat-trick when he won the final round of the New Zealand section of the Tasman Championship, the Teretonga International, at a record speed of about 85 mph. He also established a new lap record of 1 min 1.7 sec in the course of his preliminary heat, which was 1.9 sec better than the figure set by Jack Brabham (2.5 Brabham-Climax) in 1963. The Flying Scotsman, in typical fashion, led from start to finish and doubled all the field once at least, with the notable exception of second man Bruce McLaren (2.5 Cooper-Climax), who finished 14 sec behind after driving his most determined race of the season. Team-mate Phil Hill turned on his best performance with the second McLaren Cooper to complete all but one of the fifty laps for third place, fairly well clear of Kerry Grant (2.5 Brabham-Climax) who was on the same lap. Jim Palmer (2.5 Brabham-Climax) and Roly Levis (1.5 Brabham-Ford) each covered forty-eight laps to be fifth and sixth respectively.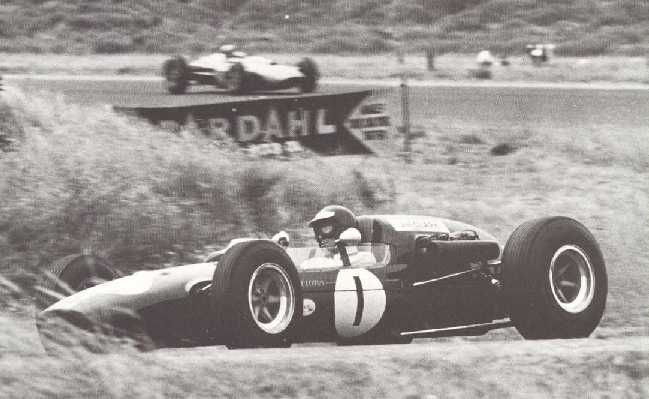 Clark completed the hat-trick of wins at Teretonga.
Unfortunately Frank Gardner went back to Australia after Wigram, otherwise the entry list was the same as Wigram. Unofficial training started two days before the race when the McLaren equipe continued tyre testing. Smaller sectioned front tyres were fitted to the rear wheels of the Coopers and second sets of fronts were buffed down to reduce drag and fitted on the front wheels. With his Cooper so equipped, Phil Hill managed a 1 min 4 sec lap, and that persuaded Clark to bring out his Lotus and return 1 min 2 sec.
On official practice day the McLaren cars were tried with 13 inch wheels and Firestone sports tyres, but they proved less effective than the Indianapolis-style tyres so both cars were re-booted as they had been the previous day. In blustery conditions in the qualifying trials, Clark returned a sizzling 1 min 1.2 sec. Next in line were McLaren (1 min 2.5 sec), Hill (1 min 2.8 sec), Palmer (1 min 3.5 sec), Grant (1 min 4.4 sec) and Levis (1 min 5.6 sec). All of these times were inside the lap record. Palmer made a final effort to improve his time and ran off the road coming out of the Loop. The Brabham hit a post and the suspension was badly damaged so there was an all-night repair session to get the car ready for the race.
On race day Clark, Hill, Grant and Buchanan comprised the front row of the grid for the first six-lap heat and they finished in the order in which they had lined up. Clark's time was 6 min 19.4 sec which included the new lap record. McLaren won the second heat easily in 6 min 21.5 sec from Levis. Rex Flowers was third and Dawson was fourth.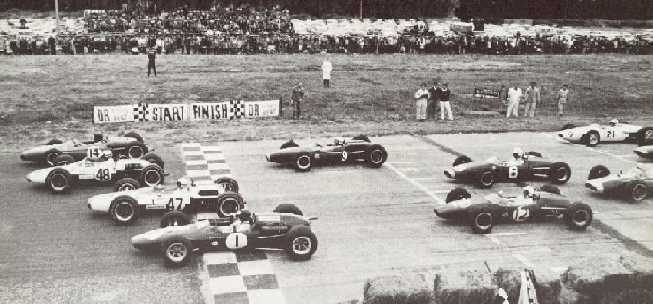 Start of the main race. When the four-three-four grid was positioned for the 75-mile feature event, Clark had pole position with McLaren, Hill and Grant outside him. Behind were Levis, Buchanan, Thomasen; Flowers, Dawson, Riley, Lawrence; Palmer, Sager, Gillum. On his own at the rear was Bruce Abernethy who, by mischance, had managed to tear out by the roots the Cooper gear lever early in his heat.

Clark, for once, was a little slow away but once he started moving he was able to out-drag McLaren, Grant and Hill up to the long loop at the end of the straight, and at the end of the first lap this quartet was followed by Palmer, Flowers, Riley, Dawson and Buchanan. The rest were well back.

In three laps Clark drew out 3 sec on McLaren, and Hill moved past Grant to third place, while Palmer drifted back. Two laps later Buchanan made the first of a number of pit stops to remedy a slipping clutch, and Flowers had his accelerator jam in the closed position and was unable to get going again. Sager had gone off the course on lap 5 and was unable to continue. Clark settled to lap consistently in about 1 min 3 sec and began doubling the tail-enders after eight laps.


The field parading through the first corner in grid formation.

McLaren made a cool and calculated effort to win his fifth Teretonga International and at about lap 20 managed to pull alongside the Lotus leader, but Clark cracked on the pace once more. This duel took the pair well clear of Hill, Grant and Palmer, and in the course of it, both lapped Levis who was running sixth.

Buchanan retired on lap 30 and Gillum's Ford motor blew on the same lap. Dawson officially moved into ninth ahead of Riley on that lap after a race long tussle. But Riley took it back on the very next lap. In his 30th lap Clark lapped fourth man Grant, who was well clear of Palmer. At that stage McLaren was 4 sec behind the leader, but five laps later Clark had widened the gap to 10 sec. He had worries as the engine started to overheat, but pressed on and in lap 38 he doubled Hill, who was evidently finding his car rather a handful.


John Riley (Lotus-Climax) about to be lapped by Phil Hill.
It was obvious that if Clark could keep going he would notch his third New Zealand win, and keep going he did. He finished the New Zealand section of the Tasman Championship with eighteen points to the fifteen of Gardner and the twelve apiece of McLaren and Palmer. The scoreboard gave more than a hint of things to come in the Australian section of the series.
8th Teretonga International
Date: 30th January 1965
Venue: Teretonga Park
50 laps of 2.4138kms (120.69kms)
| | | | | | |
| --- | --- | --- | --- | --- | --- |
| Result | Driver | Nat | Car | Laps | Time |
| 1 | Jim Clark | Scot | Lotus 32B / Climax 2499cc 4cyl | 50 | 52m 58.9s |
| 2 | Bruce McLaren | NZ | Cooper T79 / Climax 2495cc 4cyl | 50 | 53m 12.4s |
| 3 | Phil Hill | US | Cooper T70 / Climax 2499cc 4cyl | 49 | |
| 4 | Kerry Grant | NZ | Brabham BT4 / Climax 2495cc 4cyl | 49 | |
| 5 | Jim Palmer | NZ | Brabham BT7A / Climax 2499cc 4cyl | 48 | |
| 6 | Roly Levis | NZ | Brabham BT6 / Ford 1495cc 4cyl | 48 | |
| 7 | Bruce Abernethy | NZ | Cooper T66 / Climax 2495cc 4cyl | 48 | |
| 8 | Bill Thomasen | NZ | Brabham BT4 / Climax 2495cc 4cyl | 48 | |
| 9 | John Riley | NZ | Lotus 18/21 / Climax 2495cc 4cyl | 47 | |
| 10 | Red Dawson | NZ | Cooper T53 / Climax 2495cc 4cyl | 47 | |
| 11 | Graeme Lawrence | NZ | Brabham BT6 / Ford 1498cc 4cyl | 45 | |
| Ret | Peter Gillum | NZ | Cooper T65 / Ford 1473cc 4cyl | | |
| Ret | Andy Buchanan | NZ | Brabham BT6 / Ford 1498cc 4cyl | 30 | |
| Ret | Rex Flowers | NZ | Lola T4 / Climax 2499cc 4cyl | 6 | |
| Ret | Ken Sager | NZ | Brabham BT6 / Ford 1498cc 4cyl | 5 | |
Fastest lap: Jim Clark (in heat) 1 min 1.7 sec. (record)