1965 Season

THE 1965 SERIES
The 1965 season marked the second year in the life of the Tasman Formula and it vindicated the opinions of those people who, some eighteen months previously, had reached the conclusion that Formula Libre racing in this part of the world should be abolished at the international level and replaced by a formula that would enable all contestants to race on a more-or-less equitable basis.
At the end of the 1964 season the results showed that New Zealand and Australian resident drivers were at last more favourably situated in the international competition, which then comprised four races in each country. This healthy state of affairs continued in 1965. For the first time, overseas drivers did not have things all their own way although, as was generally expected, they did carry off the laurels.
With the Australian-entered Scuderia Veloce Brabham-Climax, Graham Hill won the New Zealand Grand Prix with consummate ease in record time. It was a race robbed of much interest by the absence of other favoured runners, but enlivened by the first in a three-round battle between the likeable Australian Frank Gardner and the national champion Jim Palmer in their very evenly matched Brabhams.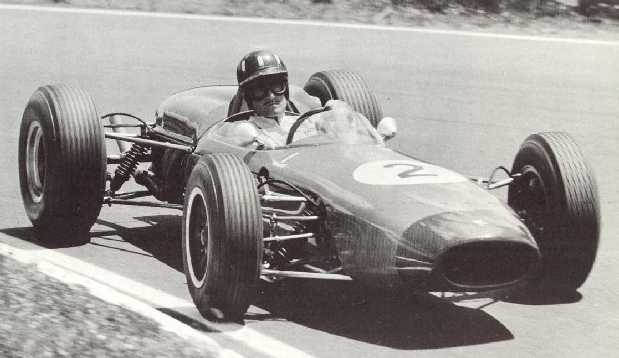 Graham Hill (Brabham-Climax) on his way to a NZGP win.

The Grand Prix demonstrated once again that car preparation and efficient management are the prime requisites for success in motor racing. David McKay, heading Scuderia Veloce, put Hill's car on the grid in A1 condition. Much of the credit for the preparation must go to Spencer Martin, a young man who is not only a first-class racing mechanic but also a racing motorist in his own right. There was an air of quiet confidence in the Scuderia Veloce ranks and the Pukekohe race proved that it was not misplaced. It was significant that McKay did not instruct Hill to ease his pace when he was well in control of the situation. In the 47th lap the Londoner returned 1 min 26.2 sec, only 0.1 sec beyond the lap record which had been established jointly by Frank Matich and Denny Hulme in the heat of battle in 1964. That was just three laps from the finish, the time when most drivers in advantageous positions keep their fingers crossed and team managers order the exuberant to nurse their cars.

Lotus driver Jim Clark was only fractionally slower than Graham Hill in the training sessions and everyone conceded him an excellent chance, although it appeared that the Lotus crew lacked experience of the 2.5 FPF Coventry Climax engine. However, after winning his heat easily, Clark was eliminated in a second lap shunt with Bruce McLaren. At the later international events Clark had things very much his own way, although on each occasion engine troubles could have cost him victory. Under the circumstances, race patrons saw Clark at his best and his wins were a tribute to his remarkable driving talent and mechanical sense, as well as to the superb Chapman chassis design.

The American tyre companies' bid for a place in the sun in European-style racing rocked the boat a little this season although nothing but good can be expected from such a development. It all started with the South African Grand Prix when Jack Brabham switched his team cars to Goodyear tyres. Gardner, with the Alec Mildren Brabham was similarly equipped in New Zealand, but it was the appearance of Firestone in the Bruce McLaren Motor Racing camp at Pukekohe that really set things humming and caused Dunlop to produce its very latest tyres much earlier than expected.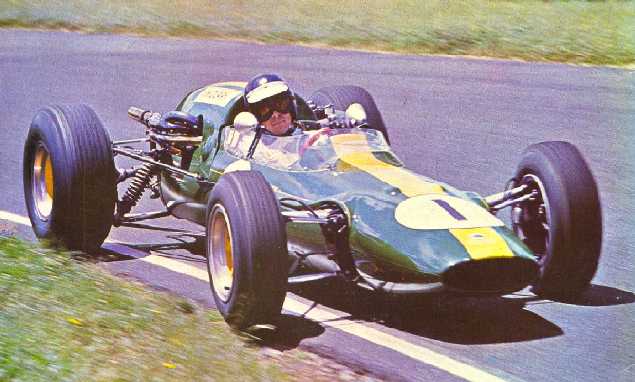 Clark (Lotus-Climax) at Pukekohe prior to his shunt.

Although the race track is regarded in some quarters as the most effective proving ground for new components as well as fuels and tyres, most proving is undertaken in race test driving rather than in actual competition. The McLaren equipe suffered because circumstances had made it impossible for the New Zealander and his American team-mate, Phil Hill, to undertake a really exhaustive pre-race testing program with the 15in wheels required for the Indianapolis-style tyres. The indifferent performances of the 2.5 Cooper-Climaxes were attributable not to the tyres but to the fact that the cars had been designed to run on 13in wheels. The bigger wheels resulted in handling problems which would normally have been sorted out long before the cars reached the starting grids. As it was, the necessary modifications (and some were make-shift in the extreme) had to be made between races, with never enough time for anything more than a few fleeting laps of testing. Despite these difficulties McLaren was able to run the Wigram and Teretonga races in faster times than those which gave him his 1964 victories, and in Australia once 13in wheels became available McLaren won the Grand Prix at Longford to finish the Tasman series runner-up to Clark, while Phil Hill recorded a well-merited third place. There is no doubt that if time had been on their side the Cooper-Climax drivers would have made a much better showing in New Zealand.

The series was enlivened by the closely-fought contest which developed between Gardner and Palmer. The Australian has recently joined the ranks of the world championship contenders and is commonly regarded as one of the most promising men in the business. Palmer ran him hard in the Grand Prix and again at Levin to finish third and only a few seconds in arrears on each occasion. Palmer turned the tables at Wigram to finish third behind McLaren, with Gardner fourth. Gardner did not race at Teretonga and Palmer, who had a training session crash, did not show his usual form. On this occasion it was Kerry Grant who was first resident driver to finish in fourth place behind Clark, McLaren and Phil Hill. Palmer was fifth.

This was definitely Palmer's finest season to date and he showed himself capable of footing it with the best of them. Grant, having his first season in single-seaters after dominating saloon racing, made a good impression. Driving the older Brabham of Lesco Racing at Levin, for instance, he easily outstripped everyone except Clark in the first ten laps of the feature race. In fact, he was only 3 sec behind Clark when he dropped a wheel in the rough at Cabbage-tree Bend and lost his chance. But those laps showed that he has tremendous potential.

It became obvious the previous season that any possibility of 1.5-litte cars being more competitive under the Tasman Formula was a forlorn hope. Although these Ford-based single-seaters have improved immeasurably, they are no match for the Tasman cars with their 2.5 engines.




Leo Geoghegan (Lotus-Ford) at his only New Zealand appearance. Australian Leo Geoghegan drove a well-judged, steady race for sixth in the Grand Prix with his Lotus-Ford 32 and then returned home, which was rather a pity because New Zealand's leading 1.5 exponent of the 1965 season, Roly Levis, did not have a chance to match skills with him here. Levis struck tremendous form this year to take sixth place at Levin, Wigram and Teretonga.

In his class Levis had a big advantage over Andy Buchanan, Graeme Lawrence and Ken Sager with their older Brabhams. Lawrence was having his first single-seater season and wisely contented himself with learning the game by following the more experienced hands. Sager, who made his name as a hill-climber, was consistent all season, but not really competitive.

Although the older 2.5-litre cars are very much in the picture in national events they lack what it takes in the international field. Riley with the ex-Shelly Lotus-Climax and Flowers with the 1963 Grand Prix winning Lola-Climax profited from the misfortunes of others at Pukekohe to finish fourth and fifth, but the problems associated with keeping older racing cars up to scratch proved too much for them. Bill Thomasen with his comparatively new 2.5 Brabham-Climax should have been a major force.

Bruce Abernethy was given the berth in the Rothmans 2.5 Cooper-Climax. His dashing performances in an antiquated 2-litre Cooper in 1964 led some to believe that here was an international driver, given the right car.