1964 Season


Bruce McLaren (Cooper-Climax T70).
THE 1964 SERIES
The 1964 season produced some first-class competition, where the racing was in dispute right to the end. But the fall in attendance's that became evident from the previous year continued, probably because of the scarcity of big names. The public may have been rather spoilt in the past for at one time or another most of the currently famous drivers have appeared in New Zealand. This year the visitors, apart from former world champion Jack Brabham, the late Timmy Mayer and Australians Frank Matich and John Youl, three unfamiliar names to the locals, were confined to New Zealanders Bruce McLaren, Denny Hulme and Chris Amon. Nevertheless, they produced far better racing than had been seen in New Zealand for many a day.
The season showed how ably New Zealand is represented in international racing. McLaren, of course, has been at the top for a number of years. Hulme has a solid reputation in Europe but most New Zealanders had little idea of his potential until his brilliant Levin win. Chris Amon, who turned twenty-one in August, won favour in Europe in 1963 when he contested some world title races but he had little opportunity to show his skill when he returned home.
McLaren, with three New Zealand wins, was the star and he went on to win the Tasman Championship. From the moment the Tasman Formula was introduced he made every post a winner by forming a special company and building two cars for the tour. He brought five engines, four transmissions and innumerable spares, and confounded sceptics who suggested his team was over-staffed and over-equipped. The McLaren equipe was the smartest and most efficient yet seen here and provided an object lesson in the methods that must be employed to achieve success. But the victory was soured by the tragic death of Mayer in a crash during practice for the final race in the series on the Tasmanian Longford circuit. Timmy Mayer won the affection and respect of all who met him and his second places at Levin and Teretonga and third at Pukekohe marked him as a driver of great promise.
Although Brabham could not race at Levin and Teretonga he again gave his wholehearted support by competing at Pukekohe and Wigram and he entered Hulme in all events. But for him the season was a poor one. What can only be described as indiscretions cost him excellent chances of Grand Prix and Lady Wigram wins. His published remarks after his Pukekohe crash, when he blamed a leading resident driver, Tony Shelly, were not only out of character but quite unjustified. The report of officials who witnessed the affair completely cleared Shelly. There was a certain similarity about the Wigram incident when, towards the end of this very close race, Brabham lost the lead to McLaren by attempting to pass a slower car on the outside in the tricky Loop and slid on the fine screenings at the side of the circuit. The only serious crash that Brabham has had in a long and successful career arose from much the same sort of situation in the 1959 Portuguese Grand Prix.
With fourth places at Levin, Pukekohe and Wigram, and a second at Tauranga, the Tasmanian grazier John Youl was one of the most consistent performers with his oldish ex-Brabham Cooper-Climax. Youl's task was not easy for the car suffered from transmission trouble and lacked the power of the Tasman Formula models. This tall, likeable, amateur driver would be a welcome return visitor, particularly with a more competitive car.
Frank Matich of Sydney, who raced a lightweight Brabham-Climax similar to Brabham's own, had no luck. He set a lap record at Mount Maunganui and shared another with Hulme at Pukekohe but mechanical upsets robbed him of places in both events. A forceful and stylish driver, Matich adds interest to any international race field.
There were few surprises among local competitors. Jim Palmer could not foot it with the cars of leading overseas drivers. Tony Shelly again showed that he can be the fastest resident New Zealand driver on his day, but he lacks the consistency of Palmer. His car, an outdated Lotus-Climax, was not competitive in the international events.
The shorter races at Pukekohe and Wigram allowed drivers to press on without too much worry about conserving their tyres. Lap speeds increased at Pukekohe and Levin. There was no basis for comparison at Wigram where the circuit was fractionally lengthened and made more difficult by the introduction of the controversial Loop. The condition of Teretonga Park was not conducive to records as it still needed another season for the surface to properly cure.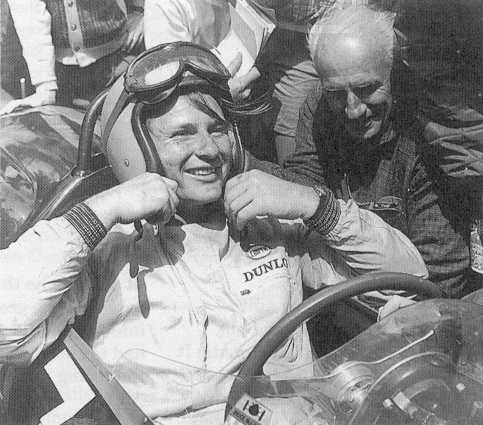 A happy Bruce McLaren with his father Les.