Ardmore Circuit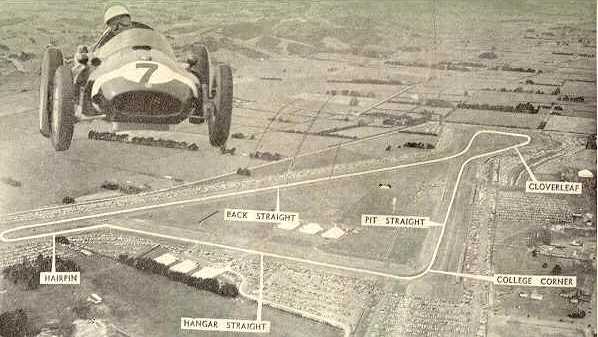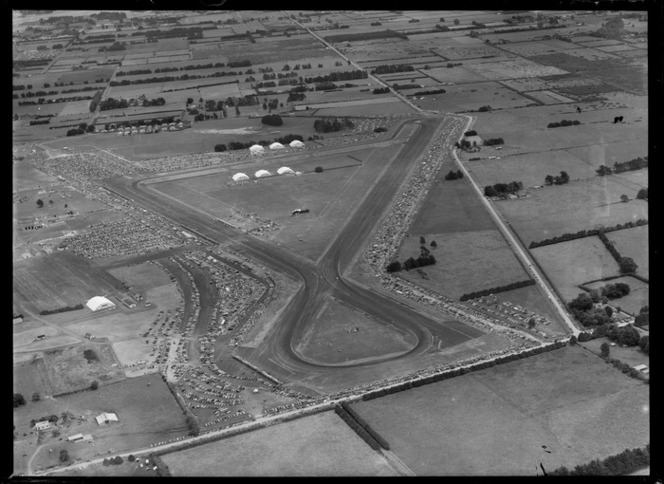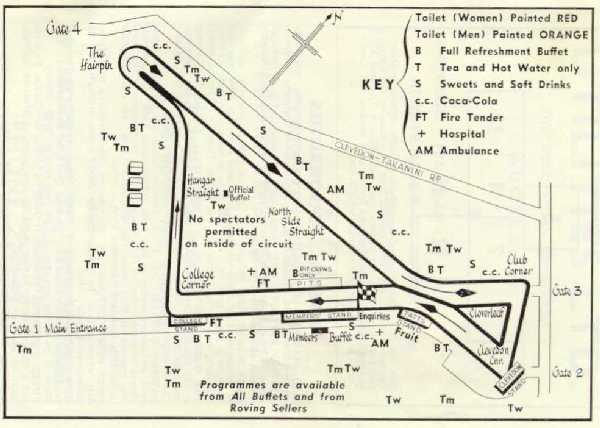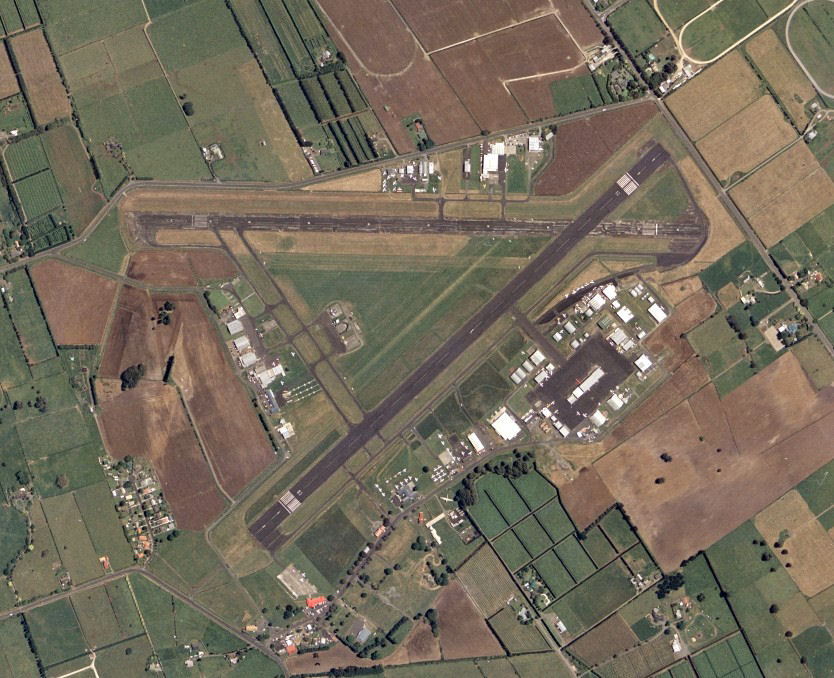 Ardmore Airport as it is today. Top of Cloverleaf is gone and Hangar Straight grassed in the centre.
The Ardmore course, New Zealand's most famous motor racing circuit of the 50's and 60's, was laid out on an airstrip 30 km (20 miles) south of Auckland and was controlled by the Civil Aviation Department.
Apart from its one big meeting a year, its main uses were as a service point for topdressing aircraft and for the activities of the Auckland Gliding Club.
Laid down during World War II, Ardmore was used as a preliminary flying training aerodrome, and the military buildings were used long after the war as a residential teacher's training college and also by Auckland University as its School of Engineering.
The course itself was far from ideal for racing from the driver's point of view, but splendid for spectators. It was one of the few major circuits in the world were people on the stands could literally see the whole of the course.
An uneven X in shape, the circuit was laid out on the intersecting airstrip, was almost perfectly flat, and exactly 3.2 km (2.1 miles) in length.
For the first two years (1954 and 1955) the race was run in an anti-clockwise direction, and there was no hairpin, with the course being 3 km (2 miles). From 1956 the course was altered to what is shown in the pictures above, and the races were run in the opposite direction.
Cars started at the eastern end of the pit straight, had close on 800 metres (½ mile) to the notorious right-angled College Corner, scene of most of the mishaps.
From College Corner, they entered the narrow Hanger Straight, normally a service road for the airstrip, and in little over 400 metres (¼ mile) had to negotiate a very slow hairpin into the back straight. This was the acceleration and maximum speed test of the circuit. The straight was 1.2 km (¾ mile) before easing into the Cloverleaf section.
This was formed at the short end of the X, by lining out with hay bales and drums a section which embraced a fast left hander into the Cloverleaf, two medium paced right handers, and a fast left hander out into Pit Straight, 400 metres (¼ mile) from the line.
Apart from the Hanger Straight and the top leg of the Cloverleaf, the track was extremely broad. There was only one death on the circuit. That occurred in a Sports Car support race prior to the 1957 New Zealand Grand Prix, when British driver, Ken Wharton was killed after his Ferrari rolled and hit a tower. (Ken Wharton accident pictures).
1962 saw Ardmore used for the last time, as it had to revert back to operational status as an aerodrome during the building of the new airport at Mangere. A new circuit was built at Pukekohe, 56 km (35 miles) south of Auckland, and became host of the 1963 NZGP and is still used today.

Back to New Zealand Grand Prix