First New Zealand
International
Grand Prix 1954


Remember the date - January 9, 1954. That was the day full-scale grand prix racing came to New Zealand with the running of the first New Zealand Grand Prix at the Ardmore course, 30 kms (20 miles) south of Auckland.

It was a day of drama in every respect, with one of the most colourful of fields assembled, and certainly the most exciting racing of the whole series, as favourites broke down and outsiders came home.

It was a wonderful day for New Zealanders, some 70,000 of whom turned up despite threatening weather (there was a light drizzle at one stage during the race which never amounted to much) to see some of the world's fastest cars and drivers, to be thrilled by the sight of their own champion driver, Ron Roycroft, running his Alfa-Romeo into fifth place in open company.

And what a day of ups and downs it was, from the spectacular win by Australian Stan Jones in the makeshift Maybach Special patched up hurriedly on the eve of the race, through the equally spectacular blow-up of Peter Whitehead's Ferrari and the failure of the front brakes of Ken Wharton's BRM, to the eventual flurry of protests.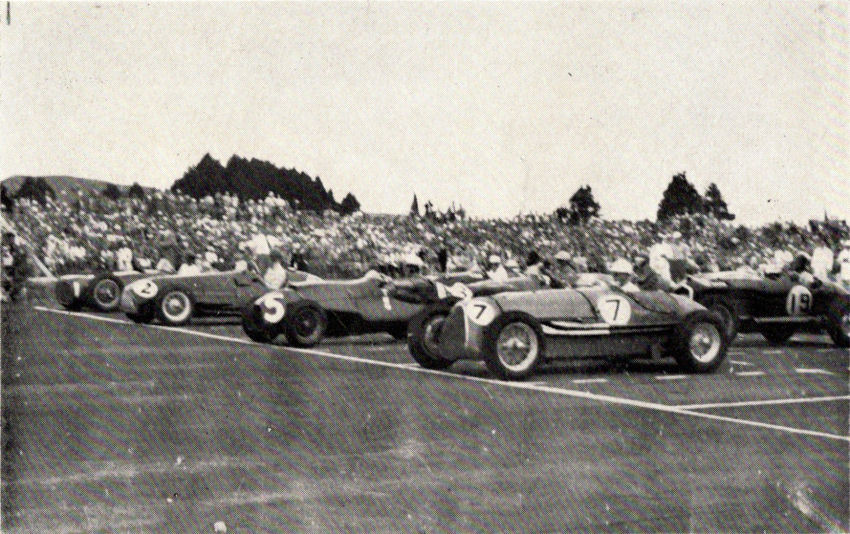 From left: Wharton (BRM) Pole, Whitehead (Ferrari), Gould (Cooper-Bristol) and Jones (Maybach Special).
Motor racing in New Zealand grew up in a bound from scrambles around airfield perimeters and on the beaches to the big-time, with an event which was destined to become one of the richest Formula Libre events in the world - open go for everyone with a car, regardless of engine size or design, provided it had four wheels and could qualify in practice.
Looking back today, the field for that first New Zealand Grand Prix was a motley line-up, ranging from the up-to-the-minute machines of the overseas visitors down through pre-war New Zealand-owned cars to an assembly of specials, a gaggle of tiny Formula III Coopers, and a bunch of sports cars.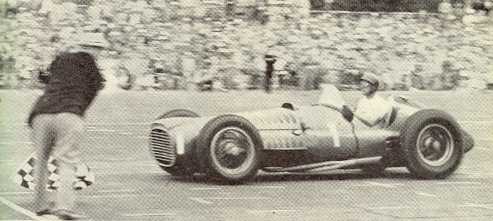 Ken Wharton (BRM)

Top of the field was the fantastic 16-cylinder blown 1½ -litre BRM driven by Ken Wharton, the most complex piece of motor machinery ever developed. With a motor no bigger in cubic capacity than a family saloon, of its day, like the Morris Oxford, the BRM produced close on 450 brake horsepower.

But it had to achieve fantastic engine revolutions to do so, running up as high as 12,000. Starting the BRM was a terrifying business. The car didn't develop enough power to leave the line without stalling until 8000 revs were showing on the clock. At 7000 she stalled, at 9000 the wheelspin was awe-inspiring. It was a tricky business.

A better bet for public favour in this first race was Peter Whitehead's V12 two-litre Ferrari, also blown, while Australian Tony Gaze had brought from Britain an HWM with a blown two-litre Alta motor, a car which was to be seen frequently in New Zealand in later years.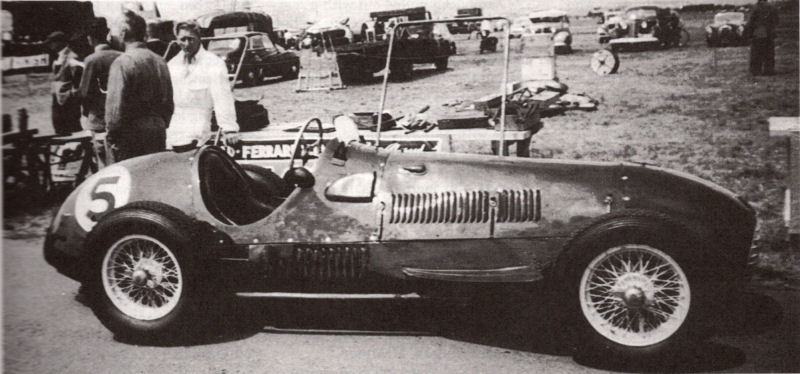 Peter Whitehead's V12 2-litre Ferrari 125. In addition to these drivers, well up on the list of Britain's best (Wharton was in fact the leading British driver around 1953), there were two less experienced, the ebullient Horace Gould and Fred Tuck, both of whom had 2-litre Cooper-Bristol's, then still in their hey-day.

From Australia was entered the Maybach Special, a car with perhaps the oddest history in all motoring. The block from which it took its name came from a tracked Maybach scout car, wrecked in the Western Desert, shipped to Australia for study, and eventually bought for £40, by engineer Charlie Dean, a research man for Repco.

This 3.8-litre straight-six overhead camshaft motor was enormously modified by Dean (the man who first made a standard Holden top the 100 mph mark) and the car was built around it from a variety of parts from other cars, then raced by Stan Jones with considerable success. He won the Victorian Trophy three years in a row and also came second in the 1952 Australian Grand Prix.

Other Australian entrants were Lex Davison, with an HWM-Jaguar, Lou Molina in a Holden special, and Tom Hawkes in an Allard Special. This car was the 1950 Australian Hillclimb Champion in the hands of Stan Jones. Also present was a quiet, fresh-faced 27 year old, ex midget champion, named Jack Brabham, just finding his feet and hands in a Cooper-Bristol, called the Redex Special, which had come into his ownership more or less by chance.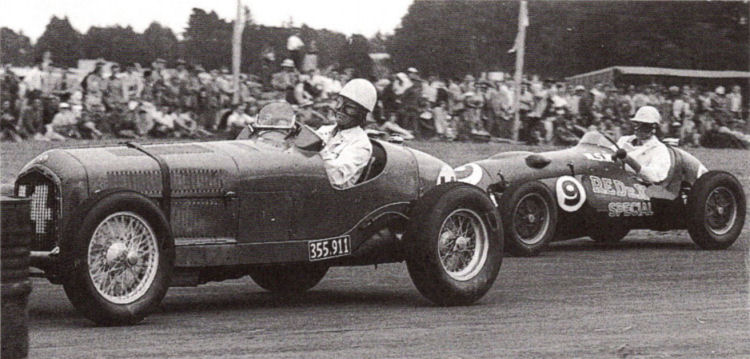 John McMillan (Alfa Romeo) ahead of Jack Brabham (Cooper-Bristol). To face all this up-to-date machinery, New Zealand could muster only some splendid veterans - the 2.9-litre blown 1934 P3 Alfa-Romeo's of Ron Roycroft and John McMillan, and the black 2.9-litre Tipo 8CM Maserati of Fred Zambucka and some fast specials.

Most famous of them were George Smith's old GeeCeeEss, which had been fitted with a Chrysler V8 5.4-litre motor in place of its familiar Ford V8. The leading South Islander, Hec Green, brought his RA Vanguard up from Christchurch. Morrie Stanton drove a Gipsy aero-engined Stanton Special and Phil Neill, from Auckland, a FSS-Ford BH Special.

Four Formula III Coopers started. The Wellington driver Allan Freeman had a JAP-engined Mk IV car, and Bill Lee had a newer Norton-engined Mk VI. Peter Harrison had a Mk II JAP and Arnold Stafford shared the wheel of his Mk VII Norton machine with yet another English immigrant, Ron Frost of Levin. There was also a JBS, a similar car in appearance to the Coopers. Fitted with an 1100cc JAP engine, it was driven by Syd Jensen.

Last but not least, came the sports-cars, a class comprising three new Austin-Healeys, driven by David Crozier of Christchurch, Keith Roper of Nelson and Ross Jensen of Auckland.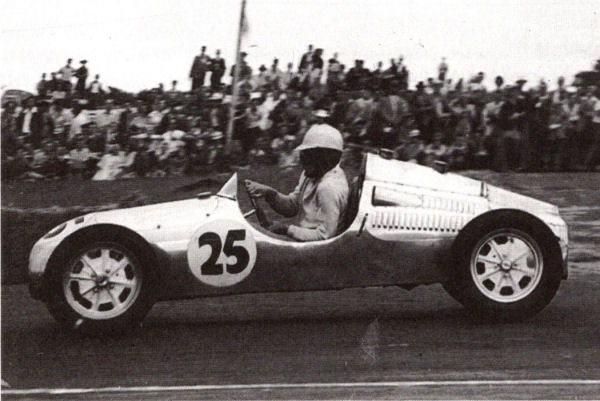 Allan Freeman (Cooper-JAP T11). First practice-day brought its moments of difficulty. The principal one being a last-minute modification of the course itself. The fast cars, particularly the BRM, were spinning regularly on the corners at the Western end of the course, where the long legs of the X were joined by a service road.

The present hanger straight was substituted and has since proved entirely satisfactory, speeding up the circuit and providing for a hairpin in the south-western corner.

Once the modification had been made, lap times began to come down. Before the change, Whitehead, though not extended, had put in a lap of 1m 53s, better than the others to that time.

Then on the new one he brought his lap time down to 1m 34.9s for the 2.1-mile course, better than 80 mph. He was followed by Jones in the Maybach (surprise number one) at 1m 35.3s, Gould at 1m 36.1s, and Wharton at 1m 36.3s.

But on the second practice-day, two days before the race, disaster struck two competitors. A connecting-rod went through the crankcase of the Maybach, and George Smith's special blew a piston.

Then began an epic struggle to get the Maybach ready for the big race. Dean (who was on the spot) phoned Australia for parts. They could not be got to Auckland in time. Nothing daunted, the crew set about scouring the city for makeshifts. They got a GMC con-rod, a machine shop made up a new cylinder-liner, patches were fabricated for the crankcase. All Friday afternoon and night the crew toiled in Shorter's garage while Jones slept in preparation for the race he might not run.

At 10.40 in the morning the miracle happened. The motor was turned, coughed, sprang into life. It was test run for a few minutes, hurriedly taken out to Ardmore, and the finishing tuning done on the course. And this was the car which won the race!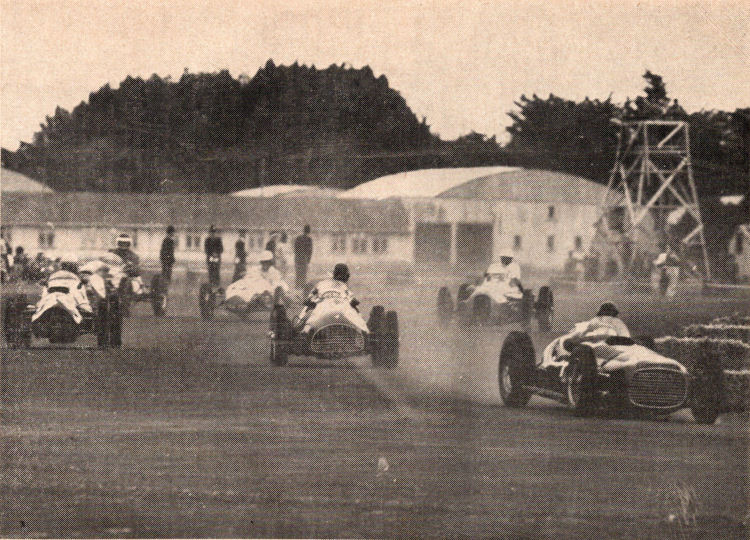 Just after the start, Wharton in lead, followed by Whitehead and Gould on the left.

The line-up on the grid was front row, Wharton on pole. Next to him Whitehead, Gould and Jones. The next row had Freeman, Roycroft, Davison and Brabham.

The big moment was the start of the main event, when as the flag was dropped by president Phillip Seabrook, Whitehead shot away from the pole position, ahead of the BRM and Jones, with Gould close behind.

But on the back straight, the enormous acceleration of the BRM carried Wharton through to the front; he held the lead out of the hairpin into Hanger Straight (the course was run anti-clockwise for the first two races), and after the first lap Wharton was clear in the lead from Whitehead, Gould and Jones.

Two cars came in for brief pit-stops at the end of that lap, Tony Gaze and Ron Roycroft, but they were away again in seconds without losing significant ground.

The distinctive high-pitched scream of the BRM dominated the race, whining high above the open-throated roars of the other cars, and by the end of the fourth lap Wharton was well ahead of Whitehead and had lapped the last car, Hawke's Allard. Jones was then just ahead of Gould in third place.

With 10 laps gone, the order was Wharton, Whitehead, Jones, Gould, Gaze, and Ron Roycroft, who had by this time worked steadily through the field.

Three laps later came one of the vital moments of the race. Rounding College Corner into the straight, Whitehead spun up, clouted a marker drum and stalled. With the help of marshals he pushed the car clear, started again, and sped off, it was thought still clear of the field. But later it was claimed that several cars, including Gould's Cooper-Bristol, had slipped past during the confusion without being noticed by the lap-scorers.

And on the same lap Whitehead, storming along the back straight at something about 130 mph, suddenly found himself completely minus clutch, the whole clutch and housing disintegrating and many pieces hurtling into the cockpit. Whitehead was lucky to escape with a minor cut above one eye.

This let Jones into second place, and by lap 23 Wharton had lapped the field with the exception of the Maybach and Gould's Cooper-Bristol.

On Lap 27, Gould came in for a pit-stop which was again the subject of later dispute. According to observers on the spot, Gould lost a place only to Gaze; according to the official record he dropped a whole lap, back to eight or ninth place.

With little change in the order, the cars sped endlessly round the circuit. Brabham was playing tag with Roycroft, but allowing the Alfa-Romeo to make the running; he had blown a head gasket in the Cooper-Bristol and was not anxious to force his motor any further.

And Molina's Holden and Tuck's Cooper-Bristol had both fallen by the wayside. Molina early on with mechanical trouble. Tuck later with fuel and oil lead breaks which finally put him out on the 80th lap.

Other Australians and New Zealanders were not in the hunt for major placings, though there were several individual dogfights further back in the race.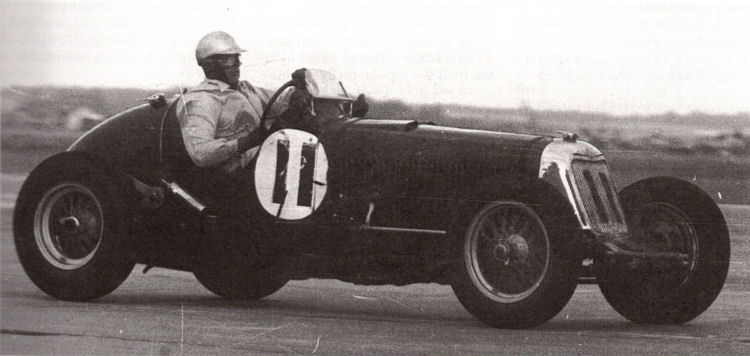 Fred Zambucka (Maserati 8CM). On the 45th lap, Wharton came in for fuel and tyres, the heavy BRM burning up its rubber fast on the turning Ardmore circuit. Mechanics swarmed around the car, and in 44 seconds it was away again, though not fast enough to prevent Jones taking the lead.

The Australian held it for five or six laps before Wharton shot by into the lead again, but only 14 miles further on the BRM shot out puffs of smoke when braking for the hairpin. Wharton continued to the pit in a cloud of vaporising brake fluid, to find that the lead to the disc brakes on the front had fractured.

"Can something be done?" he inquired anxiously.

But the damage was irreparable. In three minutes the mechanics had sealed off the front leads, leaving Wharton only his rear brakes and his gears to complete the race.

At this stage, the field was down to 16, with Jones out in front and Roycroft running a highly-creditable second. Overtaken by Wharton, he held third place until the 76th lap, when Gaze and Gould staged a burst of speed which brought Gaze up to second and Gould to fourth.

It was short-lived, however, for Gould was forced to stop for fuel on the 81st lap and Gaze, again for fuel, in the 92nd. Wharton slipped through into second place again, and for the remainder of the race held his lead over Gaze despite losing two-thirds of his braking-power.

The closing laps had narrowed the gaps, and the cars finished in the same order - a steady, finger-crossing Jones, a disappointed Wharton, Gaze, Gould, Roycroft, Jack Brabham and Ross Jensen, who had driven a splendid race to bring a standard sports car home among the leaders. Close behind was the tiny Cooper 500 of Frost and Stafford.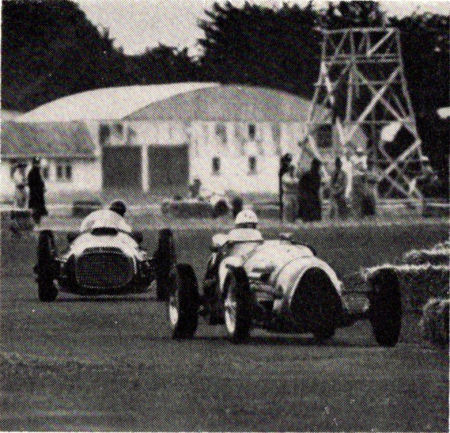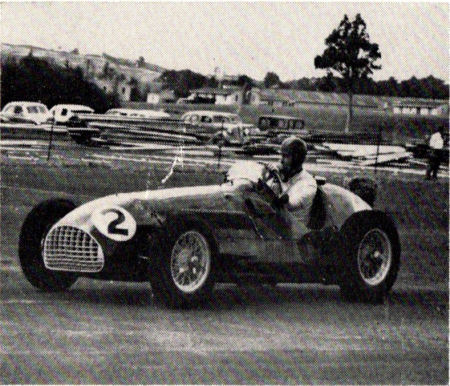 Jones leading Wharton. Whitehead.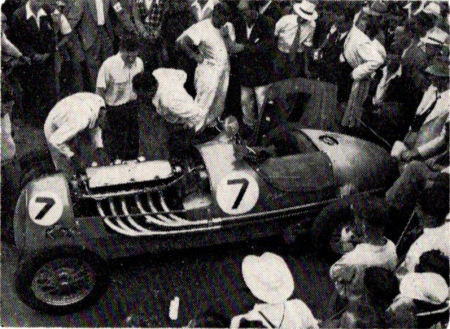 The Maybach receiving attention.
Then the fun started. Gould claimed, supported by his pit crew, that he had run 101 laps and finished first; he said that he had deliberately refrained from passing Jones on the last lap because he knew he was a lap ahead of Jones.
The protest was entered and upheld by the stewards, Gould being moved up to second place, the others relegated. Then Wharton and Gaze protested, and Gould was puzzled. Either he had won, or he had been fourth, he said; he couldn't have been second.
There was a tremendous flurry from that point on, with a thorough check on all the records. The Organisation had been advised by The Motor Racing Club of Christchurch, experienced in running racing meetings, but many of the lap-scoring and time-keeping staff were inexperienced, and the inquiry found many gaps.
After the full investigation, which lasted several weeks, the stewards reverted to the original placings, issuing the following explanatory statement:-
"When the BRM spun during the 13th lap it lost about 51s, but no car passed it then. Peter Whitehead's Ferrari withdrew in this lap and Jones in the Maybach was 14s behind Wharton when the lap ended. On lap 61 the BRM had a pit stop of about three minutes, when its front brakes had to be disconnected. This allowed the Maybach (which had stopped for about one minute in the previous lap) to take over the lead from then to the end of the race. An earlier refueling stop of the BRM (in the 45th lap) let the Maybach lead for eight laps up to lap 53. Gould completed 101 laps, but the finishing time for 100 laps leaves him in his original placing, fourth. He finished 47 seconds behind Gaze and 1m 40s, ahead of Roycroft. On the 90th lap Gould was 1m 11s behind Wharton, who was at that stage lying third. Wharton took over second position from Gaze when the HWM had a short pit stop in lap 92."
And that was the end of it. Gould withdrawing any further complaint, which would have had to be heard by the Royal Automobile Club. It was the only occasion on which the placings in the event have been queried.
The time returned, by Jones was 2h. 45m 20s, an average of 72.5 mph. Wharton put up the fastest race lap, 1m 30.3s in the third lap, an average of almost 80 mph.
Gould was probably the real winner of the race, but that we'll never know. Once a result is recorded in history, who really cares, it will never be changed.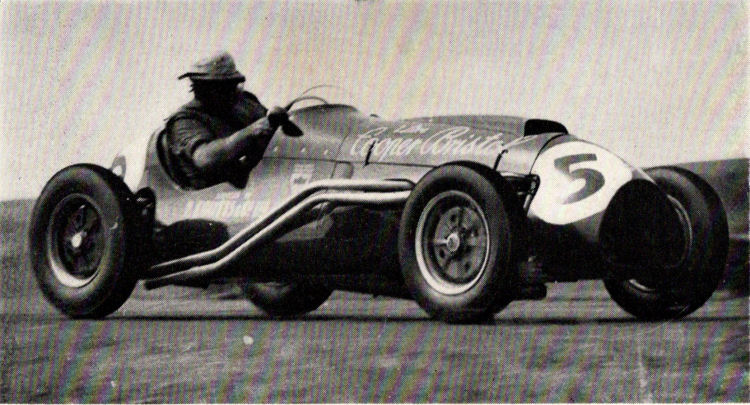 Horace Gould (Cooper-Bristol)

Date: 9th January 1954
Distance: 100 laps of 3.0 km (300.00 km)
| | | | | | |
| --- | --- | --- | --- | --- | --- |
| Result | Driver | Nat | Car / Engine | Laps | Time |
| 1 | Stan Jones | Aust | Maybach Special / Maybach 3800cc 6cyl | 100 | 2h 45m 20.0s |
| 2 | Ken Wharton | UK | BRM P15 / BRM 1496cc V16 s/c | | 2h 45m 13.3s |
| 3 | Tony Gaze | Aust | HWM / Alta 1972cc 4cyl | | 2h 46m 22.3s |
| 4 | Horace Gould | UK | Cooper-Bristol Mk II / Bristol 1971cc 6cyl | | 2h 45m 16.0s |
| 5 | Ron Roycroft | NZ | Alfa-Romeo Tipo B / Alfa 2905cc 8cyl s/c | | 2h 48m 49.0s |
| 6 | Jack Brabham | Aust | Cooper-Bristol Mk II / Bristol 1971cc 6cyl | | 2h 54m 52.5s |
| 7 | Ross Jensen | NZ | Austin-Healey 100 / Austin 2660cc 4cyl | | |
| 8 | Arnold Stafford / Ron Frost | NZ | Cooper Mk VII / Norton 498cc 1cyl | | |
| 9 | Bill Lee | NZ | Cooper Mk VI / JAP 497cc 1cyl | | |
| 10 | Peter Harrison | NZ | Cooper Mk II / JAP 1098cc V2 | | |
| 11 | Fred Zambucka | NZ | Maserati 8CM / Maserati 2992cc 8cyl s/c | | |
| 12 | David Crozier | NZ | Austin-Healey 100 / Austin 2660cc 4cyl | | |
| 13 | Keith Roper | NZ | Austin-Healey 100 / Austin 2660cc 4cyl | | |
| 14 | Phil Neill | NZ | FSS Special / Ford 3400cc V8 | | |
| Ret | Ray Archibald | NZ | Jaguar XK-120 / Jaguar 3442cc 6cyl | 91 | Radiator |
| Ret | Syd Jensen | NZ | JBS / JAP 1098cc V2 | | |
| Ret | Fred Tuck | UK | Cooper-Bristol Mk I / Bristol 1971cc 6cyl | 84 | Oil line |
| Ret | Lex Davison | Aust | HWM / Jaguar 3442cc 6cyl | | |
| Ret | Lou Molina | Aust | MM Special / Holden 2290cc 6cyl | | |
| Ret | John McMillan | NZ | Alfa-Romeo Tipo B / Alfa 2905cc 8cyl s/c | | |
| Ret | Peter Whitehead | UK | Ferrari 125 / Ferrari 1995cc V12 s/c | 15 | Clutch |
| Ret | Tom Hawkes | Aust | Allard J2 / Mercury 4564cc V8 | | |
| Ret | Morrie Stanton | NZ | Stanton Special / DeHavilland 6124cc 4cyl | | |
| Ret | Allan Freeman | NZ | Cooper Mk IV / JAP 1098cc V2 | 10 | Engine |
| DNS | Arthur Wylie | Aust | Wylie-Javelin / Jowett 1498cc 4cyl | | |
| DNS | George Smith | NZ | GeeCeeEss / Chrysler 5400cc V8 | | |
| DNS | Hec Green | NZ | RA / RA 2100cc 4cyl s/c | | |
| DNS | Roly Crowther | NZ | Goldfinch Special / Ford 1904cc V8 | | |
| DNS | Don Tilsley | NZ | Singford / Ford 1172cc 4cyl | | |
| DNA | Peter Ward | NZ | JBS / Norton 498cc 1cyl | | |
| DNA | Ron Edgerton | Aust | Alfa Romeo Monza / Alfa 2300cc 8cyl s/c | | |
| DNA | Ron Symons | NZ | SH Special / RA 2100cc 4cyl s/c | | |
| DNA | Les Moore | NZ | Kieft C50 / Vincent 998cc V2 s/c | | |
| DNA | George Palmer | NZ | Palmer Special / Mercury 4118cc V8 | | |
| DNA | Ron Sutherland | NZ | DeSoto Special / DeSoto 4099cc 6cyl | | |
Fastest Lap: Ken Wharton 1min 34.0sec.